In a Nutshell
Don't be put off by the hair-raising reputation of the Hahnenkamm. Aside from its World Cup course, Kitzbühel isn't scary at all. The town is cute and luxurious, the slopes mostly easygoing, and the scenery soft and pretty.
The Stats
Altitude: 760m
Lifts: 54
Top lift: 2000m
Ski area: 179km of piste
Adult lift pass: 221.50-277€ for six days


Official Site |

Ski Map |

Webcam
Hans Haas is a ski instructor with the element3 ski school in Kitzbühel: but his proper job is running an organic farm near the Schwarzsee, just outside town. When he's not farming or teaching, you'll find him skiing on the Streif, immediately above Kitzbühel, or off-piste on the Steinbergkogel.

Essential Advice for the Perfect Trip
If you've ever watched the Hahnenkamm on TV, you'll understand why Kitzbühel holds a special place in the hearts of ski-racing fans. This extraordinary 3.3km descent, which drops through 863 vertical metres – on a slope that at one point reaches 85 degrees – is the single most exciting race on the World Cup calendar. Everyone who completes the course is considered a hero.
The inaugural 1931 race was won by a Brit, Gordon 'Mouse' Cleaver, but Franz Strobl's winning time in the 1997 Hahnenkamm downhill has yet to be beaten. During race weekend (on the third weekend in January) over 25,000 people book into hotels and B&Bs around the resort. Such is the excitement generated by the race, that it sets off a bacchanalian frenzy among the spectators. The partying lasts an entire weekend.
Aside from the Hahnenkamm, Kitz is a pussy cat
But the funny thing is, the Hahnenkamm isn't really what Kitzbühel is about. This former silver-mining town, set against the beautiful backdrop of the Wilderkaiser mountains, is one of the softies of the skiing world.
Its pretty, pedestrianised streets are lined with luxury hotels and upmarket restaurants and boutiques, and its slopes dotted with charming mountain restaurants. Meanwhile its pistes are, for the most part, flattering rather than frightening.
Admittedly, away from the groomed snow, there's an ocean of off-piste to be explored – 56,800 acres of the stuff, in fact, making it one of the unsung heroes of the powder-skiing world. But there's no denying that, for many of its guests, the sense of comfort on offer here is at least as important as the skiing.
In other words, then, Kitz is a wonderful destination for those with healthy holiday budgets, who want some proper mountain heritage – without having to ski like Franz Strobl themselves. But there is one important caveat. Kitzbühel is rather low for a modern resort. Admittedly, this means it doesn't need much snow to cover the pistes – because the underlying hillsides are grassy and rocky. But the lower slopes are susceptible to thaws. Plan a midwinter trip for the best chance of soft, grippy, top-to-bottom snow.
Bear in mind that there's also a lot more skiing nearby if you want it. Kitzalps Allstar liftpass covers 10 different ski areas – including the SkiWelt resorts, Zell am See/Kaprun, and the Wildschonau and Alpbach – and a total of 356 lifts and 1087km of piste.
---
---
Skiing in Kitzbühel
The potential for skiing huge distances here is enormous – almost on a par with the Three Valleys. It's a diverse area that will suit intermediates best – and (if the snow's good) off-pisters too. But if you're used to the high and hoary resorts of France, such as Tignes, Les Arcs and Chamonix, you'll find Kitzbühel quite a change.
If conditions are good, it'll be a refreshing one. Kitzbühel's ski area is spread over several "mountains", none of which is especially high (the highest is 2000m), and all of which are thickly wooded on the lower slopes. Haybarns are scattered amongst the pastures, and even when the area is covered in a thick blanket of snow, the scenery is very Sound of Music. You may well find yourself breaking into song.
Check out our feature, Secrets of the Kitzbühel piste map, for more details on how to get the most from the pistes.
What's more, when there's fresh snow on the ground, experts who hire a guide will also discover an extraordinary amount of off-piste skiing. Some of it dives off to the sides of the piste network – such as the wonderful Blaufeld run, which starts at the Steinbergkogel, and drops down to the little village Aurach bei Kitzbühel. Other lines are to be found in hidden valleys, such as the Saukaser. Altogether, it adds up to a mouthwatering 56,800 acres of terrain.
Here's quick video taster from the resort.
For most piste skiers the day starts with a ride up the Hahnenkammbahn at the start of the day from the edge of town to the 1710m summit of the Hahnenkamm. (Its name translate as the "Hen's Comb" – because it looks like the top of a chicken's head, and the rocks are have a reddish hue.)
Here, you'll find the start of the famous Streif – the World Cup downhill course. It's not normally pisted, and often covered in moguls, but it's worth venturing onto, just to get a sense of the steepness. You can also ski alongside it, rather than on it, using the easiier Streif-Familienabfahrt. On a busy morning in high season it's well worth skiing a couple of top-to-bottom descents here, while the morning crowds disperse and head south.
Beyond the Hahnenkamm, the 1935m Pengelstein gives access to several long runs down into the village of Aschau and larger Kirchberg, and access (by bus) to Westendorf and the SkiWelt. In theory, that means another 279km of skiing and a further 91 lifts, but chances are you'll only make the journey once. It's a long commute, and involves riding two buses.
Target the Resterhohe for the snowiest, quietest slopes
From the Pengelstein, you can also track south, towards the Resterhohe, via the stunning 3S gondola. The slopes at this end of the resort are usually quiet: during busy weeks we'd advise heading here first, taking the bus from Kitzbühel straight to Pass Thurn, and then skiing your way back towards town. There's also more skiing on the other side of the valley from Kitz, on the Kitzbüheler Horn.
Clearly, there's a lot of terrain here, and the ever-improving lift system has made getting about much easier than it used to be. Kitzbühel's, indeed Austria's, first 10-passenger gondola runs from just above Kirchberg towards the Eherenbach Hohe. It carries 2,400 people per hour. Above that is an eight-person chair-lift – with weather bubbles and heated seats – running from Ochsalm.
All in all Kitzbühel is really best for good intermediates, though more advanced skiers will have fun if they like skiing bumps, or luck into powder, and hire a guide to explore off-piste (there's also a cat-skiing operation on the lift-free Bichalm). This promotional video gives you an idea of the look of the place and it does hint at the variety of lift-serviced skiing you'll find here.
Much-improved facilities for freestylers
In recent years, freestyle facilities have improved dramatically at Kitzbühel, and it's now streets ahead of its rival Westendorf. The main Snowpark Kitzbühel is on the Resterhohe,.
There are also lots of natural hits and lips on the Kasereck and Silberstuben pistes (marked 28 and 29) on the peak called Pengelstein. In good conditions, this is a great spot for advanced (but not expert) snowboarders to ride off-piste.
---
---
Where to Learn
A few years ago, the two main ski schools of Kitzbühel amalgamated under the banner of Rote Teufel (Red Devils) – which now boasts over 350 instructors. Under centralised management there has been some improvement in standards.
But there are now many other ski schools to choose from – including the locals' favourite, Element 3 which specialises in taking small groups on- and off-piste, and Snowsports Kitzbühel which specialises in private lessons and race training. There are also ski instructor courses run by Ski Instructor Academy Austria in the resort, with a guaranteed job in the resort.
Plenty of opportunities for off-piste after a fresh snowfall
There are some good guides here. Bergführer Kitzbühel is a mountain guiding company employing UIAGM guides to lead both adults and children off-piste. They can also arrange ski-touring expeditions. Welove2ski's editors have also had epic days with the guides at Alpin Experts.
Kitzbühel for kids
Rote Teufel ski school has a kindergarten and runs group lessons. They also have a race training school for children, with trainer Patrick Hinterseer, a former racer. Children learn to develop race skills by training on moguls and in the deep snow. The highlight of the week's training is when the pupils have to try to beat the ski instructor's time.
Snowsports Kitzbühel runs children's race training camps all year round – on the glaciers close to Kitzbühel outside the main winter ski season. This is for children aged six years and upwards. element3 Kids' Wonderland is where small children can learn in a fun, safe environment.
---
---
Where to Stay in Kitzbühel
There are lots of lovely four and five star hotels in Kitzbühel – making it a great place to stay for a romantic or sybaritic break. But they're not cheap. If being central is your priority, then you'll want to be in the Vorderstadt – the pedestrianised medieval town centre.
Hotel Zur Tenne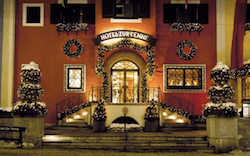 Look no further than the stylish Hotel Zur Tenne has one of those lovely painted exteriors so typical of the gorgeous medieval town. It is in a great location for anyone who wants to soak up the charms of Kitz as well as ski – right in the heart of the walled town. Several of its suites have open fireplaces: some have whirlpools and steam baths. It's a very snug spot – traditional in style, but in no way out-of-date.
Hotel Tennerhof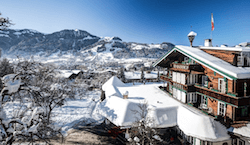 Tennerhof Gourmet & Spa de Charme Hotel dates back to 1679 and was originally an elegant Tirolean country house and is now one of the foodie hotspots in town (The Kupferstube is the hotel's award-winning restaurant). You'll have to dress up at dinner to enjoy his cooking, however – the style of the hotel is fairly old-school with painted four-poster beds, and hunting trophies on the walls. There's nothing crusty about the highly-rated service, though.
Hotel Weisses Roessl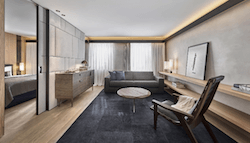 The Weisses Roessl is a is a former coaching inn dating back to 1582, containing the two-storey 1000-m² Cheval Blanc Spa that focusses on treatments from the Far East, with an impressive indoor pool and pool bar. The rooms and suites are decorated with marble and silk and are located either in the historic main building or in the Residenz Annex.
Harisch Hotel Schwarzer Adler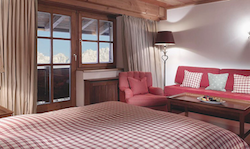 The Schwarzer Adler has the fabulous Black Spa and a 16-metre rooftop swimming-pool. Rooms are modern and minimalist, and the property houses the Neuwirt restaurant has 15 Gault Millau points. Interiors are modern and bright, and the feedback is overwhelmingly positive.
Hotel Tiefenbrunner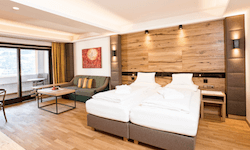 Hotel Tiefenbrunner is in the pedestrian centre, has a frescoed exterior and a variety of rooms including junior suites with four-posters. The property has two in-house restaurants: Goldene Gams and Rosshimmel, as well as a spa with a gym and an indoor swimming-pool.
Hotel Goldener Greif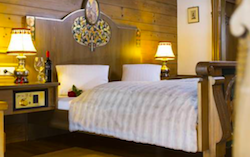 The gorgeously frescoed Goldener Greif is a warmly traditional hotel right in the town centre. It was built in the late 13th century and later became an inn, and has been family-owned for more than 100 years. There's a casino located in the building, and a rustic wine cellar where you can enjoy a drink in the evening.
A stone's throw from the Vorderstadt
Sport & Beautyhotel Schweizerhof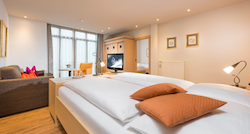 The Schweizerhof is next to the Hahnenkammbahn. "Comfortable, handy for the town centre and the food is excellent," was the view of one recent reporter. The modern spa area features an indoor pool with a hot tub, gym, and various saunas.
Best Western Premier Hotel Kaiserhof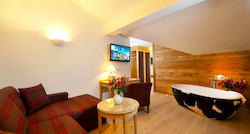 Hotel Kaiserhof is in a great position – next to the Hahenkammbahn. It has good sized rooms and a lovely swimming-pool. Spa facilities include saunas, a steam bath, massage showers, and a fitness room. The restaurant serves traditional Tirolean cuisine and international dishes.
Villa Licht
Closer to the centre of town, Villa Licht is a small, chic property offering eight serviced apartments at lower prices than the big hotels: it's a canny spot for a holiday, if you can get a room. Apartments have parquet floors, kitchenettes, and most of them have balconies.
Hahnenkamm Lodge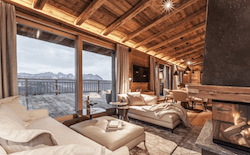 What's so exclusive about Hahnenkamm Lodge is that it is only accessible by the cable-car from 8.30am-5pm Sunday to Thursday, until 11pm on Friday and 7pm on Saturday – so it's the ultimate in ski-in ski-out accommodation. The property sleeps up to 12 people, with catering, an open bar and lift passes included. The stylish living room incorporates a dining area and a bar with an open fire, and the terraces have lovely views. The Lodge also has a fitness and spa area with steam bath, Finnish pine sauna and gym equipment.
Hotel Maria Theresia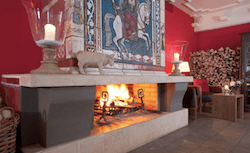 The Maria Theresia has a newly-built spa and its interior blends old with new. It's set outside the pedestrian centre, but is a short walk away from the shops and restaurants. The restaurant serves traditional Tirolean cuisine and the hotel is the official casino hotel of Casinos Austria.
Chalet Linda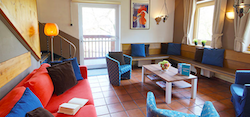 Chalet Linda has 14 double bedrooms and is a few minutes' walk from the Hahnenkamm gondola and town centre, so if you want the UK tour operator chalet experience, this would make a good base.
Gartenhotel Erika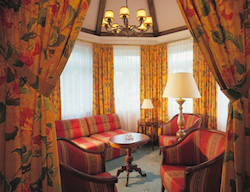 Gartenhotel Erika is a striking Art Nouveau built in 1897. It has large bedrooms, two swimming-pools, a spa, and a children's playroom. The hotel is a great place for animal-lovers, with its own pet dogs, cats and deer. Guests can walk the dogs and children can feed the deer. The hotel is three minutes' drive from the Hahnenkamm gondola.
Golf & Ski Hotel Rasmushof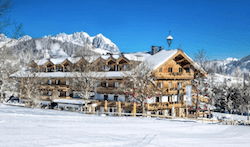 The family-run Hotel Rasmushof is a few minutes on foot from the town centre and is a bit like a large chalet with a warm ambiance. It's located on what is the golf course in the summer. "Off the beaten tourist track, a smart, welcoming establishment that is a favourite with the Hahnenkamm racers," says one reporter.
Golfhotel Bruggerhof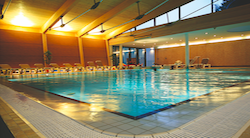 Golfhotel Bruggerhof is outside town, next to the picturesque Schwarzsee, and is recommended for the quality of its food. A ski bus stop and a cross-country ski run are right outside the hotel. Spa facilities include a jacuzzi, sauna, and solarium. There is also a children's pool and a fitness room. The restaurant serves a wide range of Tirolean and international dishes.
A-Rosa Resort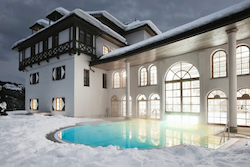 Most of the top hotels have their own spas. The best include the A-Rosa Resort which makes a complete contrast to the traditional Tirolean style hotel here. The big, award-winning hotel that is eight storeys high, set on the golf course just outside town. The style is modern and pared back, and the enormous spa is highly-rated: "Very co-ed and very nude in sauna areas", warns one Tripadvisor reporter. On the whole the reviews have been good, despite the fact that the rooms have been praised for being too big and criticised for being too small.
Hotel Schloss Lebenberg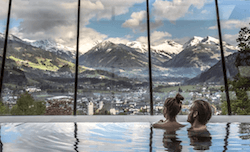 Former hunting lodge, Hotel Schloss Lebenberg, is set above the town which is a 20-minute walk away. Alternatively, you can use the hotel's shuttle service. The Schloss has been beautifully converted from a stately home into five-star hotel. The original castle rooms are in the tower and are now suites, but there's a choice of nine different room types in the main building as well as a rooftop swimming-pool, spa, piano bar and games room.
For something a little cheaper
Fortunately, for those on a tighter budget, there are alternatives – including lots of self-catering apartments, which can be booked through the tourist office. For example, three-star Chalet Strasshofer is next to the pedestrian area and contains apartments for two to four people. UK tour operator Crystal also has an inexpensive catered chalet in the resort.
---
---
Where to Eat
Kitzbühel has some fabulous restaurants, both on the mountain and in the village. There are more than 70 in town, and you'll find everything from traditional dishes such as Wiener Schnitzel, Tiroler Groestl and Kaiserschmarrn to Asian fusion and seafood. Several of the best restaurants are in the hotels.
Among the stars of the dining scene is the Rosengarten, in Hotel Taxacherhof in the neighbouring town of Kirchberg – one of the finest restaurants in the Tirol. Acclaimed chef, Simon Taxacher, has created his own outstanding style of Austrian nouvelle cuisine.
Lots of award-winning restaurants
Kitzbühel has its culinary stars too. These include the Stefan Lenz at the Tennerhof Hotel, who has two chef's toques and 16 points from the Gault Millau guide, as well as Lois Stern and Jürgen Bartl of the Hotel Zur Tenne both of whom have one chef's toque and 14 Gault Millau points.
Other restaurants worth targeting in town include Jürgen Nentwich's traditional Wirtshaus zum Rehkitz, which has one toque and 13 Gault Millau points, and Hotel Rasmushof, at the bottom of the Streif, which has great food and a very Tirolean atmosphere. For cheap Austria cooking, try the Huberbrau-Stuberl (+43 5356 65677) and Restaurant Centro for delicious wood-fired pizzas.
1st Lobster needs no explanation, although it offers fresh fish and other seafood, too.
Happy Kuh (+43 5356 62136) is something that's quite unusual in the Alps: a 100% vegetarian/vegan gourmet restaurant. Located inside the Q Resort, it offers four-course menus including a salad buffet with organic oils, and home-made spreads.
Great food on the mountain, and bags of atmosphere
Typical of the kind of mountain restaurant you'll find here is Sonnbuhel, on the Hahnenkamm – a rambling, wood-panelled building with a good sun terrace and a hearty, warming Tirolean menu. Make sure you save room at the end of the meal for some Wuchteln (baked bready dumplings with a jam filling, and vanilla custard).
Meanwhile, Hochkitzbuhel, at the top of the Hahnenkamm gondola, also serves typical Tirolean dishes. It has a popular sun terrace and a Streif race course simulator. On Friday evenings the gondola is open to take people up for a candlelit dinner here. Staudachstub'n, on the main run down to the Fleckalm gondola, is recommended, and is famous for its home-made ravioli.
Berggasthof Seidlalm, on the Hahnenkamm, is a rustic 400-year-old inn renowned for its cheese dishes and has great views of the resort. This is where the Alpine World Cup was devised in 1966 by Austrian ski hero Toni Sailer and friends.
Einseidelei has a lovely wood-panelled interior, a sun terrace, and a second smaller Stubn for just 30 people. Gansleralm serves updated Austrian food, in a pretty pale-wood room.
On the Kitzbüheler Horn there's the Alpenhaus, which serves the usual Schnitzel, Wurstel and Apfelstrudel, and Hagstein has home cooking.
At Jochberg, Baerenbadalm is a wood and stone building with a warm, woody interior. Try the spinach dumplings with brown butter and Parmesan cheese or the Angus goulash. The beef comes from the owners' own herd, which grazes the slopes in summer. The puddings are excellent, including Apfel Strudel and other home-made cakes and tarts. In the same area is Berggasthof Sonnalm, which has been recently updated and now offers pizza from its wood-fired oven, as well as meat from its own organic farm in St. Johann im Pongau. Restaurants at Aurach include Kechalm, which offers regional specialities such as Tiroler Groestl.
Alpengasthof Schroll (+43 5357 2344), near Kirchberg, has a lovely sun terrace and is cute inside with ancient wood and typical Tirolean stoves for warmth. You can go into the kitchen and watch the owner's wife making huge pans of Kaiserschmarren.
---
---
Where to Party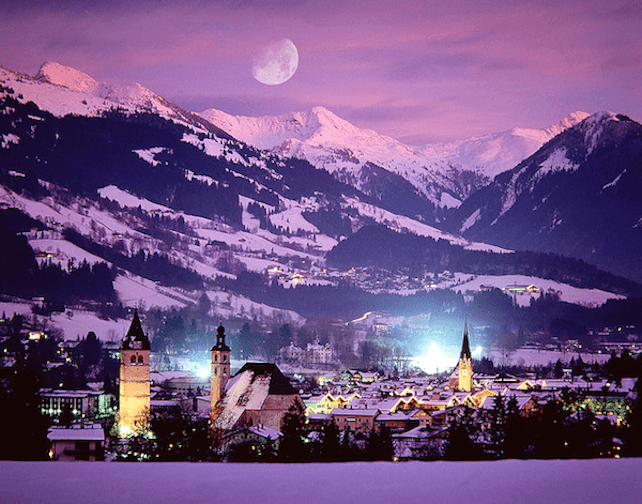 When the World Cup comes to town (on the penultimate weekend in January), Kitzbühel goes wild and it's one of the biggest parties of the season in the Alps. But even in a normal week, the nightlife is impressive.
When it comes to bars and there's a huge amount of choice. The Streifalm is on the lower slopes of the Hahnenkamm, so the first place to head for on your way home. It hosts Tirolean Evenings complete with dancing men in Lederhosen (the national costume of leather shorts), so be warned!
You can dance on the tables at The Londoner, the resort's long-established British pub (it's now 30 years old), but it is slightly overshadowed these days by the Legenden Cafe/Bar beside the Hahnenkamm lift.
The coolest nightclub in town is Club Take Five, which has been here for almost 20 years. It has three bars, a large VIP area, and resident DJs. Highways Music Bar holds Ibiza evenings, salsa parties, and other themed events and is located on the Hinterstadt, parallel to the main pedestrian street.
Other apres-ski spots include O'Flannigans Irish pub, and a (new for 2016-7) a pop-up bar run at the Bergsinn, run by the Open Space team from Vienna.
As a quieter alternative, the famous Cafe Praxmair (+43 5356 6216123) is somewhere everyone should visit at least once. Downstairs is the Prax Keller bar, which is open until late. The Goldener Greif has a rustic wine cellar.
Other activities
Aquarena Leisure Complex has a 25m pool with a waterfall and tubing, and offers a full range of spa treatments (the speciality is a 'healing moor mud treatment'), fitness classes and a restaurant. Kitzbühel hosts the Valartis Bank Snow Polo World Cup, the biggest event of its kind in the world. The Mercedes-Benz Sports Park covers an area of ​​4,500 sq metres and offers a wide range of sports including curling, ice hockey, ice-skating and a climbing wall.
Every Thursday and Friday, you can go night-skiing on the Gaisberg slopes in Kirchberg from 6.30pm until 9.30pm. There's also moonlight snow-shoeing, tobogganing and floodlit cross-county skiing to try. Free guided winter hikes and walks (in the daytime) are available from Monday to Friday throughout the season.
Also see our feature on Kitzbühel in summer.