Other mountain sports

70%
In a Nutshell
Kitzbühel is even more beautiful in summer than winter. In July and August its mountains are flushed with green, and its stout medieval streets have a relaxed, take-your-time atmosphere. It's also brimming with activities: 1000km of footpaths, 800km of MTB trails, and the best choice of golf courses in the Alps.
The Stats
Altitude: 760m
Summer lifts: 5 in Kitzbühel, 38 in the region
Walking trails: 1000km
Cycle paths: 1200km
Lift pass: 51€ for 2 days


Official Site
Essential Advice for the Perfect Holiday
Medieval Kitzbühel is well known for its good looks. In fact, many would say that, with its cobbled streets, frescoed buildings and heavily buttressed walls, it's the prettiest ski town in the Alps. It's not an accolade that's solely confined to winter.
This is very much a year-round resort. The summers are green and gorgeous, with hiking, biking, golf, and watersports at the top of the daily menu of activities – which tend to be invigorating rather than genuinely white-knuckle in character. But it's not all about ridge-top walks, riverside picnics and wild swimming. Take a walk down the famous Hahnenkamm ski-racing course, and you'll discover the other, hell-for-leather side of Kitzbühel's personality.
---
---
Where to Walk
Here, in the northern Tirol, the mountains are softer, greener and prettier than they are in the south, along the main Alpine ridge. As a result, Kitzbühel has some of the finest easily-accessible hiking terrain in the Alps – and over 1000km of signposted trails of between one and seven hours long. But not all of the terrain is verdant meadow. As well as gentle walks besides streams and lakes, you can tackle long ridges at 2000m, with the craggy Wilder Kaiser mountains, the glacial peaks of the Hohe Tauern, and Austria's highest mountain – the Grossglockner – all part of the scenery.
On your walks you'll come across mountain huts where you can taste and buy local produce such as bacon, cheese, and Schnaps. The tourist office also organises free daily guided hikes on weekdays during the summer.
Looking for a Challenge?
Walkers wanting to try something a little different can conquer the Hahnenkamm in summer. The name means 'Rooster's Comb' and in winter it's the most exciting downhill of the Alpine Skiing World Cup. On race day each January the top athletes take around 1min 52secs to complete the 3.3km racetrack through 860 vertical metres – or you can tackle it in three hours, on foot, in summer when all the major race landmarks are clearly signposted on the way down.
Both seasonal descents are fraught with hazard, although in winter the stakes are much higher. Falling at 144km/hour can easily earn you a heli-ride to hospital. In summer, negotiating a herd of cows on the Steilhang is the biggest danger.
"Never split the herd," was the advice from our hiking guide Susanne Cufer from KitzSki Mountain Guiding. "Always detour around the edge. Alpine cows can turn on a dog, and the person on the other end of the lead is vulnerable. You can end up as collateral damage".
In summer, even more so than in winter, you can only wonder at the mindset of the racers. It takes us a full seven minutes to slither on a precipitous path round the Mausefalle, the first infamous jump where the racers are airborne for 80 metres. The gradient here is 85% (40.4 degrees).  Incredibly, in summer, mountain-bikers and trail runners climb up it. In winter, it's all over in a second – blink and you will miss the man in the catsuit.
When you reach Brückenschuss & Gschöss, the gliding flats in winter, racers tuck tightly to maintain their speed, but walkers will just be glad to be on level ground again. Because of the steep gradient, even hiking the Hahnenkamm is prone to injury…bruised toes!
Is That Snow?
But what's that at the top of the Hahnenkamm – in August? As the winter season draws to a close, Kitzbuhel's pisteurs put a mighty 36,000 cubic metres of snow under wraps as a starter pack for the next season.  'Haystacks' of snow at strategic points on the course are wrapped in a thick layer of insulation and white plastic sheets.
Incredibly around 75% of the snow survives the summer heat. When the piste-machines return in November the residue from the previous season gives Mother Nature a helping hand and provides the base layer before the first fresh flake falls.
---
---
Mountain Biking and Road Cycling
Kitzbühel's rollercoaster landscape of green is perfect for mountain bikers, and the resort offers a 800km network of trails. There's no need to struggle uphill under your own steam, either. Bikes can be taken free of charge on all the gondolas.
The Bike Academy at nearby Kirchberg is run by former Austrian mountain bike team trainer, Kurt Exenburger. From May to October, for almost 20 years, Kurt has been running technical courses and camps from his pro-shop and training ground situated beside the Fleckalmbahn gondola. There are pure mountain bike courses, but also ones for e-bikers.  
Mountain biking and Alpine e-biking come with a health warning: a helmet is essential. If you want to tackle the rougher stuff, protective elbow and knee pads and even full body armour also make sense. For more information on cycling in Kitzbühel visit kitzbuehel.com.
Meanwhile, road cyclists will appreciate the well-maintained roads and 14 detailed routes that have been put together in a small guide book available from the local tourist office. These include cycle routes to Kirchberg, St Johann in Tirol and along an easy path on the valley floor to Westendorf and beyond. Each route has its own level of classification and in total there are 1200km of cycling routes to explore.
Competitions and Festivals
The mountain bike festival, KitzAlpBike has taken place almost every year since 1996 and the mountains provide a gorgeous backdrop to the variety of competitions. Highlight of the weekend is the KitzAlpBike Marathon on the Sunday. More than 1,000 mountain bikers take part.
Similarly, each summer 1,000 bikers race not down – but up – the Streif on the Hahnenkamm ski race course. Incredibly around 20 of them, professionals with perfect technique, manage to stay on their bikes to the top of the Mausefalle.
Kitzbühel Triathlon (swimming, cycling and running) takes place in mid-June and is open to individuals, companies/clubs, and juniors.
---
Climbing and Trail Running
At Salewa KletterKitz in the Sportpark Kitzbühel, adults and children alike can learn the basics of rock climbing. Keep fit on a 850-m² climbing wall that is 17 metres high or on the new climbing wall next to the main hall, which is seven metres high and features three climbing towers and a 100-m² bouldering area.
There are between 80 and 100 outdoor climbing routes for all abilities, and training is offered for teens and younger. Contact Element 3 for further information.
Trail running has a long pedigree here too. The 12.9km Kitzbühel Horn run has been held in the valley since 1979 and is now part of the Salomon Running Tour. The flat valley floor, long ridges and stiff climbs offer plenty of variety too: the resort has laid out 170km of trails with 11 different marked starting points. They're designed for nordic walkers as well as runners.
---
---
---
Watersports: from wild swimming to aqua-fitness
For wild swimming head to Schwarzsee, the famous forest-fringed lake where the water temperature can reach 27C in summer, despite a depth of 7m. It's set between Kitzbühel and Reith, a bus- or car-ride from the medieval town centre. The greenish water is said to have powerful healing properties from the minerals in it.
The Schwarzsee also offers other recreation such as beach volleyball, mini-golf, children's water-slides, a diving tower, fishing, rowing and electric boats. You can join a fitness course, walk around the lake, or have a drink or a meal on the terrace of the Alpenhotel. The modern lakeside campsite has a spa and indoor swimming-pool.
On rainy days families in particular will enjoy the indoor Aquarena where you can relax at the swimming complex until 9pm. It's conveniently located in the village centre. There's a 25-metre sports pool, an adventure slide and waterfall, and a children's play area. Add to this an adjoining spa area with sauna, Turkish bath, infrared cabins, treatment rooms for massage, and a bar.
Weekly Aquafitness classes are held in the pool and there are beginner swimming lessons for children from three years old, freestyle training for adults, swim training for triathletes, and video analysis – all available with the local trainer Heinz Bédé-Kraut.
---
---
Golf: two championship courses
Kitzbuhel is a top golf destination, with four courses including two of championship level. Courses are on offer for both newcomers and seasoned golfers, whilst many of the hotels have golf packages that include green fees.
The 18-hole Kitzbühel-Schwarzsee Golf Course first opened in 1989 is and for players with a handicap of 45 or under. Golfers of all levels will enjoy the well-balanced terrain and ideal playing conditions. It has lovely panoramic views, tricky water hazards and flat fairways. In addition there's an on-site restaurant with a terrace.
Kitzbühel Golf Academy is based at the Schwarzsee course and employs three PGA pros, who provide lessons based on state-of-the-art instruction methods.
The 18-hole Eichenheim course, designed in 2000 by American Kyle Phillips, revered in Scotland for his modern classic links at Kingsbarns near St Andrews, takes no prisoners. From the first hole, a precision hit through a narrow gorge to the green, to the last, a well bunkered uphill dogleg, this is a rollercoaster ride.
The lookouts are dramatic, with holes that involve majestic cliff-top tee shots and precipitous ascents. All but the super-fit should take a buggy, not least for the winding mountain trails from green to tee. You can visit the pro shop and stop for lunch at the on-site Golf Bistro, which serves classics from the world's most famous golf restaurants.
Kitzbühel Golf Club was originally founded 50 years ago, and reopened in 2006. A-Rosa Resort is located on the 9-hole course with a clubhouse/restaurant, and the course incorporates lakes with two island greens, and the old castle wall. 
The Rasmushof 9-hole golf course is located near the finishing line of the Streif downhill. The course is difficult enough to give handicap players a challenge, whilst offering beginners a good introduction to the game. There's a covered driving range and a chipping and putting green, too. On-site Hotel Rasmushof is the place for lunch.
The annual Kitzbühel Golf Festival in June attracts nearly 1,000 international golfers and is played as 12 tournaments including The Streifabfahrt (Streif Attack) where you begin at the downhill race's start house. Ten holes have to be mastered – via the Mausefalle to Seidlalm, and from there over the steep slope to the Rasmushof. 
There are 26 additional courses within 100 minutes' drive of the resort, including the 18-hole Mittersill-Stuhlfelden Golf Course where a handicap of 54 or under is needed to play. Although surrounded by mountains, the greens are nice and flat and the course is dotted with old hay barns.
Tennis
The first tennis tournament was held here in 1889 and the Austrian Open Kitzbühel (originally known as the Austrian International Championships) is part of the ATP World Tour and has taken place in the resort since 1969, attracting the greats of world tennis. Arthur Ashe, Ivan Lendl, Boris Becker, Pete Sampras, Rafael Nadal and many other big names have made appearances throughout the history of the tournament.
It is based around the Kitzbühel Tennis Club, where there are three indoor and six outdoor clay tennis courts. The club places a lot of importance on children's and youth training.
---
---
Other summer activities: from horse-riding to archery

Kitzbühel offers a blend of traditional Tirolean hospitality and a distinctive urban vibe. Everything is open as usual throughout the summer – ranging from the famous Cafe Praxmair to gourmet restaurants, and all the shops, boutiques and art galleries. The only difference is that sports shops sell mainly biking, hiking and camping gear at this time of year – 16 of them in all. The Kitzbühel Music Festival takes place in August, featuring open-air concerts.
There are daily children's tours through the Alpine flower garden on the Kitzbüheler Horn in July and August. Every Saturday, Sunday and during school holidays children have the opportunity to feed the animals – from donkeys to more exotic species – in the Streichelstadel in Aurach wildlife park.
Aside from the swimming, tennis and walking there is horse-riding available for beginners to experts and children can ride Haflinger ponies (a small, Austrian breed of horse). Adults and children can join one of the archery courses at the Alte Wacht guesthouse in Jochberg. The Great Hunt archery tournament is held annually on the second weekend in October and there are weekly beginner classes. Kitzbuhel also offers opportunities for canyoning, paragliding and rafting.
You can also visit the old copper mine at Pass Thurn to the south of Kitzbuhel. Jochberg first came to prominence as a mining village in 1447, and by 1830 there were 16km of working galleries and 2km of shafts on different levels. In its heyday, the mine employed 160 men and over 30km and 134 tons of copper ore were extracted each year. Until 1874 the ore was also smelted in Jochberg. The last shift was run in July 1926 when the Kupferplatte finally closed down. In 1990, the old gallery was made into the Kupferplatt mining museum, where visitors can descend 500m by pit railway.
For those wanting to improve their German in beautiful surroundings, there are several language courses available, including one from Apple Languages. These are for all ages, have a small number of students per class and include accommodation in local guesthouses.
---
---
Where to Stay
First of all, settle on your priorities. Do you want to be in the Vorderstadt (the pedestrian centre), or are you looking for something more rural? Do you fancy lounging in a garden after a cup of tea – or will a balcony be enough? Do you need childcare? Decide on issues like these and you'll find navigating the almost limitless accommodation options in and around Kitzbuhel a lot easier. There are, for example, 11 hotels in the resort offering packages that include green fees. But some also sit right next to courses.
Kitzbühel has lots of guesthouses as well as lovely hotels with prices considerably lower in summer than in winter.
Sporthotel Reisch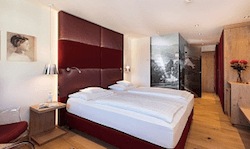 Sporthotel Reisch is central but just outside the old city walls, and offers various summer packages: an e-bike one and Mountain Pleasures (with guided hiking). Another is a Motorbike Special with a tour starting in Kitzbuhel, continuing to St Johann and Fieberbrunn, onwards to Saalfelden and Hallein, then to Berchtesgaden and Ramsau. The last kilometers are via Waidring, and back to Kitzbuhel via St Johann. 
Hotel Tennerhof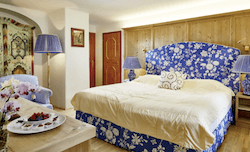 Tennerhof Gourmet & Spa de Charme Hotel dates back to 1679 and has individually decorated rooms, an indoor and outdoor pool, a large garden, and offers transfers to the golf courses. The Kupferstube is the hotel's award-winning gourmet restaurant.
A-Rosa Resort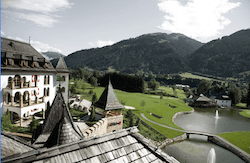 Most of the top hotels have their own spas. The best include the A-Rosa Resort with a 3000-m² spa. Whether or not you spend the night here you can still visit the day spa with its pool, six different saunas and steam baths, pilates, yoga and aqua fitness courses. You can also book beauty and wellness treatments. The hotel has a kids club, a large garden, and is located on a golf course.
Hahnenkamm Lodge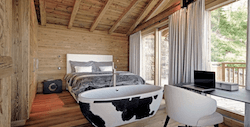 So unique is the position of Hahnenkamm Lodge that it is only accessible by the cable-car from 8.30am-5pm Sunday to Thursday, until 11pm on Friday and 7pm on Saturday. The fully-catered lodge has five luxurious suites with space for up to 12 people, and can only be booked exclusively. Natural materials, warm colours and lots of attention to detail make every room unique. There's a living room with dining area, a bar with an open fire, and a spa area with steam bath, Finnish pine sauna and fitness area.
Hotel Zur Tenne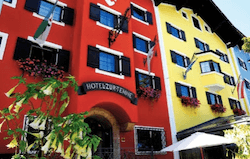 Hotel Zur Tenne is bang in the centre and has one of those lovely painted exteriors so typical of the gorgeous medieval town. Inside is a spa with gym, whirlpool, Finnish sauna, steam bath, tropical showers, water beds and infrared cabins. Try the Swing Your Feet massage treatment for a post-hiking pick-me-up.
Hotel Weisses Roessl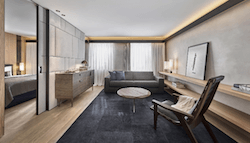 The Weisses Roessl is a traditional hotel dating back to 1582, containing the 1000-m² Cheval Blanc Spa with an indoor pool, gym, saunas, steam baths, and treatment rooms. The rooms and suites are decorated with marble and silk and are located either in the historic main building or in the Residenz Annex. E-bikes are provided for guests' use.
Hotel Schloss Lebenberg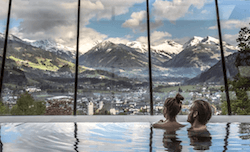 Former hunting lodge, Hotel Schloss Lebenberg, is set above the town which is a 20-minute walk away. Alternatively, you can use the hotel's shuttle service, which also takes you to the four golf courses, and the riding stables. The spa features a panoramic indoor pool, saunas (including one that is outdoors), steam rooms, and fitness room.
Hotel Tiefenbrunner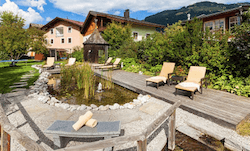 Hotel Tiefenbrunner is in the pedestrian centre and has a frescoed exterior. The property has a spa with small indoor pool, a children's playground, and a pretty garden with a pond and jetty. It also houses the well-known Goldene Gams restaurant.
Q! Hotel Maria Theresia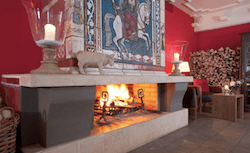 Hotel Maria Theresia has a newly-built spa and its interior blends old with new. It's set outside the pedestrian centre, but is a short walk away from the shops and restaurants. The Q! Hotel Maria Theresia is the official casino hotel of Casinos Austria.
Golfhotel Bruggerhof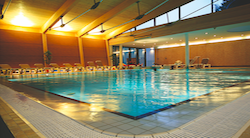 Golfhotel Bruggerhof is outside town, next to the picturesque Schwarzsee, and is recommended for the quality of its food. The hotel has a tennis court and a mini golf course, a small spa and gym, a children's pool. There's free swimming in the Schwarzsee and there's a bus stop is right outside the door.
The Golf Hotels


Kitzbuhel has 11 golf hotels offering packages with green fees. These include A-Rosa Resort, which is built in the style of a Tirolean castle, right on one of the 9-hole golf courses. 
Sport Wellness Hotel Bichlhof
Sport-Wellnesshotel Bichlhof is adjacent to the Eichenheim Golf Course, which can be reached using the establishment's own golf carts. It also has a day spa and offers treatments for both adults and children.
Golf & Ski Hotel Rasmushof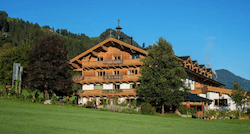 The family-run Hotel Rasmushof is a few minutes on foot from the town centre and set on the 9-hole Rasmushof golf course at the end of the Streif slope, where in winter the Hahnenkamm race takes place.
---
---
Where to Eat
There's plenty of gourmet dining, with more than 70 eateries in town, and mountain huts such as Bichlalm and Seidlalm open during the summer months. However, in the wake of Covid the gastronomic scene doesn't quite reach the stellar heights of the 2010s. The Tennerhof Gourmet & Spa de Charme Hotel has two chef's toques from the Gault Millau guide, as does Lois Stern (for Asian cuisine) and the Neuwirt.
Other restaurants worth targeting in town include Jürgen Nentwich's traditional Wirtshaus zum Rehkitz, which has one toque and 13 Gault Millau points, and Hotel Rasmushof (with Kitzbuhel's largest wine cellar) at the bottom of the Streif, which has great food and a Tirolean atmosphere. 1st Lobster offers fresh fish and seafood, as well as Argentinian steak cooked on a hot stone. For good-value Austria cooking, try the Huberbrau-Stuberl and Restaurant Centro for delicious wood-fired pizzas.
Also see our winter resort report for more information on Kitzbuhel.
---
---