In a Nutshell
A traditional market town, not too well known outside France. The pistes are quiet and the prices quite reasonable. We just wish it was 1000 metres higher.
The Stats
Altitude: 1100m
Lifts: 49
Top lift: 2400m
Ski area: 220km of piste
Adult lift pass:184€ for six days


Official Site |

Ski Map |

Webcam
Essential Advice for the Perfect Trip
The ski history of La Clusaz dates back to 1907 when it first welcomed tourists into town. The following year, local lad Pierre-Noel Vittoz, experimented with skis and an invention called Le Paret – the first ever snowbike. Skiing really took off after the World War II, with the first chair opening in 1956. Prior to this, skiers used to use rope-tows pulled by carthorses. The popularity of La Clusaz increased through the 1960s, not just with locals but also for people from all over France and Switzerland.
The proximity of Geneva – just 60 minutes' drive – has in more recent years increased the number of British skiers, although the resort is still predominantly French.
The village itself is traditional and pretty. It is based around a main town square and an early 19th-century church, with traditional wooden buildings housing sports shops and boutiques, some lively bars and restaurants, and a couple of night clubs. The atmosphere is relaxed and welcoming in all the bars and restaurants, many of the bars featuring live music.
La Clusaz invests annually in new hotels, regraded runs and new snow-cannons to ensure the resort can keep running even during bad snow years. In recent years it replaced several old lifts, as well as adding a telemix six-person chair-bubble lift. Considering the small size of the town – it has just 2,000 inhabitants – it is interesting to note that there are several high-profile names amongst the local skiers, such as Vincent Vittoz (World Cup cross-country medal winner) and Candide Thovex (X-Games gold medal winner).
---
---
Guide to the Mountain
The resort consists of five mountains offering a good mix of runs. The fact that much of the mountain turns back into cattle pasture during the summer ensures that the pistes don't need a huge snow-cover in order to stay open – a definite bonus for the run back into the resort.
La Clusaz is great for beginners, with some lovely nursery slopes and easily accessible green runs higher up the mountain too, so you get great views and really feel part of the action. There's some excellent mountain cruising for intermediates, with a good range of blues and reds, which make the most of the five linked ski areas and cover some distance through varied terrain, from wooded runs to wide-open pistes with stunning views.
The tree-lined blue Guy Perillat piste runs down to the village from Beauregard, and the wide runs of the Aguille down Cret du Merle, ending in the village centre, are firm favourites. L'Etale has some fun fast blues, while over in the sun at Manigod and Merdassier there is a quieter ski area with blue and easy reds through the trees and, although shorter in length, there is a great choice here.
Intermediates are in their element and fast pistes for the advanced
Although the area does not have too many official black runs, you can still find plenty of good fast pistes to thrill you. Etale mountain has a steep red, as well as a few challenging blacks, one of which, Tetras, becomes mogully and very tough – definitely a thigh-burner.
La Balme is the best area for advanced skiers, with the longest and steepest runs for both on- and off-piste descents. It has some good speedy reds and the descent from top to bottom will severely test anyone's downhill ability. The large sheltered bowl is the highest point in La Clusaz as it rises up to 2600m, with amazing views across to Mont Blanc. It gets the best snow in the resort and because of its height and aspect it keeps it well. Our favourite non-pisted black run over here is Vraille – a 4km run right down to the valley floor.
La Clusaz is something of a hub for freestyle, with two areas where beginners to experienced skiers, can practice and train: LCZ Family Run by Columbia et LCZ Park by Columbia. The resort organises the annual LCZ Freestyle Show, bringing together the best French freestyle skiers.
La Balme is the place to go on a fresh powder day
After a fresh snowfall, La Balme offers some serious powder with a huge expanse of off-piste, as well as red and blue runs, all accessible to the braver or more adventurous intermediate. A few times each season you can experience waist-deep powder here. There are also some lovely off-piste opportunities over the ridge of Etale. For those prepared to work a little harder, the ski-touring possibilities are amazing in the many hidden areas such as Bellachat just off La Balme, offering fresh snow where you can carve your own tracks.
Just to add to your experience, the neighbouring resort of Le Grand Bornand is only about 10 minutes drive on the ski shuttle bus, which runs really regularly, so you've got double the choice of skiing terrain. The Massif des Aravis offers a vast expanse of easily accessible ski-touring terrain.
---
---
Where to Learn
La Clusaz has some flat and wide nursery slopes around the village, as well as at the top of the Beauregard cable-car, with wide gentle greens and easy drag-lifts on the plateau. We also like the green ski run at the bottom of La Balme for beginners as it's a nice smooth piste with a gentle drag-lift (the friendly lifties will slow it down for first-timers). Manigod is another area that has some gentle blue runs, with simple-to-use lifts. And with few people, wide pistes and plenty of space, you can relax without worrying about anyone else.
There are some beginner slopes on Beauregard, which are also an ideal gradient for first-time snowboarders to get a feel for their boards. It is a quiet, gentle slope with an easy rope-tow. Beware though: some of the pistes at Croix Fry and on the Aguille can get icy towards the end of winter as there are no snow-cannons there. This means you have to rely on the piste machines breaking up the natural surface and redistributing the snow. On the whole the pistes are kept in good condition right up to the end of the season, with the snow-cannons filling in gaps where needed.
One of the bonuses for learning is the lack of crowds on the slopes
"I've hardly ever been in a queue and get really good long days on the slopes," said a reporter. The English-speaking instructors at the ESF tend to be good here. You can either join a group lesson or book private lessons. International Ski School ESI have been teaching skiing in the resort for over 20 years. They have a good number of English-speaking instructors and can offer everything from private or group ski lessons to a freeride or off-piste course.
Aravis Challenge are best known for the more offbeat stuff: ski-touring, moguls, freeride, off-piste, freestyle, telemark and speed riding. Most of their instructors are bilingual.  Alter Ego offers private lessons for up to six people for piste, off-piste and ski-touring lessons. Yvan, who runs it, has worked in the USA and speaks excellent English.
There is a creche, Club des Mouflets (+33 450 32 65 43), for kids aged three months to four years old. They offer half-day care with or without lunch or full day care. Older children can ski with the Club des Sports. Beginners can spend time in the play garden in the village centre, whilst older more experienced kids can join the ESF group lessons.
---
---
Where to Stay
When booking your accommodation ask if it's in the true village centre, as La Clusaz is a wide-spread village and many chalets/apartments are a long way from the bars, restaurants, village or lifts. Apartments can be booked through British tour operators such as Peak Retreats, Erna Low and PowderBeds.
Au Coeur de Village Hotel & Spa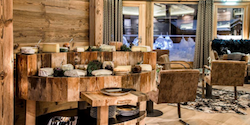 Au Coeur de Village Hotel & Spa features 57 suites and rooms, a spa, excellent food and attractive decor. The spa has an indoor pool, hot tub, sauna and steam room and is a perfect place to recover post-slopes. It's a true five-star experience, with every detail taken care of. It is located at the bottom of the Beauregard lift, which is handy for the skiing.
Hotel Beauregard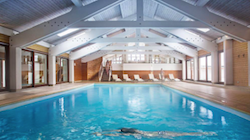 Four-star Hotel Beauregard is a comfortable four star hotel served by a drag-lift onto the main Cret du Merle piste. It features a large swimming-pool, a wellbeing area and a large dining room serving delicious food. Views are incredible, and the hotel is is known for its friendly staff.
Hotel Alpen Roc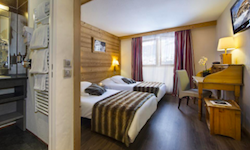 Hotel Alpen Roc is a village-centre hotel. It features a fantastic second-floor bar with open fire and particularly awesome views directly onto the main piste from the terrace. It's a high standard for a three-star, and has a cosy family atmosphere. Breakfast, lunch and dinner are prepared using fresh local produce, and fully-inclusive rates (including drinks and snacks) are also available.
Hotel Christiania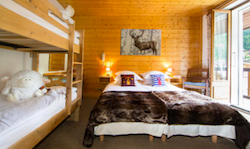 Hotel Christiania is in a central village location. It has a funky restaurant and bar, and was recently renovated. It's central and is great for families with kids on a budget, yet still craving a comfortable stay. "Very central, walking comfortably to the lifts, spacious room, big bathroom. Great restaurant in the building," said a reporter.
La Ferme du Var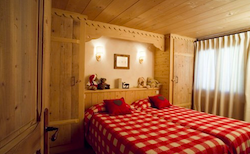 It is also possible to rent one of the many attractive chalets dotted around the town and piste. These include La Ferme du Var, which is an 18th-century family farm with eight bedrooms. Renovated by local craftsmen in true Savoyard tradition and decorated in exquisite taste, the farm is available for a short break or a long stay.
Residence les Grande Alpes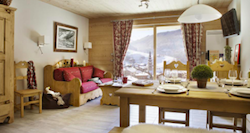 For a self-catering experience, check out Residence les Grandes Alpes. They residence is a three-minute walk from the slopes. Inside, the apartments are light and spacious, with varying-sized units sleeping from two to 12 people and offering gorgeous views over the village. The residence's communal lounge has fireplace, billiards and TV.
Refuge D'ze Voye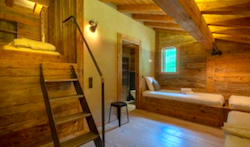 New in 2018 was Refuge D'ze Voye is located at the foot of the Aiguille de Manigod. The former 18th-century farm has been converted into a charming cottage, with six bedrooms and bathrooms. Rustic in appearance, the interior of the refuge has been completely refurbished with a focus on comfort and modernity. There is a sauna, steam room and an indoor swimming-pool.
Hotel St Alban Hotel & Spa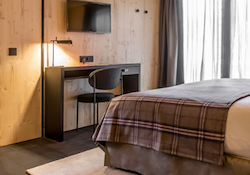 Hotel St Alban was also new in 2018, and is a four-star hotel built from wood in Art Deco style. It is located around 500 metres from the Crêt du Merle lift. Inside the property are 48 cosy bedrooms decorated with fine materials in soft colours. The beautiful Nuxe spa has an indoor swimming-pool with hydromassage, sensory showers, an ice cave, and treatment rooms. There's also a chic bar and an in-house ski shop.
Farmhouses on the piste
Stay in one of these if you want the true Alpine experience with loads of atmosphere. However, they are not necessarily convenient for the shops and apres-ski – so check on a map before you book. Alternatively, St Jean de Sixt is located between La Clusaz and Le Grand Bornand, with a lift pass covering both (there's a free ski bus which takes five minutes to both resorts).
Hotel-Chalet Alpage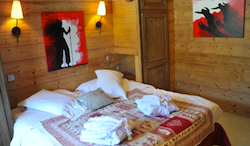 Hotel-Chalet Alpage is a nicely decorated former farmhouse with a swimming-pool and hot tub, sleeping up to 32 people. The property has a restaurant offering a buffet breakfast. It is located on the piste in the Etale area, so it's worth bearing in mind that it is nearly 2km from the village centre.
La Ferme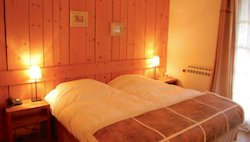 La Ferme is best known for its rustic restaurant that serves traditional cuisine and mountain specialities. The hotel rooms are set above it, and the whole thing is located on the piste, with an outdoor hot tub, and makes an good base for an independent holiday.
Chalet Panoramic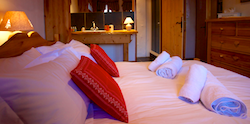 Panoramic is an English-run chalet in the heart of La Clusaz. Ski-in, ski-out with a hot tub on the terrace, this makes a good base for a group of friends or family. It's newly decorated, and has friendly staff. Rooms are comfy, and there's a real emphasis on family holidays here.
Aravis Lodge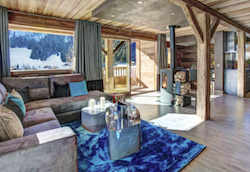 Newly decorated, with friendly staff. The Aravis Lodge is an British-run chalet in a building that dates back to the early 1900s. A holiday here provides the whole package, from lift passes and airport transfers to dinner with wine. It's not super-central, at nearly 500 metres from the lift station, but its cool interior is modern and stylish.
Hotel Beau Site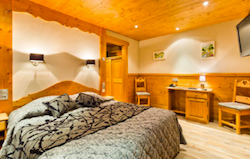 Hotel Beau Site is in the heart of the village of St Jean de Sixt, with lovely views. It's a cosy three star, with a swimming-pool and excellent food. The hotel is committed to green issues and uses newly-installed technology such as solar panels and wood chip generators to minimise its impact on the environment. The bedrooms all come in different shapes and sizes.
---
---
Where to Eat
One of the best things about La Clusaz are the mountain restaurants and there are loads of them across all five mountains. These are our favourites:
In the Cret du Merle there's Chez Arthur, which is a lunchtime self-service with nice food. It can get busy as it's on the main piste. Le Bercail is a lovely old restaurant, with open fire and stunning views. It offers dinner as well as lunch – accessed in the evenings by snowmobile. Le Relais d'Aguille is one of the oldest restaurants in La Clusaz, offering two styles of food for lunch – smart (including lobster) table service, or self-service salads and tartiflette. Le Vieux Chalet has food cooked on an open fire.
At La Balme there's La Bergerie. As it's the only restaurant at mid-station it is always busy, but offers good value for money. Telemark Cafe at Etale is the funkiest restaurant in the resort with lovely open fires and 360-degree views of the mountains, a large terrace and great food. Lunch and dinner are available by previous arrangement. At Croix Fry there's Chez Fonfon (+33 450 44 90 33) with good food and lovely views.
Lots of choice in the resort
There are 68 restaurants to choose from in La Clusaz, but in our opinion these are the best: La Ferme is a rustic old farmhouse on the piste in the village centre. It has delicious food and a great atmosphere for both lunch and dinner. La Scierie is an old sawmill on the river in the centre of town. It serves great food in a beautiful decor – but it's expensive by La Clusaz standards. L'Arbé is a traditional wooden restaurant serving lovely Savoyarde food in a cosy atmosphere.
L'Outa (+33 450 02 45 35) is a great brasserie serving everything from pizza and pasta to delicious meat, fish dishes and Savoyard cheese – all at a reasonable price. It's cosy and friendly – great after a long day on the mountain. Ugo H Table (+33 890 71 99 73) is another brasserie with friendly staff, a good atmosphere, and reasonable prices. Le Grenier is a dark atmospheric restaurant with great food. It's attached to the Bonnet d'Ane bar next door which can be accessed, lion, witch and wardrobe style, through the loos!
Sushi Fumi is where the art of Japanese cuisine meets local produce: the chefs are French, but trained in the art of Japanese cuisine with the objective of experimenting with different flavours. L'Ecuelle (+33 450 23 67 91) serves hearty cuisine using fresh seasonal produce. Signature dishes here include Grilled sirloin steak with a whipped Roquefort cream.
Le Foly – set in an old wooden hut at Lac des Confins and offers regional specialities such as tartiflette, fondue and pierrade, as well as lake fish and meat grilled on an open fire.
---
---
Where to Party
Apres-ski in La Clusaz can be great during the holiday seasons – Christmas, half term and Easter – but quieter outside it. All the bar owners are very friendly though, often giving away free Genepi shots, and a good night will be had despite the season. On the home run down from Beauregard, head for Le Vieux Chalet on the slope above town for a vin chaud or hot grog sitting outside on the attractive wooden terrace. Relais de l'Aiguille is a good spot for a drink after skiing (you can have dinner here too), but there's a good choice of bars on the home run at Cret de Merle, particularly in the spring time.
Later on, S Pub is bar that serves pizzas and snacks, with DJs, live music and party nights. Bar au Vin (+33 450 44 25 50) is a sophisticated wine bar in a cellar in the town centre. Brasserie Centrale (+33 450 02 40 15) is superbly placed for seeing everything that's going on in the village square.
Le Bonnet d'Ane is a chic bar attached to Le Grenier restaurant on one side and Ecluse night club on the other so everything you need all in one building. Les Caves du Paccaly (+33 450 63 37 39) has a wood-clad bar, good music, tapas and is lots of fun. Le Bachal provides cosy sofas, delicious cocktails, enormous TV screens, and the occasional live music and DJ. Ecluse (+33 450 02 64 41) is a cellar club with a glass dance floor over the river. It's good fun and open until 4am – but the drinks don't come cheap.
During the winer La Clusaz hosts freestyle competitions, a Mardi Gras carnival and a Retro Ski event, all of which keep the apres lively and fun. The resort is also known for its unusual events, such as the full moon skiing evenings and the Defi Foly waterside event where competitors attempt to cross a glacial lake.
See also our feature on What You Should Know About Lake Annecy Skiing.