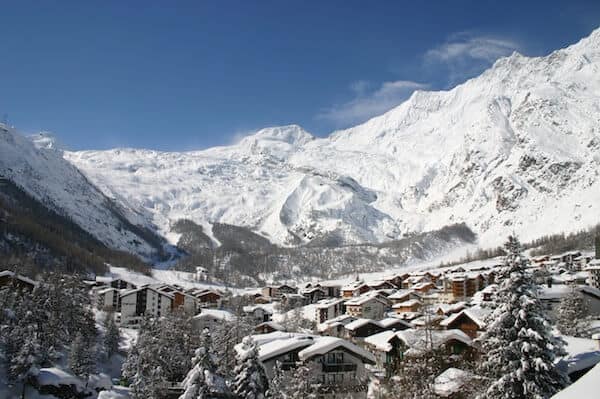 The Stats

Altitude: 1800m

Top Lift: 3500m

Ski area: 100km of piste

Adult lift pass: 370CHF for six days

In a Nutshell

Saas Fee is one of the most charming and snow-sure resorts in the Alps. It's also home to one of the world's finest intermediate descents. A shoo-in, then, for our top ten? Not quite – because if you're an expert or a high-mileage cruiser, you'll get bored here after three or four days. For most of us, it'll only ever be a short-break destination.
Essential Advice for the Perfect Trip
If you're looking for an espresso-strength flavour of the Alps, put Saas Fee somewhere near the top of your list. An ancient settlement in a spectacular setting – surrounded by no less than thirteen 4000m peaks – it's grown considerably in recent times, but still has plenty of high-mountain atmosphere. Blackened hay barns pepper its car-free streets, and every view over the roofs is topped with thousands of metres of crags and snow. The fact that the lifts run on its glacier all the way from the beginning of July to the end of the winter season only adds to its rough-hewn allure.
Magnificent scenery, but an undersized ski area
Such alpine magnifence does have its drawbacks, though. The glacial terrain is as hostile as it is beautiful. Much of the mountainside is littered by giant séracs and wide crevasses that beckon anyone who is foolish enough to leave the marked piste without a local guide. Such treacherous topography also means that the pistes themselves are limited in scope and reporters complain that for a resort of this size there is simply not enough skiing or riding for a whole week.
Admittedly the separate outlying hamlets of Saas Almagell and Saas Grund provide a little more variety. And Saas Fee also has a whole mountain, served by a gondola, that is reserved for tobogganing. But essentially, this is a short-break destination, best skied for four days, unless you're a beginner, or happen to have your children in tow, or fancy chilling out amidst gob-smacking scenery.
Several of the pistes, by the way, are superb – especially the long, top-to-bottom descent from the top of the lift system, back into town. "I thought that as the resort was listed as beginner- and intermediate-friendly the skiing would not be that challenging or varied. However it was more challenging than I expected, and the toboggan run was great too," was how one reporter put it. "Saas Fee is a highly European-oriented resort, catering significantly more for German- and French-speaking visitors than English," added another.
A cute village, great for families
The profusion of friendly, family-owned three-star hotels are not exactly cutting-edge but still clean, comfortable and well-run. The traffic-free town is cute and easy-going, the hotels at the southern end of town look out straight onto the nursery slopes, and there's a wealth of other activities to keep the nippers happy if they don't want to ski.

| | |
| --- | --- |
| | The endless, hell-for-leather descent from 3500m, all the way back down to town. 1700m of giddy madness. |
| | The eye-popping glacial scenery. |
| | The fact that there are easy slopes at the bottom, middle and top of the mountain, giving beginners a proper sense of the mountains. |
| | The fact that there is always snow here – even in the middle of summer. |
| | The cute, car-free town and friendly, chilled-out atmosphere. |
| | The freestylers' sub-culture flourishing around Hotel Popcorn. |
| | The excellent summer skiing on the glacier. |

| | |
| --- | --- |
| | The greedy glacier – all right, so it's receding fast, like every other glacier in the Alps, but it still swamps the top half of the mountain, severely limiting the off-piste. |
| | The lift queues in high season. |
| | The linear nature of town. It's a long walk back from the slopes if you're staying at the wrong end of town. |
| | The lack of tree-skiing for bad-weather days. |
| | The overpriced electric taxis. |