Whether the weather is sunny and clear, cloudy or snowing, everyone's eyes need help to keep them healthy. We love wearing sunglasses in bright sunny conditions, but always wear goggles when it's snowy, windy or in a white-out. Sunglasses don't always fit well with a helmet, and they won't stop snow from coming in around the frames in stormy conditions or when you do a head plant!
A decent pair of goggles can protect your eyes at least as well as sunglasses in bright light, prevent snow getting in, increase contrast in a blizzard or fog and also help reduce any damage caused by the sun.
Hopefully this guide will help find the best goggles for you.
The Fit
Snug-fitting goggles allow a wider field of vision and provide a seal around the face – so you won't get watery eyes. They also keep you warmer than sunnies when the temperature drops.
If you wear a helmet then you'll need to make sure your goggles fit it. Buy both at the same time if possible, and try them together in the shop. If not, take your old helmet with you when you go goggle-shopping.
Again, the seal should be good around the face and not restrict breathing. Too wide a gap between the top of the goggles and the rim of your helmet and the air will get through, causing an uncomfortable draft.
Goggles come in all sorts of different shapes and sizes, and there are specific women's goggles for smaller faces and for kids (see below). Make sure the adjustable strap is long enough to go around the outside of your helmet, too.
Frames are made using softer, more flexible materials than they used to – including nylon and rubber. These materials hold their shape, don't become brittle in the cold and help protect against injury to your face in a fall.
Fog and Maintenance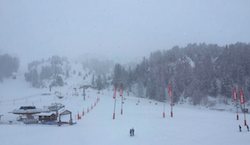 Nowadays all goggles come with good vents, as well as double lenses and an inside layer that prevents them from fogging up. Try not to clean the inside too often because it will wear away and lead to even more fogging. Unfortunately, on nearly all goggles, the anti-fog coating wears off quickly.
If you do clean the inside of your goggles, make sure you use the goggle sponge or cloth that comes with them. Sleeves, gloves and tissues are all pretty abrasive and can end up scratching the lens.
Only clean the lens when it is dry. If you take a head plant and the goggles fill with snow, let them dry, then clean them even if it means skiing with some snow inside.
The coating on the outside of your lens can be easily damaged too. Don't put the goggles down on their lenses at lunchtime or when you get back to your apartment – they'll get scratched in an instant. When you're packing, or if you put them in a rucksack while you ski, store them in their hard case, or in a soft bag, wrapped in soft clothing. The same goes for spare lenses. Remember, these are fragile bits of kit. You can ruin an £100+ pair of goggles in minutes if you don't take care.
Lens Shapes and Tints
There are two basic lens shapes. The traditional style that looks flat is called a cylindrical lens.
The spherical lens gives more clarity, with the idea that it is shaped like an eye to give less distortion and therefore better vision.
There are lots of tints around, all of which are for varied conditions – from those suited to bright light to ones for cloudy days.
Lenses are classified from 0 to 4 – with the higher the number, the darker the lens. 0 is suited for night-skiing and indoor slopes. Categories 1-2 are the most popular, but although people do wear them in bright sunshine it's not really recommended as they do increase the light.
The best all-round lens is a 2-3. Category 4 lenses are for the very brightest of conditions and very high altitudes (like glaciers) – they aren't usually necessary for skiing but can be used on the sunniest days.
Most brands and ski retailers offer a light transition chart that shows how much light can go through the lens. The higher the number – the brighter the lens. For sunny days you'd need a lower transition so that less light can enter. In snowy or foggy conditions, a lens which allows more light to enter would be better.
Spare Lenses
Some goggles come with two or more lenses as part of the package (such as Dragon, Adidas and Nike), which allows you to swop lenses depending on conditions. One lens will be suited to bright sunshine and the other to flat light.
Test them before you buy so you can be sure the lenses are easy to change, and always store the replacement lens in a hard case in your rucksack when you ski. Otherwise you'll be back in the shop to buy a new lens at the end of the day.
Oakley's Prizm lenses (see the video below) work by splitting light into its different colour spectrums then enhancing those needed to see clearly and filtering out the others. The skier is left with clearer vision.
The lens is made by using special additives in the base lens material and, as it's not a coating, it won't rub off over time. The lenses are rose tinted but the eyes adjust to the colour in a short time.
OTG Or Prescription Goggles?
Most glasses wearers find that wearing them underneath standard goggles is extremely uncomfortable.
Special OTG (Over the Top of Glasses) are a bit deeper than ordinary goggles, allowing more space in front of the eyes to prevent glasses being squashed onto your face.
They have cut-aways at the sides so that the arms can fit beneath, and lots of venting to prevent glasses getting steamy. Some models even have a battery-driven fan.
Prescription goggles are less likely to fog up, than wearing OTG or ordinary goggles over glasses. However, many skiers find the inserts (inner 'glasses') that clip into the goggle, flimsy and they can fall out easily. Sometimes they are positioned wrongly, too – we have tested models where the insert is fixed far too high – meaning you can see ahead, but not the terrain directly in front of you.
Sports Eyewear Direct and RockSpex both have a range of goggles with prescription inserts.
Wearing contact lenses when skiing is the obvious solution. It prevents the fogging up problem and means you can still see when you stop for a vin chaud or lunch inside a (relatively) dark mountain restaurant.
Built-In Goggles
Kask helmets are designed with a panoramic visor featuring an anti-fog, anti-scratch lens. There are 11 styles of helmet available, all with a choice of 10 interchangeable lenses, which work well for glasses-wearers, too.
Snow Blindness
UVB is the part of sunlight that causes the skin to burn and in the same way, the cornea (front surface of the eye) can be damaged by unprotected exposure to the sun.
You should always wear sunglasses or goggles in bright sunshine, especially if the surface you are on is highly reflective – as is snow. As well as the light coming from above, a lot of the UV light hitting the ground is reflected back up, thus intensifying the light.
The name "snow blindness" is deceptive because other reflective surfaces, such as water, create the same effect.
You won't know you're going snow-blind. The damage to the front of the eye is delayed and symptoms might not appear until six to 12 hours after the UVB exposure. Symptoms include watery eyes, pain, redness, swollen eyelids, headache, a gritty feeling in the eyes, blurry vision, and even a temporary loss of vision.
The severity depends on the UV light intensity (higher at higher altitudes) and the length of exposure. Extreme cases can cause clouding of the cornea and ulceration of its surface.
Can You Really Go Blind?
Mild cases clear up within a few hours, having taken some pain relief, keeping your eyes closed and resting in a dark room.
More severe cases however, where ulcers have developed, will lead to scarring and permanently reduced vision if not given urgent medical attention – particularly if infection sets in. Anti-inflammatory and antibiotic eye drops should be given in these cases.
How Can It Be Prevented?
The answer is to always wear high-quality UV protective glasses or goggles. They can be darker tinted for extra comfort from glare but the materials used in all quality sports glasses – Polycarbonate or Trivex lenses – block UV light even if not tinted.
The other important point to remember is that cloud still lets through a lot of UV light, so it's not enough to wear goggles or glasses only on bright sunny days.
The Best Ski Goggles
Smith have I/O and I/OS goggles that come with several lenses for a variety of conditions and which are easy and quick to swop around.
Their newest goggles have an anti-fog treatment that is not based on a layer on the inside like others, which means you can wipe them on both sides of the lens without destroying the anti-fog surface.
The company's patented micro-electronic fans in the Turbo Fan Series promote air circulation even when you're standing still. Turn the fan onto the 'low' setting when you get up the mountain and the system will run all day long to clear moisture from inside the goggles. The 'high' setting can be used to quickly drain moisture in extreme conditions.
Oakley Airwave goggles take goggle design and technology to the next level with a built-in display that integrates GPS and Bluetooth. Sensors show your maximum speed and vertical metres skied, give you jump distance, height and airtime. There are preloaded maps, music playlist control, and buddy tracking too.
Goggles You'll Find In The Shops or Online:
Adidas use spherical lenses and have a quick lens-changing system. All models can be fitted with a prescription insert.
Alpina is the German market leader for ski goggles, and their goggles have been worn by many Olympic skiers. The collection includes kids and OTG models.
Melon are design-your-own goggles in terms of lenses and frame colours. They produce design-your-own sunglasses too. The SwitchFast straps and easy change lens system give full customisation, allowing you to change your lens and strap set-up to the suit conditions and the look you want on the day.
Nike is new to the goggle market but their eyewear comes with some of the best technology, including Transitions photo-chromatic lenses which adapt automatically to changing light conditions.
Scott LCG (Lens Change Slider) system features interchangeable lenses and fits to allow skiers to quickly adapt their vision.
Others include Cebe, Dirty Dog, Dragon, Salice, POC, Carrera, Bloc, Giro, Bolle, Spy, uvex and Zeal. Ellis Brigham has a large range of goggles and shops such as Decathlon and ski manufacturers like Atomic, Salomon and Rossignol also produce goggles.
Best Goggles for Kids
Most brands have models for kids as well as adults, which are less bulky and more fitted. They are slightly more basic to keep them tough and good value for money.
These include Oakley, Dragon, Salice and uvex. POC's kids goggles are called POCito; they are expensive for children's goggles but worthwhile.
What Do You Think?
Are there any goggles you've found that you'd like to tell us about? If so, let us know in the comments box below.