At the moment, the high resorts are seeing some good snow conditions, so maybe you're thinking of squeezing in a late skiing trip?
If so, sunglasses and sunscreen are more essential than ever for spring and summer skiing, and if you wear goggles make sure they have dark lenses rather than the yellow or orange tinted ones you'd wear earlier on in the season.
If wearing sunglasses, always make sure you wear good quality ones with UV protection. If you don't, you'll block out the bright light but not the sun's radiation, which will still get through and be absorbed by your dilated irises. The red-skin-red-eyed look is not a good one.
You'll need to carry bottled water in your backpack to keep yourself hydrated and don't forget to bring a pocket-sized suncream or sun-protection stick. If you're wearing lip balm or moisturiser, make sure that it also has a decent SPF – otherwise your lips will fry.
How Do Sunscreens Work?
According to Skicancer.org, there's confusion about the sun's ultraviolet A (long-wave) and ultraviolet B (shortwave) rays. Our understanding of exactly what kinds of damage each causes to the skin, and how best to protect ourselves, changes from year to year as new research comes out.
In fact, both UVA and UVB are harmful, penetrating the atmosphere and playing a role in conditions such as premature skin ageing, eye damage (including cataracts), and skin cancers. UVA also penetrates clouds.
"UV irradiation in the form of UVA is associated with skin ageing. UVA affects the elastin in the skin and leads to wrinkles and sun-induced skin ageing (for example coarse wrinkles, leathery skin and brown pigmentation), as well as skin cancer", says The British Association of Dermatologists. "UVA can penetrate window glass and penetrates the skin more deeply than UVB. UVA protection in a sunscreen will help defend the skin against photo ageing and potentially skin cancer.
"UVB is the form of UV irradiation most responsible for sunburn and has strong links to malignant melanoma and basal cell carcinoma risk (types of skin cancer). A sunscreen with a high SPF (sun protection factor) will help block UVB rays and prevent the skin from burning, and by extension damage that can cause skin cancer".
SPF Explained
Sunscreens are labelled with an SPF. This stands for sun protection factor, although the SPF is more accurately the sunburn protection factor. A sunscreen with a high SPF will help block UVB rays and prevent the skin from burning, and thereby minimizing the damage that can cause skin cancer.
SPFs are rated on a scale of 6 to 50+ based on the level of protection they offer, with ratings between 6 to 14 forming the least protected end of the spectrum and ratings of 50+ offering the strongest forms of UVB protection.
A sunscreen with SPF 30 is what is recommended as a satisfactory form of sun protection for high altitudes. It actually means that it would take 30 minutes to get burned, while SPF 15 means 15 minutes of sun can cause sunburn.
Once-a-Day Protection Products
Some sun protection products promise 8+ hours of protection from just one application. However, the main issue with once-a-day sun protectors is that they do not account for scanty application and accidental removal. People often apply suncreen too thinly or not often enough, and they tend to miss tricky areas such as ears or the hairline.
When sun protection products are tested for their protection ratings they are applied correctly (liberally and regularly), but if we don't follow the same practice then we won't be offered the full protection.
Exposure to water (as in a head plant), sweating, and any form of rubbing can remove sun protectors from the surface of the skin and leave it exposed.
What About Moisturisers?
SPF used in moisturisers is tested the same way as in sunscreens, so an SPF 15 moisturiser should provide an SPF of 15. However, these formulas are less likely to be rub-resistant and water-resistant, and are likely to be applied a lot more thinly than sunscreen. This means they won't offer the same level of protection.
It is also worth noting that moisturisers containing an SPF may not have any UVA protection.
Are Organic Creams Any Good?
Many sunscreens claim to be organic and natural, free from chemicals, but they sometimes still contain preservatives such as phenoxyethanol, nano particles and parabens. Check the ingredients on the tube or bottle to make sure you're happy about the contents. And just how effective are they in protecting you from harmful UV?
Annemarie Borlind, for example, produces organic sun cream. They say: "All our suncare products meet EU safety requirements and guidelines regarding UVA and UVB rays, but unlike many other products on the market ours do not include mineral UV filters such as titanium dioxide or zinc oxide, parabens or PEGs. This means they are suitable for people who have very sensitive skin that is easily irritated, or suffer from conditions such as prickly heat.
"Our suncare products are not classed as wholly organic, but use natural ingredients to offer both high sun protection and natural care in one. We do recommend that our natural products should be applied regularly because they do not contain the chemicals other products do – but suncare experts recommend that we should all reapply suncare more than we do, whatever products we are using."
I personally tested the cream and lip salve on a glacier in Austria this Easter and found that they worked every bit as well as a non-organic product full of chemicals. I have sensitive skin and am normally allergic to lots of the well-known brands. I made sure I re-applied this cream at frequent intervals – and had no unfavourable reaction at all, nor did I burn!
How Important is Vitamin D?
Sunlight is also good for you, thanks to the Vitamin D that your body makes when it's exposed to the sun. Your body turns the ultraviolet B energy into a nutrient that is then used to produce Vitamin D.
The interesting thing is that you can't get enough Vitamin D from the food you eat, as only a few foods like mushrooms, salmon, and eggs contain this important vitamin.
This means that sunscreen can actually be bad for your health if you spend too much time wearing it. It can prevent your skin from being able to absorb enough Vitamin D, as it blocks 95% of the UVB rays.
Vitamin D makes it easier for your bones to absorb the calcium you get from food, so your bones will stay strong as long as you get enough sun and calcium. In fact, if you don't get enough sun, you'll find that your lack of Vitamin D can make you more likely to develop osteoporosis. Vitamin D also strengthens your immune system, with autoimmune disorders more likely if you don't spend enough time in the sun.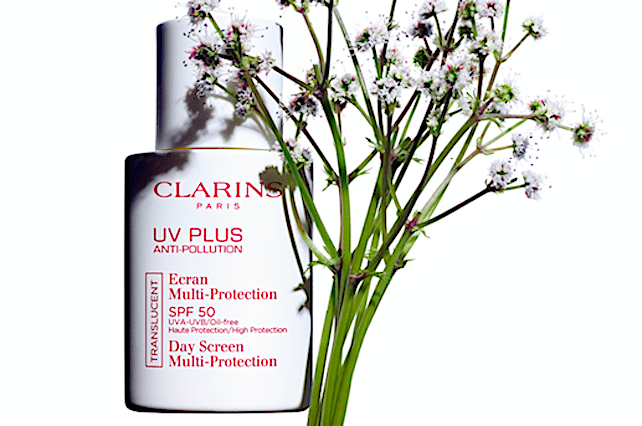 The Different Types of Cream On Offer
Do you prefer an opaque cream that needs to be massaged into the skin, a light and translucent milk or lotion, a sun oil, or a stick that looks and feels a bit like a lipstick?
One of my favourites is Clarins UV Plus Day Screen Multi-Protection SPF 50, which is conveniently pocket sized. Its lightweight formula has antioxidant protection thanks to containing extract of organic Alpine sanicle – a plant that grows in the Alps. It also contains white tea, cantaloupe melon and blackcurrant. Sounds good enough to eat! There's also a Clarins Sun Control Stick which is great for top-up protection, especially on sensitive areas such as the lips.
I also like Clinique Mineral Sunscreen Fluid SPF50, which is a lightweight fluid for the face that is easy to apply and can be worn by itself or under makeup. It's made from a new formula that is suitable for sensitive skin.
Another I like is the pocket-sized Ultrasun Extreme 50+. For most people, a sunscreen with SPF30 is sufficient for high altitudes, although children and people with very fair skins may need something as high as SPF50.
Whatever your choice, it is a bonus to buy a small sized (50ml) cream, stick or combo-stick (cream and lip balm in one) – besides your normal cream – to take up the mountain in your pocket. One application hurriedly put on at the bathroom mirror in the morning just won't be sufficient!
The key to using sunscreen is to apply it regularly, but give your skin some time to absorb Vitamin D before doing so.
Top Tips
1. Protect your face as much as possible with a hat or helmet, goggles or sunglasses.
2. When possible, opt to sit in the shade at lunchtime when the sun is at its most powerful.
3. Use a high protection sunscreen of at least SPF 30 and make sure you apply it generously and often.
4. Apply sunscreen to your entire face, ears and neck. Reapply every two hours, or immediately after excessive sweating.
5. Keep babies and young children out of direct sunlight.
6. Read our feature, Keeping Safe on the Mountain for more tips on ski safety.
Thanks to Health Ambition for their information on suncare, and to the British Association of Dermatologists for additional information.
Any More To Add?
If you have any personal favourite sunscreens that work well for you, please let us know about them in the comments box below.