In a James Bond movie, actions speak louder than words, which in our case was just as well. In glorious autumn sunshine The World Cup course on Solden's 3309m Tiefenbach Glacier, under a fresh 20cm of new snow, was skiing perfection. Sorry about you guys at home, but even with a whole month to go before the official start of the European ski season, it just doesn't get any better than this.
Words, however, were proving a bit of problem. After an 007-style 130mph car chase along the Autobahn and over the mountains from Munich airport, we'd arrived in Innsbruck in the nick of time for the Austrian premiere of Spectre…only to discover after the first mouthful of popcorn that the movie was in German, without subtitles. Null Null Sieben somehow doesn't have the same ring to it.
Jakob Falkner, the boss of the lift company in Solden, where much of the action was filmed, was distraught: "It was a mistake," he apologised, "Hollywood gave us the wrong film. We asked for it in English with German subtitles."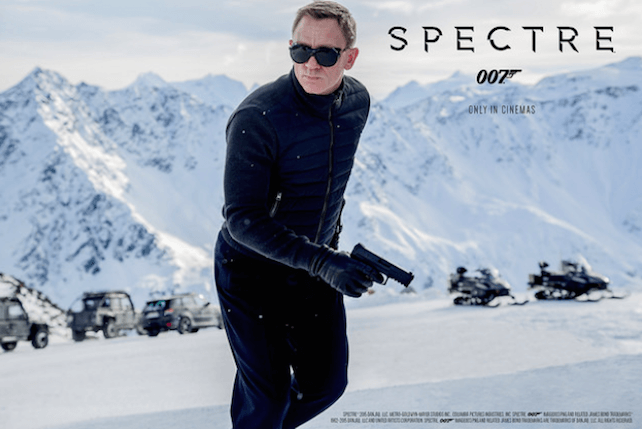 Sorry? Such a simple mistake in Spectre cost one baddy his life after his eyes had been gruesomely gouged out on screen in glorious technicolor. Fortunately Herr Falkner escaped unscathed, despite failing to reveal how much Solden paid for appearing in the movie.
Word has it that Mexico City coughed up an astonishing $20 million to feature its Day of the Dead festival in the opening sequence. But if Solden paid even half that – the cost of a new gondola – it may prove a canny investment for a resort that is bent on changing its international image from snow-sure bargain basement to hedonistic penthouse (still with guaranteed snow cover).
Back in the day, this resort which straggles like a Wild West frontier town along a mile of the Otztal, 17 minutes short of better-known (until now) Obergurgl, was cheap, cheerful, and more renowned for burgers, vodka and Red Bull than for caviar and dry Martinis. Germans, Dutch, and a modest number of Brits enjoyed mainly intermediate pistes and advanced apres-ski in an essentially three-star ambience.
Then major investment in on-mountain facilities was followed by new hotels and restaurants – not least the glamorous five-star Das Central in town and its glass-walled ice Q mountain restaurant at 3048m. The hotel with its signature giant bedrooms with open-plan bathrooms, Venetian-inspired spa, and fabulous restaurant has quickly established itself as one of the top Alpine residences in the world.
Somewhat surprisingly, Daniel Craig didn't stay here during filming. For security reasons he had to slum it for a month across the road in the four-star Hotel Bergland, where the top floor could be secured against any potential Blofeld visits.
But it was the glass ice Q that persuaded director Sam Mendes and the producers to opt for Solden. It's the setting for a mountain-top clinic where Bond meets his beautiful main squeeze, Dr Madeleine Swann (Lea Seydoux). Madeleine is immediately seized by a baddy and Bond give chase to the kidnap car in a plane. Both wings snap off in a couloir – like they do – and the truncated aircraft toboggans into a chalet with splintering effect.
Yes, but what about the skiing? Er, there isn't any. We do see a few people carrying skis and snowboards, there's a gondola ride with a goody and a baddy, but the only turn is the one being made by Oetzi The Ice Man in his grave – or rather, showcase – across the Italian frontier in the South Tyrol Museum of Archaeology in Bolzano.
Oetzi, you will remember, is the 5,300-year-old hunter whose well-preserved body was found up here in the permafrost in 1991. What he would made of all the 21-century kerfuffle is anybody's guess, although Bond could no doubt have used the 14 arrows, axe, and knife found beside his body.
Just because Bond didn't ski this time, it didn't mean that we couldn't. After another real-time car chase from our hotel in Innsbruck there was just time to click into rented skis and explore the glacier, which we rate as one of Europe's finest – the last pitch of the World Cup run is positively steep by glacial standards.
It was a bluebird day on the glacier with temperatures of -1C. We were testing some new Therm-ic heated gloves from Ellis Brigham and a very snug Merino Zone One Sheep Suit from Icebreaker – it was so mild that the gloves' integral heaters were kept firmly switched off and the base layer only needed a thin shell jacket and trousers on top.
James Bond himself would no doubt have enjoyed an excellent four-course lunch at the ice Q, but he might well have complained about the perfectly chilled vodka martini served beforehand on the terrace with magnificent views across the Tirol. It contained an olive on a cocktail stick. Purists will know that in the Ian Fleming stories, 007 orders a total of 16 vodka martinis and 19 gin martinis and – as with the stories – there's always a twist (of lemon). Never an olive.
Getting Here
Capture the James Bond experience by staying in Hotel Das Central from £1,445pp for one week half board, including flights, and resort transfers, through Snow-Wise. Rooms here are also available with Sno and Ski Solutions. Crystal Ski also offers holidays to Solden.