In a Nutshell
Gurgl has been popular with British families since the 1960s. It's a charming, high-altitude resort with magnificent scenery, a long ski season and cheerful (but not hectic) apres-ski. A gondola links Obergurgl with the even higher village of Hochgurgl.
The Stats
Altitude: 1950m
Lifts: 25
Top Lift: 3080m
Ski area: 112km of piste
Adult lift pass: 359.50-390€ for six days


Official Site |

Ski Map |

Webcam

Michael Zwischenbrugger was raised in Obergurgl, and has been a ski instructor and mountain guide in the resort for 27 years. "I like it here," he says. "We're a quiet resort, at the end of a long valley – so there's not much traffic in the village and we hardly ever get lift queues. There's a relaxed, low-key atmosphere on the pistes, too. This is not the kind of place where people are skiing like lunatics."
In 2010, Michael was one of the founders of the Skischule Exclusiv – an elite ground of mountain guides and ski instructors offering private lessons and off-piste mountain tours.
Covid-19 Safety Protocols
Click on the link for details of Gurgl's latest safety measures.
Click on the link for information about travel to the Austrian Tirol.
Ski Holidays in Gurgl: an Overview
The village of Obergurgl is set around a fine church at 1930m in the long, cold Otz Valley – close to the frontier with Italy, and an easy drive from Innsbruck. It shares its ski area with Hochgurgl, a collection of ski-in ski-out hotels perched on the mountain, at 2150m.
Do those altitudes sound high? They should. This is Austria's highest parish, and with a lift system that extends up to 3080m, Obergurgl offers some of the most snowsure skiing in the Alps. That makes it a reliable choice for early-season skiing, or an Easter family holiday: but it's a great place to ski mid-season too, thanks to the consistency of its cover. There are many fewer days here where the snow is either hard-packed or slushy than in lower resorts.
The two are linked by road and by gondola. Together, the two villages and shared ski area are now marketed under the name Gurgl.
Easy-going and family-friendly
The undersized ski area irritates some people, but others love the fact it's kept Gurgl quiet and family-friendly. "No queues, great ski school, no idiots on the piste, lovely ambience in the hotels and excellent food," enthused a recent reporter. "Good value for what is quite a classy resort." said another. And if these comments make you wonder if perhaps the average visitor is a little older and less gung-ho than the powder pigs of St Anton or the party animals of Ischgl and Val Thorens, you'd be spot on.
Non-skiing options are improving
Two compact villages and a high-altitude ski area are not natural holiday destinations for non-skiers – who'd probably be happier in a proper town, or in a resort which is close enough to Innsbruck or Salzburg for day-tripping. That said, the number of alternative activities has increased recently.
One attraction is the Top Mountain Crosspoint, just outside Hochgurgl. It's Europe's highest motorcycle museum and is aimed primarily at bikers riding the pass over to Italy in the summer, but is open in the winter too. Meanwhile, half-way down the valley at Langenfeld you'll find the extraordinary Aqua Dome Spa Centre, complete with giant, steaming bowls of thermal water. Within the resort, you can try cross-country skiing, tobogganing, snow-shoeing and skating – and there's an indoor riding stable the Edelweiss & Gurgl hotel. Regular trips to the Top Mountain Star café and bar, to soak up its top-of-the-world views, are essential.
A little bit of history…
Back in 1931, Swiss aviation pioneer Auguste Piccard first put Gurgl on the ski map when he landed his hot-air balloon on the Gurgler-Ferner glacier, after achieving a world altitude record of just under 16000m. In a triumphant rescue operation, local guide Hans Falkner led the explorers across crevasses to safety and glory. More recently, Oetzi, the 5,300-year-old hunter whose perfectly preserved body was found on one of the 23 glaciers above the resort, brought renewed fame to the valley.
---
---
Guide to the Mountain
There's good, but limited on-piste cruising here – made better still by the quality of the snow, and fun additional features laid on by the resort, such as its early-morning first tracks programme, the Funslope above Hochgurgl, and the Snow Park. "Excellent lift system throughout and no queues at all when I was there," enthused a reader.
The skiing takes place in three topographically separate, but lift-linked areas spread across the northwestern side of the Otztal. Gurgl's main Festkogel sector is accessed by two gondolas: one at the beginning of the village and another, faster lift, at its centre. From the top you can reach two further lifts and together these give access to a good choice of soothing blue and feisier red pistes, as well as a couple of steeper blacks.
A gondola spanning two valleys
From mid-mountain, the long, slow 3.6km Top Express gondola crosses two valleys to reach Hochgurgl's slopes. The terrain here is more extensive with plenty of long, mainly blue, descents, which are perfect for building confidence early in your skiing career. The two-stage Hochgurglbahn gondola allows swift access from the valley to the modest collection of drag-lifts and chairs – including a modern six-pack – and a continuous vertical drop of 1200m.
The third smaller area of Gaisberg lies to the south of Obergurgl and is reached by gondola from the village centre. Gaisberg offers delightful blue runs as well as well as three more challenging reds between the trees, served by the swift six-person Steinmannbahn chair. It's a canny place to be first thing in the morning, when most skiers are heading to the top of the Festkogel and Hochgurgl sectors: the scenery is stupendous and the pistes usually empty.
A glorious off-piste route begins from the lonely Hohe Mut Alm (see photo, below) and ends up near the Schönwieshutte.
For the more adventurous, there are plenty of opportunities for guided excursions into magnificent terrain leading up to the Italian frontier and, during late season in particular, the ski-touring is highly recommended.
Thanks to its high, snowsure slopes, Obergurgl is usually the first big resort without glacier skiing to open for the winter, usually in mid-November. It's on our hit list of the best resorts for early-season skiing as a result.
Snowboarders can have a lot of fun after fresh snow
"The best bit about Gurgl is there are hardly any boarders," purred one report. You might well be put off by such statements – but hold up there a moment: the wide-open terrain in some sectors can be heaven after fresh snowfall (providing you're riding with a qualified mountain guide, of course), and there isn't too much competition for first tracks either. The resort now has a professionally-maintained terrain park, too – and the wide-open high-altitude pistes are a great place for intermediates to work on their carved turns. So long as you don't mind the subdued nightlife, you'll be in clover.
---
---
Where to Stay
It doesn't really matter where you stay in Gurgl, as both villages are so compact, with a lot of ski-in ski-out accommodation. Even if you're not right in the centre of Obergurgl, you'll only be 10 minutes' walk away or a two-minute bus ride. Buses come regularly, although they stop for an hour at lunchtime. You won't suffer from traffic noise, either, as cars are banned at night.
Hotel Edelweiss & Gurgl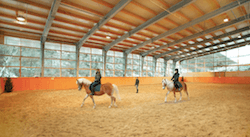 Prime accommodation spot has always been Hotel Edelweiss & Gurgl, in the centre of Obergurgl village and at the foot of the slopes. It is one of the resort's original and best hotels. "This was our fifth visit to hotel Edelweiss," said a reporter. "Great location. Everything is nearby. The food is delicious. It has a spa, childcare, and – more unusually – an indoor horse riding arena."
Hotel Bergwelt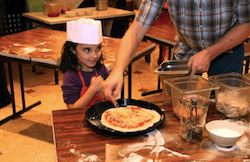 More luxurious these days is the four-star superior Hotel Bergwelt with excellent food and wine, in-house childcare, a good pool and a new three-storey spa. It is set above the village and is now a member of Small Luxury Hotels of the World. This is a good choice for families, with weekday supervision for children aged three years and above, with games, arts and crafts, and a kids' cinema. On top of this there's a weekly pizza baking session with the kitchen staff.
The Crystal Lifestyle Hotel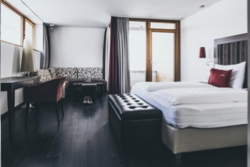 The Crystal is a monster of a building in two parts linked by a glass walkway. It's located opposite the Festkogel lift station, and is extremely comfortable ("the hotel was fantastic" said a recent visitor). It has a huge spa with an indoor and outdoor pool and a hot water grotto. There's a free kids' club, too.
Hotel Madeleine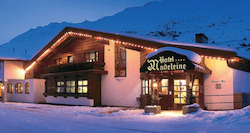 Hotel Madeleine is built into the rock and, according to reports, has "pristine accommodation, excellent food, and very pleasant staff". The spa area and many of the rooms were recently revamped, making everything very light and contemporary.
Hotel Alpenaussicht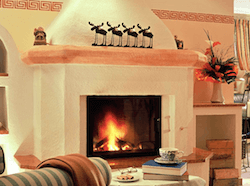 Berg Vital Hotel Alpenaussicht is a hotel that has a sustainable philosophy. The kitchen uses products from the hotel's own farm and neighbouring farms, with the aim of retaining as many minerals and vitamins as possible. Cleaning products are all natural, whilst warm water and heating is obtained from the hotel's wood-chip plant and solar energy. The hotel is located near the Festkogel lift and close to a bus stop hat takes you into the village centre.
Hotel & Apartment Alpenland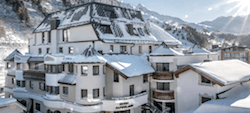 Hotel Alpenland is family-run, with hotel rooms, family suites, and apartments for up to six people. There's a good spa area here with various saunas and relaxation rooms. Then hotel also has a children's soft play area.
Hotel Olympia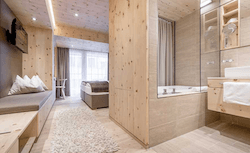 Hotel Olympia is a small hotel that combines traditional Tirolean style with modern comforts, and is set above the village. There's a wellness area, and the restaurant is known for its cuisine including vegan, vegetarian and gluten-free dishes.
Josl Mountain Lounging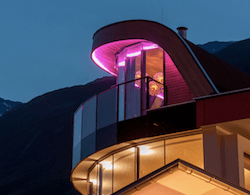 Josl Mountain Lounging is a boutique hotel decorated in modern style, very light with floor-to-ceiling windows, with stone, wood and natural fabrics throughout. The modern Mountain Lounge is the hotel's hub, and contrasts with the cosy Hunters' Parlour. There's a rooftop spa and swimming-pool, and the hotel houses the popular Josl Keller bar.
Relais & Chateau Top Hotel Hochgurgl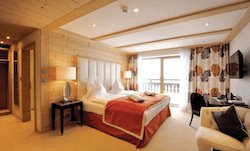 Relais & Chateau Top Hotel Hochgurgl was Hochgurgl's first five-star. It has a creche and health club, and was rated "fantastic, with an amazing fondue". Its restaurant, Top Mountain Star, is an architectural confection of glass and steel perched on the rocks.
Alpen Wellness Resort Hochfirst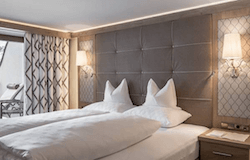 The Hochfirst up in Hochgurgl has been running as a hotel since 1934, and now has five stars. With its lovely indoor-outdoor swimming area and fabulous spa, the focus is as much on the wellness as it is on fine dining and ski-in ski-out convenience, with a ski lift next door. The hotel also has a supervised kids' club.
Alpenhotel Laurin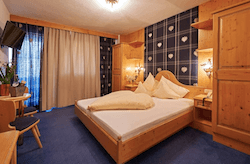 Alpenhotel Laurin is a three-star rated for its food and has pleasant rooms, which are simply designed. It is set 250m below the resort but has some great views of the surrounding mountains. The Hochgurgl hotel has a large sun terrace, which makes the perfect place to enjoy an after-skiing drink. The wellness area has a sauna, steam room and hot tub.
Hotel Riml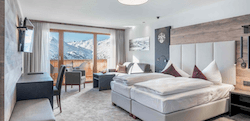 Hotel Riml has large rooms and free child supervision, making it a good choice for families. It's also ski-in ski-out onto the Hochgurgl slopes, has an extensive 1000m² wellness area with swimming-pool and a state-of-the-art indoor golf simulator.
Sporthotel Olymp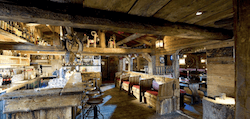 Nearly every bedroom in Sporthotel Olymp comes complete with a private Hydrosoft sauna with steam to stimulate the metabolism, activate the immune system and invigorate the skin. There's also a swimming-pool and spa, and a mountain restaurant accessible from Hochgurgl's skiing that is right outside the door. The kitchen uses regional, market-fresh ingredients.
---
---
Where to Learn
For group lessons, Obergurgl Ski School ("superb tuition") and Hochgurgl Ski School, are the schools to target. They've been successfully teaching the basics to international visitors for generations – and have long experience of working with Brits. "The ski school was brilliant for all of us, and our instructor exceptional; he was aged 77," commented a reporter. Courses include ski and snowboarding, freeride, telemark, cross-country, and ski-touring.
Three schools in the resort specialise in private and small-group tuition. Skischule Exklusiv is a small group of highly-qualified local instructors and mountain guides, founded in 2010. It offers lessons both on-piste and off, as well as ski-touring and snow-shoeing. Ski With A Local and Alpinsport Obergurgl also offer private lessons.
Gurgl's night skiing takes place on Monday nights on 8km of floodlit slopes from the top of the Festkogl, past the Nederhutte and back down to Obergurgl village centre or the Festkogl gondola; and on Thursdays from Hochgurgl's Hochgurglbahn I lift. Every Tuesday at 9pm the Obergurgl Ski School instructors put on a night-time ski performance here.
Good childcare and friendly instruction
Gurgl is a family-friendly resort and it's great for beginners of all ages. The Kinder-Club provides tuition for children from three years of age, in groups of three to five children. The ski school offers Family Days where three children under the age of 14 years go free of charge when two adults join the lesson. The ski school accepts children from four years old.
A number of hotels operate their own child-minding. These are usually free of charge for older children, but you need to check ages carefully before booking. They include the hotels Alpina, Bergwelt, The Crystal and Hochfirst, as well as the Hotel Edelweiss & Gurgl.
---
---
Where to Eat
A lot of people ski back down into the villages of Obergurgl and Hochgurgl for lunch, especially if they have small children at Kindergarten, but there are some good spots to stop on the mountain, too.
Hohe Mut Alm is a popular lunch venue with a lovely woody interior and stupendous views at the top of the Gaisberg sector. The daily specials are always worth ordering, and the service is quick. The Schönwieshütte is a touring refuge, rebuilt in 2015, which is renowned for its Gulaschsuppe and Kaiserschmarren. The owner can drive you there with a skidoo from the top of the Steinmannbahn lift.
The Zirben is set at the bottom of the Steinmannlift, and has specialises in Tirolean dishes. Festkoglalm and Nederhutte – the latter with live music – are also recommended. Even when the Nederhutte is full, the food always arrives in 10 minutes.
In Hochgurgl, the Wurmkoglhutte is a self-service offering traditional mountain fare. From the futuristic Top Mountain Star restaurant next to the Wurmkogl peak you can see the Dolomites. The star-shaped glass confection is perched on a narrow ridge that drops down stee­p­ly on both sides, fixed by 25 rock an­chors that are an av­er­age of eight me­ters long. The glass façade can be opened in good weather, al­low­ing in­side and out­side to blend as one. Order Munich white sausages with a pretzel and a glass of Paulaner weissbier, and soak up the views.
Another spot for a good lunch is the Angerer Alm in the hotel of the same name. Kirchenkar Ski Hut is a rustic mountain hut with an open fireplace and an ice bar, and you can also order a gourment picnic in the Perrier-Jouët gondola cabin of the Kirchenkarbahn.
Most of the village restaurants are in the hotels
Most restaurants in Gurgl are located within the hotels – a reflection of the fact that most guests are staying on a half-board basis. Among those with good reputations for their food are the Edelweiss & Gurgl, the Hexenkuchl in Hotel Jenewein, Laurin Alpenhotel which serves Italian and Tirolean cuisine and has a weekly Strudl evening.
In Hochgurgl, an kitchen of note is the Angerer Alm, which is presided over by chef, Christian Rudolf, who transforms the raw materials – some of which come from the hotel's own farm – into a gourmet treat. This applies to everything from creative lunches to gourmet dinners.
---
---
Apres-Ski
Gurgl is a resort loved by families and older, more affluent skiers: so it's no wonder its nightlife is generally muted. One reader described it as: "Not a resort for party animals."
That said, you'll find a cosy atmosphere developing in many of the hotel bars as darkness falls – among them the Crystal Bar at the Hotel Crystal, or the Elk Bar at the Bergwelt.
Meanwhile, for more traditional après-ski, the Nederhutte on the slopes above Obergurgl is an essential stop. It still has live music – and dancing in your ski boots. Meanwhile, at the bottom of the slopes, the Sun Terrace at the Hotel Edelweiss & Gurgl, is a good place to toast the end of a another spectacular day. Over in Hochgurgl, the Schermer Scherm is the place for a mid-mountain drink, whilst Toni's Almhutte Bar in the Olymp Sporthotel is a woody and atmospheric place to end the day.
---
---