Fraser Wilkin was introduced to skiing at an early age, having grown up in the south of France within a snowball's throw of the Alps. During an unusually snowy run of winters, his family would often have to dig a path to the front door of the chalet they stayed in near Morzine, the snow sometimes reaching the first floor balcony. He has been fascinated with all things snow and skiing ever since. For more about Fraser and his ski company snow-wise, head to snow-wise.com.

Since graduating from the University of Birmingham in 1997, I have worked for a number of high-end ski companies as sales and product manager before setting up snow-wise in 2013. My speciality is in sourcing and organising luxury, tailor-made ski holidays and I have been fortunate enough to visit or stay in hundreds of top hotels across the Alps. This does raise the odd eyebrow of course, but it really is the single most important aspect of my job!
Rustic or contemporary, in the town or on the piste – there's no set formula for what I think makes an outstanding mountain hostelry. You'll see that many of the world's most famous five-star hotels are absent from my list. That's because, in my opinion, they lack that magical indefinable factor that makes them stand out from the crowd. This list is, for most of us, aspirational but shows a standard of design and facilities that other ski hotels are beginning to aim for.
25 of My Favourite Ski Hotels
(in no particular order…)
La Thuile – Nira Montana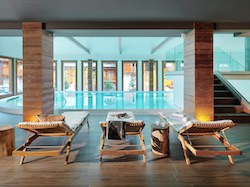 If there is a better value five-star in the Alps we are yet to find it! Situated in a quiet residential part of La Thuile, the unassuming chalet- style building fits well with the low-key uncommercial feel of the village.
Step inside, however, and the hotel exudes class, with an emphasis on natural light, clean lines and materials that reflect nature (forest themed wall-paper patterns and wooden floors designed to resemble tree-trunks).
The Nira Montana is all about taste rather than extravagance, attentive but never overbearing staff, and simple yet delicious cuisine.
Colfosco – Hotel Kolfuschgerhof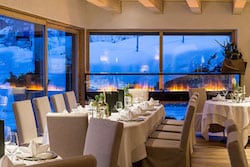 The Hotel Kolfuschgerhof sits just above the village of Colfosco and offers unusually close up views of the Sella Group, arguably the most spectacular mountains in the Dolomites.
With its fusion of Ladin and Tirolean influences, not only is this traditional luxury hotel exceptionally charming but it also offers some of the finest gastronomy in the Alta Badia.
Megeve – Les Fermes de Marie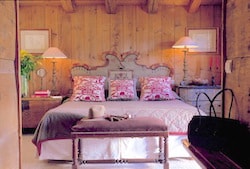 Ten minutes' walk from Megeve's medieval town centre is Les Fermes de Marie hotel hamlet run by artist and designer Jocelyn Sibuet. It's an exquisite ski hotel, with rooms and suites located in the farm buildings based around a 16th-century cowshed.
A pool is set into rocks and the spa is one of the finest in Europe featuring its own delicious creations based on mountain plants.
Zurs – Hotel Thurnher's Alpenhof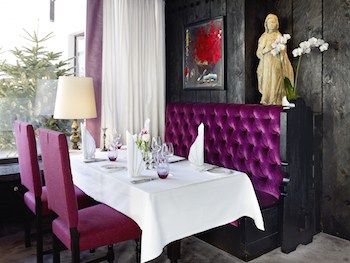 Located in super-snowy, upmarket Zürs (whose ski area links with Lech and now St Anton), Thurnher's Alpenhof is a small, family-run luxury hotel and member of Leading Hotels Of The World. With stiff local competition (there are two other five-stars a stone's throw away), standards are invariably high – but the hotel cannot afford any complacency, and recently added an exquisite new spa.
Foodies will also delight in a gastronomical extravaganza – the seven-course half board menu here is regarded as one of the finest in the Arlberg.
Cervinia – Saint Hubertus Resort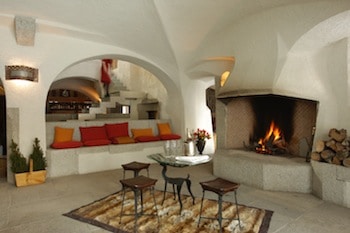 Saint Hubertus Resort in Cervinia calls itself an apart-hotel, but it's much more than that. It's set in the woods and is owned by the same family as The famous Hermitage hotel and is as cutting-edge contemporary as its neighbour is traditional.
The spacious apartments are all eco-friendly with rough wooden beams, stone fireplaces, some unusual designer furniture, wood and stone floors, and gorgeous views from the windows.
Flims – Hotel Waldhaus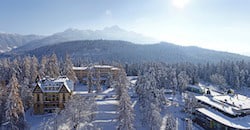 Already the leading hotel in Laax-Flims, the five-star Waldhaus has been fully renovated to become one of the top luxury ski hotels in Switzerland. Despite having embraced modernity with its huge state-of-the-art spa, the Waldhaus remains loyal to its traditions and is a proud member of the Swiss Historic Hotels group.
Going – Hotel Stanglwirt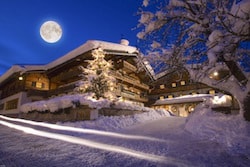 Hotel Stanglwirt has got to be the winner when it comes unique features, which include a Lipizzaner stud housing 20 horses. During the ski season you can trot around the indoor riding school or watch through the windows of the hotel bar. The hotel's Cow Barn Restaurant also has huge windows – this time overlooking an actual cow barn. The sports centre has a gym, swimming-pool and…wait for it…a boxing ring. Going ski resort is part of the giant SkiWelt area, linked on piste to Soll, Ellmau, Scheffau and Westendorf.
Corvara – Hotel La Perla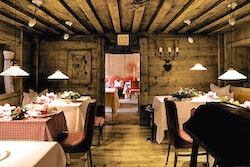 Like most South Tyrolean hotels, La Perla in Corvara is family-run, and the Costas are collectors of the eclectic, from motorbikes to fine wines.
La Perla's walls are adorned with carved angels. Oriental rugs warm the terracotta floors, the upholstery is sumptuous, and a display of ancient hats hangs above the staircase. The bedrooms have pale wood floors, four posters, and a variety of colour schemes.
Zermatt – The Omnia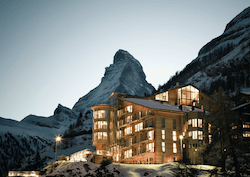 None of the 30 rooms in The Omnia have numbers, and the hotel in the gorgeous resort of Zermatt is set deep into the side of the mountain. There's a gorgeous indoor-outdoor swimming-pool, floor-to-ceiling windows, wooden floors, modern fireplaces and funky bathrooms.
One of the highlights is the Cavern bar – a glass and steel space inside a man-made cave that floats on water.
Cortina d'Ampezzo – Hotel Cristallo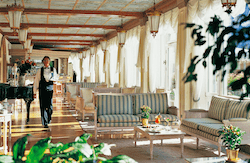 The Cristallo sits in an elevated position not far from the centre of Cortina with commanding views across the valley and to the surrounding Dolomite peaks.
The historic five-star hotel opened in 1901, and today offers all the mod-cons of a top luxury hotel while retaining its peerless Belle Epoque charm.
Courchevel – La Sivolière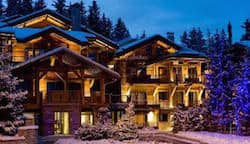 A chalet-style boutique hotel with 24 rooms and 11 suites, La Sivolière has a Narnia-esque location in the middle of a pine forest, yet on the edge of a piste. In a resort awash with five-star hotels – 21 at the last count – it stands out for its intimate atmosphere and cosy alpine charm, while delivering the highest of standards. Unlike many of its rivals, however, it is in no way brash – nor does it overtly pander to certain international markets.
St Anton – Hotel Schwarzer Adler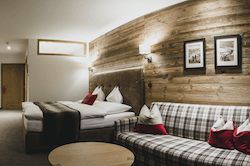 There are so many good hotels to choose from in St Anton, but one exceptional property is the Schwarzer Adler, the resort's original inn and now one of its finest luxury hotels.
No two rooms are the same – each one has been individually decorated. There's an extensive wellness area and a swimming-pool with a waterfall.
San Cassiano – Hotel Rosa Alpina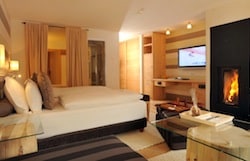 Not many places can beat the Rosa Alpina in little San Cassiano for its fusion of comfort and style – it's a chic, family-run, luxury hotel in the village centre which has been owned by the Pizzinini family since 1940 and houses one of the best restaurants in the area, the Michelin-starred St Hubertus.
A newer annex contains gorgeous suites, and there's also a lovely spa.
Lech – Hotel Haldenhof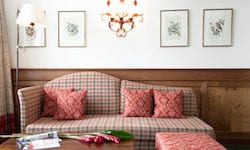 With more than 30 luxury hotels to choose from in Lech, Hotel Haldenhof stands out for its legendary hospitably, and the charm of owner, Michael Schwärzler, who will go to any lengths to ensure that your stay is a memorable one.
With just 23 rooms, the atmosphere may be relaxed and homely, but attention to detail is second to none and the quality of the food outstanding.
The Haldenhof also oozes traditional Alpine charm, having resisted the more minimalist current trends. The hotel is littered with interesting old artefacts and antique furniture, and hunting trophies adorn the walls.
Seiser Alm – Adler Mountain Lodge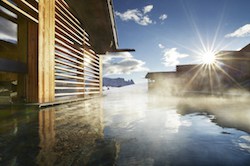 Is there a more stunning hotel in the Alps? Situated in the Alpe di Suisi ski area (the largest Alpine meadow in Europe) with uninterrupted views of the Dolomites, the Adler Mountain Lodge has raised the bar for luxury mountain retreats.
The Adler comprises a central wooden lodge surrounded by 12 smaller chalets, modelled on ancient South Tyrolean mountain huts, each equipped with saunas and open fires. Communal facilities include an outdoor infinity pool with breathtaking mountain views and a spectacular star-gazing atrium. All this with exquisite service that includes full board, alcoholic beverages and mountain guiding.
Kitzbuhel – Hotel Tennerhof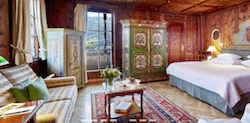 Hotel Tennerhof is the smallest and most romantic five-star hotel in Kitzbuhel. It was built in the 17th century and is family-run, with breathtaking views of the village.
Award-winning Kupferstube is one of the best restaurants in the region and its wine cellar houses 400 different wines.
St Moritz – Kempinski Grand Hotel des Bains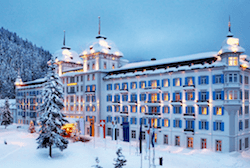 The Kempinski is a majestic building situated among pine trees in a quiet part of St Moritz Bad. It's not far from the frozen lake, which is famous for its cross-country loipe as well as the myriad winter sports played on it – from cricket to golf and horse-racing.
The hotel offers the highest levels of service and every possible luxury, yet is much more relaxed than most other five-stars in the resort. Its 2800m² state-of-the-art spa is one of the best in the Alps.
Ortisei – Hotel Adler Dolomiti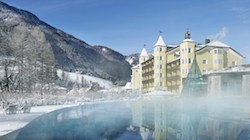 Despite its size and opulence, the five-star Hotel Adler Dolomiti blends unobtrusively into the heart of Ortisei, the most charming and vibrant town in the Val Gardena. Key attractions include a 3500m² spa, the largest in the Dolomites, and a unique programme of indoor and outdoor activities catering for both adults and children alike.
Val d'Isere – Les Barmes de l'Ours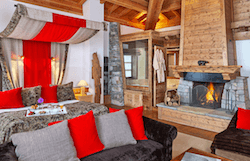 Les Barmes de l'Ours in Val d'Isere is where to stay if you're rich and famous or simply if you want to be tucked away from the hustle and bustle. It is set at the bottom of La Face Olympic downhill course and walking distance to the resort centre.
It has a wonderful spa and a Michelin-starred restaurant. Each of the four floors is decorated in a different style: from Scandinavian to contemporary.
Champoluc – Hotellerie de Mascognaz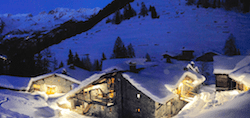 Hotellerie de Mascognaz is a collection of beautifully-restored farmhouses situated in an alpine meadow, high above the Italian resort of Champoluc.
Accessed only by skidoo in winter, this splendidly isolated retreat is perfect for those wanting to remove themselves from the stresses of modern life without compromising on the comforts of a top luxury hotel. The "resort" is made up of a number of different buildings scattered across alpine pastures, and is bisected by a fast flowing alpine stream. Accommodation can be booked as whole chalets or separate suites
Val Thorens – Altapura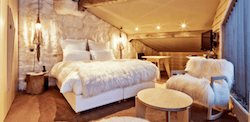 Artist and designer, Jocelyne Sibuet, famed for her gorgeous Les Fermes de Marie hotel, added her highest-altitude hotel, Altapura in Val Thorens, in 2011. The five-star has a chic bar, a choice of three restaurants, high-tech rooms and one of Jocelyne's signature lush spas. The piste-side location is to die for, although it's a hike from the main apres-ski in the village centre.
Andermatt – The Chedi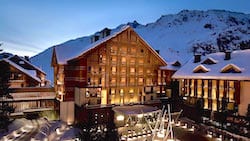 Alps meets Asia in The Chedi five-star hotel and apartment development in Andermatt. All the hotel's features are designed to blend seamlessly into the mountain environment and provide a calming experience.
The hotel has open fireplaces and wood panelling. The Japanese Restaurant features a tempura and sushi bar.
Madonna di Campiglio – Bio Hotel Hermitage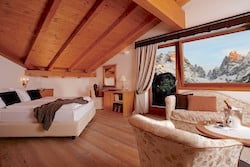 Tucked away on the edge of a forest in the smart resort of Madonna di Campiglio, with unimpeded views of the Brenta Dolomites, the Biohotel Hermitage has one of the most stunning locations in the Alps. It also offers one of the warmest welcomes, run by generations of the Maffei family, for whom nothing is genuinely too much trouble. A truly outstanding hotel (it was good enough for Michael Schumacher), it exudes alpine charm, as well as offering guests a sensational Michelin starred dining experience.
Solden – Das Central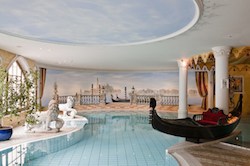 Das Central is the only five-star, and far and away the best, hotel in Sölden. Unashamedly grand and impeccably run, it offers every conceivable luxury, as well as one of the most impressive spas in the Alps. Not too many hotels (outside Vegas) have a Venetian themed swimming-pool and ten saunas! The food is the other big draw, presided over by one toque chef Gottfried Prantl, whose fame spreads far beyond Solden. All in all this is a fabulous traditional, all-round luxury hotel.
Verbier – The W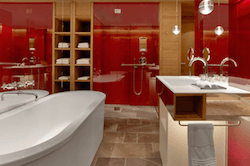 This is the first W Hotel in the Alps and the complex also contains The Residences luxury apartments and a shopping area called Place Blanche.
The collection of minimalist chalet-style buildings are ski-in ski-out with floor-to-ceiling windows. They are joined together by glass hallways and there's an amphitheatre of steps from one corridor down to the restaurant and nightclub.
We'd Love to Have Your Feedback
Have you stayed in any sublime ski hotels you'd like to tell us about? If so, please leave your comments in the box below.
Also see our features on Luxury Ski Apartments and Luxury Ski Chalets.