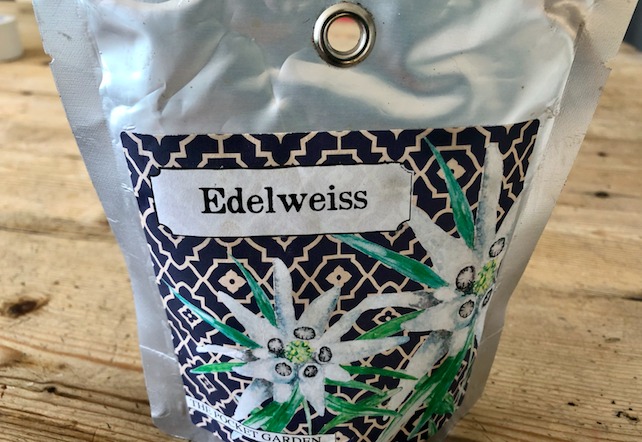 The sudden curtailment of the ski season in full flight and the loss our family ski holidays at Easter calls for drastic measures. Self-isolation in sunny Hampshire, currently the second Covid-19 hotspot behind London, inspires thinking outside the box.
The box, in this case, is filled with Edelweiss seeds, acquired on a distant and happy summer trip to St Anton. For the past three years it has languished unopened in a corner of our kitchen. If travel restrictions and no lifts mean that I can't go the Alps this spring, why not bring the Alps to my garden on the edge of the South Downs National Park? Pole plants are out, but seeds are in – or shortly will be when I've found my trowel.
In 2017 Markus and Tanja Senn, owners of the The Sennhütte on St Anton's home run, earned their entry the Guinness World Records with a 107,126-bloom display of the alpine plant that's small and white as well as clean bright. Now that you can't go skiing and you've got time on your hands, you can read all about it here.
But for tens of thousands of skiers, the cancellation of all ski holidays across the board is a far more serious and less floral matter. On paper, the Government's Package Travel Regulations mean that stricken tour operators should reimburse clients in full within 14 days. But when that 'paper' was written, no one could ever have envisaged the instant and complete worldwide collapse of the travel industry – albeit for what hopefully will hopefully be for just a few months.
At the time of writing I feel overwhelmingly optimistic that the 2020/21 ski season will go ahead normally, and let's pray for the vintage conditions that we had (or would have had) this spring.
This week, those travel firms brave enough to turn off their recorded messages and take live calls, have of course been inundated. All are them are understandably disappointed. Inevitably a few are angry and even abusive when they learn that they will not immediately received all their cash back. Operators are returning money taken for lift passes and ski lessons, but not the main cost of the holiday.
The first point we should all consider is that what's happened is not the fault of any of the tour operators. Foreign government decrees, one by one, closed all the resorts across the Alps and Pyrenees over the course of just six days. Val d'Isere's lift company tried valiantly to soldier on alone. But with no restaurants, bars, or – more importantly – ski shops to serve skiers, their efforts proved fruitless. It, too, bowed to the inevitable. This time, not an gram of blame for the disaster can be attached to the health of any component of the UK ski travel industry.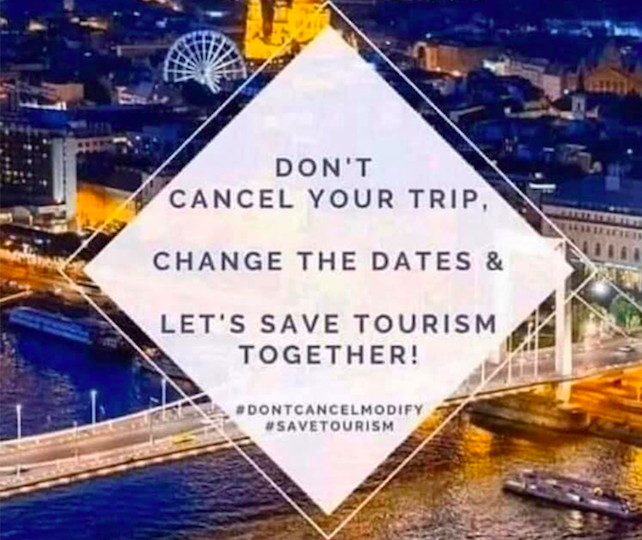 The crisis arose at the three-quarter mark of the season. You don't have to be a mathematician to work out what happens to a small or medium-sized chalet company that returns 25% of its turnover, while remaining liable for chalet rental, staff costs, food, air travel, transfers and all the other set costs of a tour operation. It goes bust.
To borrow a phrase from HRH Prince Andrew, if push comes to shove, tour operators will have no choice but to go into administration. Probably, we can expect them to do so, as financial etiquette requires, before forking out all that money to customers. The subsequent refunding process is liable to take many months.
If you love skiing and want your tour operator to survive, deferment is a far better option and, in the light of the predicament in which we all find ourselves, it a much more cooperative communal response. You can book the same chalet (or a different chalet or resort) for a future date that suits yours plans. If you didn't get your ski holiday this year, you'll have one to look forward to.
Of course, no one can predict the future financial health of all these travel companies, but it's worth remembering that if, in the final analysis, your operator fails to survive, your investment is guaranteed by ABTOF and CAA bonds.
Meanwhile, I can report that Alpine seeds are abed. There's just one problem…Edelweiss normally thrive between 1200m and 3000m, a range of altitude where slugs need oxygen tanks to stay alive. My garden is at a measly 300m and a breeding ground for leaf-eaters. However, in these unchartered times of great pestilence, we must think of Julie Andrews and live in hope.