Mountain cooking varies from country to country, so to taste the best of it you need a few linguistic pointers. If you don't know your Peperkaker from your Kjøttkaker, here is our culinary mountain guide to Norway – with recipes for dishes often served at ski cafes and tourist lodges and cabins.
Tørr Gravet Laks Med Sennepssaus – Dry Cured Salmon with Mustard Sauce
For the sauce mix
Ingredients: 5cl white wine vinegar with 5cl Dijon mustard,
2 tablespoons brown sugar and some salt and pepper.
Method: Add about 10cl neutral oil little by little, as when making mayonnaise. Then add 1 large bunch finely chopped dill. Some Norwegians also like to add 1-2 tablespoons of sour cream.
Kjøttkaker – Norwegian Meatballs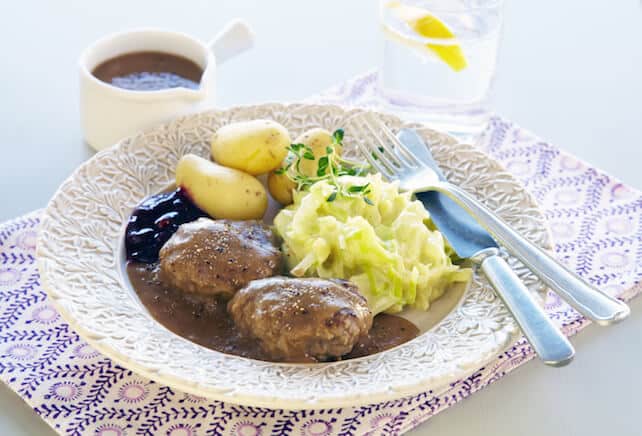 Ingredients: 300g each of minced beef and/or pork (Norwegians may use elk or reindeer); 2 beaten eggs, 200ml milk; dry bread crumbs; 2 teaspoons salt, 2 teaspoons sugar; ½ teaspoon each ground ginger, nutmeg, allspice, pepper; ½ cup chopped onion. For the gravy: 2 tablespoons finely chopped onion; 3 tablespoons butter; 5 tablespoons flour; 800ml beef stock; 100mil double cream; a pinch each of cayenne pepper, white pepper.
Method: Mix the eggs, milk, breadcrumbs, onion and seasoning; when crumbs have absorbed milk add the meat; stir until blended and shape balls about 3 – 4 cms in diameter. Bake the meatballs on a greased tray at high temperature until brown.
For the gravy, fry the onions in butter and olive oil until soft, add the flour gently, then little by little the stock and stir until smooth. Mix in cream and pepper – then add the meatballs and heat through without boiling – makes 4 portions. Serve with boiled parsley potatoes.
Grillet Ørret Med Sitron Og Urtesmør – Grilled Trout with Lemon and Herb Butter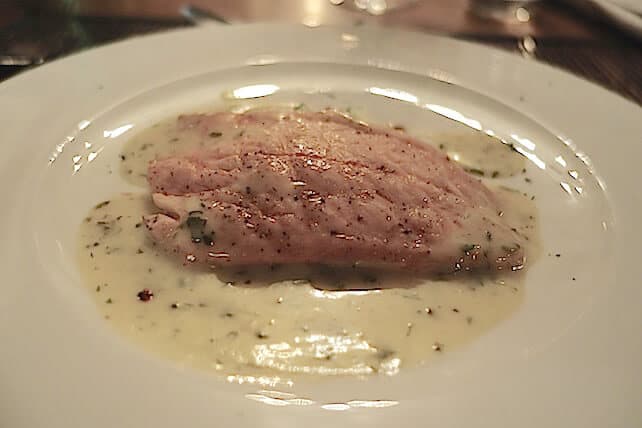 Try to get fresh filleted and skinned trout, Grill gently with salt and a drizzle of olive oil until moist but be careful to avoid drying out the flesh.
The recipe for lemon and herb butter comes from Restaurant Hallingstuene in Geilo. Serves 4:
Ingredients: 160g unsalted butter in small cubes; juice of ½ a lemon; 100cl of cream, ½ tablespoon each of chopped parsley and dill (or any other herbs of your choice); salt & pepper.
Reduce the cream and lemon juice until the mixture starts to thicken. Whisk in the butter bit by bit until it is all melted. Just before serving season with salt and pepper, then add the finely chopped herbs – and pour over the fish.
Kurert Elg Og Kantareller Soup – Cured Elk and Chanterelle Soup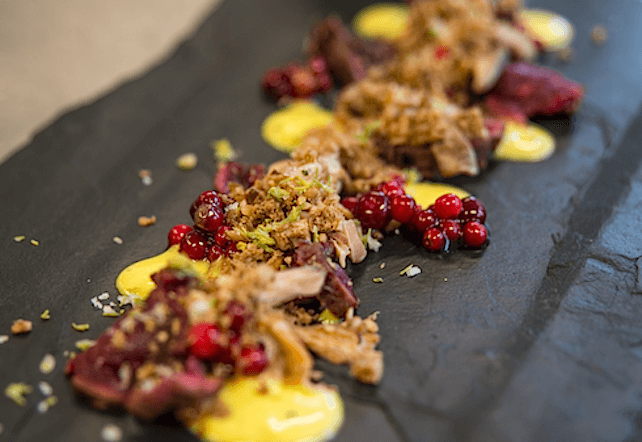 This recipe comes from Restaurant Haranhorn (harahorn.no), a taxi ride from Hemsedal: You may have to wait until visiting Norway to find the ingredients. It serves 4 as a starter.
Ingredients: 200g cured elk or reindeer (Venison would probably do – either bought ready cured or cured yourself in sugar and salt for a day and then under weight for four days with aquavit or some broadly similar spirit); 80g wild berries such as cranberries, blueberries and crowberries; 10g honey; a little squirt of aquavit; homemade mayonnaise flavored with juniper berries); crispy crumbs of rye bread (fried crispy on low heat with honey, salt and clarified butter) and possibly some herbs.
Method: Cut the meat into thin slices. Add the berries, mayonnaise, crispy rye crumbs and herbs.
Serve with a small cup of chanterelle soup:
Ingredients: 250g chanterelles or other wild mushrooms; 100g shallots; 10g butter
1 tablespoon finely ground juniper berries; 100g white wine or dry apple juice; 20g apple jelly; 25cl chicken stock; 10cl crème fraiche; salt.
Method: Chop the chanterelles and soften in butter with shallots. Add the juniper berries and apple juice. Boil until the liquid has evaporated. Add the apple fruit jelly, chicken stock and creme fraiche. Boil and run all the mixes. Season with salt.
Peperkaker – Gingerbread (A Christmas recipe from Hemsedal)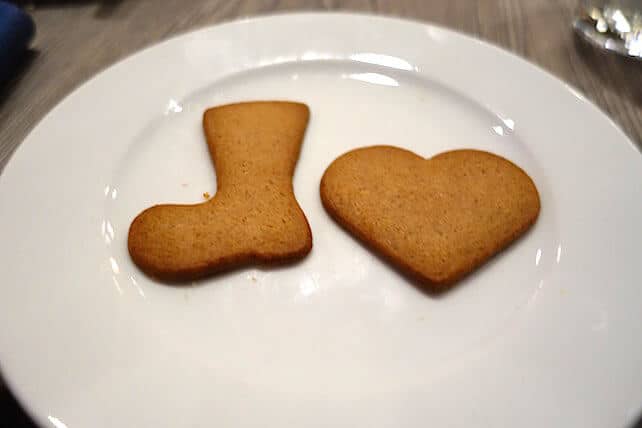 Ingredients: 150g butter; 10cl golden (or maple) syrup; 400g sugar; 10cl whipping cream; ½ teaspoon each of cloves, ginger and black pepper; 2 teaspoons cinnamon; 1 teaspoon baking powder; 450 g flour (approximately) – and shape cutters.
Method: Remember gingerbread dough must be cold for a while before rolling, so it is best if you make it the day before baking.
Mix butter, syrup, sugar and melt together over medium heat. Remove pan from the heat and cool a little. Stir in the cream. Add seasoning and baking powder and most of the flour. Stir in the flour little by little until you get a smooth and firm dough. Wrap in cling film and put in fridge overnight.
Preheat oven to 175°C.
Knead the dough in a little flour on the table and roll it to about 3mm thick. Cut out different figures and bake for 9-10 minutes until golden brown. Cool the cakes on a wire rack. If you plan to hang up the cakes, it is important that you make a hole for the ribbon before cooking.
Rabarbra Kake – Rhubarb Cake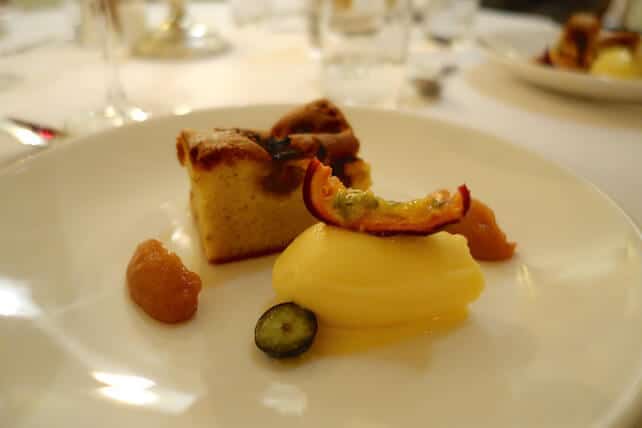 Ingredients: 225g butter; 2 eggs; 299g sugar; 70ml milk; 166g flour; 1 ½ teaspoons baking powder; a big stalk of rhubarb.
Method: Melt butter over low heat. Stir in milk and set aside to cool slightly. Preheat oven to 350 degrees and grease a nine-inch cake tin. Beat the eggs and sugar together in a processor until fluff up, then cut the speed and slowly add the milk and butter. Stir in the flour and baking powder and pour the batter into the tin. Cut the rhubarb onto small diagonal slices and scatter these evenly over the top. Bake for about 40 minutes. Serve with cream or ice cream.
Rømmegrøt – Sour Cream Porridge
Ingredients: 50cl sour cream; 130g flour; 50cl full cream milk; ½ teaspoon salt.
Method: Let the sour cream boil for approximately 2 minutes. Sprinkle in half of the flour, stirring constantly. Fat will trickle. Remove fat with a spoon and keep warm in a small bowl, to serve it with the porridge. Sprinkle in remaining flour and stir well.
Dilute with milk while stirring, until porridge is smooth. Season with salt. Serve with sugar, cinnamon, the warm butter and – for a really authentic touch – a dish of cured meat such as bressaola.
Vafler – Waffles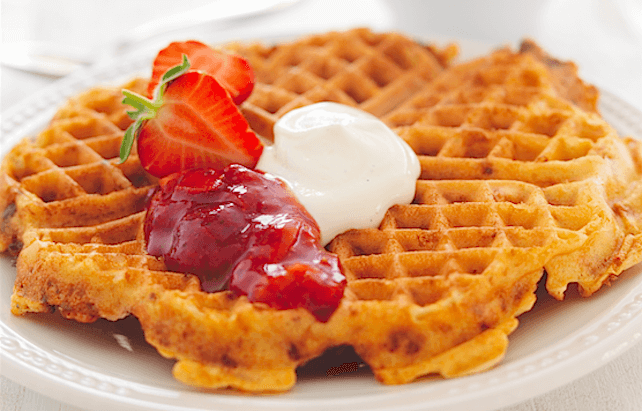 Ingredients: 2 eggs; 1 cup sugar; 20cl skimmed sour milk ; 15cl low fat milk; 1 cup water; 350g flour; 1 teaspoon baking powder; 125g melted dairy butter; ½ teaspoon baking soda; 1 teaspoon vanilla; ½ teaspoon cardamom.
Method: Whip eggs and sugar well together, then stir in milk and water. Mix all dry ingredients and stir into the liquid until you get a lump free batter. Let the batter swell for about 15 minutes. Add the melted butter and bake waffles until light brown.
Serve with sour cream and jam or butter and cheese.
Don't Forget…
Aquavit or Akevitt is Norway's national drink. It is a potato-based spirit flavoured with herbs such as caraway seeds, aniseed, dill, fennel and coriander.

Roger Bray travelled to the resorts of Geilo and Hemsedal with Crystal Ski. Also see our features on Austrian Cooking, Swiss Cooking, The Best Mountain Food, The Secret of Swiss Chalet Cooking, and Ski Nutrition.