For us, lunch on the mountain is almost as important as the skiing and it's fun choosing a favourite restaurant then mapping out morning plans to fit in around it. Most appealing is the kind of welcoming hut that you reluctantly leave in the fading light of the afternoon to catch the last lift home.
We've been lucky enough to have discovered this type of venue all over the Alps, from those serving homemade pasta and pizzas cooked in wood-fired ovens to others offering a top Michelin gastro experience.
Here's our guide for the skiing gourmet, both on and off the piste. They're listed in (resort) alphabetical order. €€ is moderate and good value, €€€ you'll need your credit card rather than cash, €€€€ somewhere special, €€€€€ so special you'll be digging into your savings.
Alpe d'Huez: La Fruitiere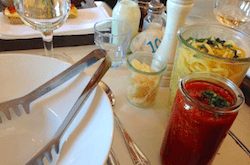 The dairy-themed destination comes complete with white enamel milk churns, exposed zinc pipework, antique tiling and dairy-styled fittings and furnishings. La Fruitiere in Alpe d'Huez is one of the recent additions to the growing stable of Fruitiere/Folie Douce restaurant-bars around the French Alps and now the South of France as well.
The talented kitchen twosome – double Michelin-starred chef Christophe Aribert and executive chef Yann Tanneau – recreate the Fruitiere classics alongside local dishes. Together with the adjoining Folie Douce outdoor bar this entertainment centre has transformed slopeside apres-ski here, with live music and table-top dancing from mid-afternoon until the lifts close.
Price range: €€€. What to order: La Fruitiere's take on spaghetti Bolognese comes in two jam jars – pasta in one, the sauce in the other. Reservations: La Fruitiere
Avoriaz: La Pomme de Pin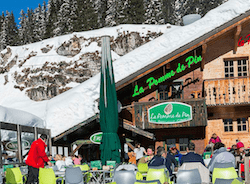 The restaurant is located on the piste at the goat farming village of Les Lindarets near Avoriaz and is cosy with just a few tables inside – which means that a lot of people end up sitting on the green plastic chairs on the terrace.
But don't let that put you off – the food is much better than the decor suggests. Book well in advance to make sure of a table indoors on wintery days.
Price range: €€€. What to order: Les Lindarets Salad – a wonderful (not surprisingly, goat!) cheese salad with duck breast, potatoes, and Swiss chard; an exceptional croute au fromage (with Reblochon this time); delicious tartiflette. Reservations: +33 450 74 90 64
Catinaccio: Baita Checco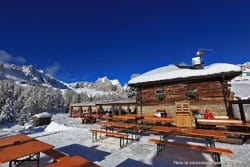 Happy was the day when Matthias Trottner came to work at his uncle's restaurant. The man's still in his twenties, but has quickly elevated Baita Checco to a must-eat destination in the Val di Fassa.
Keeping it local is his watchword; and he sources many of his ingredients from the valley – fuelling a menu which leans heavily on traditional mountain flavours. Make sure you book the little five-table room at the top of the restaurant for the full effect. It's where all the locals go.
Mind you, even if Trottner wasn't in the kitchen, Catinaccio would still be worth a stop. Set between the Dolomite resorts of Canazei and Moena, it's a pocket-sized, self-contained ski area, and serves up some of the most dazzling scenery you'll ever set eyes on. The pistes are all but empty too. But maybe that's because everyone's still inside the Baita, ordering another bottle of Endrizzi Teroldego…
Price range: €€. What to order: anything meaty is good here, especially the slow-cooked beef cheek with cauliflower puree. But don't forget to start with orzotto – like risotto, only made with barley, not rice. Reservations: Baita Checco
Cervinia: Chalet Etoile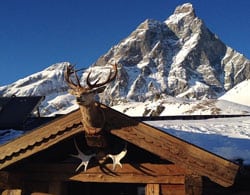 Zermatt is famed for having the best mountain restaurants in the Alps, but the linked resort of Cervinia has equally good food for much lower prices.
This lovely eatery has been run since the 1970s by Cesare Frassy and his Swedish wife Ulla. Their children Caroline and Kalle take care of the day-to-day running of the restaurant, but Ulla is nearly always to be found in the kitchen exploring new culinary concepts.
The interior is warmly wood-panelled and decorated with hunting trophies. It's very popular with not only skiers staying in Cervinia but also hungry tourists from the Swiss side of the mountain. Be sure to book ahead.
Price range: €€. What to order: Ulla creates innovative recipes and the menu changes daily with lots of fresh pasta dishes. Particular favourites are ravioli with king crab; spaghetti with lobster, and reindeer filet tempura. Reservations: Chalet Etoile
Cortina d'Ampezzo: Rifugio Averau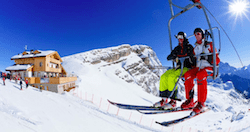 In a resort awash with fine Italian and Ladine cuisine, Rifugio Averau stands out in its precarious position on a limestone ledge in Cortina's Cinque Torri ski area. On sunny days the terrace is packed and when the weather closes in diners sit at wooden tables in the panelled dining room.
Husband and wife team, Paola and Sandrone Siorpaes, take turns cooking, and fellow diners can include resort regulars like Sylvester Stallone or George Clooney.
Price range: €€. What to order: yummy homemade pasta such as Papardelle con funghi (butterfly pasta with mushrooms), but don't limit your choice to one – request three different types of pasta on one plate. Reservations: +39 0436 4660
Kitzbuhel: Gasthof Schroll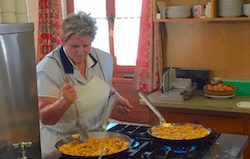 This traditional chalet is on the edge of Kirchberg near the bottom of the long Pengelstein run. It has a lovely sun terrace and a snug interior with ancient wood and a typical Tirolean tiled stove for warmth.
You can go into the kitchen and watch the owner's wife making huge pans of Kaiserschmarrn (chopped up sweet pancakes served with plum or apple compote).
Price range: €€. What to order: Weiner Schnitzel and Kaiserschmarren, of course; Tiroler Grostl (bit of beef, onions, and hash browns with a fried egg on top. Reservations: +43 5357 2344
La Villa: Club Moritzino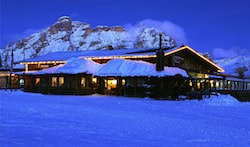 The farmhouse-style building is located at 2100m on Piz La Ila at the top of the World Championship slope in La Villa and can be reached by snowcat for a candlelight dinner in the evening.
Charismatic entrepreneur Moritz Craffonara opened the restaurant 50 years ago as a simple hut, but soon turned it into the most sophisticated lunch spot in Alta Badia. It attracted a whole string of celebrities from Milan and Rome, and old Moritz is still there for much of the season, dishing out charm and wine in equally generous measures.
These days, it has become a hot acres-ski spot from early afternoon, frequented by a young, cool crowd of wealthy Italian holidaymakers. It's wise to eat early rather than late – before the DJ powers up his decks.
Price range: €€€. What to order: pizzas from the wood-fired oven; or try chef Marco Spinelli's seafood-based dishes. Reservations: Club Moritzino
Morzine: Le Vaffieu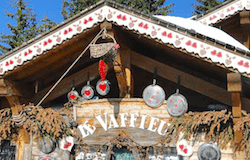 A friendly place at the top of Pleney, next to the arrival of the Belvedere chair-lift in Montriond (not far from Morzine), it has good service, well-presented food, and gorgeous views.
The restaurant gets busy at lunchtime during high season, so you'll need to book ahead.
Tripadviser reviews are ecstatic: "We have come here every year for eight seasons and we love this place…probably the best lunch you will have whilst skiing. The steaks are to write home about. Service is excellent and so is the music," says one. I agree.
Price range: €€€. What to order: steaks, or any of the Savoyard specialities such as tartiflette or fondue. Reservations: +33 450 79 09 43
Nancroix: L'Ancolie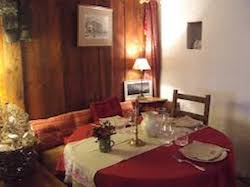 L'Ancolie in the Paradiski area is reached by bus from the bottom of the lift system at Peisey-Nancroix – it's out of the way and takes a bit of planning, but it's not difficult to get here from both La Plagne and Les Arcs.
The lunch menu is determined by Jeanette on a daily basis. She is owner, chef, and – quite often – waitress as well. You get (with a few choices) what she decides to give you. Reservation is mandatory.
Price range: €€€€. What to order: first courses include a choice of homemade local game terrines. The main course might be pork in red wine followed by a raspberry gratin. Reservations: L'Ancolie
St Marcel: La Bouitte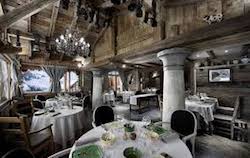 The former farmhouse is in the hamlet of St-Marcel half a mile from the village of St-Martin-de-Belleville and also easy to reach from Meribel in the 3 Valleys.
This is a truly world class restaurant with three coveted Michelin stars: so save up for a special occasion and don't plan on any skiing after lunch apart from the run home. Chef, René Meilleur shares the kitchen with son Maxime. You can also stay here.
Price range: €€€€€. What to order: you won't need a starter as the substantial amuse bouche contains such delights as courgette mousse and foie gras crème brûlé. If you're extra hungry go for duck foie gras escalope served on a corn-flavoured pancake with flower honey and balsamic vinegar reduction, followed by the grilled lamb with eggplant fritters, anchovies and baby capers. Reservations: La Bouitte
Sauze d'Oulx: Rifugio Ciao Pais
The gorgeous little rifugio was built in Sauze d'Oulx in 1930 and maintains all its mountain refuge charm even though it has been rebuilt and renovated several times over the years.
It is run by current owners, Mirko and Giusy, and is open for lunch and in the evening, with a snowmobile service on demand.
Price range: €€. What to order: traditional local dishes including fabulous antipasti starters such as chestnuts in balsamic vinegar and warm red peppers in bagna calda. Order a selection to share instead of a main course. Reservations: Ciao Pais
St Christoph: Hospiz Alm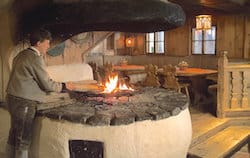 Austria is a sure winner in the Alpine Food Stakes, and few lunchtime restaurants can equal The Arlberg Hospiz-Alm in little St Christoph, which shares a ski area with St Anton.
By day liveried waiters and waitresses dressed like extras from The Sound of Music serve simple fare on wooden tables both indoors and outside on the terrace. By night, tablecloths are added.
The helter-skelter chute to the basement loos is swift alternative to the staircase if you are in a hurry. This route leads also to the wine cellar, which features a world-class collection of Nebuchadnezzars of vintage Bordeaux.
Price range: €€€€. What to order: veal tenderloin wrapped in tramezzini (soft white bread with the crusts removed); carrot soufflé with walnuts, sour cream and orange. Reservations: Arlberg Hospiz Alm
St Moritz: La Marmite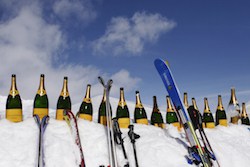 No list of the best mountain restaurants is complete without La Marmite on the slopes above St Moritz. Owner Reto Mathis caters to the every whim of his rich and famous clients (Ivana and Ivanka Trump, Princess Caroline of Monaco, Tina Turner, Liz Hurley, Naomi Campbell are just a few) following in the footsteps of his father Hartly.
From the outside, the building owned by the lift company is a gaudy banana yellow, but inside it is culinary heaven and at peak times guests must book several weeks in advance.
Price range: €€€€€. What to order: caviar and truffles – it claims to sell more of both than any other mountain restaurant in the world. Try the buckwheat blini with caviar and sour cream or the mashed potatoes with caviar; beef carpaccio with truffles; smoked salmon with caviar. Reservations: Mathis Food
Val d'Isere: Edelweiss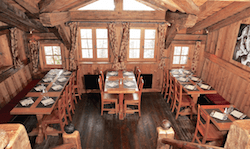 The Edelweiss is half-way down the blue Mangard piste above the hamlet of Le Fornet in Val d'Isere – and it's easy to overlook it on the headlong rush downhill. Resist the temptation if you can.
Excellent cuisine, fine wines, a friendly atmosphere and a brand new sun terrace and outdoor bar are all on offer here.
Price range: €€€€. What to order: duck breast plancha with morels sauce; cockles and clam linguine; tarte tatin with cinnamon ice cream. Reservations: Restaurant Edelweiss
Val Thorens: Chalet de la Marine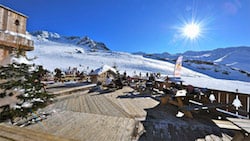 The lovely Savoyard chalet is set on the Dalles slope at 2500m above Val Thorens. It is everything you've always hoped a mountain chalet should be, with a big open fireplace with cosy armchairs around it, lots of wood, cosy rugs, and tasty local cuisine.
Price range: €€€€. What to order: home-made fois gras with gingerbread and mango chutney; egg poached at 66 degrees, on a brioche and spinach bed accompanied by morel mushrooms. Not to be missed is the pastry chef's mouthwatering buffet of fruit tarts. Reservations: Chalet de la Marine
Verbier: Chez Dany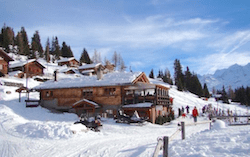 Chez Danny has long been a resort institution and is tucked away in the woods in the tiny hamlet of Clambin. It's accessible on skis, or on foot along a track. The menu is an imaginative take on the local cuisine.
Price range: €€€€. What to order: spaghetti Mare Monti; duck confit cooked on a hot stone. Reservations: +41 27 771 2524
Zermatt: Chez Vrony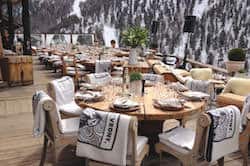 Up in the hamlet of Findeln, Chez Vrony is one of Zermatt's many fabulous eateries. Sheep and cows graze contentedly in the summer on the surrounding Alpine pastures, and the dry-cured meat, homemade sausage and Alpine cheeses are all made to traditional recipes which – like the restaurant – have been passed down from generation to generation.
Price range: €€€€. What to order: delectable pasta with prawns and wild mushrooms Reservations: Chez Vrony
Let Us Know What You Think
Do you have any favourites you feel should be included here? If so, please let us know in the comments box below.