Other mountain sports

80%
In a Nutshell
The Alpbach valley is one of Austria's prettiest destinations. Flowers blaze on every balcony, timber farmhouses creak in the sunshine, and lush meadows beckon you out for big walks. If your dream of the Alps in summer has a Sound of Music hue, then put it high on your short list.
The Stats
Altitude: 1000m
Lifts open in summer: 4 gondolas
Walking trails: 900km
Cycle paths: 250km mountain bike trails and 116km road cycling trails
Lift pass: included in the free Alpbachtal Seenland Card (additional charge for mountain bikes and dogs)


Official Site
Essential Advice for the Perfect Holiday
Alpbach has a long and unusual association with the UK. For reasons shrouded in evangelical obscurity, the village patron saint is St Oswald, a seventh-century king of Northumbria. But the real link developed in the late 1950s when Major Billy Patterson, a British soldier based in Germany, stumbled by chance on this chocolate-box village and recognised its appeal for holidaymakers. Largely due to his efforts and later those of his widow, the British arrived in force and kept on coming.
It's not hard to see why. Alpbach is one of ten settlements in a valley with no-through roads and soft, Sound-of-Music landscapes. Development in the village is carefully controlled too, preserving the architectural style of a farming settlement that has morphed, slowly and gently, into a tourism hub. It's not a place for giant bike parks or state-of-the-art watersports centres: or for that matter towering peaks and fearsome crags. But if you're looking for long walks through eye-wateringly beautiful forests and meadows, or a summer swim in a crystal-clear lake, you may well fall in love with the place.
---
---
Where to Walk
The Alpbachtal lies between the Kitzbühler Alps and Ziller Valley, in all-but-perfect hiker's landscape of meadows, forests and medium-sized mountains. Over 900km of marked hiking and walking paths wind through it – graded easy, red, and black.
Free guided walks are on offer five days a week and they take in some gorgeous locations in Alpbach, Reith im Alpbachtal, Kramsach, Brandenberg and a city tour of Rattenberg. Just make sure you book in advance.
On your own, you can take a gentle stroll through the meadows, admiring the wild flowers and cows as you go. Or you can use the lift system to explore the steeper slopes above the treeline. One tip to remember is that the people who measure the length of Alpine trails tend to live at altitude. Holidaymakers should add 25-50% to the publicised time, especially if taking dogs or children with them.
Classic hikes can take up to six-and-half hours, but a good choice is the red-graded Panorama Weg, which we walked one afternoon. It's billed at two hours and the route takes you up from the top of the gondola around the shoulder of the 2127m Wiederbergershorn. It's a steepish scramble with spectacular views and the welcoming Horn Alm restaurant at the top.
The first stage took us an hour (with two dogs) and the return route around the Horn is, in reality, 90 minutes longer. The lift closes at 4.30pm and you need to take this into consideration when choosing your return route. If you miss the last cabin down, you need to factor in another two to three hours to walk back down to the village.
The local gorges – Kaiserklamm and Tiefenbachklamm at Brandenberg and the Kundler Klamm in Kundl – are worth doing and are suitable for families, although children under 10 years of age are advised to wear safety harnesses, which can be rented. 
---
---
Mountain Biking and Road Cycling
The Inn Valley is wider and offers a more variety than many cycling destinations. There is, for example, plenty of scope for easy family cycling. The range of gentle paths through meadows, along mountain trails and rambling cycle routes are ideal for e-biking, too. In fact there are over 20 mountain bike routes, ranging from 30 minutes to five hours long.
Route 316 Kolber covers 12km of prepared road – good for beginners and those finding their cycling legs. Route 321 Alpbachtalrundfahrt is a more ambitious prospect at over 25km long; the climb is fairly steep, but worth it for the awesome views.
A highlight for the experienced mountain biker is the 40km round-tour of the Guffert. Leading up to the traditional Gufferthutte, the path levels out across the Brandenberger Ache where you can follow the route to the Kaiserhaus, which provides a good stopping-off place to enjoy a bit of local food.
You can also choose from 22 different road racing tours that start from Rattenberg, one of the stages on the UCI Road World Championships.
Finally, riders of all ages can test their skills in the new E-Trial Park Alpbachtal near the Galtenberg Family & Wellness Resort in Inneralpbach.
---
---
Watersports: White-Water Swimming and Rafting
The region boasts six lakes, four of them suitable for swimming. Our favourite is the extraordinary emerald-green Reintalersee, which has an easy walking path around it, and two bathing areas – one of them for picnickers. The other has the Fischerstube restaurant set above it. It's worth booking a table for lunch on the terrace, with views over the lake whilst you enjoy – appropriately – delicious lake fish.
You can rent rowing boats and pedaloes to take out on the lake, or swim if you're hardy. The lake itself is seven metres deep and the water is so clean you can drink it! If you're driving here from Alpbach (it takes around half an hour), there's a car park cross the road from the lake, and you can hire sunshades.
Tubing and wild swimming on the river
It's a short drive from Alpbach to Kramsach, and here you'll find lots of watersports at Sport Ossi. The outdoor centre offers canoeing, kayaking, rafting, white-water swimming and canyoning through the Kaiserklamm.
But the highlight is tubing. Waterpark fans may have tried drifting down a river in a giant, inflatable inner tube normally found inside car inner tyres. But the white-water rapids of the Brandberger Ache river make for a very different experience.
Equipped with wetsuit, life vest and helmet, guides lead you on a mad, 1.5km dash down this stretch of the River Brändi. Locals claim the sport was invented here, with families riding the river on truck tyre inners for the past 50 years.
The sport strikes a perfect balance between a serious adrenalin rush, and an activity all but the weakest of swimmers can try. You can also try zorbing on the Reintalersee. Zorbing, for those who haven't already tried it, is where you climb inside a large inflatable plastic ball and attempt to walk on water.
For something a little tamer, head for one of the outdoor swimming-pools at Brixlegg, Münster or Kundl.
Lake and river fishing
The fresh cold water of the Brandenberger Ache is one of the few places in Austria where grayling spawn naturally. The river also provides high-quality rainbow and brook trout. You can fish between the Rohrbach Bridge and the Erzherzog-Johann-Klause (apart from a 2km section from Trauersteg to Baumbach) from the beginning of May until to the end of September, with one- to seven-day fishing tickets available to buy. Click here for more details.
Day or night fishing tickets for the Reintalersee can be bought at the Fischerstube restaurant. The lake water contains eel, bream and all kinds of white fish.
---
---
Climbing and High-Ropes
There is a high-ropes course at Kramsach, which you can arrange through Sport Ossi. Two more challenging via ferrata routes are above the Reintalersee in Kramsach and it takes 20 minutes to walk up to the start of the routes. Route 1 is classed as C/D degree of difficulty, and route 2 is graded E in terms difficulty and poses a challenge even for experienced climbers. The routes take 60 to 90 minutes to complete each, with a one-hour descent back to the Reintalersee and the Krummsee.
---
---
Golf and Tennis
There are several golf courses within easy reach of Alpbach: the closest is at Uderns (20 minutes' drive), followed by Achensee (35 minutes), Westendorf (45 minutes), Innsbruck (60 minutes), and four in and around Kitzbuhel (60 minutes away). If you want to play tennis you won't have to go far, with ten outdoor courts in the centre of Alpbach. Kramsach Tennis Club has indoor and outdoor courts, as well as a games room, cafe, and a playground. Brixlegg and Kundl also have tennis courts.
---
---
Other Summer Activities: from Ancient Farmhouses to Paragliding
From a distance, this 17th century Tirolean farmhouse appears to depict the perfect postcard image of a rural holiday home. The ancient wood and stone building clings to a hillside, surrounded by steep flower-filled meadows. It looks the perfect spot for a family farm holiday.
But as you get closer, you'll see that creature comforts for the modern-day visitor are in short supply. Lighting is by candles. The minimalist bedroom is basic with a rough-hewn double bed and a baby's crib at its foot. Washing facilities are limited to a bowl and a pitcher of water – no sign of a bathroom…just a potty under the bed.
This house (pictured above) is one of 14 historic, but derelict, buildings rescued from villages across the Tirol. Each one has been dismantled, restored, and carefully reassembled at the Tiroler Farmhouse Museum in Kramsach. A visit here makes a fascinating day out – there's a classic village Gasthof where you can eat and, on set dates, there are demonstrations of spinning, breadmaking and other country crafts by artisans in traditional costume bringing the past to life. Entry is free with the Alpbach Seenland Card.
At Reith im Alpbach there's 21st-century entertainment at the Alpbach Children's Park, with mini golf, electric cars, trampoline, and a petting zoo. At the top of the Reitherkogelbahn is a 2.5km buggy-friendly path leading to Juppi Zauberwald. Here you'll find an enchanted village with a witches' kitchen, a haunted marsh, a wobbly bridge, a resident magician, swings and free childcare on offer.
Hotel Hauserwirt, in the village of Munster, breeds horses and offers horse-drawn carriage rides and riding lessons. There are also Haflinger ponies for little ones to ride. Other sporting activities in the Alpbach valley include tandem paragliding flights from the Wiedersbergerhorn, a skate park in a 1200m2 bowl between Brixlegg and Rattenberg, Segway trekking, and a 4km family-friendly Geocaching route.
---
---
Where to Stay
In the 1950s, Alpbach passed a law safeguarding the village architecture. The maximum height of new buildings was to be three storeys, and each one had to be made of wood. In the 1970s, the village fathers deliberately shied away from the mass-market and decreed that the 'new road' up from the Inn Valley should not be wide enough for a large coach. Alpbach has certainly kept its village proportions, with just a handful of shops and restaurants, some upmarket family-owned hotels and pleasant B&Bs, and it is five minutes' by shuttle bus to the nearest gondola.
Hotel Boglerhof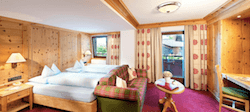 One of the two original buildings is the Boglerhof. Once a dairy farm, it's now the smartest four-star hotel in the village. The Dalai Lama and Indira Ghandi have both been guests. Dogs are welcome here and there's no need to bring your own pet bed because the hotel provides dog baskets and water bowls. If you want your dog to accompany you to dinner, you can do so in the Stübli adjacent to the main restaurant – and there is even a dog shower and a specially constructed dog trail behind the hotel. Meanwhile, humans get an excellent restaurant and comfortable wood-panelled bedrooms. There's a swimming-pool and spa, and you can join a regular yoga or Pilates class.
Natur & Spa Resort Der Alpbacherhof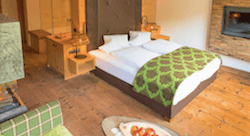 Set back from the main village square is the four-star Alpbacherhof, its modern bedrooms all decked out in pale wood. The day spa and restaurant are highly recommended, too.
Hotel Zur Post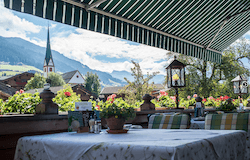 Or try Hotel Zur Post, in the village centre, has recently-revamped rooms and suites which are decorated in 'Tirolean country house style' and have all modern ameneties. It's family-friendly with a children's playroom and in the garden there's a heated outdoor swimming-pool.
Hotel Wiedersbergerhorn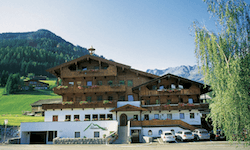 At Inneralpbach, Hotel Wiedersbergerhorn can organise bike and hiking tours. It is an interesting proposition, given its reasonable prices and good restaurant headed by chef Marcus Cia and known for its regional Tirolean specialities.
Haus Sonnwend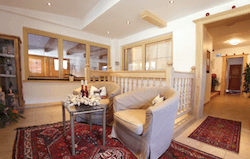 The crisp, clean Sonnwend is in the middle of the village. Many of the rooms have fridges and a food preparation area, and there are also washing facilities for bikes. The restaurant offers a healthy breakfast using produce from local farms, as well as vegan, gluten and lactose-free products.
Pension Bergwald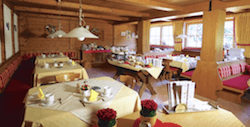 The ever-popular Pension Bergwald isn't actually in the main village, and you'll need a car to shuttle to and from the lifts rather than relying on the shuttle bus.
Farmstays


Alpbach is a not a place that easily accepts, let alone embraces, change. Continuity and tradition are the qualities that set this village apart from many other resorts in Europe – and a determination to hold on to its cultural heritage. Therefore it comes as no surprise that, despite the demands of tourism, there are still more than 100 working farms here – many of them welcoming visitors.
The Stoffenhof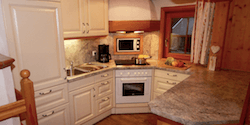 For example, the Stoffenhof, 500m from the centre of the village, has been in the Margreiter family for over 400 years. They rent out four apartments – two of them in the original farmhouse and two in an adjoining building. All are decorated in traditional Alpbacher style, with up to three double rooms. The farmhouse is on the sunny side of the resort, a great location for a relaxing family holiday. In the summer the cows are up in the high pastures under the watchful eye of a neighbour, but there are hens, a donkey and pony to keep kids amused.
---
---
Where to Eat
Many visitors eat in their hotels as part of the half-board packages, so independent restaurants are few and far between. But there are a few standout establishments – notably Sigwart's Tiroler Weinstuben in Brixlegg. Founded in 1774, it used to be a meeting point for farmers, craftsmen and traders, until Anton Sigwart bought the house in 1850.
Incredibly, the 4th generation of the Sigwarts still run it – Traudi cooks and Anton is the sommelier – and today the restaurant is listed in the Gault Millau guide as well as regularly featuring among Austria's 200 best restaurants. Beef and veal, venison, lamb, game and freshwater fish are locally sourced, and their own garden produces herbs, fruit and vegetables.
In the village centre, the Boglerhof and Alpbacherhof hotels are both good for a smart dinner, while in Inneralpbach Hotel Wiedersbergerhorn is the place to go, and is strong on locally-sourced ingredients and traditional Tirolean recipes.
For something more laid back, head to Messner's Pizzeria. The Jakober Bar, also in Gasthof Jakober, is a popular spot for a drink and snack.
If you fancy having a picnic lunch up the mountain, you can order a hamper or book a private Genuss picnic cabin on the Wiedersbergerhorn gondola, which is fitted out in red velvet with a pre-packed picnic basket.

For more information visit the Alpbachtal Summer website. Also see our winter resort report for more information on Alpbach.