Other Mountain Sports

78%
In a Nutshell
How do you like your Alps in summer? Lush and green or sheer and craggy? In the Tiroler Zugspitz Arena you get both. No wonder the range of activities stretches from family-friendly petting zoos to hair-raising climbing routes.
The Stats
Altitude: 1000m
Lifts open in summer: 5
Walking trails: 150 trails
Cycle paths: 100 cycling and biking trails
Lift pass: Z-ticket active card 63€ for 3 days


Official Site
Essential Advice for the Perfect Holiday
It's the sense of breadth that strikes you first. The Tiroler Zugspitz Arena is an alliance of of seven villages in the northern Tirol, set beneath the sheer and mighty 2,962m Zugspitze. And yet, despite its towering neighbour, it never feels claustrophobic or one-dimensional.
In large part that's because of the pancake-flat stretch of lush green pastures at its heart. But it's also because of the huge range of summer activities on offer. This is an area that combines world-class rock-climbing, serene walks along hidden valleys, hell-for-leather mountain biking, petting zoos, a nine-hole golf course, a high-rope adventure course, and stand-up paddle boarding on lake Heiterwanger See. Everyone from toddlers to wild-eyed adrenaline junkies can have fun here.
Berwang, at 1300m, is the highest of the villages: a collection of traditional hotels, wooded hills and small mountain peaks. Lermoos covers the north-eastern side of the Grubigstein mountain, and offers sensational views of the Zugspitze mountain on the other side of the valley. The village offers a range of activities, including an open-air swimming-pool with waterslides.
Another good base for families and active visitors is Bichlbach with its children's zoo, leisure park, swimming lake, and high ropes course. Biberwier is the most convenient base for the mountain lakes, springs, creeks and swimming lakes. Ehrwald at 1000m is located at the bottom of the Zugspitze and is the largest village of the Tiroler Zugspitz Arena. The other two bases are lakeside Heiterwang and the small village of Namlos.
Five lifts operate during the summer: the Tiroler Zugspitzbahn, Ehrwalder Almbahn, Grubigsteinbahn Lermoos, Marienbergbahn Biberwier and Bergbahnen Berwang. The Zugspitze is 2962m high and the region's highest mountain, it is also the highest mountain of Germany. You can reach the summit station in 10 minutes on the Tiroler Zugspitzbahn and, on a clear day, you'll be able to see four different countries from the panorama platform. The "Fascination Zugspitze" museum at the summit showcases the mountain's history.
The Z-Ticket active card gives you free daily transport and free or discounted access to many of the area's facilities including mountain railways, boat trips, free buses, indoor and outdoor pools, a summer toboggan run, and tennis. Dogs, bikes and buggies are permitted on all the cableways.
---
---
Hiking In The Area
The Tiroler Zugspitz Arena is a good hiking destination, with 150 trails covering everything from gentle strolls to high peaks. There are mountain lakes and mountain pastures, too. During the summer, the villages offer free guided tours for everyone with a guest card. They vary from one-hour walks for beginners to demanding seven-hour hikes and include hiking with llamas and discovering the abandoned silver mines. The Loisach river has lots of small springs in and around Biberwier, and makes a popular hiking spot. The springs are also used for Kneipp therapy.
Over 150 different hiking routes are available in the area, including special trails for kids – which are detailed in the adventure hikes section of the Tiroler Zugspitz Arena's website. These include the spectacular Water Adventure Trail Zugspitzi am Gaisbach beneath the Seeben waterfall, which is peppered with stations where children can learn about both nature and the region. Other family-friendly trails include Moosle´s Adventure Trail, Moosle's Magic Forest and Nature Trail Mitteregg.
---
---
Mountain Biking and Road Cycling
There are more than 100 marked routes – freeride routes, single trails and mountain bike routes.The Tiroler Zugspitz Arena has been awarded the Approved Biked Area & Tour Trail seal of quality by Mountain Bike Holidays several times in a row, and the Blindsee Trail is included as one of five Great Trails in Tirol. Once a week there's a free e-bike beginner tour, which can be booked through the local tourist office.
---
---
Watersports
Lake Heiterwanger See together with the linked Plansee makes up the second largest water expanse in the Tirol, and it's also one of the cleanest. Boat tours on the lake are popular and there are dinner cruises you can join. One of the activities here is paddle-boarding, where you can either take an easy ride along the lakeside or you can explore lake Plansee which is reached via a short channel. There is a new SUP (stand up paddle-boarding) station next to the Fischer am See hotel offering guiding, sunset tours and yoga sessions.
Another lake, Blindsee, is surrounded by woods, offers impressive views of the mountains, and is especially popular with divers with visibility down to 30 metres.
Near Biberwier you'll find the smaller lake Mittersee, where the water temperature can rise to 22°C at the height of summer. The leisure park at Bichlbach has a natural 1400 m² natural swimming pond with a bathing lawn. There's an adjacent playground, together with rafting and e-quad-biking for children, and you can also discover water channels on a tyre, play mini-golf and beach volleyball.
---
---
Other Activities
The mountains of the Tiroler Zugspitz Arena offer a variety of rock formations, via ferrate and climbing routes for mountaineers and climbers. The new indoor climbing wall EhrWALLd is a good rainy-day alternative for beginners to professionals who can book a trial session, can practice and improve their skills in this controlled environment. The centre also houses a bistro and an equipment and clothing shop.
The children's zoo at Bichlbach has goats, rabbits and ponies housed in spacious compounds and some exotic species like monkeys and llamas. All the animals are docile enough for children to feed and touch. Other attractions there include Fairy Tale World and the world's biggest rocking horse.
In the same village, there's a ropes course where you can climb through the forest and overcome different obstacles. You start with easy options to get used to the height. There are five courses including a special area for children and beginners, 60 different climbing elements, a 90-metre-long Flying Fox.
On the 9-hole golf course Tiroler Zugspitz Golf, play up at 1000 metres with gorgeous views of the Zugspitze. There's also an indoor tennis centre at Ehrwald.
Each year, on the Saturday closest to the summer solstice (this year, June 22, 2019), glowing fire sculptures decorate the peaks around Ehrwald, Lermoos and Biberwier. Just after dusk, fire symbols of up to 200 metres in height light the sky in order to celebrate the longest day and the shortest night. The "Mountains on Fire" event is part of the Austrian UNESCO cultural heritage list.
---
---
Where to Stay
Pretty villages and high standards of hotel-keeping are the rule in the Tiroler Zugspitz Arena – and it's a canny choice for those who like their creature comforts as much as the glories of the great outdoors. Families on a budget take note – if your own hotel doesn't have a pool, you can use the public one in Ehrwald, which has a good indoor climbing wall as well.
All the villages are connected by a regular bus service.
Ehrwald
Family Wellnesshotel Tirolerhof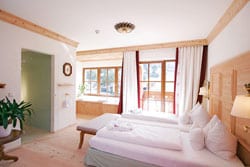 There's a wide range of rooms on offer at the central Tirolerhof. Self-catering apartments, suites and double rooms are all available, in a wide range of sizes. The best are the recently refurbished spa suites, which have their own mini-saunas or infrared cabins. This isn't as big and as all-consuming as the Alpenrose in Lermoos: but it offers childcare, as well as an indoor pool, indoor bouncy castle and soft-play area. And it gets high praise for its food.
Sporthotel Schonruh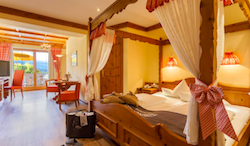 Sporthotel Schonruh is in a quiet location a three-minute walk from the village centre. It has views of the Zugspitze and the Wetterstein Mountains. Spa facilities include a Roman and a Finnish sauna, a herbal steam bath, and an infrared cabin. The hot tub is filled with mountain spring water and there are massages and a fitness room. There's a lockable room for sports equipment including bikes.
Romantik Hotel Spielman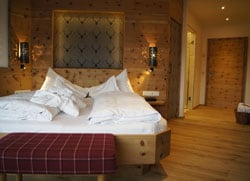 The Spielman sits on the eastern edge of town, next to the beginner slopes and ski school meeting point. As with many family-run hotels, refurbishment is an ongoing process, with some rooms old-fashioned, and others chic and lovely. The Zirbe rooms are the ones to go for: they make extensive use of stone pine, which has a delicious and soothing smell.
Hotel Sonnenspitz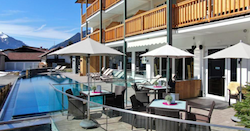 Hotel Sonnenspitz is located in the centre of Ehrwald, and is traditional on the outside. All rooms feature wooden furnishings, and the restaurant serves international and Austrian cuisine. One of the highlights is the spa area with a sauna, steam bath, an infrared cabin, and a fitness room. Other facilities at the hotel include a heated outdoor pool and a relaxation area with waterbeds, and a children's playroom. The hotel is bike-friendly.
Haus Karl's Ruh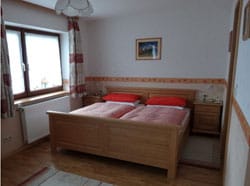 This British-run B&B comes with the kind of price you'd expect to pay in a Travelodge by a roundabout – not a guest house in the shadow of the Zugspitze. Rooms are well-kept and low key, and the owners, Evelyn and Gary Kitchen run it with warmth and enthusiasm. The indoor pool and climbing wall are close by.
Hotel Ehrwalderhof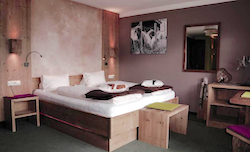 Family-run three-star Hotel Ehrwalderhof has a large garden, and is located on a quiet and sunny hillside away from the main road. The in-house restaurant serves Tirolean and international cuisine, and facilities include a children's playroom and playground, a sun terrace, and a spa area with sauna, steam bath, and Tirolean hay bed. Guests can use the local indoor pool free of charge, and the hotel is bike-friendly.
Lermoos
Family Hotel & Resort Alpenrose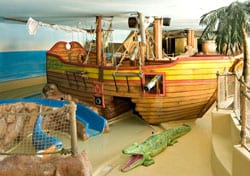 Childcare, a nursery, pools, water slides, a soft play area, a pirate ship in the paddling pool, indoor go-karting… You name it, the Alpenrose has got it. Mums and Dads feel well-served here, too, thanks to the good food and top-notch spa. Much of the accommodation is in family apartments – and the higher prices reflect its popularity. You'll need to book well in advance to be sure of a room, too. This is a bike-friendly hotel, with storage and other facilities for cyclists.
Hotel Post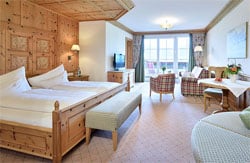 The Post is the grandest hotel in Lermoos was rebuilt in 2006 as an all-suite property. The smallest room is 45m2 – which is about three times bigger than your average mountain hotel. The views across the flat Lermooser Moos to the Zugspitze massif are stunning, and both food and service get the highest praise.
Sporthotel Unser Loisach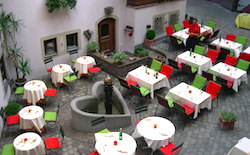 Sporthotel Unser Loisach has been family-run for a century, and offers a friendly atmosphere with every comfort, healthy culinary delights and a wide range of sports and leisure options. It's especially popular with cyclists.
Mohr Life Resort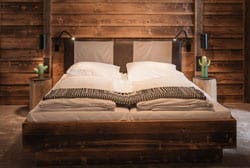 The Mohr is the most stylish hotel in town and comes with magnificent Zugspitze views, a 2,500m2 spa and a stripped-back but richly-textured aesthetic. Think clean lines, walls of battered beams and slate, and a Tesla Model S green power to take for test drive. Just be sure to book one of the modern rooms: there is still some old-fashioned accommodation here, which comes as a crashing disappointment if you've set your heart on a stylish retreat.
Aparthotel Pure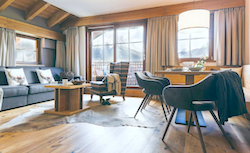 Aparthotel Pure is a stylish mix of traditional and modern, using high-quality materials and carefully selected furnishings. There's a restaurant and a café with in-house patisserie. This is also a good place to choose if you're looking for somewhere bike-friendly.
Gasthof Juchhof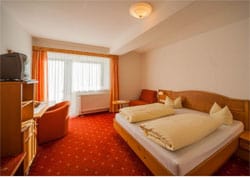 Looking for well-kept, no-nonsense accommodation? Then the Gasthof Juchhof is the place. The food here is regularly praised, as are the standards of cleanliness. If you fancy a swim, bear in mind that non-guests can pay to swim in the pool at the Hotel Edelweiss in town.
Pension Alpenstern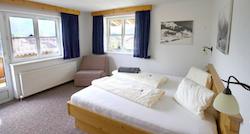 Pension Alpenstern is bike-friendly and has a children's playground in the garden. It's a few minutes' walk away from the centre of Lermoos and offers spacious apartments with kitchens and balconies. The property also contains a sauna and there's a large roof terrace.
Berwang
Singer Sporthotel & Spa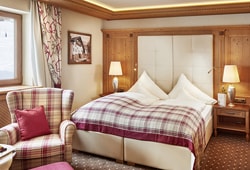 The Singer Sporthotel is a four-star superior Relais & Chateau, next to the key Sonnalmbahn lift, which links to the north and east-facing slopes above Bichlbach. Facilities include a 1,800m2 spa over three floors, as well as indoor and outdoor heated pools, and the food is excellent – it currently has 14 points and a toque from Gault Millau.
Bergpension The Ski Lounge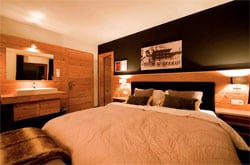 Chic rooms, good food, and a relaxed, friendly atmosphere are the draws at the small and stylish Dutch-run Ski Lounge. It's a child-friendly place, too – five of the eight rooms have bunkbeds or are family suites, and if comfort is a priority this is just the ticket. Berwang's canyoning, rafting and climbing are all nearby.
Bichlbach
Alpin Resort Austria
Alpin Resort Austria has views to the Zugspitze mountain, and contains apartments with balconies and fully equipped kitchens. It receives lots of favourable reports, including: "Awesome place, great views, clean rooms, really nice owners and great price. Highly recommended." and "I liked the comfortable bed, the spacious bedroom and the breathtaking view". It is also a bike-friendly place.
Biberwier
Hotel zum Goldenen Lowen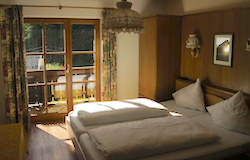 Hotel zum Goldenen Lowen is in a quiet location in the centre of Biberwier. The restaurant offers an a la carte menu of traditional Tirolean specialties and international cuisine, mainly using regional produce. There's a secure bicycle shed on site, and the hotel also has a sauna and an infrared cabin.
---
---
Where to Eat
You can eat well here – especially if you like traditional Tirolean food. There's a good infrastructure of mountain huts and hotel restaurants, although it's never going to rival the gastronomic scene in Kitzbuhel: but there are some charming places to eat up the mountain and some cracking restaurants for dinner, too.
Eating on High
There are huts scattered across the Tiroler Zugpitz Arena – so you're never far from lunch. It's worth remembering, however, that many Austrian hotels lay on a big spread of pastries and cakes in the middle of the afternoon. So you could probably get by with a snack at lunchtime.
The Restaurant at the top of the Zugspitze (the highest Mountain in Germany) has a regular fondue evening and a sunrise trip with breakfast.
In Berwang, the Kogele Hutte is a local's favourite – set on the gentle, forested slopes above the Rinnen. It serves delicious Speckknödelsuppe (bacon-dumpling soup).
Meanwhile, on the Wetterstein, the Galmsalm is a lovely spot. Here too Tirolean specialities are the backbone of the menu, although they also do big plates of pasta. Also worth checking out is the W1 Ski Lounge – built from scratch at the top of the Sonnenhang Sunracer lift in 2013.
On the Ehrwalder Alm, the Tiroler Haus is the natural rallying point – and has both a table-service Stube and self-service restaurant.
Above Biberwier, the Sunnalm is recommended. More-ish sweet dumplings with vanilla sauce – Germknödel – are a speciality. Above Lermoos, the Wolfratshauser Hutte serves a superb apple strudel.
Restaurants for Dinner
In the evening there are treats in store. Top spot for a gastronomic dinner is the Tiroler Stube restaurant at the Singer Sporthotel in Berwang. Its thoughtful combinations (duo of wild duck and quail with parsnip and calvados, beef with avocado and lentils) have won it 14 points and chef's toque from the Gault Millau guide (which has a much more developed presence here than the Michelin Guide). H2Sepp and S'Berger Pub are two of the bars in Berwang.
Another fine-dining destination in the district is the Hotel Post in Lermoos. One of the Post's strongest points is its sensational wine list – but at the Alpenrose Hotel they take the grape seriously too. Here the chic Winelounge has more than 350 different wines to try, with the focus mainly on Austria. They do inventive, light, snacky food too: worth knowing if you need a break from the meatiness of Tirolean cooking. Meanwhile, the Roma is the local's choice for pizza. Lermoos has several small bars – including the Lahme Ente and Holz Stadl.
In Ehrwald, the Holzerstubn is the place. A long-standing favourite, this cosy, wood-panelled inn is full most nights (reservations are essential) and is the master of robust meat dishes – its lamb, steaks and Wiener Schnitzel are all delicious. Anyone feeling less carnivorous should try Al Castagno for its wood-fired pizza oven, risotto and pasta. Mairs Landgasthof is in the hotel of the same name, and attaches great importance to using local, home-cooked and high quality produce on its menu. The Schirmbar by the Hotel Sonnenspitze in Ehrwald is a natural rallying point in the evenings.
Finally, if anyone's in the mood for a burger, it has to be WAS Cooking in Biberwier – a new, young enterprise, where the emphasis is on fast – but good – food: steak, jacket potatoes, wraps and gourmet burgers.
---
---