There's a lot more to Val d'Isere than just skiing, as we discovered last week. You can get the adrenaline pumping by driving a BMW on the ice, sit in comfort whilst being pulled along by a team of dogs, have a romantic dinner in a yurt, stay in a gorgeous chalet and enjoy a relaxing message whilst you're there…
Follow a Guide
Of course, this is the obvious thing to do in Val d'Isere and in a resort like this you have the choice of some at the very top of their profession. Scotsman Ken Smith of Progression Ski whisked us around the mountain on a pristine blue-sky day and, at a time when the avalanche risk was 4/5, we really felt like we were in safe hands. Ken has the skills to be able to take a complete beginner from zero to black run in under a week (we watched him do it last winter), but he is also a dream for good skiers to follow. The icing on the cake was the pair of fat new Volkl skis I rented from Snowberry.
Try Ice-Driving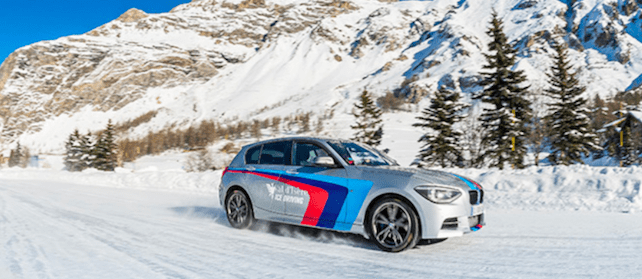 I didn't get to be the driver, which is just as well since the walls of snow surrounding the track were at least two metres high last week. Instead I was a back-seat driver (the professional rally driver instructor takes up to three passengers in the car) on the BMW Ice Driving circuit. Think fairground ride and multiply it by four in terms of thrills…and speed. I clung to my seat belt and kept my head firmly glued onto the seat back as we spun round seemingly impossible corners, almost hitting the sides.
Instead of being driven along a race circuit it felt like we were in a maze sculpted entirely from ice. The exhilarating ride lasted five minutes and I felt drained of energy by the end. You can also have a driving lesson or race your friends on the neighbouring ice go-kart circuit.


Go Dog-Sledding
Not a husky in sight here in the beautiful and undeveloped Le Manchet Valley on the edge of town, reached by road or on skis via the long (red) Arcelle or (blue) Santons runs. On our arrival at the sled departure point, a team of six sleek German Pointers in all shades of brown and white leapt out of a van and pranced around excitedly, yelping at the musher to let them get going. He then harnessed them to the front of a modern steel sleigh – very different from the rickety wood and canvas contraption I had been in once before in Canada. This one was padded and comfortable, seating two people, one behind the other.
Then off we sped up the valley, past the bottom of the Arcelle chair and on towards the old hamlet of Le Manchet. The dilapidated homes here are no longer inhabited – at least in winter – because of avalanche risk. Indeed, our circuit was curtailed because of the heavily-loaded slopes above the hamlet,
The handler explained that these are racing dogs which he takes to competitions all over the Alps. He has 30 dogs in all, which are each housed in separate indoor kennels and are fed 4.5 kilos of fresh meat each per day. For a dog-lover like me the experience was a lot of fun – I can even say blissful – being pulled, fast, around the snow by such a delightful and clearly happy team. Book: Evolution 2.
Book Dinner in a Yurt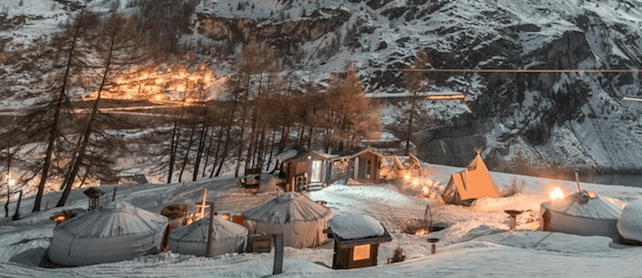 I've done this twice now, last time was two years ago when I took my children to Camp Trappeur Wilderness Camp. They loved every minute of it and still ask me when they can do it again. You have to get yourself to Tignes 1800, the first of the Tignes villages, on the edge of the dam a 10-minute taxi ride from Val. Then you walk for few minutes, either or foot or snowshoes up to the yurt village of Camp Trappeur Wilderness Camp.
Huskies howl unseen in the night as you stand around the roaring camp fire drinking vin chaud and spicy vegetable soup. There's no electricity and no running water (but the organic loos were spotlessly clean and odour free). And, just when you're wondering how long you can possibly stay being grilled on your front and frozen on your back, you're shown into one of three giant Mongolian yurts.
Inside are tables and long benches, fur rugs and a central wood-burning stove. It's hot – I couldn't get my jacket, gloves and hat off fast enough. The meal of cheese fondue, served by candlelight with a variety of dried meats, is delicious. And there's a mushroom bourguignon for any non-cheese eaters. This is followed by delicious home-made meringues and cream. There's free-flowing Savoyard wine, and a wicked local grappa to finish.
At the end of the evening, sensible people take a taxi back to Val d'Isere. But there's the option of sledding down 4km of piste to Tignes Les Brevieres. The plastic toboggans look surprisingly like children's toys…in fact they are children's toys. Hurtling down an icy red run with the only light from the guide's head-torch is a sobering and, yes, terrifying experience. Still, it's a novel way to digest a cheese fondue.
Stay in a Gorgeous Chalet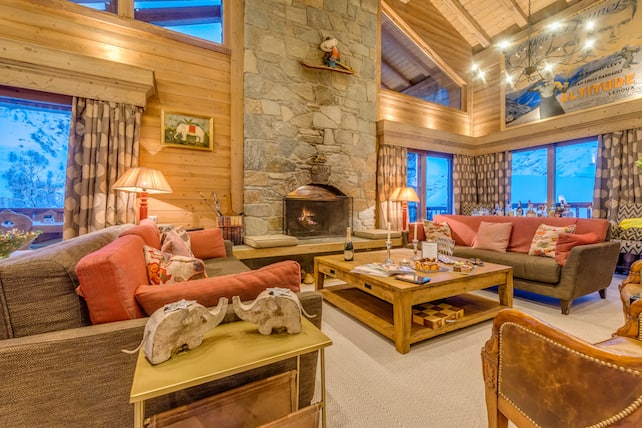 Of course, there are many wonderful chalets in the resort and sometimes it's hard to choose which one is the best. Elephant Blanc certainly comes in the top handful here, but the fact that you can ski straight out of the door and back in again nudges it up the list. The chalet was surprisingly cosy (many luxury chalets are either full of bling or almost too cavernous) and felt very homely.
The bedrooms were comfortable and mine had a big bathtub and shower, and a nice private terrace. The only downside is the 70 steps up to the bedrooms (the living area is another floor higher) from street level – so it's not ideal for families with very young children, the very old or the injured.
Highlight of our stay was the pudding on the final night, which was edible art at its best. Chef, Gerum du Jardin laid out a (disposable) tablecloth and returned from the kitchen carrying bowls of different fruits and other ingredients, all of them in shades of red, orange and yellow. He then proceeded to daub the table in the colourful ingredients, building up a delicious work of abstract art. The piece de resistance was a chocolate fondant cake tipped into the epicentre and flattened until the melting chocolate middle oozed out. We then feasted (with forks) straight off the table. Book with Consensio.
Take a Massage

After all the excitement that Val d'Isere has to offer there is nothing more relaxing than going back to your chalet for one of the best massages in the Alps. Beth from Ski-Physio is one of those rare masseuses with truly magic hands that find all the knots and sore spots before expertly smoothing and kneading them away. We all wanted to take her home with us.
Getting There
You have to get here, usually, from Geneva, Chambery, or somewhere else at a reasonable price. Snowdrone, based in Val, is the coolest transfer company in the Alps. Who else has ipads for watching a wide range of films, in-car internet, high-speed USB charging ports and cables, and even neck cushions (useful for those pre-dawn transfers), with bottles of water at no extra cost? They've got 16 Volkswagen Caravelles and, if you're lucky, you'll get a ride in their electric Tesla.
Skier Helen Gill and snowboarder partner Ash Gerard worked in high-powered 'real jobs' before realising what 'real' meant and switching their management skills to the Alps. Helen was a top lawyer in London and New York. Ash was analyst for a major bank in London and Johannesberg. Snowdrone, quite simply, works flawlessly.
But also take a look at Mountain Rescue, another boutique transfer company based in Sainte Foy and serving resorts in the Tarentaise and Haute Tarentaise such as the 3 Valleys and La Plagne as well as Val d'Isere-Tignes. They've got a fleet of minibuses for shared and private transfers, as well as the de rigueur Tesla for green skiers.