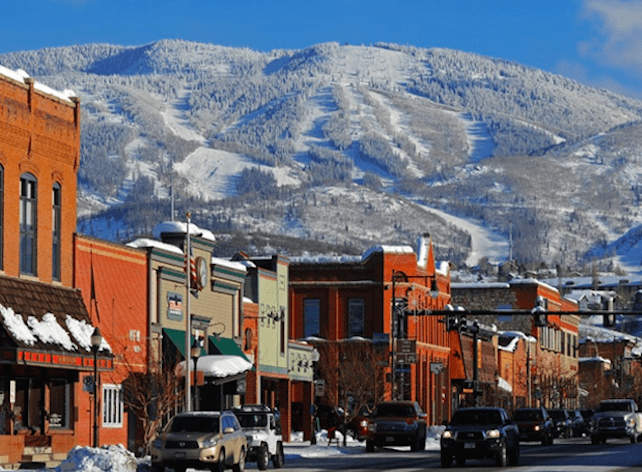 James Rivers spent five ski seasons in the mountains, two of which were in North America. He has been USA Product Manager for the Brighton-based tour operator Ski Safari for the past ten years, and has skied every US resort in their programme.
Steamboat is one of those extremely rare ski resorts which truly does suit every category of skier as well as those visitors whose idea of holiday fun has nothing to do with sliding down the white stuff.
At one end of the scale there is ideal beginner terrain for adults and children alike, with two great nursery slopes at the base area and a highly thought-of ski school. At the other, Steamboat Powdercats offer serious backcountry terrain up on Buffalo Pass, a 25-minute shuttle ride from the downtown area.
The town and the area have an authenticity that you really don't find anywhere else. Whenever I visit I feel I can completely relax in such natural surroundings and I have a real affinity with the place. Here's why:
It's a Genuine Wild West Ski Town
If you're lucky enough to find yourself in this corner of Colorado, you'd expect to lasso a history lesson or two on the Wild West – and you won't be disappointed. Steamboat has a reputation for combining cowboy culture with a copious supply of the white stuff.
But that doesn't mean it's living in the past. Erase the instant image of tumbleweed rolling down a street lined with saloons serving pork 'n' beans. Steamboat Springs is a cool contemporary Colorado town. Some fine old buildings echo its Victorian heritage and it manages to combine this with a range of smart shops and a growing number of enticing restaurants catering for its increasingly sophisticated clientele.
Essentially there's a choice of two areas to stay, but first up you need to get a rope on the local geography: the original town is Steamboat Springs and the ski village is Steamboat Resort, which is situated 10 minutes away by shuttle bus. You can take your pick – the town has a few accommodation choices, but the resort is more convenient for the skiing with plenty of slopeside hotels and condos.
The beautiful and remote Yampa Valley was the summer hunting grounds of the Ute Indians and the first settler started raising horses and cattle here in the 1870s.
Surprisingly, skiing wasn't far behind, thanks to a bricklayer called Carl Howelson. Carl brought his skis with him in 1914 when he emigrated from his native Norway. The sport quickly established itself among miners and cowboys desperate for winter entertainment.
These days the two original industries here come together each January for the Cowboy Downhill. Rodeo riders in full gear take part in a dual slalom with a twist – before they cross the finishing line they have to lasso a spectator and saddle a horse!
It's the Home of Champagne Powder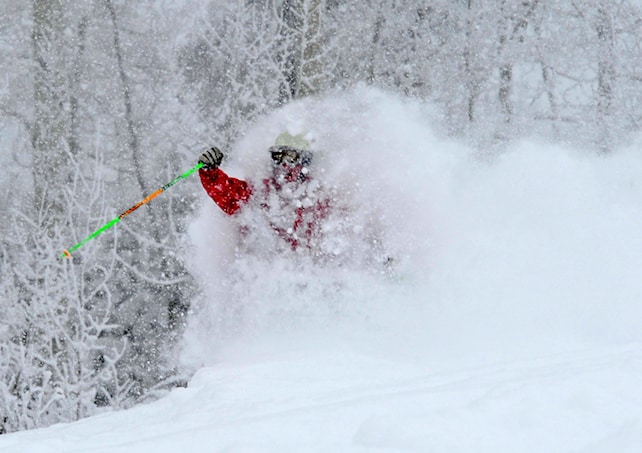 The snow can be so light and fluffy after its long journey across the western deserts that they even trademarked it. At its best it weighs just 50 to 100gms a litre and even when knee-deep in the stuff there's zero resistance as you turn.
Locals consider a good season to be what they call a three wire winter (a reference to the height of snow on a cattle fence). That's happened four out of the past eight winters and this one is looking good too.
The ski area extends to 3,000 acres of terrain and covers six peaks, with some of the best tree skiing in North America – even when the weather closes in.
Oh, and there's also night skiing from Thursday to Monday each week on five different trails. You can even ski for free on your evening of arrival – just show your airline boarding pass.
It Has Quiet Slopes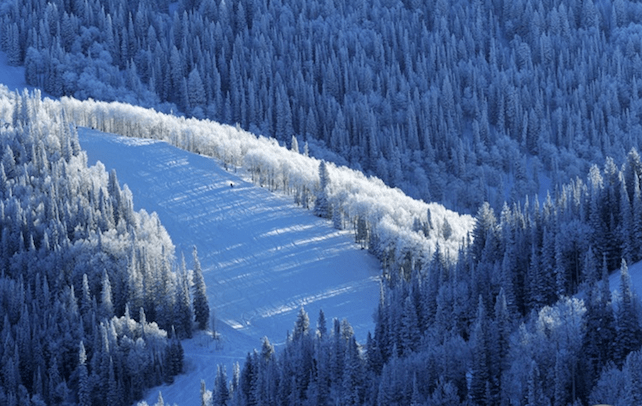 North of the main concentration of Colorado resorts, and further from Denver than most of the others, Steamboat's location mainly attracts destination skiers and very little day traffic.
Skiing the uncrowded trails here will come as a welcome and refreshing surprise for anyone used to high season mayhem in the Alps.
Much of the terrain is family-friendly and predominantly easy. However there's also plenty for stronger skiers, with 42% of it graded intermediate and 44% expert.
You'll have plenty of opportunity to explore the fabled powder among the trees on all six of the mountains – Mt. Werner, Sunshine Peak, Storm Peak, Thunderhead Peak, Pioneer Ridge, and Christie Peak.
Storm Peak, crowned by a statue of Buddy Werner, the first American to win Kitzbuhel's Hahnenkamm, has some of the tougher runs. The double-black-diamond chutes at East Face and North St Pats will test even the most experienced.
Comfortable Mountain Beds
The variety of accommodation options in Steamboat (there are over 16,000 beds) ranges from five-star luxury to comfortable condos.
One of the best places to stay is the Steamboat Grand, located at the heart of the mountain village just across the road from the slopes, and a 200m walk from the gondola. There's an outdoor pool and hot tubs, family facilities, and an amazing breakfast with an excellent omelette station.

Delectable Dining
A number of new restaurants have recently opened in town, some of them with great wine lists and there's a general feeling of home-grown them with locally-sourced produce and a strong craft beer culture.
Bistro c.v. was at the forefront of the trend for genuine Rocky Mountain food. Dishes here range from a chicken-chorizo pot pie with a savoury corn crust to Yukon gold potato gnocchi with chanterelles, spinach, salsify and a white cheddar bechamel.
Under the same ownership is Low Country Kitchen, a bustling and bright place featuring Southern cuisine and dishes like Jambalaya: andouille, duck, blue mussels and Carolina gold rice.
E3 Chophouse is set on the beautiful Yampa riverside in downtown Steamboat Springs. The 'ranch-to-table' concept here starts with the restaurant's own cattle being raised humanely in an all-natural environment.
Another favourite is Mahogany Ridge for everything from pub food to high-end dishes. For breakfast and lunch try Creekside Café and Freshies.
You can have breakfast and lunch in Paramount at the Steamboat Resort base area, and dinner at the smart Café Diva or casual Slopeside Grill which serves pizza and sandwiches.
You Can Warm Up Away From the Slopes
One of Steamboat's original attractions is the Old Town Hot Springs, which has been welcoming visitors and locals since the 1880s.
Located in downtown Steamboat Springs, there are eight pools at invitingly warm bath temperatures of 36-40C, and two giant 70m waterslides as well as a 25m lap pool where you can swim or take scuba lessons and kayak training.
Rural Strawberry Park Hot Springs is an alternative spa complex just out of town, reached by 4×4 if you've rented one, or by shuttle bus.
You bathe in a natural 40C pool against a snowy backdrop visible through swirling clouds of steam. There are heated cabins for changing, a tipi, and a picnic area.
Watch this short video to find out more:
Aside from that, there's shopping and dining (more than 100 restaurant choices) including a better range of lunch options on-mountain than most other Colorado resorts.
Then there's hot-air ballooning, ice-fishing, a six-screen cinema, several art galleries and – being a cowboy town – horse riding, of course.
For this, you take a shuttle to a ranch 18 miles north of Steamboat. The horses carry you through the snow-covered aspen trees and once you leave the ranch you won't see any signs of civilisation until your return.
In the mountain village there's the heated Gondola Square and Steamboat Promenade running the length of the base area, a permanent concert stage, outdoor seating at Umbrella Bar, along with lots of bars and restaurants for breakfast, lunch and apres-ski. The locals you'll meet in the resort are genuine and friendly.
It's Easy to Get Here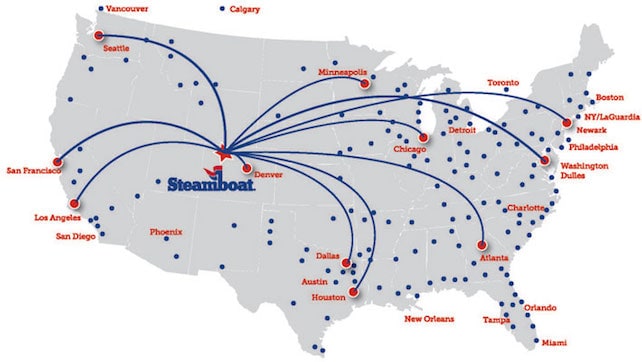 Take a direct flight from Heathrow to Denver with BA then it's a 3½-hour resort shuttle onwards. Alternatively, Hayden airport is just a 30-minute ride into town. With more flights into Hayden than ever, it's even easier to make connecting flights from London, Manchester or Edinburgh, with a 40-minute shuttle ride.
With some flights to Hayden routing via New York, Chicago or Washington D.C. it is now incredibly easy to build in a city stay as well.
What Do You Think?
Having read the post above, you'll have a good idea whether Steamboat might be the right resort for your ski holiday. Or perhaps you've already been to Steamboat and would like to give us some of your own tips on the resort and its skiing? Let me know what you think in the comments below.