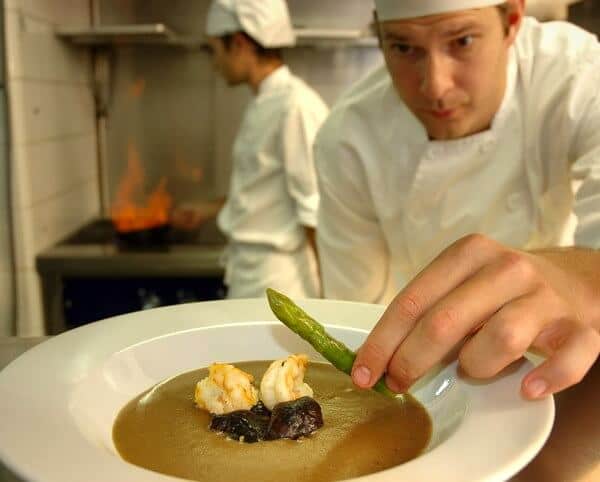 In an around the village of Baqueira Beret you will find a plethora of excellent restaurants, many of which serves local Aranese dishes, such as civet de jabalí (jugged wild boar) and olla Aranesa (Aranese stew).
Lunch at Restaurante Salad Bar 2200 (+34 973 639090) is more interesting than its name – it serves a variety of grilled-to-order meats along with the lettuce leaves. Cap del Port (+34 973 250082), a gothic folly, offers haute cuisine 200m from Bonaigua village. Restaurant 1800 (+34 973 645202) is at the foot of the Baqueira Plain chair and serves Aranese and Catalan cuisine. Another mountain eatery is El Refugi San Miguel (+34 973 639001), with an open fire, exposed pipework and high ceilings.
The cut-price alternative at lunchtime is to settle for tapas and Rioja back in town at Eth Tamarro (+34 973 644322). Under the same ownership is Ticolet which has a cosy atmosphere and a varied menu, La Raclette and La Pierrade whose names describe their specialities.
A leading resort for gourmet cooking
Gastronomically, we rate Baqueira Beret among the top ski resorts in the world for haute cuisine at sensible prices – with a couple of dozen restaurants quite literally fit for a king. The hearty local Aranese cuisine is influenced by French cuisine although it also has its own typical dishes such as Olla Aranesa or Aranese Stew. Del Gel al Foc (meaning 'fire and ice') in Rafaelhoteles La Pleta, has the best table in the resort itself, with creative Catalan and international cuisine and an extensive wine list. Esquiro (+34 973 645430) specialises in local dishes and seafood.
La Perdiu Blanca, in Hotel Montarto, offers gluten-free dishes. La Borda Lobato (+34 973 645708), next door, majors in roast suckling pig and whole baby lamb carved at the table.
Era Caseta des Seth Nestra (+34 973 644651) is in the hamlet of Tredos 2km down the road below Baqueira. It's a cosy little place serving wholesome local food. Hotel Casa Irene in Arties serves regional cuisine including excellent fresh fish and grilled meat. It is reputed to be one of the best in the Aran Valley, according to Inns of Spain.
A little further afield is Vielha, with cobbled streets that are heaving with tapas bars including Era Gripia and La Viellito. Parador de Vielha has a circular-shaped restaurant offering wonderful views and serving regional cuisine. Specials include escalopes de ternera con champinon (veal cooked in a mushroom sauce), Aranese stew, and platanos flambeados a la Catalana (flambeed bananas).
For more information see our feature Are You Bold Enough to Try Baqueira?