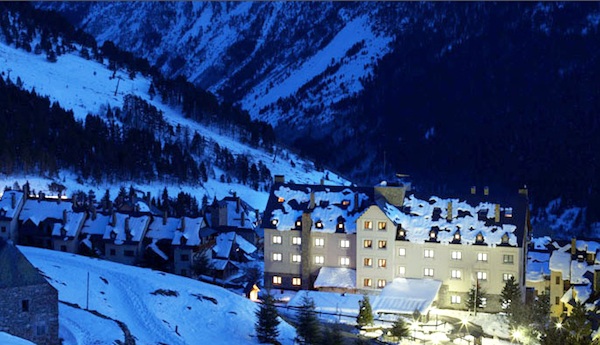 The apres-ski and nightlife are varied in Baqueira Beret and the Val d'Aran, with prices generally lower than you'd find in the main Alpine ski resorts. The resort is at its busiest at weekends when skiers come up from Madrid and Barcelona.
A completely different timetable
The timetable in Spain is completely different from almost everywhere else in the skiing world. Lunch can be as late as 3pm, followed by a last run to the base area, then Rioja-and-tapas until 7pm when the bars empty and everyone goes to bed for a siesta. Dinner en famille is at 10pm, or 11pm for child-free couples and groups, and the clubs start to warm up around 2am. Baqueira and Arties are the centres where most tourists go in the evening, with Vielha attracting the locals and a younger age group. There's a good range of bars in all of the villages, with none of them starting to get busy until after midnight.
On the slopes at Beret is the chic Moet Winter Lounge (+39 682 737 679), popular both for lunch or just a glass of champagne from lunchtime onwards. In Baqueira itself, Tiffany's and Tuc Nere are the main nightclubs. AC Baqueira hotel has The Suite Bar with DJs and a good range of cocktails.
Tapas bars everywhere, and nightclubs that get busy very late
Vielha in the valley (taxis are not expensive here) has even more apres-ski, with a dozen tapas tapas bars for the early evening. These include Bar Era Place, which is a popular spot in the main square. The others are Urtau, Bar Era Canaula (+39 973 642498), Cafe Nuevo, Don Vielhito, Era Gripia, Eth Paer, Matador, Petit Basteret (+39 973 640714) and Picoti – all of them serving homemade tapas and Rioja. Vinacoteca Alsur is a wine bar and Saxo Blu (+39 973 640971) calls itself a 'music bar'. Later on the nightclubs to try are Club 7, Eth Clot, Eth Com (+39 973 643674), Elurra Disco and Vielha Dance Club.
In Arties there is De Net for tapas and wine, followed later on by the Divino, Millennium, 1844, and La Luna nightclubs which carry on until 4 or 5am. Also in the Val d'Aran area are K-Fay in the village of Bossost and Trokotro (+39 973 640302) in the village of Betren.
For more information see our feature Are You Bold Enough to Try Baqueira?