In a Nutshell
Lively old town on the Italian side of Mont Blanc, with dramatic scenery, but limited piste skiing. We love it – but mainly for a short, sharp weekend, which includes several stops in its superb restaurants.
The Stats
Altitude: 1200m
Lifts: 18
Top Lift: 2755m
Ski area: 100km of piste
Adult lift pass: 254€ for six days


Official Site |

Ski Map |

Webcam
Essential Advice for the Perfect Trip
Courmayeur has bags of character, and some good skiing. But don't come here for more than a weekend unless you plan to explore the rest of the Aosta Valley – or tackle the off-piste on the Mont Blanc massif.
Courmayeur, despite its serious restaurants, designer boutiques and the necessary garnish of antique shops, remains unequivocally an unspoilt Italian mountain town. As such, it is also one of the best places to stay in the Aosta Valley, a jumping-off point for other ski areas.

The weekend throng from Milan and Turin
It is also one of great ski and climbing villages of the Alps, an ancient community situated just below the Italian end of the Mont Blanc Tunnel at the foot of the mightiest mountain in Western Europe. Like nearby Chamonix, its proximity by autoroute to Geneva airport makes it popular with weekenders from abroad, while Italians from Milan and Turin arrive in numbers on Friday evenings.
Lots of the Italians don't seem especially interested in the skiing. On a sunny Sunday morning, when conditions on the slopes are at their peak, you'll find them thronging the pretty and pedestrianised Via Roma, wearing the perfect jacket and a must-have pair of shades, and being very, well, Italian. In part, we don't blame them. But hey – we love to ski. Ultimately, we'd rather be with everyone else up on the mountain.
Courmayeur is also a good place for long lunches, and later on the dinner scene is legendary. Even the bars are chic, such as Bar Roma with its armchairs and sofas, or Bar Americano with its cocktails.
---
---
Guide to the Mountain
A cable-car from Courmayeur provides the main access to Plan Checrouit, the hub of the compact area of pistes. You can leave your boots and skis overnight there before riding the cable-car back down into town – something we strongly recommend, as almost everyone has to walk back from the cable-car station to their hotel over tarmac and/or ice. It's much better to do this in a pair of trainers than ski boots.
The pistes themselves are lots of fun – for two or three days. Most run off two sides of a short ridge line. One side is south-facing and overlooks Courmayeur, the other is north-facing and looks straight towards Mont Blanc. The north-facing side has the better snow and the better skiing – lots of sweeping reds and the odd undemanding black too, lit up by one of the most amazing views you'll ever see.
On the other side of the ridge, above Courmayeur, the slopes are gentler, busier, and tend to get slushy from February onwards. What's more, if you're not careful, you may find yourself suddenly caught in a flock of Italians – skiing in a tight bunch, not looking where they're going and twittering like starlings. So be careful!
Fabulous off-piste
Up at Plan Checrouit the pistes are good: especially for those who like their reds. It's just that there aren't very many of them, and after a couple of days of bombing about, you'll be bored.
For more accomplished skiers, it's the considerable off-piste potential of the area that's the main attraction. The easier stuff is mostly to be found on the same modest massif as the pistes. From the Cresta d'Arp at the top of the lift system, there are three outstanding itineraries – to Dolonne, the Val Veny beneath Mont Blanc, and the village of La Balme just outside La Thuile, at the foot of the Petit-St-Bernard pass.
They require no special technical skills, but it's easy to get lost and the risk of avalanche is ever present – so ski them with a local guide.
For the more serious descents, you need to ignore the main area of lifts altogether, and ride the two-stage Skyway Monte Bianco up to Punta Helbronner at 3466m. This magnificent feat of engineering – the valley station is in the outlying hamlet of Entrèves – replaced the old lift in 2015. It give access to the Vallee Blanche without having to negotiate the vertigo-inducing steps down from the Aiguille du Midi lift station on the French side (which is the most difficult part of the run). See our Chamonix report for more on this celebrated 22km glacier run to Chamonix – easy enough for confident intermediates to handle, but also featuring some more challenging variants. The top of the new lift is also the starting point for some tricky off-piste descents back down to Courmayeur – this is glacial terrain studded with cliffs, crevasses, and other hidden hazards – you need the services of a mountain guide for both. Of course, you don't have to ski either of them. You can just ride up and drink in the view along with a glass of Prosecco before lunch at the Panoramic Bistrot.
For the experienced, there are also some good heli-skiing opportunities. Drops include a rocky outcrops way above Val Veny for a tricky descent back down to the resort as well as on the Ruitor Glacier for a long run down to Sainte Foy in France. By taxi and lift you make your way back to Italy over via La Rosiere and over the Petit St Bernard pass. You ski down to La Thuile and catch a bus or taxi back to Courmayeur.
Invest in a hire car and a regional lift pass covering other Aosta-Valley resorts such as Pila, Champoluc and Gressoney, or perhaps the stunning little of village of Chamois, which can only be reached by cable-car, and has 12km of blissfully deserted pistes.
Finally, spectacular heli-skiing is possible in the Courmayeur area, with a number of fixed drops above the Val Veny.

Snowboarders will love it
There are some awesome off-piste routes in the area, and that's what should bring you here: in other words, this is a place for more accomplished riders. Bear in mind that there's often a lot less snow on this side of Mont Blanc than there is in Chamonix – and balance against that the fact that there are many fewer powderhounds here. So the deep stuff tends to get tracked out much less quickly.
The improved terrain park served by the Aretu chair. It has lines for beginners, intermediates, and experts. A giant airbag is served by two jumps of different difficulty.
---
---
Where to Learn
Beginners will find Courmayeur is a good place to learn, although the slopes can often be very busy, especially at weekends and in high season. The runs off the Checrouit cable-car are the easiest.
Monte Bianco and Courmayeur are the main ski and snowboard schools. Both have a sound reputation for teaching modern technique. However, not all their instructors are fluent English-speakers – which isn't a problem if you book your tuition through Interski, a British tour operator with its own school here. You do, however, have to book a holiday with the company in order to get access to it.
As ever in Italy, prices are cheaper than they are in the major resorts of France and Switzerland – especially when it comes to private lessons.

High mountain guiding
There are several high-quality guiding outfits in town, a reflection of the extreme-skiing and mountaineering culture that runs in parallel to all the window-shopping on the Via Roma. The local Valdostane Alpine guides know their mountains well and offer descents such as the Vallee Blanche in the spring, without having to negotiate the vertigo-inducing steps down from the Aiguille du Midi lift station on the French side.
For guiding, choose from Societa delle Guide Alpine di Courmayeur, High Performance Mountain (+39 335 6342771), Guide Alpine del Monte Bianco, and Sirdar. There's also heli-skiing available with Air Vallee (+39 0165 869814).

And for the bambini…
Many Italian resorts don't offer childcare for very small children, as the non-skiing nona or granny often travels in tow with traditional Italian families. However, Courmayeur is one of the exceptions to the rule. Kinderheim (+39 0165 842477) at Plan Checrouit cares for children from newborn up to 12 years of age, with an alternative pick-up and drop-off point at the foot of the cable-car. Both the ski schools give lessons to children from four years old. "The ski instructor had a great way with the kids, gave them confidence and good technical skills," said one reporter.
---
---
Where to Stay
Courmayeur has been considered one of the capitals of mountaineering since the 1800s, even if in those days the spas offering mineral water treatments were more important than anything else.
Today, like back then, the hotels meet the expectations of tourists. What Courmayeur lacked was a really classy hotel, like the Hermitage in Cervinia, or the Breithorn in Champoluc – and generally the style of interior decor is functional rather than characterful. But the service is usually friendly and helpful, and most welcome bookings for a weekend as well as a week. However there are two five-stars: Relais du Mont Blanc & Spa, and Le Massif.
Hotels near the cable-car
Le Massif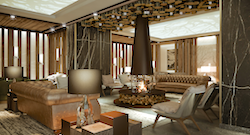 Le Massif is the first five-star in the resort centre. The wood-and-stone building is set three minutes' walk from the ski-lifts and close to the main shopping street, via Roma. It has 80 elegant rooms (many are inter-connecting for families), a thermal spa, kids club, a fine dining restaurant and steak house, plus a separate on-slope eatery up at Plan Checrout – called La Loge du Massif.
Grand Royal e Golf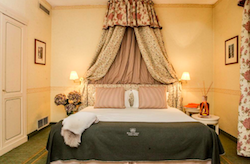 Grand Hotel Royal e Golf is a five-star that's well placed for both the skiing and the nightlife. It has a Michelin-starred restaurant that serves both regional and classic Italian cuisine. There's also the Petit Royal à la carte restaurant, and a piano bar. After a day on the slopes, you can relax in the spa with sauna, Turkish bath and gym. There's an outdoor heated pool and a sauna with chromotherapy and music.The ski bus runs daily and links with the cable-car.
Hotel Les Jumeaux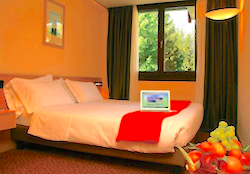 Four-star Hotel Les Jumeaux is in "a great location next to the cable-car" – something which you'll quickly learn is important here. The property is made up of two buildings. The main one includes the lobby, reception, bar and a restaurant. The other is close to the ski lift and has a further breakfast room. All the bedrooms feature a balcony, and some overlook the mountains. There's a piano bar and the restaurant open for lunch and dinner, serving regional and international cuisine.
Hotel Pavillon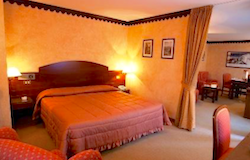 Hotel Pavillon is one of the bigger properties, not far from the cable-car, with a wellness centre housing an indoor pool, Roman bath and sauna. Rooms and suites are comfortable and spacious, all in traditional Aosta Valley design. Breakfast is served each morning, while the restaurant is open at lunch and dinner, offering regional dishes, as well as gluten-free and vegetarian options.
Au Coeur des Neiges & Spa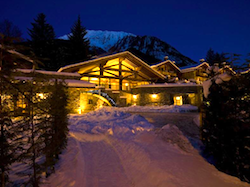 Au Coeur des Neiges is a gorgeous little chalet complex next to the cable-car. The main building houses apartments, a spa, and bar, and in the grounds are a few private chalets. The whole thing is a hybrid of chalet, apartment and hotel, with a choice of shopping online with your order then delivered to your door, self-catering, or having staff prepare meals in your chalet kitchen.
Hotel Courmayeur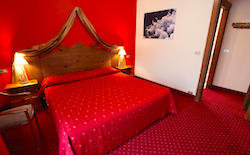 Three-star Hotel Courmayeur is also close to the cable-car, and blessed with an open fire in the sitting room. It was rated "excellent", by a reporter and gets some enthusiastic reviews. In the traditional restaurant can try regional and Italian cuisine, or you can relax in the bar and lounge area. During winter season the hotel is only bookable for one-week minimum stays.
Hotel Meuble Laurent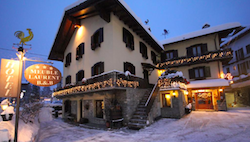 Hotel Meuble Laurent is in the town centre and has "cosy and traditional rooms, and the bathrooms modern and clean." The Laurent's Alpine-style rooms come with mountain views, a flat-screen TV, and a private bathroom with a hairdryer.
Hotel Maison St-Jean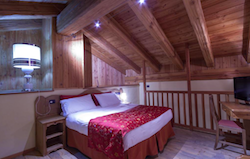 Maison St-Jean is a two-star that's 300m from the cable-car station. It's a nice little place that's recommended for families. Its studios come with fully equipped kitchenettes, and the property features an indoor swimming-pool, Turkish bath and sauna. Bedrooms have warm colour schemes, wood floors and wood-beamed ceilings. A continental breakfast is served, while the restaurant offers traditional Italian cuisine and homemade pasta and bread, plus vegetarian and gluten-free options.
A bit of a walk but worth it
Hotel Bouton d'Or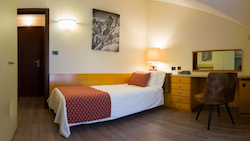 Bouton d'Or has a super-friendly owner, and 35 decent-sized rooms – including three family rooms. It's a B&B decorated with local antiques, and everything at breakfast is either home-made or home-grown. It's at the wrong end of the Via Roma as far as the cable-car goes, but there's a complimentary minibus in the morning. Guests' reviews are glowing.
Hotel Walser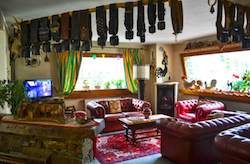 Hotel Walser is a 10-minute walk from the lift, and near a busy road (book a room at the back of the hotel if you can), but it's won praise: "The staff were very friendly and evening meals were good," said one reporter. The family-run hotel has panoramic views and the restaurant serves typical Aosta Valley cuisine. On site is a wellness centre with a hot tub, sauna and a small gym.
Hotel Tavernier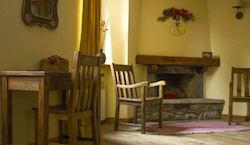 The Tavernier is a cosy three-star, 10 minutes' walk from the town centre and even closer to the lift at Dolonne that whisks you up to the slopes at Plan Checrouit. Expect characterful rooms and apartments, roaring log fires and a spa with its own mini-waterfall.
Where to stay outside town
Relais du Mont Blanc & Spa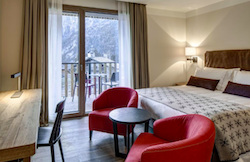 Relais du Mont Blanc & Spa and is a stone-and-wood chalet built by Mythos Hotels – owners of the Grand Hotel Savoia in Cortina d'Ampezzo. It has 49 rooms and suites decorated in vintage style, a restaurant serving fusion cuisine and overlooking Mont Blanc, plus a good spa spa with indoor and outdoor pools. It's located 1km from the Dolonne and Mont Blanc cable-cars, and the hotel has its own ski-bus. A public bus with links to Aosta stops in front of the property.
Auberge de la Maison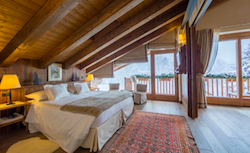 Auberge de la Maison is set in the quiet little hamlet of Entreves, which connects by cable-car to Plan Cherouit. It has attractively decorated rooms and friendly owners. There's a wellness centre and a romantic restaurant where you can enjoy a candlelit dinner. The wellness centre includes a sauna, Turkish bath, solarium, and massage area. The Monte Bianco ski lift is an eight-minute walk away, and Sky Way Mont Blanc cable-car is also close to the property. Great for quick access up onto the Mont Blanc massif: rather less brilliant if you want to enjoy the apres-ski scene in town.
Gran Baita Hotel & Wellness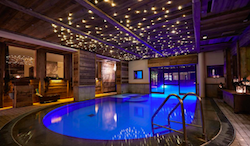 Gran Baita is comfortable, but inconveniently positioned outside town. Rooms come with a minibar and parquet floors. Most rooms have a balcony or terrace, some with views of Mont Blanc. Just a 10-minute walk from Courmayeur centre, Gran Baita offers a free shuttle to Dolonne cable-car.
Hotel Dolonne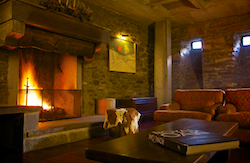 Hotel Dolonne is a restored 16th-century farmhouse in the hamlet of the same name. There's a nursery slope within easy reach. It has some interesting antiques and log fires – and rather more character than most Courmayeur hotels. Reporters have been enthusiastic about it. The Dolonne-Checrouit cable-car and the sports centre is 200m away.
---
---
Where to Eat
We're not the only ones who like the restaurants in Courmayeur. "The mountain huts and restaurants were excellent with all budgets catered for," remarked a reporter – reflecting a general air of enthusiasm for the resort's long-lunch scene. Book ahead if you want to be part of it, especially at the weekend. For this guide, we have been helped by Amin Momen of Momentum Ski, who knows the resort inside-out.
Maison Vieille is an old shepherds' hut run by a charismatic chef, Giacomo Calosi, and is also open in the evening, when he will pick you up and drop you back afterwards by snowmobile. (Not for the nervous—the high-speed return journey is hair-raising.) At lunchtime you sit in the rustic interior or outside on the terrace, and it's accessible by a beginners' chair-lift, which means non-skiers can get here.
The food is sensational, with grilled meats as well as delectable pasta, delicious antipasti, and Giacomo's flambé of fruits of the forest. Try the baby pig, roasted in the wood-fired oven (including the shoulder, belly and trotters) and served with a small pile of pasta scattered with fried bread and anchovies.
Chateau Branlant, close to the top station of the cable-car, has lovely views and a traditional rustic ambiance. We consider it one of the top five eateries in the Aosta Valley.

Eateries from Plan Checrouit to Val Veny
Hotel Christiania is also set at Plan Checrouit, at top of the main cable-car, and run by Carlo and Marisa with great attention to detail. They are famous for the quality of their pizzas, and it's easy to see why. Specials include lightly-crumbed frogs' legs, mini deep-fried pizzas filled with local cheese, ham and spinach, and a beautifully simple dish of lamb cutlets with polenta. In short, a gastronomic delight.
Also just above Plan Checrouit is Chiecco, on the side of Chiecco poma-lift. This intimate restaurant is run with passion by Anna and Paola Costa. A typical meal might feature a beautiful plate of anchovies to start, followed by mozzarella and delicate meat-filled ravioli. The danger here is that, once inside, it's very easy to spend the whole afternoon here and miss half the day's skiing.
For something reasonably-priced try Refugio Christiania (+39 0165 843572) at Plan Checrouit. It's famous for its pizzas and is open for both lunch and in the evening.
On the Val Veny side is Geremia La Fodze (+39 339 870 5919), in one of the best terraced locations, set beneath the towering crags and ice cliffs of Mont Blanc and the Brenva Glacier. We love their gnocchi con la ricotta, baccala (smoked cod) and the sopressa salami abbrustolita. Look out for his one-off barbecues, sushi days and other themed events with live bands.
One of our readers recommends Mont Frety Refuge: "This restaurant in the middle of an exclusively off-piste area serves up some of the best food in the Alps. The majority of Courmayeur's visitors never even make it up here to the Pavillon lift station, even though it's just a cable-car ride up and down if you don't fancy the off-piste adventures. There are lots of great restaurants in Courmayeur but you'll go a long, long way to beat the selection of salads, lamb and beef."
Restaurants in the town centre
Pierre Alexis 1877 (+39 0165 843517) is run by Cristian and his family. This is one of our favourite restaurants, with great character and atmosphere. Good a la carte menu, with a twist on regional classics – and one of Courmayeur's best wine lists. Petit Royal Restaurant is in Hotel Royal e Golf and has a Michelin star.
Mont Frety is run by Mario and Raffaele. This is the perfect 'local' place to eat after a hard day's work. Excellent for your first night in the resort, especially if you arrive late, there's a brasserie-style ambience with excellent pizzas and some wonderful local dishes.
Cadran Solaire (+39 0165 844609) is run by Mimmo and has a great atmosphere (antique wooden furniture and brassware), and a refined setting. But it's not at all stuffy: this is a good halfway house between a simple brasserie and a full-blown gastronomic restaurant. Plus it has the added advantage of a spacious bar where you can meet pre-dinner. At Aria (+39 0165 842880), owner and sommelier Aldo is passionate about cooking and wines. The menu is modern Italian and innovative, with Aldo's own twist on regional dishes. If you are up for it, try the grappa with an aroma of Christmas pudding.
La Terrazza is owned by Ciro, who serves adventurous regional and mountain cuisine. This is definitely another must. La Piazzetta (+39 0165 844150) is on the Via Roma. Despite the brightness of the dining room you'll enjoy great seafood/pasta combinations here. Vieux Pommier (+39 0165 842281) is best for fondue, raclette and brasseries.

Further from the centre and out of town
Al Camin (+39 0165 843442) is owned by Andrea, who is a local photographer. It's a meat-eater's paradise and the menu changes weekly but covers all Italian regional cooking. The restaurant is a 15-minute walk from the centre. La Clotz (+39 0165 869720) is set in Val Ferret, Courmayeur's cross-country ski area, a 15-minute drive from town.
This family-run restaurant specialises in taking the best local ingredients and getting the most out of them both in a classical and creative style (try the wonderful warm chocolate ravioli). La Clotz might be the best gastronomic restaurant in the area, but it's not stuffy in the slightest.
La Maison de Filippo is renowned for its fixed price 36-dish feast, so don't eat lunch before you go. Great for a group – the food just keeps coming, making for extremely social dining.
---
---
Where to Party
Courmayeur has one of the nicest resort centres we know – narrow cobblestone streets and a seamless parade of exquisite delis, boutiques, antique and interior-design shops, with lots of intriguing alleyways leading off, to tempt idle feet.
It also has an extremely laid-back ambiance – except on weekends, when the beautiful people from Milan and Turin come to town. Via Roma is where to find most of the serious restaurants and chic bars.

A very different scene from your average ski resort
Everybody loves the Bar Roma (+39 348 714 7546) on the Via Roma – a big, airy place complete with comfortable armchairs and sofas. It starts early and finishes late, and offers – get this – a FREE buffet in the late afternoon. Free food! We don't want to sound cheap, or anything, but what a brilliant idea.
Needless to say, the place is always busy. Bar Americano (+39 0165 846 707) offers a similar scene (with great cocktails), and another free buffet. According to a Welove2ski visitor, the kitchen there stays open till 2am, offering burgers, chips, crepes and sandwiches.
Other bars to look out for are the Cadran Solaire (+39 165 844 609) and Le Privé (+39 0165 843681) – which has a sushi bar – both of which attract a smart crowd. Bar delle Guide (+39 0165 842 435) has lots of atmosphere.
Late nights and thermal baths
Poppy's Pub (+39 0165 846789) is lively after dinner ("for boys' apres-ski" said one reporter) and Planet Disco Bar is another late-night spot. J-Set Club (+39 0165 843426) is a disco and sushi restaurant in one.
I Maquis (+39 0165 897649) in Entreves is a stylish lounge and club with DJs and a shuttle-bus to and from the main resort until 4am. Jimmy's club is in La Palud, close to Entreves. The smart Courmaclub (+39 349 4108644) opened a couple of years ago at Dolonne and is the place to go for DJ sets and live music.
Courmayeur was originally a spa town and a real treat is to visit the thermal baths at Pre Saint Didier, 5km out of town. Here you can enjoy steam baths, massages, and relax in one of the outdoor pools while gazing up at the mountains.