In a Nutshell
A good-value but remote resort with uncrowded slopes, extensive piste grooming, fabulous off-piste in five powder bowls, a friendly atmosphere and a good snow record.
The Stats
Altitude: 1068m
Lifts: 9
Top lift: 1925m
Ski area: 1013 hectares
Adult lift pass: CDN$459 for six days


Official Site |

Ski Map |

Webcam
Essential Advice for the Perfect Trip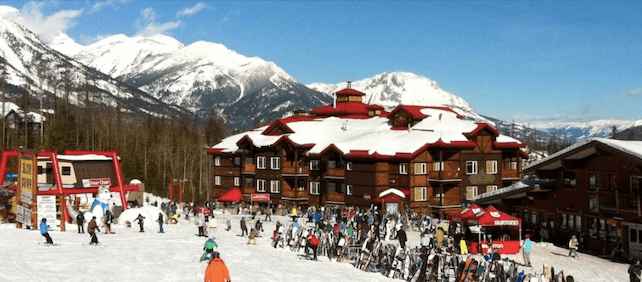 Fernie is located in the Elk Valley area of the East Kootenay region of southeastern British Columbia. It's a wonderfully challenging ski area that has always had the topographical potential to become another Whistler. International powderhounds tend to rate the resort among their top five destinations in North America. Few destinations can offer such premium pistes and powder (around 35ft/11m each winter) within the infrastructure of a modern ski village that is backed by all the charm and historical association of an attractive Victorian railway town. There is a good range of terrain to suit all abilities.
Fernie belongs to Resorts of the Canadian Rockies, which also owns Kimberley, Stoneham, Mont-Sainte-Anne, Nakiska, and Kicking Horse. In recent years the small resort has achieved pipe-dream fame as luxurious apartment blocks and mountain homes sprouted around the ski village. Fernie has 3,550ft of vertical – one the biggest verticals in the Canadian Rockies.
It is important that Fernie continues to keep on upgrading its lift system. Despite all its comfortable living accommodation, Kicking Horse and Revelstoke, with their state-of-the-art lift systems, are the pretenders to Whistler's crown. However, one of the big attractions of Fernie is its position in BC; from here it is possible to make day trips to nearby resorts such as Kimberley (under 90 minutes drive) and Panorama (two hours by road).
Fernie has come a long way from mining, on which the old town was founded. Coal was discovered here in 1873, and the town was named after one of the settlers, William Fernie. It was the coal mining, and later logging, that brought the Canadian Pacific Railway to Fernie in 1898, and it became the commercial heart of the Elk Valley.
Visitors today have the choice of staying in ski-convenient hotel rooms and condos up at Fernie Alpine Ski Resort base area, or in the old town of Fernie three miles below the resort. By slumbering, with minimal change, Fernie has managed to retain its considerable Victorian charm. A regular bus service operates between the mountain village and the town. As one reporter summed it up: "If you want a quiet resort with awesome skiing then try Fernie".
---
---
Guide to the Mountain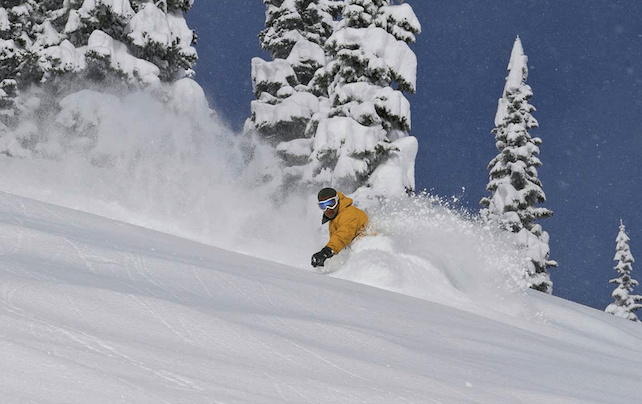 Fernie has been likened to Argentiere without glaciers, a challenging ski area that many skiers and snowboarders rate among their top five resorts in North America. And this is one of these rare resorts that truly suits all levels, with a compact size lending itself particularly well to families. It has a good beginner area at the base, and plenty of tree-skiing for all standards. However the real action is found in the series of five huge powder bowls that stand side by side beneath the 2000m peaks of Elephant Head, Polar Peak, and Grizzly Peak. These provide an astonishing variety of challenging terrain that will keep a strong intermediate or advanced skier happy for a whole season.
Main mountain access from Fernie Alpine Ski Resort is by two successive quads from the base area that take you up into Lizard Bowl, setting for the notorious Face Lift. Originally this was a meat-hook tow, which would be more at home on a Kiwi club field, but that was replaced by with platters for greater ease of use. Fernie has two high-speed quad chairs, which access Timber Bowl, Siberia Bowl and Lizard Bowl. From Cedar Bowl, a T-bar brings you back to the slopes again.
At the base area there's the Mini Moose magic carpet and Mighty Moose platter lift, with a dozen beautifully groomed runs on the lower part of the hill for novice skiers. Should children want to get higher up the mountain, there's there is an easy blue called Falling Star all the way from the top of the White Pass Chair to the bottom of the mountain.
Fernie is popular with snowboarders. It has a Rail and Box Park reached by the Timber chair-lift, and a separate kids' rail park with pipes and boxes.
---
---
Where to Learn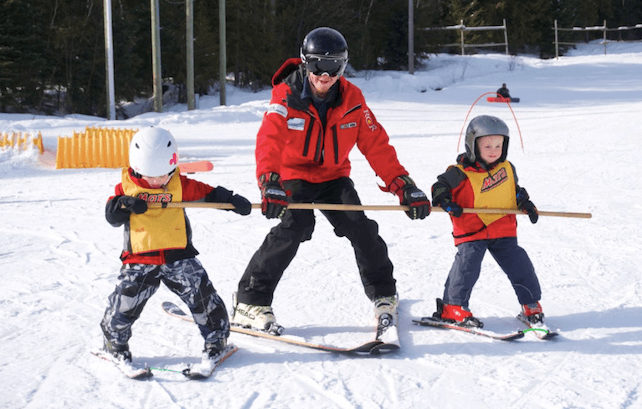 Fernie's Telus Winter Sports School is warmly recommended for lessons in alpine skiing, snowboarding and telemark. Specialist ski clinics include Steep and Deep Camps, Ladies Freeride, and Mountain Heritage Snowshoe Tours. Backcountry and cat-skiing excursions can be arranged through Fernie Wilderness Adventures Snowcat Skiing, Island Lake Lodge, and Powder Cowboy. Then there's RK Heli-ski in nearby Panorama.
Telus Winter Sports School runs an extensive programme for kids of all levels. Family coaching in skiing, snowboarding, cross-country and telemarking is available for groups of up to two adults and three children who want to learn together. The Freeriders Programme is aimed at experienced teenagers. Resort Kids Childcare looks after small babies and toddlers from 19 months to six years in the Cornerstone Lodge. The Minute Maid Wilderness Adventure Trail meanders through the woods and offers a sense of adventure as well as being educational. Nonstop ski runs a variety of courses including instructor training, gap year courses and ski patrol training.
---
---
Where to Stay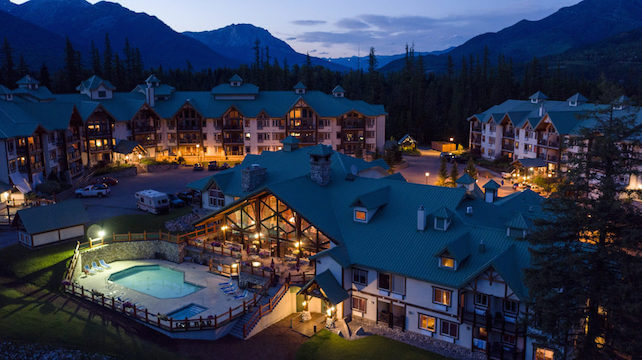 Lizard Creek Lodge
Lizard Creek Lodge is the best address on the mountain, with spacious condos, a gym, the Neve spa, an outdoor heated swimming-pool and three hot tubs. There are 14 units in the main lodge and 85 condos in the two other buildings.
Island Lake Lodge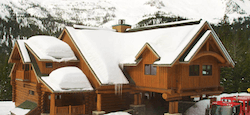 Island Lake Lodge is outside Fernie, but close enough for a day's add-on. Perched above a lake, it offers one of the ultimate cat-skiing experiences and is worth a visit. Four luxurious eco lodges sleep up to 48 people in a choice of three room types: cosy standard rooms to more spacious deluxe rooms with soaker tubs and showers. There are no TVs or phones in the rooms – to add to the feeling of remoteness, and there's a dining room and a spa.
Cornerstone Lodge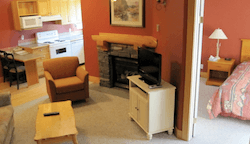 Cornerstone Lodge is at the foot of Deer Chair and houses Legends and the Slopeside Cafe, and a fitness centre. All units have well-equipped kitchens and gas fireplaces.
Red Tree Lodge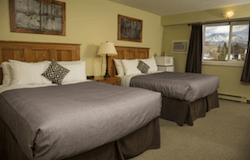 Red Tree Lodge is a 42-bedroom lodge with spacious bedrooms, a swimming-pool, hot tub and sauna. There's a restaurant, a kitchen for self-catering, and four different 'Chill Out Rooms' with TV and wifi.
Lodging in downtown Fernie
The old town of Fernie is just over four miles away – ten minutes' drive – from the alpine resort.


Park Place Lodge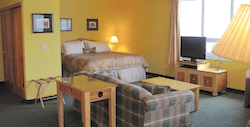 Park Place Lodge is in downtown Fernie and has modern rooms. It houses Max Restaurant featuring steak, seafood, pasta and burgers. Also in-house is The Pub Bar and Grill, and there's a beer and wine store, an indoor swimming-pool and hot tub.
The Old Nurses Residence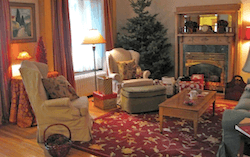 The Old Nurses Residence is a B&B built in 1908, with large rooms restored to their original elegance. "We provide you with a comfortable sleep on chiropractic mattresses and you greet the morning with a full wholesome breakfast," Says the hotel. The centrally located accommodation is the only bed and breakfast in downtown Fernie.
Best Western Fernie Mountain Lodge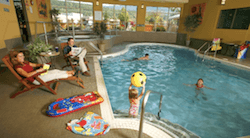 Fernie Mountain Lodge features a restaurant, indoor swimming-pool and hot tubs, this hotel is located in the old town. There are 95 guest rooms, including one-bedroom suites and executive suites.
---
---
Where to Eat
Lizard Creek Lodge has a reasonably-priced bar menu. In the same building, The Cirque has some of the finest food in the alpine village. The Lost Boys Café (+1 250 423 4655), at the top of Timber Express Quad, provides scenic views and baked potatoes with exotic fillings. Max restaurant in Park Place Lodge is recommended for its creative menu, and Gabriella's Little Italy (+1 250 423 7388) serves good-value pasta dishes.
In Downtown Fernie
Downtown Fernie, 10 minutes' drive from the alpine resort, has some good restaurants, in particular Yamagoya in the Alpine Lodge, which serves sushi ("highly recommended") and The Curry Bowl, which has an Asian-fusion flavour and has some vegan options. Himalayan Spice Bistro is for South Asian cuisine, Nevados Tapas & Tequila is Latin American ("Try the coconut ginger margarita"). The Brickhouse Bar & Grill (+1 250 423 0009) receives mixed reviews on TripAdvisor for its service, but some good ones, too: "The food at the Brickhouse was delicious, fresh, and well presented. There was a variety of local craft beers to pick from…"
Old Elevator features ahi tuna carpaccio and Pan seared venison rack, while Rip 'n' Richard's Eatery (+1 250 423 3002) is a riverside eatery specialising in Southwestern cuisine – from quesadillas to jambalaya. The historic Royal Hotel has modern Australian cuisine. Fernie Cattle Co is, as you might expect, a steakhouse. Central Local House (+1 250 423 3343) has a modern Italian menu with home-made pizzas, pasta and gnocchi. El Guapo (+1 250 423 9234) is a Mexican restaurant with a bar, ping-pong table, and sofas to relax in.
---
---
Where to Party
Griz Bar (+1 250 423 2407) is where the apres-ski starts, and Lizard Creek Lodge has a vodka ice bar where you can sample a variety of vodkas at ultra low temperatures, donned in the Helly Hansen parkas provided. Most of the nightlife is in downtown Fernie, such as Eldorado Lounge (+1 250 423 0009), and Rockin'R Bar at the Royal Hotel, which are popular meeting places with regular live music, special events, DJs, and weekly karaoke evenings. The Brickhouse Bar & Grill is a pub/bar and downstairs, Phat City Lounge (+1 403 423 0009) has live music and is decorated with original local artwork. The Arts Station holds concerts and is the hub of Fernie's cultural scene with two art galleries, a 100-seat theatre, craft and painting Studio, and a pottery studio.
In Fernie Alpine Ski Resort, dog-sledding and ski-joering take precedence over Alpine oompah. Try your hand at ice-skating or curling in the old town. Prestige Tours organises snowmobiling, whilst Adventure Source Tours and Journeys B.C. are for dog-sledding.