In a bid to tickle the increasingly discerning palates of jaded skiers and snowboarders, resorts across Europe and North America fall over themselves to offer a menu of alternative – and sometimes bizarre – activities on snow. Resorts that offer a wide choice of wintersports are a particularly good bet for family skiing holidays and, who knows, they might even tempt your non skier friends or partner to come along too.
Fast and Furious
Ice-driving
You spin the wheel just like in an amusement arcade, but the problem is that the approaching tree is solid and real. Dual control and presence of a qualified instructor mean you miss it. Lessons take place in saloon cars on a dedicated ice-circuit.
Entertainment value apart, you come away with practical skills that could spare you an accident on the roads next winter. Not to be confused with the pared-down version that takes place in battery-powered bumper cars on an icy circuit.
Buzz Factor: Heart-stopping. Don't go in the back seat.
Where: Les Deux Alpes, Flaine, Chamonix, Val d'Isere, Tignes, Val Thorens, Madesimo. More Information: Circuit Glace Flaine.
Snowscoot
Take a mountain bike, remove the wheels, and replace them with a snowboard. Les Arcs, the French home of all that is avant-garde in the sliding business claims to have started the craze. Going up the mountain is best tackled by gondola. Going down…well ça dépend on a number of factors, not least your skill on skis or snowboard.
Buzz Factor: A daunting and dizzying day-out.
Where: Avoriaz, Les Arcs, Les Contamines, Pra Loup. More Information: Arcs Aventures ESI.
Ice-karting
The vehicle looks like a go-kart mounted either on ski runners or with tyres and spikes, making it possible to race on an ice-track. It also has a steering wheel and brakes – but no motor. Speed is controlled by steel claw brakes, but pedal power dictates that this is not a sport that's suitable for children under 140cm tall.
Buzz Factor: Icily addictive.
Where: Grindelwald, Les Saisies, Saalbach, Tignes, Verbier, Seefeld, Are in Sweden.
More Information: Karting Extreme Verbier.
The Cresta
The sport that began in St Moritz in 1885 and has continued here ever since has gone mainstream. Skeleton, as it is officially known, is an Olympic event.
You lie on your stomach on a heavy steel toboggan and launch yourself head-first along a three-quarter-mile-long icy track, down a steep gully and around 10 corners before reaching the valley village of Celerina. If you don't steer and brake, you fall. Beginners start from Junction – the halfway point.
The average speed for a man is 53mph, increasing to 80mph at the finishing post. The average speed for a woman is zero – sex equality has not reached this corner of the Engadine and women are banned from taking part. A number of bobsleigh tracks around the world are more accommodating, but that is golf without St Andrew's.
Buzz Factor: Off the scale, but hopefully not off the track.
Where: St Moritz More Information: Cresta Club.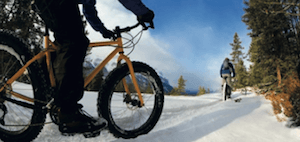 Fatbiking
Swap your skis for a fatbike – for example you can hire a brand-new fatbike in Montchavin in the valley below La Plagne, board the last gondola to the top of Plan Bois and speed down the groomed tree-lined runs. The thick, under-inflated tyres are designed to grip the snow and the disc brakes mean that, even in the wettest conditions, the descent is still controlled.
Buzz factor: If you love mountain biking in the summer, this is the snowy equivalent.
Where: La Plagne, Gstaad.
More information: Evolution 2.
Animal Lovers
Dog sledding
You can sit comfortably under an insulating layer of blankets and watch the world go by. However, the real kick is to stand on the back of the sled and drive your own a team of huskies. All you need are nerves of steel – and a firm foot on the brake pedal which digs a steel prong into the snow.
Such is the Herculean strength of a fresh team of 16 dogs that the brake will have little positive effect over the first couple of kilometres – other than leaving a ploughed snowfield in your wake. But when the huskies settle to their task you have complete control.
Buzz Factor: Absolutely addictive.
Where: Mainly in Scandinavia (Are in Sweden, Levi in Finland), but also in Avoriaz, Alpe d'Huez, Courchevel, Flaine, La Rosiere, Tignes, Banff-Lake Louise, Madonna di Campiglio, Breckenridge, Seefeld, Jackson Hole, and many other resorts. More Information: Whitetracks Activities Courchevel and Snowy Owl in Canmore (near Banff).
Reindeer sledding
This is an activity native to Northern Scandinavia (and throughout the world on the night of 24 December). Contrary to popular belief only one reindeer normally takes the traces.
Reindeer are far from docile and lack the obedience traditionally shown to the jolly man in the red coat. In Levi Huskypark you'll combine a husky ride with a reindeer trip and also learn the traditions of reindeer herding.
Buzz Factor: Wild. Now you know why his beard is white.
Where: Levi in Finland and Are in Sweden. More Information: Levi Huskypark.
Ski-joring
Originally it was a one horse-power method of transport in Alaska and Scandinavia. You tied a rope to the bridle, balanced on a pair of skis, and cried 'giddy-up' or its Norse equivalent. More recently, it has become a sporting way of taking your dog for walk. Prepared cross-country trails are the ideal terrain.
'If you have a big healthy dog (over 16 kilos), a pair of cross-country skis, and a good attitude, you've got what it takes to get into ski-joring' says the North American Ski-joring Association. If you ignominiously cross your skis, hit the quick-release on your harness and shout 'heel!'
Buzz Factor: Serene, until the first rabbit is sighted.
Where: Banff-Lake Louise, Tignes, Breckenridge, Les Houches, Serre Chevalier, Les Deux Alpes. More Information: Skijoring Mont-Blanc (horse-powered) in Les Houches, or Mad Dogs & Englishmen (dog-powered) at Canmore near Banff.
A Head for Heights
Ice-climbing
With an ice-axe in each hand and front-pointing crampons on each foot, scaling ice walls is easier than it looks – though a mountain guide to belay you on ropes is always essential. You can climb – or abseil down (called ruissiling in France) – frozen waterfalls or man-made ice towers erected each winter in a score of Alpine resorts. Courchevel 1850 is home to the world's biggest artificial ice cascade, 40m high. For this slippery sport you need climbing boots, crampons, two ice axes, a helmet, a harness, and nerves of steel.
Buzz Factor: Vertiginous.
Where: Alpe d'Huez, Banff, Mayrhofen, Risoul, Tignes, Bad Gastein, Courchevel, Saas-Fee, Zermatt. More Information: Ski Sensations Courchevel.
Zip-wiring
One of the most exciting non-snow activities of all. Some places have just one wire, often stretched across a small gorge. The best have heated platforms built high up in the forest canopy and linked together by a network of thick steel cables. You're strapped into a harness and wear a helmet.
Camp Are's high wire in Sweden is 60m above the ground, several hundred meters long with possible speeds of up to 70kph. For the biggest and best you have to go to Snowdonia. You're unlikely to find snow here, but The Big Zipper at Bethesda is a mile long and you can hit 160kph.
Buzz Factor: Woosh! You'll feel like you're flying.
Where: Whistler, Mayrhofen, Are in Sweden. More Information: Camp Are for the largest zip-wire park in mainland Europe. The Big Zipper in Snowdonia is bigger.
Kite-skiing (or snow-kiting)
To take part in this action-packed sport you can use either alpine skis, a snowboard, or telemark skis. Then you need an open snowfield or frozen lake. A medium strength wind is best for beginners but, before long, you should be able to cope with stronger winds. With these vital ingredients you can then perform high jumps, travel at fast speeds and have loads of fun.
Buzz factor: Flying high.
Where: Serre Chevalier, La Rosiere, Geilo in Norway,
Levi in Finland, Are in Sweden, and many other resorts.
More Information: Snowkite School La Rosiere.
Hot-air ballooning
A dazzling activity where you float over the mountains – often at sunrise or sunset. Go on a one-off flight or visit a resort in the middle of a balloon festival, which is a spectacular sight. Filzmoos in Austria hols its annual
International Balloon Festival in January, where you can see dozens of balloons from tens of countries and in all shapes and sizes. The climax is when all the lit-up balloons fly together at night.
Buzz Factor: Gorgeous rather than thrilling. You'll be soaring up there with the birds.
Where: Aspen, Courchevel, Chateau d'Oex (it also has a balloon museum), Jackson Hole, Kirchberg, Filzmoos, La Clusaz.
More Information: Above It All Balloon Company.
Paragliding (or parapente)
Ever fancied skiing off a mountain, being taken up into the air and looking down on striking views of the village and mountains?
The success of paragliding depends on the weather, and you'll often need to be able to do it at very short notice. Taster tandem flights are the way to begin. You can do this sport in many resorts but it's best to choose somewhere with spectacular scenery, such as Zermatt.
Buzz Factor: skiing off the side of the mountain is the scariest part.
Where: Zermatt, Serre Chevalier, St Anton, Samoens, Tignes, Verbier, Mayrhofen, Les Deux Alpes, La Rosiere. More Information: Paragliding Zermatt.
Deep but Not Steep
Ice-diving Plunge, in a dry-suit, beneath the surface of an ice-covered lake at Tignes. No previous experience, but considerable sang-froid is necessary.
The thrill lies is the kaleidoscopic colours created by refraction of light on the ice. Danger is nominal as you are attached by rope to a guide, who is sensibly standing on the surface.
Buzz Factor: Once is enough for us!
Where: Zermatt, Tignes. More Information: Evolution 2.
Easy Does It
Tubing Children as young as four years old can try this 21st-century successor to conventional tobogganing. The tubes are specially-designed rubber creations that look like car tyre inner tubes.
To go up the mountain you sit in your tube and hook it onto a rope-tow lift normally used for skiing; to go down you hold on tight and rocket down the hill. It's safer than regular tobogganing and just as exciting on the floodlit slopes at night. Vail has a dedicated multi-lane tubing hill.
Buzz Factor: Best by night. Beats Monopoly or French terrestrial TV.
Where: Banff-Lake Louise, La Plagne, Vail, La Thuile, Heavenly. More Information: Adventure Ridge in Vail.

Note: it is essential to check your wintersports insurance cover before taking part in many of these alternative activities. Most standard wintersports policies exclude or give only partial cover.