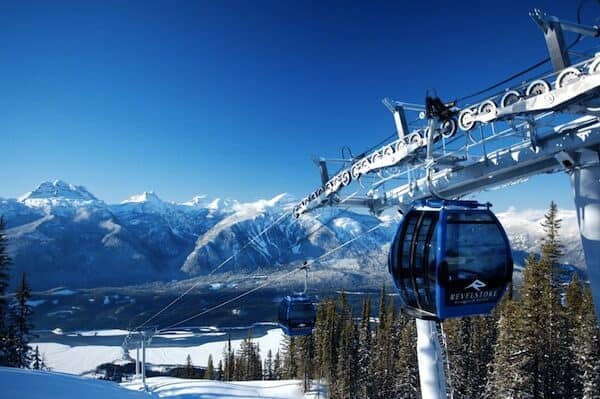 The Stats

Altitude: 782m

Top Lift: 2225m

Ski area: 1093 hectares

Adult lift pass: CDN$455 for six days

In a Nutshell

Revelstoke is one of the world's newest ski resorts, and one of the most exciting developments in wintersports we've seen for years. It may only have four proper lifts, but it's already home to one of our favourite pistes, as well as top-notch cat- and heli-skiing operations.
Essential Advice for the Perfect Trip
After a quarter of a century of rumour, false starts, and stop-go development, Revelstoke Mountain Resort opened to the public in December 2007. After all that time, there was a lot of scepticism about the place: but most of us found the doubts vanished as soon as we'd skied it. Provided the owners complete the master plan – which envisions 21 lifts and 3240-odd hectares of skiable terrain, this is going to be one of North America's best resorts.
Vast vertical and fall-line flyers
Why? Because Mount Mackenzie, on which it's built, is such a superb lump of rock. For a start, its top-to-bottom potential is unrivalled in Canada or America. You can now to ski 1830 vertical metres, from the top lift to the base area, which beats the former record-holder, Whistler-Blackcomb (1609), with ease. What's more, these descents aren't convoluted and wiggly trails which wring every last scrap of vertical out of the terrain, but straight-down, fall-line flyers. We know this because some are already three-quarters ready.
The best is Snow Rodeo, which already drops through 1443m, over the course of 5.5km – and has become an instant classic. It starts as a black-diamond run, and switches to an easier blue half-way down and just goes on and on and on until you think your thighs are going to explode. You don't want to stop – the pitch and line of the trail keep urging you onwards. But my goodness, you have to.
Another great advantage Revelstoke has is its snowfall. Estimates of the seasonal average vary wildy, but about 12m seems fair – which elevates it into the superleague of snow, alongside Alta in Utah and Grand Targhee in Wyoming, and far, far above the Alps (Lech-Zurs is the snowiest of the main Alpine resorts, getting on average 7m a season). What's more, being inland gives it a steadier climate than that enjoyed by Whistler. So, it shouldn't suffer from wet, slushy snow on the lower slopes in the way that Whistler sometimes does (although the westerly aspect of the main area of trails may cause problems in late March and April).
The village base has ski-in ski-out accommodation at The Sutton Place Hotel, dining at Rockford Wok Bar-Grill and you can relax at Wino: Wine Bar.
The final piece of the jigsaw is the fact that the resort has joined forces with Selkirk-Tangiers heli-skiing, one of the best-run heli outfits in Canada, and the lucky owner of a vast 200,000 hectare back-country reserve. It operates out of Revelstoke too (along with CMH), and adds an extra dimension to its allure: one which is ready to be enjoyed in full, right now. So although it will be several years before the resort has enough trails to attract intermediates for more than a couple of days, it's already on the map as far as expert and advanced skiers and snowboarders are concerned. oh, and it also happens to have what is arguably the best ski chalet in the world: Bighorn. The house, set on four storeys, has eight bedrooms and each is at least twice the size of those in an equivalent French chalet. The best bit is the helipad outside the door – you don't go out skiing in the morning, the skiing comes to you.
Resort access is one of the only drawbacks
Access is the biggest problem facing the development of the area. There's an airstrip in town, but it doesn't take scheduled flights. Regional services fly into Kelowna or Kamloops (over two hours away), while international flights come into Calgary, which is a five-hour drive from Revelstoke.

| | |
| --- | --- |
| | The enormous potential of Mount Mackenzie – there's over 8,000 acres of terrain, and 6,000ft of vertical waiting to be opened up here. |
| | Snow Rodeo – one of the most satisfying stretches of fall-line skiing we know. |
| | The North Bowl – Revelstoke's powder bucket. |
| | The snowfall average – roughly 12m a season – coupled with a cool climate. |
| | The union with between the resort and Selkirk-Tangiers, one of Canada's finest heli-ski operations. |

| | |
| --- | --- |
| | The long journey from the UK to reach it – you either change planes in Calgary and fly to Kelowna (a 2.5 hour drive from the resort), or drive straight from Calgary (5 hours). |
| | The impact of the recession, which is slowing the pace of Revelstoke's development. Even in the bullish early days of the resort, they were suggesting it would take 15 years to cut all the trails and put in all the lifts. Now it could take even longer. |