In a Nutshell
The core of Flaine is a compact and uncompromising development of Modernist apartment blocks set deep in a snowy Alpine bowl. The ski area is underrated but, thanks to a microclimate caused by its position at the edge of the Mont Blanc massif, it holds its snow well all season.
The Stats
Altitude: 1600m
Lifts: 70
Top Lift: 2480m
Ski area: 265km of piste
Adult lift pass: 237€ for six days


Official Site |

Ski Map |

Webcam
Essential Advice for the Perfect Trip
Flying down the red Lucifer run or blue Belzebuth above Flaine, it's easy to imagine you have somehow become in entangled in a devilish time warp. While other famous resorts in the French Alps over the past 40 to 50 years have expanded out of all recognition, this temple of Modernism has remained largely undeveloped.
In the 1980s, a Scandinavian-style mini-village was built on an isolated turning on the road into Flaine (known as the Hameau). But for the most part the tone over the last four decades has been set by the concrete, Bauhaus-inspired blocks of apartments, designed by architect Marcel Breuer in the late 1960s, which still sit in a natural bowl on the edge of the Mont Blanc massif.
In fact Flaine is the only ski resort built in the 1960s to be listed in the French Historical Monuments Survey. Bauhaus designer Marcel Breuer created the Palais de l'Unesco in Paris, the Whitney Museum in New-York, and then Flaine. The resort was awarded the Architectural Heritage of the 20th century label by the Ministry of Culture in 2008.
But in the middle of the Noughties, it looked as though Flaine was about to change. Canadian resort developer Intrawest, the force behind the Arc 1950 village, picked Flaine for its next major investment. The area around the main gondola base station was redeveloped and a start was made on a new 'village', between the resort centre and the Hameau.
Then recession struck, the Alpine property market collapsed, and Intrawest pulled out of the Alps. Two apartment blocks were built in the new 'village' of Montsoleil, and another new development, the Residence le Refuge du Golf, sprang up on the slopes above the Hameau. Then Residence les Terrasses de Veret was built up at Foret.
The fact that a lot of people don't like Flaine's Modernist architecture means that prices have stayed relatively low for France. Add Flaine's snowy micro-climate into the mix and you can see why some people come back here year after year.
Flaine's skiing is good for all standards
The skiing is in a big snowy bowl. It's great for beginners, families with young children, and lower intermediates, and there's also plenty of scope for excursions beyond Flaine itself and into the other resorts of the Grand Massif area. What most people don't realise is that there is also some excellent off-piste skiing to be found, especially if you book a guide or instructor.
---
---
Guide to the Mountain
Main mountain access for the Flaine bowl is by jumbo gondola, which takes you up to the Grandes Platieres at 2480m. This is the starting point for a whole series of runs graded blue, red and black leading down into the main bowl of Flaine. One of the best pistes for second-week skiers is the long Serpentine blue run from Les Grandes Platieres all the way down to the village.
Flaine's natural amphitheatre is rimmed by a series of lifts all going up to around 2500m. Another fun run is from Tete des Lindars to the resort. It is reached by taking the Aup de Veran gondola followed by an old two-person chair-lift to the top, from where there is a choice of red or black run down.
An excellent slope for free riders is Gers – from Tete Pelouse down to Grand Vans. It is north-facing and remains unpisted, but it is not always open due to avalanche danger.
Flaine claims to have been the first resort in Europe to introduce artificial snowmaking – back in 1973.
Good nursery slopes are located in and outside the village, making it an ideal spot for families with young children. Flaine was the first resort in France to install snow-cannons. The slow old chair-lift serving the nursery slope at Flaine Forum, which also brings people back from the gondola to the main village, has finally been replaced with two covered moving carpets.
The late ski racer Emile Allais, who created the ESF and introduced pisteurs to France, also designed Flaine's ski slopes. The pistes are all imaginatively named: the green runs are called after trees, the blue runs after mineral stones, the red runs are named for devils and the blacks are the surrounding mountains.
A big snowy bowl with plenty of scope for excursions beyond
For more adventurous skiers and snowboarders, Flaine is a base for exploring further afield into the Grand Massif. The main link out of the bowl is the fast eight-person chair from Flaine Foret. The way out of the bowl is via the fast Grand Vans eight-seater chair. Before going any further, good skiers should hop on the Veret drag-lift from half-way down the Tourmaline blue, which brings you up to a choice of peaceful red and black runs – and can become a powder field when conditions are right.
The 2204m summit of the Tete des Saix is the main crossroads for reaching the outlying Grand Massif resorts, with north-facing runs dropping down steep mogul slopes towards Samoens. Alternatively you can choose easier cruising runs that bring you all the way down to Morillon or to Les Carroz. Less confident skiers will particularly enjoy the long green Marvel piste into Morillon.
The ancient village of Sixt has its own small ski area and is directly linked into the Grand Massif via an excellent 14km-long blue run called Cascades, but ski-buses provide the only means of return.
Anyone who can ski parallel can enjoy day-long excursions to the far corners of the Grand Massif. However, the lift system is prone to high-season bottlenecks in the afternoon when everyone is heading for home – so keep an eye on the lift closing times, and head back early, or late.
Three sizes of terrain park
Terrain parks come in three sizes in Flaine. First, there's the Septimountain Jampark in Samoens for intermediate freestylers. Second, the Kids Park, recommended for children five to 12 year olds, beneath the Esserts chair above Morillon.
And then there's the main event: the Pro Jampark on the Calcedoine run over the Aujon ski area. Aimed at experts, with ramps and rails, it also has a reception area, a sound system which pumps music across the area, and a 'cool zone' (which provides equipment for servicing you skis or board). There are numerous events on each season, including barbecues and DJ snowparties.
Still a few troublesome drags
There's certainly a lot of variety here, and a good snow record – but still the occasional troublesome drag-lift. The Bois drag, which serves the Jampark Pro terrain park is a shocker: still if you can't handle it, it probably means you shouldn't be attempting the skiing up there.
The lower terrain has the steeper and more wooded terrain, which means in patchy snow conditions lower intermediates would be better off sticking to the gentler slopes in the main bowl.
---
---
Where to Learn
"Plus points are the excellent ski schools," said a reporter. The ESF has a large presence in Flaine, but non-French visitors tend to favour the ESI ("good value and well organised") which has smaller classes of six to seven pupils.
We also have good reports of Moniteurs Independants, a co-operative of individual teachers run by veteran instructor Guy Pezet. They offer group and private instruction for adults and children. Stages Francois Simond and Stages Flaine Super Ski both offer race training. Other independent ski schools include the American-run Flaine Ski Clinic, and Freecimes. ZigZag is one of the most most popular ski schools here for English speakers.
Given the low cost of accommodation and the short transfer times from Geneva airport, Flaine makes a great last-minute destination in a good snow year. You'll need to hire a guide or instructor to get the best of it, but if you time your arrival to coincide with 50cm of fresh snow, you could have an absolute blast. Guiding is available through the ski schools, but the specialist organisation is Guides de Haute Montagne (+33 450 90 06 55).
A fabulous resort for families with young children
This is not a resort for party animals – it's much too quiet – but that does make it a good destination for families who are not looking for apres-ski. The two major ski schools run classes for children from two-and-a-half years old. Garderie Les Petits Loups (+33 450 90 87 82) is the nursery in Flaine Forum for babies from six months to three years old, and the in-hotel creche is Hotel-Club Mer Montagne Vacances Flaine.
---
---
Where to Stay
Flaine is a car-free resort (apart from 90 minutes allowed for loading and unloading baggage) and has 12,000 tourist beds. It has long been a village of apartments and club hotels, so if you're looking for accommodation that's more traditional in flavour then you'll need to check out the lower-lying villages of Samoens, Morillon and Les Carroz.
In the last decade, Flaine's accommodation has improved dramatically, thanks to a programme of refurbishment and new building. Tour operators with accommodation in Flaine include Erna Low, Ski Collection, Ski Independence, Inghams, PowderBeds, and Ski France.
Residence de la Foret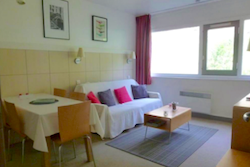 Residence Flaine Foret is an awesome refurb and it's been given a natty, 1960s-style makeover. The light, airy colour schemes and retro-styled furniture not only suit the architecture but they also make the interiors seem less cluttered and therefore bigger (although these apartments are already a little larger than the French average). It's simple, but also slightly funky and quirky
Residence les Terrasses de Veret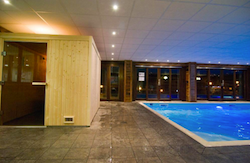 Meanwhile, one of the best-located is Residence les Terrasses de Veret is nearby. Next to both the pistes and the Grand Vans ski-lift in Flaine Foret, its interiors have a cool, contemporary feel with velvety sofas and the highlight is the downstairs heated swimming-pool. It also boasts some of the biggest ski lockers we've come across. But the apartments are pretty small: we found it hard to open a cupboard and the bathroom door at the same time.
CGH Residence Le Centaure
If you want to crank it up a bit in terms of comfort and luxury, check out CGH Residence Le Centaure. It's conveniently located right next to next to the Grandes Platières jumbo gondola in Flaine Forum, which has been designed by a celebrated architect and is ski-in ski-out with an indoor swimming-pool. Its apartments are spacious with between two and four rooms each, with a lovely wooden chalet feel to them, yet balanced with a cool and contemporary vibe. Downstairs you can sink into an armchair and relax by the roaring fire.
Terminal Neige Totem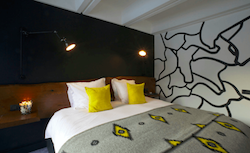 We reckon Terminal Neige Totem is absolutely the best address in Flaine. It's a hotel from Maisons & Hotels stable and was the first property in a series of more accessible mountain hotels under the Sibuets' Terminal Neige brand. The building is centrally located in Flaine Forum, next to the Picasso sculpture, and has been reconfigured from the old Totem and Gradins Gris hotels with urban-mountain style interiors. It houses an attractive restaurant and bar, a ski shop, and a signature Pure Altitude Spa. There are 96 bedrooms, each designed with impeccable modern taste – simple yet bold colours and patterns. Downstairs they've got the ambience spot-on with gorgeous sheepskins, thick woollen curtains and cowhide furniture. It's raw but it's sleek and cool, and certainly brings a new edge to Flaine.
Les Terrasses d'Helios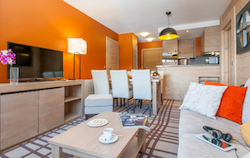 Les Terrasses d'Helios is located in Flaine Montsoleil, a suburb of the resort about 1km from the centre. It has an indoor pool, a spa and – crucially – a ski rental centre, restaurant, bar, and mini-market, making Montsoleil pretty self-sufficient. The apartments themselves are a little bigger than French average, and are of a higher standard. The bedrooms aren't huge but in general the accommodation is immaculately clean and perfectly designed with a particularly attractive colour palette. They're also ski-in ski-out, and linked to the resort centre (1km away) by bus during the day and a shuttle service at night. Groups of young adults will want to be closer to the middle of town, but families and those who want to put their feet up after a day on the slopes will like the convenience.
Le Hameau de Flaine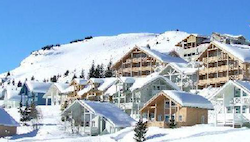 A little further up the road from Montsoleil lies Le Hameau de Flaine. It's home to some pretty, Scandinavian-inspired chalets, as well as dirt-cheap studio apartments. However, bear in mind these are 2km out of the resort centre, and 5-15 minutes walk from the pistes. If you want to be in the thick of things you need to stay elsewhere – although there is a free shuttle bus into town every 15 minutes.
Residence le Refuge du Golf
This is home to an attractive luxury residence, Residence le Refuge du Golf, with 56 apartments each sleeping 6-12 people. There's a wellness area containing heated an indoor swimming-pool, spa and fitness room. Also a bar and restaurant, and – very necessary because of its remote position – a free minibus service to the slopes. It's a little on the bleak and simple side, but it's perfectly pleasant and if minimalism is your thing you'll enjoy it.
Hotel-Club MMV-Le Flaine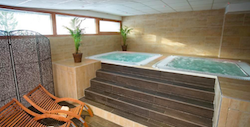 If you don't feel like cooking for yourself, you could opt for the three-star Le Flaine. Although it's nothing fancy, the rooms are spacious and the food is delicious. The rooms are more comfortable that you'd expect from the photos, which don't do them much justice. It's certainly convenient and extremely cheap for the accommodation in a big ski area – and the balcony views are pretty spectacular.
Villages-Clubs du Soleil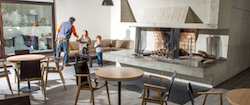 Villages-Clubs du Soleil has been recently updated with comfortable, clean rooms sleeping two to six people. Accommodation is on a full board basis. It's about four minutes' walk from the nearest ski-lift, right in the heart of the hustle and bustle of Flaine, and has an awesome relaxation and wellness centre for soaking tired muscles.
UCPA Flaine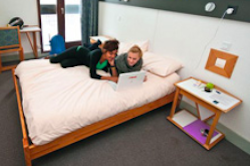 The UCPA centre in Flaine is one of the nicest of the UCPA centres. It is well located (in the old Hotel Les Lindars) at the heart of the town centre and a stone's throw from the slopes. All the usual UCPA services are on offer including a restaurant, nightclub, bar, ski room and sun terrace. The bar has a large central fireplace with seating all around it.

For more on where to stay, see our feature on The Very Best Address in Flaine.
---
---
Where to Eat
All those self-catering apartments means a busy restaurant scene – with the emphasis on value for money. In Flaine Forum, try friendly Chez La Jeanne (+33 450 90 80 06) for excellent pizzas. Le Grain de Sel (+33 450 18 74 43) serves traditional French cuisine, Chez Daniel (+33 450 90 81 87) has a warm alpine ambience, and La Pizzeria Chez Pierrot (+33 450 90 84 56) has the best pizzas in town. In Flaine Foret, La Perdrix Noire (+33 450 90 81 81) specialises in Savoyarde cuisine and has a good reputation.
Mountain eating is not bad, given the utilitarian feel of the resort
Epicea (+33 450 90 83 79), between Flaine Foret and Forum, has good pasta and a nice sun terrace. It is the pick of the lunch spots, along with Le Chalet du Michet, which has a lovely piste-side terrace and serves an excellent tuna steak with pesto sauce accompanied by a vegetable soufflé.
The rustic Le Blanchot (+33 450 90 82 44), above the resort, is recommended as well, and is renowned for its onion soup. L'Eloge by the Flaine gondola provides simple food and service with a smile, while L'Igloo (+33 450 90 14 31), away from the main bowl, at the top of the Morillon chair, has reasonable food at good prices. A welcome addition is La Pente a Jules, which specialises in grilled meat.
Also worth checking out are Restaurant Oreade (+33 450 90 03 61) at the top of the Kedeuse gondola (for local mountain dishes), and Le Bissac which is a busy self-service.
---
---
Where to Party
Flaine has a reputation as a family resort and is not a place for party animals. "An ideal family resort – too quiet for a boys' holiday," said one reporter. However, Le White Pub in Flaine Forum serves British beer and is said to be lively in the evenings. It has happy hours after skiing and after dinner, as well as occasional live music.
The resort has a handful of bars, many of which are on the ground floor of apartment buildings. Le Diamant Noir (+33 450 91 22 43) is where to play pool. Galaxy Bowling (+33 664 27 26 07), also in Flaine Foret, is open till late with a bowling alley, pool tables and gaming machines. Beastie Club is open until 3am and is under the same ownership as Le White Pub. Hotel Terminal Neige Totem has a comfortable and sophisticated bar.
The mainly family clientele are happy to spend their evening in their apartments but there are some offbeat non-skiing activities on offer to while away the evenings. Flaine is known for its ice driving school, which is one of the most famous in France. Here you can try your hand at driving a saloon car on ice, spinning the wheel just like in an amusement arcade, but on a dedicated ice-circuit. Entertainment value apart, you come away with practical skills that could spare you an accident on the roads in winter.
You can try paragliding, husky sledding, ski-joering, snowmobiling, go-karting, snow-kiting, or take a helicopter flight around Mont Blanc. There's also go-karting, ice-quad-biking (+33 609 45 36 62) and a children's tubing run down a slide and onto an extra-large inflated cushion.