Thinking about taking your family skiing and you're not sure which ski resorts are most suitable? Read our fully updated guide to what we consider the 20-something top resorts in the Alps and Rockies for families. Don't forget to check our top tips for a successful family skiing trip and how to get your family skiing as well.
Reberty is the more attractive satellite of Les Menuires, and it perches 200m above at the less expensive end of the 3 Valleys. A short blue run and a fast gondola take you to the Meribel Valley.
Ski-in ski-out Reberty has become something of a family-friendly enclave complete with kindergarten and a restaurant. Several family operators have chalets here, including Ski Famille. Powder n Shine can also arrange holidays here.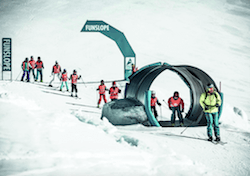 This is a great holiday destination for families who want more from their holiday than non-stop skiing. For a start there's the Tauern Spa, which is between Zell am See and the neighbouring resort of Kaprun. It has waterfalls, slides, a grotto, and six pools.
There are nursery slopes at the base of the lifts at Schuttdorf and Schmittental, and some highly-rated ski schools. Mark Warner has a chalet-hotel in Zell am See, a five-minute walk from the nearest lift. Inside are spanking new apartments, complete with kitchens.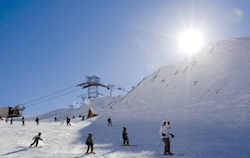 Vaujany is linked into the 230km piste of bigger brasher Alpe d'Huez by a 160-person cable-car, so there's enough skiing for parents and adventurous children.
In the springtime humans are almost outnumbered by the goats and chickens that emerge into the sunlight from the winter quarters shared with their owners.
Ski Peak has some good chalets here including Saskia, which is close to the impressive leisure complex containing a swimming-pool, indoor ice-skating rink, and kindergarten.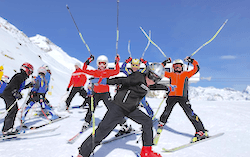 The Monte Rosa ski area is reknowned for its expert and off-piste skiing, but Champoluc is the exception with its ski school run by tour operator Ski2, with mainly native English-speaking instructors. The choice of easy runs is limited, but the lack of crowds, the gorgeous scenery and the laid-back atmosphere – plus the tuition – combine to make it a good place for families.
Ski2 also runs a creche with British-qualified nannies for its clients, close to Hotel Relais des Glaciers. It accepts children from three months to skiing age, seven days a week. Gressoney shares the same ski area, with family tour operator Esprit Ski offering accommodation here.
The smart end of the Trois Vallees has all chair-lifts in Courchevel are now fitted with Magnestick devices. Courchevel was the first place in the world to solve the problem of how to keep small children safe on chair-lifts. Children at ski school are issued with a special waistcoat with an electro-magnet on the back. This locks on to a magnet on the chair for the upward ride, making it impossible for a child to slide beneath the safety bar. On arrival at the top, the magnet releases automatically.
The best part of Courchevel for children is, in our opinion, 1650 (also known as Moriond). You can stay here with Le Ski, who runs its own creche. Scott Dunn also has a creche, located in Hotel Portetta. The 1650 part of the ski area is the quietest – even during Christmas and February high-season weeks. In loftier 1850 you can stay with Esprit Ski, and Mark Warner. There are several British ski schools to choose from in the resort.
The high-altitude village of Obergurgl is sleek and smart, yet has oodles of Tirolean charm. There's not a lot of challenge for those seeking a bit of steep and deep, but the plus side is a distinct lack of lift queues and usually reliable snow – even at Easter. Bobo's Kinderclub is the village creche, but there's stiff competition from at least eight hotels all with in-house childcare. Family specialist, Esprit Ski, has chalets and their own childcare here.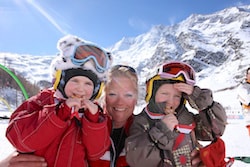 Ancient chalets blackened by the passage of time stand beside cutting-edge hotels in the car-free, high-altitude village of Saas Fee.
One entire former ski area is closed completely to skiers and boarders and is dedicated to tobogganing – a definite plus for families with small children, and the nursery slopes are close to the village. Hotel Bristol is ski-in ski-out and you can stay here with Inghams.
Flaine has a car-free centre that is well laid-out for anyone with children and good nursery slopes that progress gradually to more easy skiing in the immediate Flaine bowl. Flaine also has a more reliable snow record than any resort of comparable altitude in France, with snow-cover virtually guaranteed from early December until late April.
The high quality ski terrain extends to the traditional villages of Samoens, Morillon, Les Carroz and Sixt. Garderie Les Petits Loups is for babies from six months old, and the two in-hotel creches are Hotel-Club Ski MMV and Village Club de Soleil.
The two car-free purpose-built resorts are a short drive from each other but unfortunately don't share a lift pass. Ski Canada rates The Kids' Center as "The Best Resort Feature for Kids in Canada". It has been specially designed as the ultimate playground with lots of games, activities and, of course, skiing for little ones from three years old. Group classes include Mom & Me and Dad & Me, along with supervised evening activities.
There's also a wide choice of evening activities at the Kids' Center, including craft nights, snowshoeing, tubing, and pizza parties. Tot Town Daycare is for little ones from 18 months to five years and has been voted "Best Place to be Abandoned by Your Parents" by Ski Canada Magazine.
Sun Peaks is also compact, with plenty of gentle trails cut through the trees. The resort has quite a choice of childcare: Sundance Playschool is for babies, Sun Tots gives private ski lessons to toddlers, while Sun Kids teaches the older ones skiing and snowboarding. It even has an animated theme park – The Kids Ranch.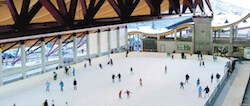 What better than to go to a small resort like Folgaria that you've never been to before? As well as this, one of the main strengths for a family-friendly resort is a short airport transfer and Folgaria is only an hour by road from Verona airport. Further away, but still a very short transfer at one hour and 15 minutes, is Venice.
The ski school is good, too, and you can completely avoid those terrible morning drop-offs. By special arrangement, the ski school will pick your kids up from your hotel and drop them off again in the afternoon. There's also plenty to keep children amused in the evenings. For a resort of this size, it's amazing to see facilities for ice-skating, swimming, and snowshoeing readily available. There are two hotels we recommend here, the Luna Bianca and Villaggio Albergo Nevada.
La Rosiere, France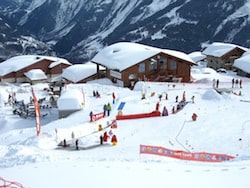 Everything in La Rosiere is within easy reach in this Savoyard-style village, including the lifts which start outside much of the accommodation. The buildings are mainly chalet-style, built using local wood and stone – and this has remained a small and pleasant family-friendly destination where people come to ski rather than shop or do the nightlife.
The leisure centre contains sports shops, ski school offices and a sports complex complete with ice-skating rink and bowling alley. Quieter still is Les Eucherts, a hamlet that has grown to become a separate part of La Rosiere – specifically for families with small children. The skiing takes place on wide open slopes, there's a big children's ski area and good choice of ski schools. Esprit Ski has chalets with childcare here.
Laax, Switzerland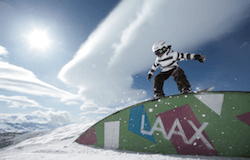 Laax is one of Switzerland's largest and most snow-sure areas and is ideal for intermediates with its long, cruising runs. It's also a popular centre for freestyle skiing.
It may not seem the obvious choice for families because of the distances involved from some of the accommodation to the lifts. However, Powder Byrne removes a lot of the hassle with its very comprehensive childcare for all ages from babies to teenagers.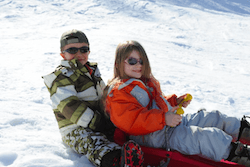 By no means beautiful, the collection of villages at differing altitudes is linked into the giant Paradiski area shared with Les Arcs. All properties in the higher altitude satellites are ski-in ski-out and there's a nursery slope and ski school in every village.
Family operators who come here include VIP Ski (Plagne Centre), Mark Warner (Plagne Centre), Esprit (Belle Plagne), Ski Famille (La Plagne 1800), and Club Med (Aime La Plagne).
The valley villages include Peisey-Vallandry, which is home to Esprit Ski and Club Med.
Hintertux has to be included here because of the amazing Playarena in Vorderlanersbach. It is like no other children's facility we've seen in the Alps. Children are catered for, from small babies right up to 16-year-olds and there's something for everyone.
The arena is open six days a week and includes a soft play area, bouncy castle and trampolines, indoor high ropes course, go-kart track and small football pitch, a climbing wall, giant slides, and a children's cinema and theatre. Entry is free.
As well as the Playarena, there's the Hintertux Natural Ice Palace to visit on the glacier. You can explore the crevasse with its vast stalactites, frozen waterfalls, ice crystal and even a glacier lake. It's open all year round and recommended for children aged six years and over. Stay at Hotel Berghof, which has a rooftop spa and is close to the glacier.
The traditional market town of Morzine has a year-round life outside skiing and is linked on snow and by road with the farming village of Les Gets. Other nearby hamlets such as St Jean d'Aulps and Ardent offer peaceful bases to enjoy the skiing of the Portes du Soleil. The downside is the area's low altitude, which means that snow-cover in the villages is by no means consistent.
VIP Ski can arrange for private nannies to come to any of its chalets in Avoriaz, Morzine and Les Gets. Esprit Ski has childcare at its chalets in Les Gets, Ski Famille has family chalets with childcare in Les Gets. Club Med offers childcare in Avoriaz.
L'Outa accepts little ones from three months to five years. The ESF provides daycare in Morzine at the Piou-Piou club, and the good choice of ski and snowboard schools includes several British ones.
Geilo, Norway
This is an excellent (albeit not that cheap) place for a family holiday, with unthreatening skiing, friendly tuition in fluent English, and lots of activities besides skiing.
The Ustedalen Hotel is just one of a number of places that are extremely well equipped for families. Crystal Ski offers holidays staying in this hotel. A large staffed playroom is provided with art materials and games to give parents a break after skiing. Most of the hotels in the resort have indoor swimming-pools.
The much-praised Trollklubben Barnehage, in the Geilolia area, offers excellent and friendly childcare in warm, log cabin surroundings, and cares for children from newborn to seven years. For ski age kids, Per Bye is recommended and Geilolia Snøsportskole, located by Geilolia Skisenter, is another excellent ski school.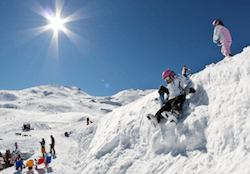 The small family-friendly resort of Madesimo has one of the most modern lift systems in Europe, reasonable prices, and lots of easy intermediate and beginner skiing.
Boscone Suite Hotel was the first hotel in Lombardy to become a member of Italy Family Hotels, a consortium that pays a particular attention to the needs of the families. You can book cots, bottle warmers, baby-changing units, and baby baths. There's an in-house mini club providing snacks, a playground, a paediatric pharmacy, and babysitting provided on request.
We haven't tried the ski school for children, and outside the school holidays it's bound to be very Italian-orientated. But this is a great resort for families with very young children (we all know how Italians love little ones!) who can go to the mini-club, and also for pre-teenage children who are proficient enough to get around the mountain with their parents. Italian specialist, Momentum Ski, can organise holidays here.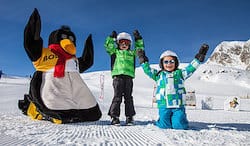 The less sophisticated sister resort of Val d'Isere is not be as pretty as some, but Tignes is an obvious choice for families – thanks to the superb skiing for intermediates, a modern lift system, the good choice of ski schools, and the convenient layout of the villages.
A large number of tour operators have chalets or chalet-hotels here, with several family-skiing specialists – Esprit, Club Med and Mark Warner – with their own childcare. Some offer their own exclusive ski lessons, so you can avoid the sometimes humourless attitude of the big French ski schools. A branch of the highly-rated British ski school, New Generation is recommended for children's group lessons.
If you prefer to stay in smarter Val d'Isere, there's a range of family tour operators here, including Le Ski, VIP Ski, Esprit, Mark Warner, Club Med, and family ski agency Butler & Lloyd.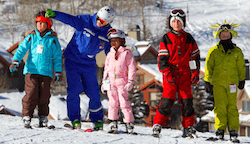 Beaver Creek has lots of (pricey) accommodation on the edge of the piste, and is totally family oriented. Ski Independence have a wide range of accommodation here.
Focal point of the cute little village is an open-air ice rink surrounded by shops and restaurants, where kids can skate while parents shop until they drop. Despite its small size Beaver has lots of easy slopes including designated "Kids' Adventure Zones" (there are also several steep and faster runs for the grown-ups, as well as the slopes of Vail, nearby).
Beaver Creek Ski and Snowboard School is known for the high quality of instruction and the friendliness of its teachers, and Small World Play School, which calls itself: "An educational nursery rather than just a watching job". Ski Independence has a wide range of accommodation in Beaver Creek.
The attractive chalet-style village of La Tania is a couple of kilometres by road from Courchevel 1300 and has a pedestrianised centre. The nursery slopes are virtually on your doorstep, and there are some lovely, gentle tree-lined slopes immediately above the village. More experienced skiers can access the whole of the vast 3 Valleys from here.
Local facilities in the village include ESF Club Piou Piou which provides an introduction to skiing for children under four years and the school gives a full range of lessons for kids from four years of age. But what will interest most families is the presence of Le Ski, which offers its own childcare.
Do You Have Any Favourites?
Have you been to any resorts that you consider to be great for families? If so, we'd love to hear from you! Let us know in the comments box below.