In a Nutshell
It may be another of those fractured, purpose-built French resorts, but its high-quality terrain makes Les Arcs a canny choice for anyone on a budget. Intermediates, experts and freestylers will all like it – and many of its "villages" have improved, too.
The Stats
Altitude: 1200-2000m
Lifts: 131
Top Lift: 3250m
Ski area: 200km of piste (435km in Paradiski)
Adult lift pass: 242.50€ Les Arcs-Peisey-Vallandry pass, 274.50€ Paradiski pass, both 6 days


Official Site |

Ski Map |

Webcam
Essential Advice for the Perfect Trip
If you're looking for a big French ski area, but you don't want to pay a fortune to stay there – then put Les Arcs near the top of your hit-list. Set high above the town of Bourg St Maurice, the resort consists of seven mostly purpose-built villages scattered across the massif of the 3226m Aiguille Rouge.
Many of the villages themselves are pretty short on charm (Arc 1950 is an exception): but they are stuffed with cheap(ish) self-catering apartments. And with 200km of high-quality pistes on the doorstep, and another 225km in neighbouring La Plagne – Paradiski is the super-resort linked by the Vanoise Express double-decker cable-car to La Plagne – it's a compelling package for anyone who wants to ski hard without paying Courchevel or Val d'Isere prices.
The ski area best suits intermediates and experts
Les Arcs' ski area isn't as schizophrenic as La Plagne's next door. But it does favour two types of skier over everyone else: intermediates and balls-to-the-wall experts. The intermediates will have a high old time skiing the long, smooth pistes down to the villages of Arc 1600, Arc 1800 and Vallandry. Meanwhile, the do-or-die brigade will relish the chance to tackle bowls and couloirs on the Aiguille Rouge.
---
---
Guide to the Mountain
Think of Les Arcs ski area as two long ridge lines running parallel to one another. One ridge is significantly higher than the other (topping out at the 3226m Aiguille Rouge), and in the middle, between them, is a high-altitude hanging valley. Most of the best skiing is on the north west-facing slopes of these two ridges.
One other important characteristic of the ski area is that although it tops out at 3226m, most of the best pistes are fairly low – between 2400m and 1600m. As a result it's best skied in midwinter, from the end of the December until the end of February.
Here's who will like what Les Arcs has to offer, and who won't:
Intermediates will love skiing the lower slopes
Many of the best pistes in Les Arcs lie above the villages of Arc 1600, Arc 1800 and Vallandry, and most are tree-lined for at least part of their length. They're broad, well-groomed and confidence-boosting: and when the clouds come down or a storm blows in the lowlights cast by the trees add definition to the snow. So you can still have a blast here when skiers in Val Thorens or Tignes have retreated indoors.
For more confidents skiers, the Aiguille Rouge piste is a classic
The piste drops from the 3226m peak of the Aiguille Rouge, to the far-flung village of Villaroger, at 1200m – that's more than 2000 vertical in a single thigh-burning descent. It's one of the best long pistes in the Alps – especially on its lower sections – and most intermediates will be able to tackle it by the end of a week's holiday.
However, you need to keep a close eye on snow conditions before you try it. The best time to have a crack at it is first thing in the morning after a blizzard – provided the piste-bashers have had time to groom the fresh snow into the pistes. The worst times are when it's been dry, windy and cold (scouring the snow from the pistes to leave a layer of ice), or when there's been a thaw, followed by an overnight frost: in that case on the lower slopes you'll find the slush has refrozen to form a slick, hard-packed surface, which is guaranteed to pick holes in your technique.
Experts will be amazed by the big-mountain descents
The routes off the summits of the Aiguille Rouge, the Aiguille Grive and Mont Pourri (the last of which is not lift-accessed) are the big draw. Most famous among these is the descent off the east face of the Grand Col (a 20-minute hike from the top of the Grand Col chair-lift), into a wide, wild and dangerous snowfield which has claimed the lives of many incautious off-pisters. You'd be absolutely crazy to go there without a guide.
There's more on the other side of the Vanoise Express cable-car in the neighbouring resort of La Plagne. For more on the area's outstanding off-piste, get a hold of a copy of Didier Givois' "Les Cles de Paradiski" written in both English and French.
Apocalypse terrain park, located between Arcs 1600 and 1800, has a snowboarder-friendly J-bar lift. It is reputedly one of the most challenging parks in the Alps. There are ski/boardercross courses above Plan-Peisey and below Col de la Chal.
Beginners and advanced skiers will be less impressed
The best beginner's area is at Arc 2000, at the top of the ski area – where there are also several long and easy pistes to progress to. However, these pistes do get busy with all kinds of skiers and boarders zooming between the different sectors of the resort, and can be intimidating in busy weeks. For this reason we'd advise heading somewhere like Alpe d'Huez, Mayrhofen, or Courchevel 1650 instead. However, the Mille8 giant funpark is a welcome addition for families. It's a peaceful area close to Arc 1800 which is dedicated to beginners.
Advanced, but not expert, skiers will find the range of terrain a bit limited too. Yes, the long Aiguille Rouge piste is a blast, but the cable-car to reach it is often closed by high winds. If that happens advanced skiers may find themselves skiing repeated laps of just a handful of runs, off the top of the Arpette lift station, under the Colomborciere chair and immediately above Arc 1600. Whenever there's fresh snow, however, the options do increase – thanks to the easily-accessed freeride terrain above Arc 1600, Arc 1800 and Peisey-Vallandry.
Beware of the Paradiski hype
But this isn't a properly interconnected area like the 3 Valleys. The Vanoise Express links two of the most far-flung corners of both ski areas, and getting to the cable-car station from many of Les Arcs' villages is a schlep. Once you reach the other side, it's a long commute to the best of La Plagne's skiing too.
Everyone should try it – especially experts who will want a crack at the off-piste routes on the Bellecote, above La Plagne. But most will visit La Plagne only once. On a normal Saturday-Saturday holiday, we'd recommend going on a Sunday, Thursday or Friday.
Day trips
Apart from skiing across to La Plahne, if you have a car it's pretty easy to get to Val d'Isere–Tignes, La Rosiere or Sainte-Foy for a day's skiing.
---
---
Where to Learn
In most of the villages of Les Arcs there is now a choice of at least two ski schools – and the competition between them is raising the standards. SKiBro, either online or as an app, is an intuitive, user-friendly platform that helps you find the most suitable instructor for your needs – for everyone from families with small children and teenagers to improving intermediates and off-piste aficionados.
Which ski school you choose obviously depends on which village you're staying in: but if you're not a beginner and determined to boost your technique then we'd recommend booking one of the British ski schools such as New Generation in Vallandry or Arc 2000, AIM in all the villages and also in Peisey-Vallandry. Spirit is in Arc 1950.
Learn by looking rather than listening?
It's worth remembering, however, that not everyone learns how to ski in the same way. Some of us learn best by looking rather than listening – and in Welove2ski's experience, that suits the way the French ski schools like to teach. They'll do less explaining, and more demonstrating – which gives rise to all those long snakes of skiers you see, following their instructors down the mountain, copying their technique.
Many people hate this approach – but not all: and if you know you don't like being talked at all the time then you might prefer this approach. As a rule of thumb, the smaller, independent French ski schools are more dynamic than the establishment ESF branches.
Esprit is the best bet for children
For family skiing, the best service comes courtesy of British tour operator Esprit the family-ski specialist which runs chalets in Plan-Peisey and at Arc 2000. Why? Because it offers exclusive ski school classes for the children of its guests, and a maximum class size of eight, even in peak weeks (the norm is 12). The instructors come from the local French schools, but are chosen for their child-friendliness, and if parents aren't happy, there is usually a good response. Bear in mind though that you have to book your whole holiday with Esprit to get access to the ski school service.
By the way, of Esprit's two centres of operation in the resort, Arc 2000 is the better bet for beginners.
Families will love Mille8, the giant funpark containing a beginners' ski area, a junior freestyle course, restaurant, a toboggan run, a waterpark, and much more. Access to many of the activities is included in your lift pass, and everything is open until at least 7.30pm – and until 8.30pm on Wednesdays, Thursdays and Fridays.
---
---
Where to Stay
There are six 'villages' in Les Arcs: Arc 2000, Arc 1950, Arc 1800, Arc 1600, Peisey-Vallandry and Villaroger. In recent years, Arc 1950 has been hogging the limelight, thanks to its pretty architecture and (more importantly) its clever layout. But Arc 1600 and 1800 (the resort's first two villages) made a comeback in recent years, with lots of new development, including the ground-breaking resort-within-a-resort, Mille8. Meanwhile, Peisey-Vallandry, at the southern end of the ski area, is the place to hunt for Brit-friendly catered chalets, run by the likes of Ski Beat and Ski Amis. There are more catered "chalets" up in Arc 2000, based in some of the its larger apartments.
Overall, this is a resort of self-catering apartments, arranged in large résidences – although the best are a big improvement on the rabbit-hutches of old. For an idea of what's on offer, check out British self-catering specialists Erna Low and Ski Collection. Ski Amis also has an interesting listing of individual, privately-marketed apartments.
Arc 1950 – the success story
The first ski apartments in Arc 1950 opened in 2003. It's the only complete village to have been built from scratch in the French Alps in the last 20 years, and it's been a great success. The architecture is humbler than normal – and the clever layout means you can ski from virtually every doorway, and walk to every shop, ski hire outlet or restaurant in a couple of minutes. We can't think of another Alpine village that can match it for convenience.
Residence Arc 1950 Le Village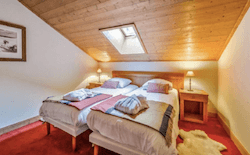 Almost all the accommodation is in self-catering apartments – courtesy of Residence Arc 1950 Le Village, which is close to the lifts. The apartments are spacious and incredibly homely and, as you'd expect from mountain accommodation, they have warm woody interiors. The sheepskin rugs are a nice touch, and the apartments are exactly where you'd like to curl up and relax after skiing.
Radisson Blu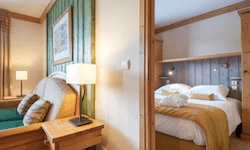 Radisson Blu apartments are not what we'd call properly luxurious – but they are up-to-date, comfortable and well-equipped, and by French standards quite roomy. They're furnished with authentic Alpine artwork, and the building is constructed from mountain timber and stone. There's a real authentically Alpine feel to the place, and it's positioned in the midst of the quaint pedestrian area in the heart of the resort.
Chalet Alouette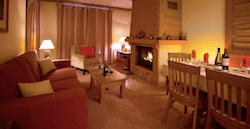 Chalet Alouette is a chalet-style apartment located in the five-star Auberge Jerome residence, in the heart of Arcs 1950. There's a communal reception area, health facilities including a sauna, steam room, Jacuzzi, and a cardio room, as well as a heated outdoor pool. The apartment has three bedrooms (two of them have space for a cot) and was inspired by Canadian architecture and decor; the living area has a glass-fronted log-burning fire.

Most skiers will be happy in Arc 1950, with the notable exception of complete beginners – although there is a free lift between Arc 1950 and Arc 2000, which offers better ski runs for novices. The pistes immediately around the village are not quite gentle enough for them. There's one other group which shouldn't stay here: skiers who plan to visit La Plagne more than once, on the other side of the Paradiski area. The journey over to the Vanoise Express (the lift that connects the two resorts) is a schlep.
Arc 2000 is the best bet for beginners…and has luxury accommodation
Architecturally, Arc 2000 is least attractive of the villages. But it is the best spot for beginners, thanks to the flat terrain around it. What's more, family-ski specialist Esprit runs several apartments as catered chalets in the resort, alongside one of its well-organised nursery and kids' club programmes. There's also a swimming-pool on the ground floor of the block where it has its chalet-style apartments. Its sister company, the more adult-focused Ski Total, also has several catered chalets in the village.
Club L'Aiguille Rouge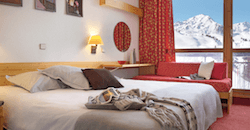 Two-star L'Aiguille Rouge is a Belambra Club, so it's very French. It offers an extensive range of children's activities, a terrace restaurant and themed buffet, organised apres-ski activities, and has some adjoining family rooms.
La Source des Arcs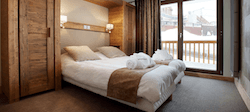 La Sources des Arcs is at the top of the Cabriolet gondola in Arc 2000 and has a wellbeing centre, complete with swimming-pool. "The spa was a great way to end the day's skiing with a steam room, sauna and pool – and gym if you had the energy," said a reporter.
Taj I Mah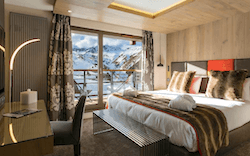 The resort's first five-star hotel is the Taj I Mah, named after a 115-carat diamond, and stars Le Diamant Noir restaurant run by Michelin-starred chef Eric Samson. Try his Perigord black truffels served with some excellent wines and grands crus classés. There's also ski equipment hire, an in-house bar, indoor swimming-pool, sauna and hot tub, and massages are available.
Arc 1800 has the liveliest nightlife
Arc 1800 is divided into three sectors: Le Charvet, Les Villards and Charmettoger – mostly consisting of apartment blocks and each with a small shopping centre. Le Charvet has spread uphill to the smarter quarter of Le Chantel. It is the old hub of Les Arcs, and has the best nightlife (though that's not saying much): but it's a rather linear strung-out spot, and doesn't hang together nearly as well as Arc 1950.
Hotel du Golf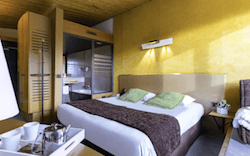 If it's a hotel you're after then you could consider the quirky Hotel Le Golf in Arc 1800, which is quirky and stylish. This large hotel has well-equipped, modern rooms and a brilliant spa with an indoor and outdoor pool, sauna, hammam and massages. Hotel Le Golf offers a cosy and relaxing experience with a contemporary twist, complete with crackling fires and spectacular views. It has three restaurants with an great range of food, from Savoyard specialities to gourmet world cuisine.
Aiguille Grive Chalets Hotel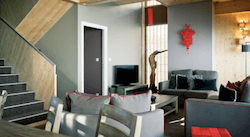 Aiguille Grive Chalets Hotel   takes the form of six 'Alpine chic' chalets (each has four to six bedrooms). It's four-star and though not technically luxury, is gorgeously designed with a modern wooden and glass interior. It's directly on the slopes which makes things easy, but it's not too far to get into town if you fancy a wander around. It's certainly one of the resort's most hipster spots with its trendy architecture.
Les Alpages de Chantel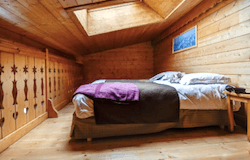 There are good self-catering apartments nearby at the Les Alpages de Chantel is where to stay if you'd rather opt for a self-catering apartment but are still looking to treat yourself a bit, as this place has a pretty spectacular swimming-pool area with a spa. It's about eight minutes' walk from the Chantel ski lift but no need to factor in ski-boot clunking and ski carrying walking speed, as it's possible to ski right from the door.
Chalet Tetra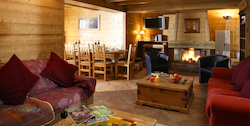 Skiworld's catered Chalet Tetra is based in Arc 1800. This ski-in ski-out chalet apartment is located on the second floor of the Alpages du Chantel complex on a blue piste just above the centre of Arc 1800. Chalet Tetra designed is an attractive alpine style with all modern comforts, an open fireplace, satellite TV and beautiful balcony views.
Appart'hotel Eden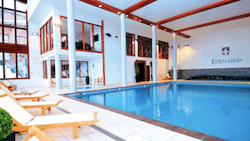 Appart'hotel Eden is another ski-in-ski-out option, perched right on the snow. It's four star and has a lovely Jacuzzi, pool, steam room, sauna, and fitness centre. The views of the Tarantaise valley and Mont Blanc are pretty spectacular from the sun-drenched terrace, and it's possible to upgrade to half-board if you want to eat in the restaurant each evening.
Arc 1600 has a brand new Club Med but also some low-budget digs
Club Med Les Arcs Panorama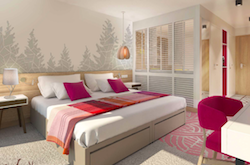 Les Arcs Panorama is a giant place with modern architecture and breathtaking views. Located above the Arc 1600, it is almost a village in its own right: with ski-in ski-out accommodation, several restaurants, in-house apres-ski, shopping, a vast spa, gym and exercise studio, heated indoor and outdoor pools, a kids' clubs for four months up to 17 years old, and even a new concept of family restaurant where children invite their parents.
UCPA
UCPA is ideally located right on the piste, and is a hostel that is the encapsulation of 'ski-in ski-out'. There's space for up to 460 people so it's great if you're looking for basic accommodation for large groups on a budget. Expect bunk beds and a bustling atmosphere full of sports clubs and groups of friends. There's a relaxed entertainment programme as well as three bars, three restaurants, a lounge and even a nightclub on premises. The best part is that it's all-inclusive, not only of food and bed but ski and board hire as well as tuition!
Hotel Cachette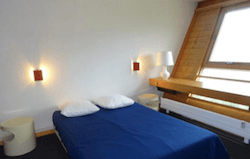 Also in Arc 1600 is the good value ski-in ski-out Hotel Cachette, which offers reasonably priced, modest apartment units perfect for a self-catering experience. Each has all the appliances you'd need as well as a comfortable living area for post-slopes relaxation. The interior is minimalist but still maintains a cosy Alpine feel. It's also two minutes' walk to the local ski school so we reckon it's a great bet for a practical but pleasant stay.
Arcadien Hotel & Spa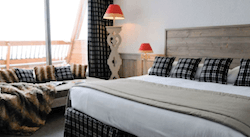 Arcadien Hotel & Spa is another centrally located spot, with the 1600 ski school as well as the lifts reachable in under 10 minutes. This is our favourite place to stay in 1600 due to its delicious cuisine – its two restaurants serve a choice of local delicacies to try after a long day up the mountain. We reckon this hotel totally exceeds expectations of three-star accommodation, complete with a hot tub and sauna for post-ski unwinding.
Intermediates will like Peisey-Vallandry
Peisey-Vallandry villages are close to the link with La Plagne – and home of British ski school New Generation. All in all, it's a good spot for groups of grown-up, intermediate-level skiers – provided they don't mind the slightly scrappy, ad-hoc nature of the place. However, we wouldn't recommend it for beginners or families because the runs into the resort aren't gentle enough.
L'Oree des Cimes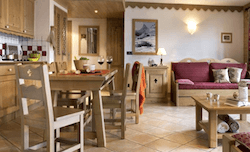 The pick of the accommodation comes courtesy of the lovely CGH property, Residence l'Orée des Cimes. Located at the edge of the Vanoise National Park, these luxury apartments make a cosy base for your stay in the mountains. You have access to the spa and indoor heated swimming-pool, which is ideal after working your legs all day on the pistes. There's even a cardio training room if you have the energy!
Club Med Peisey-Vallandry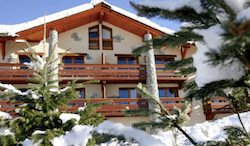 This Club Med resort is perfect for families and intermediate skiers. Hidden in a cluster of chalets amongst the pine trees of Peisey-Vallandry, Club Med has everything you could possibly need all in one place: two restaurants, two bars, 284 bedrooms, a heated indoor and outdoor swimming-pool, and a kids club. Oh, and it's ski-in ski-out, of course.

There are also several mid-range catered chalets here too, courtesy of Ski Beat and Skiworld. Get one as close to the lifts as possible.
Chalet Sermoz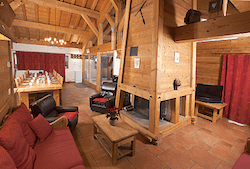 For example, Chalet Sermoz – run by tour operator Ski Amis – is right next to the Vanoise Express lift. It has a spacious living room with high ceilings, an open-plan dining area with fireplace, and a separate area in the L-shaped room for satellite TV and DVD player. The chalet has five twin rooms and one triple.
---
---
Where to Eat
Anyone for tartiflette? Les Arcs is home to several good restaurants – but we do wish there was a bit more variety in their menus. Savoyard specialities are an, er, speciality of the resort, and after a week of eating out here you may turn into cow.
On the mountain, Belliou La Fumee is our favourite
Belliou La Fumee sits at the bottom of the Cascades blue and the Combociere black beneath Arc 1950, in a corner of the resort most people never get to. Built as a bear-hunting lodge by King Victor Emmanuel of Italy in the 15th Century, it's a little cramped and wonky, but has an open fire, delicious food, has lots of atmosphere and is perfect for the kind of lunch that winds up just before the lifts close.
A couple of other spots which have impressed us are the Chalet de l'Arcelle, just above Arc 1600 and Les Chalets de l'Arc above Arc 2000. Expect plenty of meat and Beaufort cheese. Both are over-priced compared with Austrian restaurants of a similar standard – but have roaring fires and bags of atmosphere. Le Cairn (+33 479 07 79 85) is another good eatery here, serving Italian and Savoyard specialities.
Meanwhile, within Arc 2000 itself Le Savoy gets rave reviews for both food and decor. Like many restaurants in the villages it's open for lunch as well as dinner, and slightly cheaper than its competitors "on the mountain" – although in a place like Arc 2000 the distinction between resort and mountain restaurants is very blurred.
In Arc 1800, Chez Clarisse is the hot spot
Again the menu is mostly Savoyard: but what singles out Chez Clarisse (+33 479 06 48 34) is the quality of the food and the value for money. It's open for both lunch and dinner – as is Le Chalet de Candice, which also does good pizza.
Meanwhile, in Arc 1950, La Brasserie de 1950 in the Radisson Blu Resort, is popular with families and La Table des Lys is recommended for its original dishes. La Vache Rouge (+33 479 00 31 74) is for seafood and meat specialities, and Chalet de Luigi is also recommended.
---
---
Where to Party
Les Arcs isn't one of the nightlife capitals of the wintersports world, like Meribel, Val d'Isere, Verbier or St Anton. The reason why is simple: when the accommodation is split into six separate villages it's hard to get enough like-minded people into the same place to generate a proper buzz.
Here are the best bars in each village:
In Arc 1600 there's Cafe Sol and L'Abreuvoir. In Arc 1800 The Ambiente Cafe (+33 479 07 49 51) and Le J.O.. Arc 1950 has Chalet de Luigi – better than Les Belles Pintes.
In Arc 2000 try El Latino Loco, which is located next to the ice rink and features a resident DJ and live music. In Peisey-Vallandry there's Jimmy's with a daily happy hour. By the way, both Arc 1800 and Arc 2000 are home to bowling alleys.
Families will love going to Mille8 after skiing. It's on the slopes at Arc 1800, is open in the early evening, and contains an aqua centre, a lodge with restaurant, a luge course, and snow yoga among many other facilities. It's open until 7.30pm most days and 8.30pm on Wednesday, Thursday and Friday.