In a Nutshell
Hintertux is the best glacier ski area in the Alps – thanks to both the steepness and the extent of its slopes. For much of the summer and autumn, it's a training ground for professional ski racers: but when winter comes skiers of all abilities in the Zillertal are glad of the snow insurance it provides.
The Stats
Altitude: 1500m-3250m
Lifts: 64
Top lift: 3250m
Ski area: 199km of piste (Zillertal 3000)
Adult lift pass: €277 for six days


Official Site |

Ski Map |

Webcam
Covid-19 Safety Protocols
Click on the link for the Hintertux Glacier's latest safety measures.
Click on the link for information about travel to the Austrian Tirol.
Resort Overview
Tux-Finkenberg is an association of five ski villages at far end of the Zillertal – the long, steep-sided valley that burrows into the mountains east of Innsbruck. The area shares its lift system with neighbouring Mayrhofen, and together, they offer an exceptionally broad variety ski terrain both above and below the treeline.
What's made this place famous, however, is the Hintertux glacier.
The perfect pitch for off-season training
Set beneath the pyramid peak of the 3476m Olperer, the Hintertuxer Gletscher offers the widest variety of groomed, and lift-serviced glacier skiing in the Alps, as well as the steepest pistes. As a result, it's a permanent fixture on the training schedules of many national ski teams: and if you ski there during the autumn, you'll find lane upon lane of gates set up on its steepest pitches to serve them. The spectacle provided by so many lycra-clad speed-merchants, blasting through GS gates at Mach2, is not something you'll easily forget.
It's not just the pros who use the Hintertux glacier in the off-season. Anyone who's looking to get a head start on winter can ski there, and there are technique clinics aplenty for those looking to sharpen their skills. A couple of days up here with the right instructor can get your season off to a flying start.
In the winter, the glacier's best used for day trips
Once the "proper" ski season gets underway, the scene changes dramatically. For Czechs, Poles and Russians, glacier skiing has a powerful allure, and they flood up here in their thousands in early December and late April, as well as the peak weeks. You'll find plenty of other nations up there too. During winter, Hintertux's greatest virtue is the snow-insurance it provides for all the other resorts in the Zillertal, and whenever conditions are iffy lower down, this is where canny skiers congregate.
Should you join them? Well, yes and no. The Hintertux is perfect for a few days of single-minded devotion to your ski technique – before winter starts, and provided you book a course with a ski school. And it's certainly worth day-tripping up here if you're in the Zillertal in winter and the other, lower-elevation ski resorts are suffering from a thaw. If you can't find cold, squeaky, reliable snow in the Hintertux, you're not going to find it anywhere.
But we wouldn't advise staying there for a proper holiday. At the base of the glacier lifts there's a scattering of hotels (see "Where to Stay", below). But although several offer good accommodation and a warm welcome, there's not much atmosphere when the lifts shut. In common with glaciers everywhere, the pistes are a bit one-dimensional too – despite their varying pitch.
Families will enjoy Vorderlanersbach
Another option is to stay a little lower down the valley, at Vorderlanersbach (where the children's brilliant Playarena is based). Here, you get access up to the Eggalm and Rastkogel, part of the interconnected ski area shared with Mayrhofen. Provided you don't stay by the main road – which gets heavy traffic most days – this is a viable budget option.
Anyone looking for nightlife will prefer to stay down at Mayrhofen, which has much more apres-ski buzz.
---
---
A short guide to the skiing at Hintertux
Tux-Finkenberg has two separate ski areas – the Hintertux glacier, and network of pistes and lifts shared with Mayrhofen. To get between them, you'll need to drive – or ride one of the local buses (free if you're wearing ski clothing and carrying skis).
Lots of skiing on the glacier – provided you're after groomed pistes
Hintertux offers the steepest glacier skiing in the Alps – which in winter is supplemented by a considerable network of pistes over unglaciated terrain, lower down. It's a great place to sharpen your technique, pre-season; and the high altitude (up to 3250m) means you can escape all but the sharpest thaws during winter, too.
The pistes right at the top are the best – wide, grippy and almost always quieter than the runs lower down. On a windless sunny day, they're a lovely place to set your edges to groomed snow, provided you like your slopes fairly steep. Lower down, many of the runs are more meandering – and more crowded too. They add up to 60km of piste – more than enough for most skiers for a couple of days.
In spring and autumn the Hintertux is home to one of the best off-season freestyle scenes – on the Betterpark.
But you must bear in mind that all the skiing is above the treeline, so you won't be able to see anything on a cloudy day. It can be windy too – and bitterly cold – so whenever the weather sets in, it's best to day-trip down the Zillertal and explore one of the other, lower, ski areas instead (the lower slopes of Hochfugen are some of the most sheltered).
Lower down, there's more skiing variety
Lower down the valley, the slopes of the Eggalm, Rastkogel and Penken (above Mayrhofen) offer more mileage – and more skiing variety.
Generally, pistes are a little shorter here than you'll find in the French Alps, and a little steeper too. It's here that you'll find Harikiri, which is officially the steepest piste in the Austrian Alps. There are gentler blues about as well, but generally we think this area suits confident, athletic intermediates best: not least because it's fairly low by modern standards (topping out at 2590m), and gets a lot of sun too – so you'll have to cope with variable snow conditions from time to time. If you get freaked out by ice or slush, you'll be happier elsewhere.
We've had some cracking days skiing off-piste here too – both on hike-to slopes on the Eggalm, and on lift-serviced terrain in the Penken: but you absolutely must have a guide if you want to get the best of it. Several of the mountainsides are very avalanche-prone.
Bear in mind also that there's a very good terrain park in this sector – the Penken park – with an active freestyle scene, and excellent nursery slopes too – but you're better off staying in Mayrhofen itself to access them.
Finally – never forget that there's a lot more skiing in other ski areas along the Zillertal. So although you can have a week of good skiing by staying in the Tux im Zillertal area, you can have an even better one by day-tripping along the valley. In fact, there's a whopping 530km of skiing on offer along its length. To get the best of it, ski it in January or February, and bring a car.
---
---
Where to stay at Hintertux
If you've come to ski the Hintertux glacier in the pre-season, the obvious place to stay is in one of the hotels clustered around the lift station.
Sporthotel Hintertuxerhof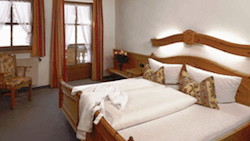 One of the best is the friendly, relaxed Sporthotel Hintertuxerhof – a three star at the entrance to the village. Its junior suites cost hardly any more than the regular double rooms and are lovely – well worth paying the extra. In fact, you're much better off staying in one of them than in the four-star hotels in the village – unless, that is, you want to go swimming after skiing, in which case you'll need to move up to a higher category of hotel.
Hotel Vierjahreszeiten, Hintertux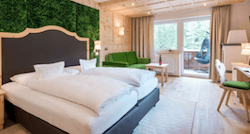 The Vierjahreszeiten is the smallest four-star hotel in Hintertux, run by the Fankhauser family who have been offering Tirolean hospitality for 40 years. The rooms are bright and cosy, and there's lots of attention to detail. The hotel has an indoor swimming-pool, gym and spa.
Huber's Boutique Hotel, Hintertux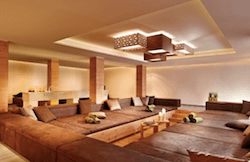 In Hintertux there's Huber's Boutique Hotel, which describes itself as: "The first boutique hotel in the Zillertal Alps… contemporary, comfortable, with a touch of extravagance". It has 26 individually designed rooms, all with mountain views and either classic Tirolean decor or a contemporary style featuring wood, stone and glass. There's also the Green Spa and an award-winning la carte restaurant.
Wellness Hotel Bergland, Hintertux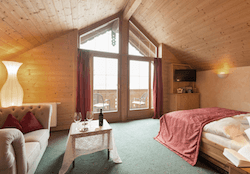 Wellness Hotel Bergland fully caters to vegetarians and those with food intolerances and allergies. Special diets on offer to those that need them – and for everyone else there's Alpine wellness cuisine using fresh, natural ingredients like dandelion, mountain hay and traditional herbs. If you are unsure which foods your body might be reacting badly to, the hotel provides a food intolerance test. The fitness centre runs Zumba classes.
Tuxerhof Alpin Spa Hotel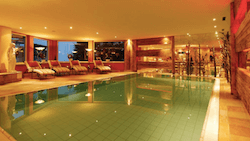 Lower down the valley, in Vorderlanersbach, the plush and family-friendly four-star-superior Tuxerhof Alpin Spa Hotel is the place to target, with a soft play area, and a good spa and pool. Half-board includes an afternoon snack with soups, salads and sausages, coffee and tea throughout the day, a five-course dinner, and non-alcoholic drinks from midday to 9pm.
Hotel-Garni Forelle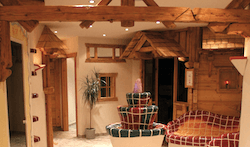 The three-star Forelle is also worth targeting. It was originally an inn that opened in 1934 with 12 beds. Today it is run by younger generations of the original family and is a traditional Tirolean hotel with a friendly atmosphere – and private trout fishing in a wild mountain stream. There's a wellness area with a bio-Alpine sauna, herbal steam room and a whirlpool using mountain water. Other hotel facilities include a cosy bar and Stubli.
Sport Vital Hotel Central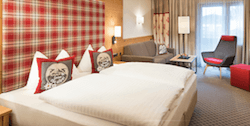 Meanwhile, at Lanersbach the four-star Central is the place to go, near the lift station up to the Eggalm slopes. It's known for its cuisine, and has friendly staff and a good atmosphere. The spacious Wellness Oasis houses an indoor and outdoor swimming-pool, three themed saunas, and a gym. However, it is on the main road, too – so make sure you get a room at the back of the hotel.
---
---
Ski schools and mountain guides at the Hintertux Glacier
There are six ski schools that service the Hintertux and surrounding area:  in Hintertux itself, and Ski School Tux 3000 and Luggis Ski and Snowboard School Tux both in Lanersbach. In Finkenberg there's Ski School Finkenberg, Ski School Sunny and Ski Power. Ski Power focuses on private lessons, ski-touring and freeride tours of the whole of the Hintertux area.
Bear in mind that some British ski schools also offeroff-season glacier training up on the Hintertux, including Sean Langmuir's Alpine Training Centre for kids.
Fabulous for families
Several of the ski schools make a big effort to look after your kids. Luggi's Ski and Snowboard School Tux can arrange collection and drop-off from your hotel, while the Ski School Tuxertal gives lessons and offers childcare in its Kids Club with lunch provided.
Meanwhile, the Hotel Bergfried in Lanersbach has childcare for its youngest guests from Monday to Saturday – as well as its own soft play area, and even kids' massages.
After ski school, it's well worth taking your brood to the Playarena in Vorderlanersbach. All kids are are catered for, from small babies right up to 16-year-olds and there's something for everyone. The arena is open from 9.30am and 6pm six days a week (supervised Monday to Friday only) and includes a soft play area, a creative zone, a bouncy castle and trampolines, indoor high ropes course, indoor go-kart track and small football pitch, an adventure climbing wall, giant slides, a spiral toboggan run leading into a ball pond, table football, PlayStations, Xboxes, and a children's cinema and theatre. Entry is free (there is a childcare charge for babies up to two years, and for outings) and a free children's minibus operates to and from all the hotels.
The best restaurants at Hintertux
The Hintertux glacier is not a gastronomic destination to rival the likes of the Three Valleys, Zermatt or the Dolomites. But the restaurant scene has improved dramatically in recent years. The Spannagelhaus is everyone's favourite waiter-service restaurant, but the Wirsthaus is also good, and the stube at the Sommerbergalm is the prettiest dining room on the mountain.
One culinary treat worth trying here is the gondola breakfast. You wouldn't to eat breakfast in a ski lift every day: but do it just the once and it's unforgettable.
In the evening, almost everyone eats in their hotels. If you're looking for a big night out, the four-star hotel Lanersbacherhof, in Lanersbach, has an award-winning restaurant – with 14/20 and a chef's tocque from Gault-Millau. The restaurant at Zum Sepp, in Madseit, is also highly rated and has a cosy panelled dining room. Tea-time is a must – thanks to the homemade cakes.
---
---
Apres ski at Hintertux
If it's apres-ski you want, then you really ought to be Mayrhofen, a little further down the Zillertal – which rocks from 3pm until the small hours of the morning. The villages around Hintertux at this end of the valley are small and mostly family-oriented. They don't generate much atmosphere after dark.
There is one notable exception – the Hohenehaus Tenne next to the lift station at Hintertux, It's a vast apres-ski barn, which can be absolutely rammed, especially towards the end of the season when more skiers are using the glacier. It's best to go straight in on your way back from the slopes in your ski boots, as the buzz fades as dinner approaches, and revellers jump into buses and coaches which take them back to hotels further down the valley. This video gives you a good idea of what to expect…
Another fun bar to visit is HexenKessl at Hotel Alpin in Vorderlanersbach. Its name means 'witch's cauldron' and it looks like the inside of a Hansel and Gretel house, complete with wood-panelling, cottagey curtains, rickety ladders, and stools with weird bases that look like human legs with boots on.
---
---