Maybe you haven't been working on your fitness this summer, and are feeling as mothballed as your ski clothing. Perhaps you're a complete beginner, and fancy a taste of skiing or snowboarding before you set off for your first ever holiday this coming winter. Or it could just be that you've been badly bitten by the winter sports bug, and are desperate for the next gravity-driven thrill.
Whatever the motive, you don't have to wait till you get to the mountains to ski. The UK is home to six indoor, real-snow centres as well as plenty of outdoor, dry slopes, and they're all keen as mustard to get you linking your turns. Many offer taster sessions for first-timers, as well as more structured courses, and compared to the real thing prices are low. Daily lift passes range start at about £18pp. A one-hour taster on proper snow in a snow dome will set you back around £30pp. In both cases, the price usually includes boots, helmet, ski or snowboard hire.
Bear in mind, however, that UK slopes can get busy – especially during the weekends and in school holidays during the winter months. If you want to avoid the crowds, the quietest time to go is first thing in the morning, late in the evening or on weekdays during term time. But whatever your plans, book ahead.
Indoor Real-Snow Slopes
The UK is currently home to six indoor snow centres, and we wish there were many more. Short of being out in the mountains, they offer the best surface on which to ski, and a sense of winter's chill too. At the Snow Factor in Glasgow, for example, the ground temperature is -12°c and air temperature can be as low as -4°c.
As a result you'll need to dress properly. Ideally, you should have a base layer, snowproof jacket and trousers, gloves or mittens, and a helmet. The helmet comes as part of the equipment rental package, and in some centres you can also hire a jacket and trousers. If not, beg or borrow your gear from friends until you know you're going to like it.
Don't worry about the gradient, by the way. Beginners learn on the gentlest section of the snow. Everyone else skis on slopes no steeper than a gentle intermediate run. For extra information, take a look at our feature: Why Beginner Skiers Need an Indoor Slope.
Five minutes from the M1 (Junction 8) and 10 minutes from the M25 (Junction 20). There's a 160-metre main slope and a range of different parks with beginner to advanced freestyle features such as boxes, rails and kickers. There's also tubing and a climbing wall.
As well as straightforward skiing and snowboarding, the main 180-metre long slope (the longest in England) has specialist sessions for freestyle, moguls (there's a separate slope), or you can try some race gates or boardercross. There's an indoor climbing wall, too, and Chill Factore organises lessons for adaptive snow sport.
There's a 170-metre main slope and the two Snow Academy areas (separate 30-metre and 25-metre teaching slopes) here. Other facilities include an ice-skating rink, tubing and tobogganing.
Snow Factor is Scotland's only year-round snowsports resort – and at 200m it's the longest indoor real snow slope in the UK to boot. As well as the main slope there's an additional teaching area, a big AirBag, and four ski-lifts. There's indoor ice-climbing too.
Snozone, Milton Keynes and Castleford Leeds
This is where to come for some race training or to ski the moguls; adults and kids are catered for. There's also tubing, sledging, family snow-play sessions, and bespoke adaptive tuition. Both branches of Snowzone have 170-metre long slopes.
Dry Ski Slopes
A dry ski slope apes the feeling – but not the look – of snow, using materials that enable you to ski, snowboard or even go tubing. They've long been popular in the UK and the Netherlands.
Several different surfaces are available, with plastic bristles a common element. Most of them have rope-tows, magic carpets or drag-lifts to take you up to the top, but the biggest ones have chair-lifts and sometimes more than one lift.
If you've never skied or snowboarded before, dry slopes provide a good introduction, although we think that plastic is more difficult than real snow. There are all sorts of courses for experienced skiers to join – including race-training, and some have freestyle facilities such as boxes, rails, airbags, and mogul slopes.
If you have your own skis (unless they're an old pair), leave them at home – the friction on the plastic won't do them any good. Do, however, bring your own boots. All of the slopes have rental shops, and many have bars and restaurants too.
Just because you're close to home doesn't mean you can wear shorts and T-shirts though – even on a hot day. Artificial slopes are harsh to fall on, so you need to protect yourself as you would on snow. Jeans or tracksuit bottoms and a long-sleeved top will be fine – you don't have to wear full ski clothing.
One of the most common injuries is to the thumb, which can be wrenched in the matting if you fall – so always wear gloves or mittens. A helmet is essential, too.
Prices for using the slopes are usually charged per hour, rather than per day, and range from £7pp to around £15pp with equipment hire extra. For safety reasons, skiers and snowboarders using open practice (i.e. not taking lessons) must be able to perform to the slope's minimum standard.
Here's a selection dry ski slopes in the UK. For further information on indoor slopes, visit Snowsports England.
The West and South-West
Part of John Nike Leisuresport, along with Bracknell, Chatham, Llandudno and Swadlincote. The 140-metre slope is one of the biggest in the south west, there's also a 650-metre toboggan run, and tubing.
Snowtrax, Christchurch, Dorset
Snowtrax has a large ski retail shop, a kids' adventure park, and regular freestyle competitions are held here. It's the only large slope in England to use ProSlope, which is reportedly better than the alternative artificial surfaces. The two main slopes are 110 and 50 metres long.
The main ski slope is 250 metres long, there's a 40 metre Snowflex nursery slope, four lifts and a big AirBag. The fun park contains two quarter-pipes, a rail and kicker.
This is included here because it was the first permanent artificial slope in the UK, having opened in 1963. The 110-metre-long slope still uses the original Dendix matting. As well as ski and snowboarding, race training is on offer, and also ringos (inflatable rings, a bit like tubing).
The Southeast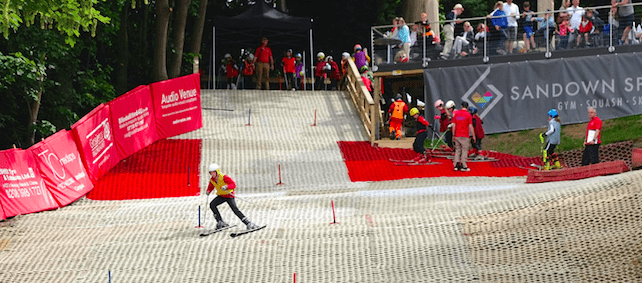 Part of John Nike Leisuresport, along with Plymouth, Chatham, Llandudno and Swadlincote. Offers ski and snowboard lessons, race-training, tubing, and ice-skating. The main slope is 170 metres long.
The main slope is 120 metres long with a poma lift, and four nursery slopes range from 10 to 80 metres. There's also tubing, tobogganing, and a gym with ski fitness circuits.
The East
Suffolk Ski Centre is home to a 180-metre long slope, as well as a toboggan run.
The main slope is 170 metres long, and there's a nursery slope. The centre is affiliated to Special Olympics UK and hosts adaptive skiing for people with disabilities.
The Midlands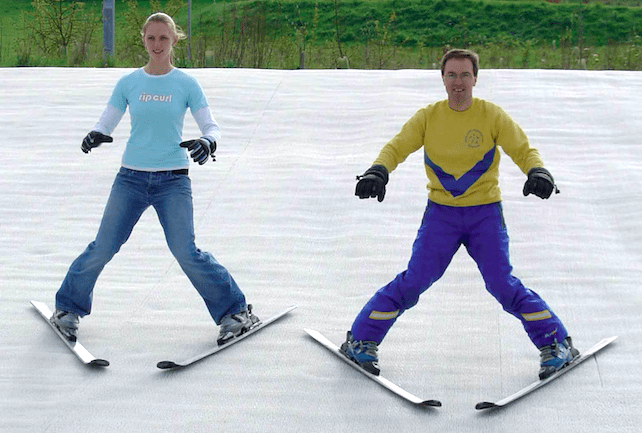 Swadlincote Ski Centre is part of John Nike Leisuresport, along with Bracknell, Chatham, Llandudno and Plymouth. Ski and snowboard lessons, a main 130-metre slope, a nursery slope, tubing and tobogganing.
The main slope is approximately 100 metres long and incorporates a drag-lift. There's also a 30-metre nursery slope. This is not just a ski slope, though – myriad others activities are on offer here including zip-wiring, climbing and archery.
The North
The ski centre first opened in 1973 and today the main slope is 200 metres long. There's also a freestyle park with quarter-pipe, a Snowflex teaching slope, and Fit Therapy Centre.
Silksworth Sports Complex and Ski Slope offers skiing and snowboarding on a 165-metre slope, and there are also two nursery slopes for beginners.
Scotland
Two main slopes (the longest is 400m) share a chair-lift, then there are three nursery slopes, a jump slope and range of freestyle features, as well as tubing.
Ski and snowboarding on a 200-metre slope, race-training, freestyle with a permanent kicker, quarter-pipe and boxes, along with other movable features.
Wales
Llandudno Skislope is a 280-metre-long PermaSnow slope located at an altitude of 415ft…with sea views. As well as offering skiing and snowboarding with chair-lift access, it encompasses the UK's longest toboggan run (750 metres) and there's tubing, too.
The Cardiff Ski and Snowboard Centre is located 10 minutes from Cardiff city centre and holds lessons for all standards, as well as school events, competitions, and an evening freestyle club. The slope is 100 metres long.
Skiing on a Carpet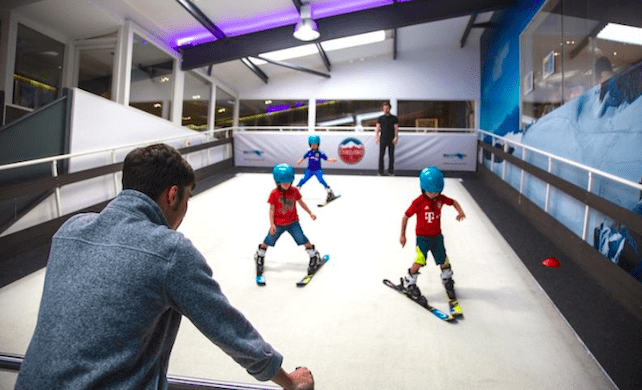 An indoor ski centre just off the King's Road? As unlikely as it sounds, the centre offers skiing on a rolling white Astroturf 'carpet' with an instructor, combined with exercise off the slope with a personal trainer.
A long slope isn't necessary here, and the surface is much more forgiving to fall on than plastic. It's fun, and there's no time wasted waiting in a lift queue (yes, they do exist, even in the UK!). You won't need special clothing either.
Have Your Say
We haven't included every ski slope in the UK, just a selection. If you know of a particularly good indoor or dry slope that you think we should have included here, then please tell us about it in the comments box below.