More and more resorts are opening across the Northern Hemisphere as fantastic 'Snowvember' conditions continue.
Plus, the resorts which have opened continue to open up more and more terrain.
There are now 34 resorts open in Europe and 25 resorts open in N America.
Unfortunately for the second successive week bad weather (snow and high winds) forced the cancellation of the Matterhorn Cervino Speed Opening World Cup Downhill races between Zermatt in Switzerland and Cervinia in Italy.
But it was all systems go in Gurgl, Austria with GB's Dave Ryding missing out on a podium finish by the narrowest of margins — 0.01 seconds — finishing fourth in the men's World Cup Slalom. The race was won by Manuel Feller on home soil.
This coming weekend the women travel to Killington, Vermont (USA) for the Slalom and Giant Slalom races at the Stifel Killington Cup.
We'll be posting twice weekly snow reports on Mondays and Thursdays throughout the 2023/24 winter season so bookmark us, or, better yet, subscribe to get the latest snow news and our tips for where the snow will be.
If you're out in resort drop us a line via our social media channels to share your 'on the snow' experiences and photos.
WHAT'S OPEN NOW?
There's been plenty of fresh snow falling across the Alps the past 3-4 days with superb skiing on offer at altitude.
AUSTRIA
Gurgl (17/26 lifts; 80/112km piste; 15-75cm base), Hintertux (16/21 lifts; 43/60km piste; 0-110cm base), Kaunertal (5/7 lifts; 31/55km piste; 125-200cm base), Kitzbuhel (2 lifts; 2 piste), Kitzsteinhorn (3/3 lifts; 40-45cm base), Molltaler (5/9 lifts; 16/36km piste; 0-70cm base), Pitztal (6/7 lifts; 15/41km piste; 5-115cm base), Schladming (4/47 lifts; 5/123km piste; 0-40cm base), Solden (22/31 lifts; 93/143km piste; 5-170cm base), Stubai (18/26 lifts; 37/68km piste; 10-105cm)
FRANCE
Tignes (3/79 lifts; 3/300km piste; 55-150cm base) and Val Thorens (6/156 lifts; 10/600km piste; 40-100cm base)
ITALY
Cervinia (9/51 lifts; 16/322km piste; 0-200cm base), Livigno (4/32 lifts; 3/115km piste; 15-25cm base), Passo Tonale (2/30 lifts; 5/100km piste; 80-100cm base), and Solda (4/11 lifts; 10/37km piste; 0-120cm base)
SWITZERLAND
Andermatt (3/4 lifts; 10/31km piste; 5-90cm base), Davos (12/18 lifts; 3/96km piste; 10-80cm base), Engelberg-Titlis (4/17 lifts; 4/80km piste; 10-20cm base), Glacier 3000 (4/5 lifts; 5/7 slopes; 0-60cm base), Saas Fee (6/23 lifts; 25/100km; 10-130cm base), Verbier (4/73 lifts; 18/358km piste; 10-25cm base), Zermatt (9/51 lifts; 18/332km piste; 0-200cm base)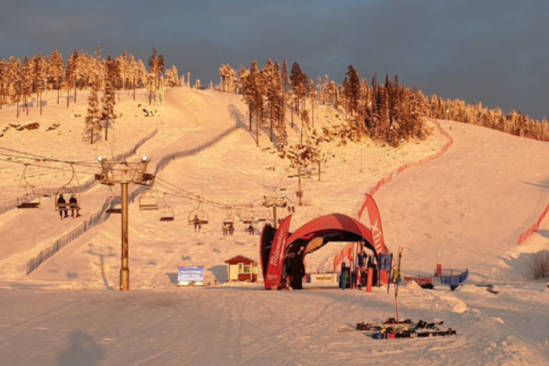 The Nordic resorts continue to open up more terrain thanks to both snowmaking and natural snowfall.
Levi (9/26 lifts; 7/38.5km piste; 15-45cm base) and Ruka (8/22 lifts; 5/19km piste; 20-30cm base) in Finland
Kvitfjell (3/14 lifts; 4/39km piste; 20-80cm base) and Trysil (2/32 lifts; 3/78km piste; 25-40cm base) in Norway
Are (4/35 lifts; 9/91km piste; 20-40cm base) and Kabdalis (2/4 lifts; 5/9km piste; 40-90cm base) in Sweden
Across the pond, snowmaking and natural snowfall has kept conditions on piste in great shape.
UNITED STATES
Mammoth Mountain (4/25 lifts; 6/90km piste; 35-45cm base) in California
Arapahoe Basin (1/9 lifts; 2/105km piste; 10-45cm base), Breckenridge (6/35 lifts; 3/153km piste; 30-45cm base), Copper (3/24 lifts; 4/126km piste; 30-45cm base), Eldora (4/12 lifts; 50-50cm base), Keystone (6/22 lifts; 8/132km piste; 10-45cm base), Loveland (1/10 lifts; 1/93km piste; 30-45cm base), Purgatory (2/11 lifts; 10-40cm base), Vail (4/34 lifts; 2/234km piste; 35-45cm base) and Winter Park (6/25 lifts; 4/132km piste; 30-45cm base) in Colorado
Sugarloaf (2/14 lifts; 8/160km piste; 5-30cm base) in Maine
Mt Rose (1/8 lifts; 2/60km piste; 60-120cm base) in Nevada
Brian Head (2/9 lifts; 25-25cm base), Park City (8/42 lifts; 5/250km piste; 30-40cm base) and Solitude (6/9 lifts; 5 pistes; 15-40cm base) in Utah
Killington (2/22 lifts; 4/118km piste; 30-35cm base), Okemo (2/20 lifts; 4/70km piste; 35-40cm base), Stowe (1/12 lifts; 3/70km piste; 35-40cm base) and Sugarbush (1/18 lifts; 30-60cm base) in Vermont
CANADA
Marmot Basin (2/7 lifts; 3/91km piste; 25-35cm base), Mt Norquay (2/6 lifts; 1/16km piste; 55-65cm base), Lake Louise (4/11 lifts; 7/139km piste; 45-45cm base) and Sunshine (5/12 lifts; 10/109km piste; 30-40cm base) in Alberta
Sun Peaks (4/12 lifts; 5/135km piste; 20-25cm base) in British Columbia
Sommet-Saint-Sauveur (1/8 lift; 1/38km piste; 10-20cm base) in Quebec
FORECAST FOR THE NEXT 3-4 DAYS
The freezing level continues to fluctuate across the Alps in the coming days, with cool, clear weather above 2,000m and little to no precipitation.
The Nordic countries will see consistent below freezing temperatures and clear skies in the coming days, with a chance of a little snow.
The East coast of the US and Canada below freezing temperatures and a decent storm system rolling through Tuesday into Wednesday.
The West Coast and Mountain states and provinces will see cold & sunny conditions with a chance of snowfall.