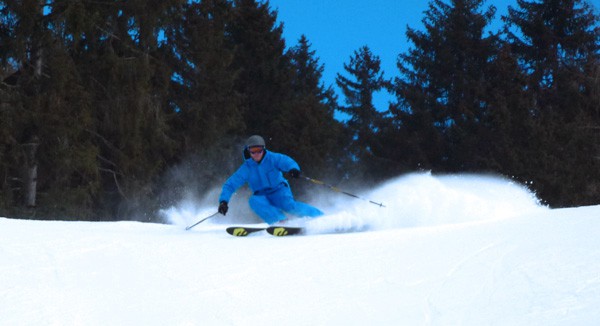 Sometimes you just don't have the time to explore a whole ski area.
Maybe you're on a weekend getaway to the Alps. Or perhaps you're on a week-long ski holiday, but you've decided to take a day trip to a neighbouring resort for a taste of something a bit different.
If you find yourself in Madonna di Campiglio this winter – which, if you've read what Michael Schumacher has to say on the matter, you certainly might – then this could well be you. Short on time, and still looking for a few choice skiing memories to ease the pain when you return to the office on Monday morning.
If that's the case, you don't want to spend the your time playing pin the tail on the donkey with the Madonna di Campiglio ski map in your pocket. You want to get straight to the good stuff.
Good news then. Ben and I have spent the last three days frantically riding Madonna's lifts to make sure we skied everything on offer. Which means you don't have to.
In no particular order, here are the four highlights. Find and tear down them on your next visit here, and you'll have packed a week's skiing into a single day.

Run 1: The Spinale Direttissima
With the Spinale Express gondola located right outside our lovely hotel, we began the week meaning business. The Spinale Direttissima is a black run that starts at the top of that lift, and winds its way down back down underneath. For an advanced skier, it's relatively straightforward at first – little more than a standard red run.

But just as you're thinking:
'hey, this isn't too bad!'
it suddenly gets a bit hairy. The final section, known as the Schumacher Streif in honour of the famous F1 driver, is really very steep. Even for a black run.
So you might get a bit of a shock at first. But it's only a short section, and if you get down it in one piece, you'll find that your confidence levels will skyrocket.
Nearly everyone makes it down without falling, too, so you've no reason to panic. Not London-based Stephen Ball though, who shows us that even good skiers take the occasional tumble:


You haven't even heard the best bit yet. Whilst the piste grooming in Madonna is invariably excellent, when fresh snow falls in resort the Spinale Direttissima becomes a designated powder skiing run. They don't touch it for 48 hours, making this an absolute priority after a big dump.

Run 2: The DoloMitica
The steeps continue over in Pinzolo, a new addition to the ski area since the launch of the €26million Pinzolo – Campiglio Express last year.
Money well spent – if you ask me – as it provides access to the DoloMitica, another epic black run which starts at the 2100m peak of Punto del Doss di Sabion, and packs in a huge 1248m of vertical. That's a lot of skiing if you do it all in one go.
Less experienced skiers needn't be afraid either, as there are two trails: the DoloMitica Star, 3455m long with an average slope of 36%; and the more relaxed DoloMitica Tour, which is 5750m long with an average incline of 22%.
The Star is an awful lot of fun if you commit to it, and can surely stake a claim to being one of the most challenging piste descents in the Alps, hitting a maximum gradient of 70% at one point. That's pretty steep, trust me.
Run 3: The Canalone Miramonti
Next up, the World Cup slalom course of Canalone Miramonti, accessed by a high-speed chair-lift in town. It's a short run, as you'd expect, but it still gets the blood flowing as Italian legend Alberto Tomba can attest:


Looks fun, doesn't it? Better yet, you can expect perfect corduroy and a lack of slalom gates when you combat it yourself – things have changed a bit since 1988. 25 years of technological advances in ski equipment should help, too.
If you really want some atmosphere, grab an early dinner and come back in the evening. The whole slope is equipped with flood lighting, and night skiing is on offer from December to February on this and two other pistes.
Run 4: The Cinque Laghi
Of course, it's not all about finding the most challenging terrain on the mountain. Sometimes an easy cruise and beautiful, panoramic views are exactly what you need.
If that sounds more like your cup of tea, don't miss the Cinque Laghi – a 3620m blue that starts at the top of the express gondola of the same name, and meanders all the way back down into the town itself.
It easygoing, which means you'll have plenty of time to catch your breath and soak up some of the best views in the valley. It's definitely a great way to end a hard day of skiing.

Over to you
It goes without saying that there are plenty of other great runs on offer in Madonna di Campiglio. There's 150km of skiable terrain, after all. If you're a Madonna veteran and I've missed out your favourite run in the Alps, let us know in the comments below or tweet @welove2ski.