Ceri Tinley is the Managing Director and co-founder of Consensio – a luxury ski chalet operator renowned for its painstaking service and gob-smacking properties in the French resorts of Val d'Isere, Courchevel, Meribel and Les Gets. She knows a thing or two about the high-falutin' end of the ski market, and here guides us through the must-have kit for the glitterati.
Interested in what to wear skiing – read our guide here.
You don't have to spend a fortune to go on a skiing holiday. Book a low-cost apartment, drive yourself to the Alps, and unpack a daily picnic on the slopes – and you can bring the entire trip back home again for £700 (about 950€) or £800pp (about 1,086€), all in.
But of course not everyone's looking for a holiday like that; and if luxury's your goal, you'll find an entire eco-system of extraordinary experiences and beautiful objects out there, waiting for your wallet. I'm not just talking about helicopter transfers, luxury ski lodges and private, piste-side parties. Ski clothing and equipment manufacturers are also busy creating must-have items for those with big holiday budgets. Here are a few that have caught my eye in recent seasons. Prices were correct at the time of writing.
The Skis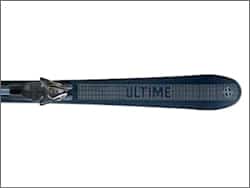 Think a top-end pair of skis will set you back £600 (about 814€)? Think again. The most expensive pair I know of were made in 2008, and came as part of the Limited Edition Lacroix Courchevel Exclusive Skiing Kit. As well as the skis, you got Lacroix Smartrack bindings, carbon ski poles, leather gloves, ski goggles and two leather pouches – all in a handmade leather trunk by luxury craftsmen Pinel & Pinel.
The cost? A trifling 50,000€ (about £36,250). Only ten sets were ever produced and no one is quite sure where they are now.
These were followed in 2010 by Aston Martin Skis, which offered its own range of skis for £1,000 (about 1,357€) plus bindings and the option to decorate them in Almond Green, Silver Blonde, or any other shade from their car paint collection.
Bentley also produced a limited edition: Zai for Bentley Supersport. These handcrafted planks with all-mountain performance have a natural rubber surface that can be reworked to keep them in showroom condition. The package includes a ski bag, poles and Salomon bindings. They retail at 9,800chf (about £6,736).
But for the Midas Man or Woman who knows their way around a mountain, the must-have ski of the moment is probably the Lacroix Ultime BlackLacroix (pictured above) a limited edition model of just 100 pairs, made in 2012. Price: 8,500€ (about £6,142).
Honourable mention: Want to bestow instant mountain cool on yourself for a more modest sum? Then target the Rossignol Soul 7, about £537 (728€) not including bindings.
The Poles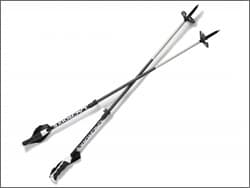 Lacroix LX Telescopic ski poles feature an ergonomic grip, are ultra-light and cost 200€ (about £145). They come in black or white to match your Lacroix skis.
Honourable mention: Black Diamond Pure Carbon ski poles, $150 (about £100).
The Ski Boots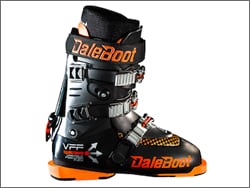 All the main brands such as Rossignol, Lange, Salomon, and Dalbello produce some quite superb pieces of footwear for a few hundred pounds. But if you want to get expensive – or you have difficult feet – you need to go custom.
Daleboot was invented not by a Mr Dale, but Mr Daleboot in Salt Lake City in 1969. It is now based in Kitzbuhel in Austria and Abingdon in Oxfordshire.
This is the solution for any skier who has foot problems. Price £800-£900 (about 1,086-1,222€) with footbeds.
Honourable mention: Strolz boots of Lech have been making boots with a traditional leather inner for the best part of a century and the cost is much the same as Daleboot.
His Ski Jacket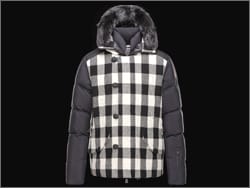 The Moncler brand (the name is an abbreviation of its birthplace, the French town of Monestier-de-Clermont) was launched in 1952. Today it's still synonymous with the goose down jacket, but it's branched out into animal skin, Fair Isle knits and even footwear.
The Grenoble Montrond men's ski jacket is made from a wool/polyamide mix and features a large check design with a fur-trimmed hood, high collar, multi-pockets and a goose down interior. Cost: £1,460 (about 1,982€).
Honourable mention: Haglofs Couloir Pro jacket £550 (747€).
His Ski Pants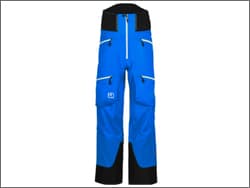 The Ortovox men's 3L Guardian Shell Pant is from the Freeride collection and it has a natural Merino wool inner throughout the inside of the pants.
This has been laminated to the waterproof/windproof membrane, as well as to the outer fabric. Available in blue, green and black. About £550 (about 747€).
Her Ski Jacket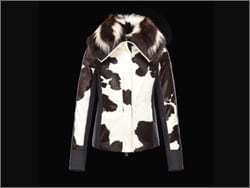 In 1954, Moncler supplied the K2 expedition team with technical equipment and the Italian company has continued to do so for over 60 years.
The Moncler Evry ski jacket is made from nylon gabardine bonded to dappled calf hair. It has a high neck, three outside and two inside pockets, and a goose down interior. £2,880 (about 3,911€).
Honourable mention: Kjus Diamond Jacket – £1,300 (about 1,765€).
Her Ski Pants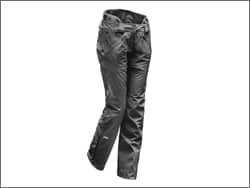 Kjus Diamond Ski Pants have a four-way stretch, giving complete freedom of movement. They are made from a Polyamide/Polyester/Polyurethane mix with a vital 7% of Spandex.
Features include ski edge protection on the inside leg hem, a special lining for climate and injury protection, and Swarovski elements artwork. £650 (about 882€).
Children's Jacket and Pants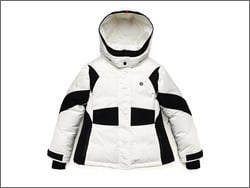 Ever since Guccio Gucci founded his fashion house in Florence in 1921, the Gucci brand has combined glamour with traditional craftsmanship. So you'd hope families who invest in its Gucci white down-filled technical ski jacket for children aged four to ten years, will get more than one week's wear out it. The water-resistant fabric comes with down feather padding and you can team them with quilted down-filled ski pants in black or white. £620 (about 842€) for the jacket and £245 (about 333€) for the ski pants.
Honourable mention: Columbia Alpine Action jacket for girls, comes in purple lotus, £75 (about 102€). Columbia Fly Evo jacket for boys in yellow/pale blue, £85 (about 115€).
Base and Mid Layers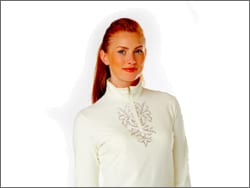 M. Miller has for over 30 years created a unique niche in luxury skiwear, which is Alpine-inspired and made in Boston, Massachusetts.
The Leeza Base layer is made from a highly hydrophilic fabric (great for wicking moisture away from the body) and is embellished with Swarovski Crystals. It comes in a variety of colours and costs about 360€ (about £260).
Honourable mention: Rab Microlight Jacket is a lightweight down jacket which is perfect under a shell outer layer, £160 (about 217€).
The Goggles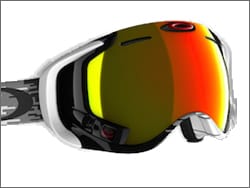 In 1975 Californian Jim Jannard, dissatisfied with the poor quality of motorcycle handgrips, formed Oakley with $300 start-up money. He named his new company after his English Setter dog and worked from his garage.
First of all he invented The Oakley Grip for motocross from a material he called Unobtainium, which increased grip with perspiration. Then, in the 1980s he ventured into the ski goggle market.
Oakley Airwave goggles take goggle design and technology to the next level with a built-in display that integrates GPS and Bluetooth. Sensors show your maximum speed and vertical metres skied, give you jump distance, height and airtime. There are preloaded maps, music playlist control, and buddy tracking too. From £520 (about 706€), and a selection of ten replacement lenses are available from £30 (about 41€).
Honourable mention: Melon custom goggles, which you design yourself by selecting lens and strap colours, from £65 (about 88€).
The Sunglasses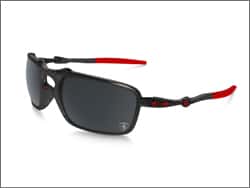 Oakley Scuderia Ferrari Polarized Badman sunglasses have the all-day comfort of lightweight diecast aluminum, with frames that give protection against high-velocity and high-mass impact.
The lenses use one of the most optically pure materials in eyewear today, maximising clarity and impact resistance while filtering out 100% of all harmful light.
Oakley and Scuderia Ferrari have partnered to offer special edition eyewear. The stress-resistant frame withstands environmental extremes, is lightweight yet highly durable. Each pair of glasses has highlights in Ferrari red, and some models are accented with the Ferrari emblem. All feature a laser-etched logo at the corner of the lens, as well as a logo-embossed bag for lens cleaning and storage. $500 (about £339).
Honourable mention: Adidas Evil Eye Pro wrap-around sunglasses, £135 (about 183€).
His Helmet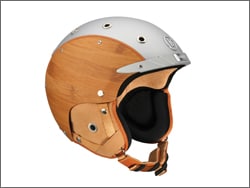 Bogner men's bamboo ski helmet has an outer shell made of oiled bamboo. The monocoque construction gives maximum strength but is also lightweight and discreet.
There's removable ear protection with good acoustics, as well as a twist closure that can be operated with one hand. A helmet case is included too. $990 (about £665) from stockists including the Bogner Shop.
Honourable mention: Poc Fornix Backcountry, 250€ (about £180).
Her Helmet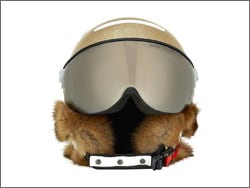 Kask Lifestyle Lady Fur-Trim ski helmet combines performance technology with ergonomic design. It is trimmed with real fur and embellished with sparkling Swarovski crystals.
Designed for optimum comfort with moulded ear flaps, removable and washable inner padding and a venting system, this gold coloured helmet has a leather-effect chin strap and a panoramic visor with an anti-fog, anti-scratch lens. Made in Italy, this limited edition helmet comes with a helmet bag and box. £1,999 from Harrods.
Honourable mention: Salomon Idol C Air, £150 (about 204€).
The Ski Socks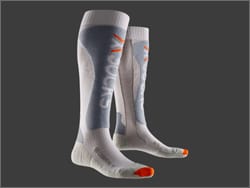 Cashmere ski socks have all-over ventilation zones, are feathery light, soft to the touch and insulating too. Made from Himalayan goat that shed only 100 grams a year. DuraWool has a smooth, impermeable surface causing moisture to be moved away from the skin's surface. 99€ (about £72) from X-Socks.
Honourable mention: Therm-ic PowerSocks use rechargeable lithium-ion batteries to deliver up to 10 hours of adjustable warmth. Particularly good for those who suffer from poor circulation. £160 (about 217€).
His Ski Gloves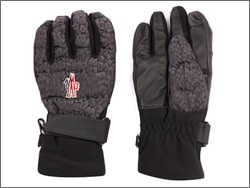 Moncler Grenoble Animal-Jacqard ski gloves for men are made in Italy from a techno-twill fabric with a black leather underside and ultra-soft black fleece lining. The elasticated techno fabric wrist panel and Velcro-fastening strap ensure heat is retained and your grip is secure. £310 (about 421€).
Honourable mention: Arc'teryx Alpha SV Glove is ideal for off-piste. It has extra-deep cuffs, a removable Polartec Wind Pro liner and leather reinforcement, £220 (about 298€).
Her Ski Gloves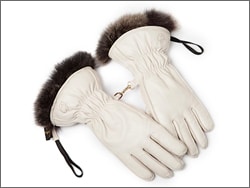 Cornelia James Trifti ski gloves are made from the finest napa leather, lined with possum, and with an even thicker possum cuff to keep the snow out and the warmth in.
Security lanyards to make sure you don't drop them off the chair-lift and a moleskin stash bag keeps them safe when you're not wearing them. £260 (about 353€).
Honourable mention: Snowlife Heated Lion GTX Glove, with an inbuilt rechargeable battery, £250 (about 339€).
The Backpack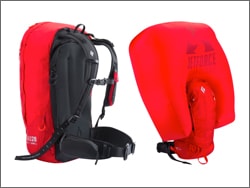 The Black Diamond Halo 28 JetForce is a revolutionary airbag that's set apart from others because of its battery-powered fan rather than the ABS system, which makes travelling hassle-free.
Instead of a gas canister, a jet fan inflates the 200L airbag in four seconds, and automatically deflates after three minutes to create a potential air pocket.
The Cordura airbag is made from puncture-resistant automotive material that is easy to repack for practice and multiple uses. It has back-panel access and a dedicated tools pocket. It's versatile enough for off-piste, ski-touring, heli- and cat-skiing. $1,250 (about £848).
Honourable mention: Haglofs Vjod ABS backpack, £750 (about 1,018€).
Sunscreen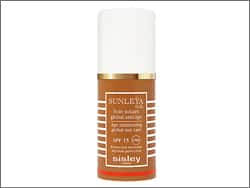 Sisley Sunleya Age Minimizing Global Suncare SFP 30 is an age-minimising treatment to help prevent wrinkles, dehydration, and loss of firmness – and promote a long-lasting tan.
The cream has a blend of extremely advanced solar filters that offers protection against UVA and UVB rays. It contains dill, sage, marjoram and white willow leaf extracts. It costs £158 (about 214€) for a handbag-sized 50ml bottle, which works out at £316 (about 429€) a litre. That's more expensive than some of the best Champagne!
Honourable mention: Clarins Ecran Multi-Protection SPF 50 – £32 (about 43€) for 30ml.
Apres-Ski Boots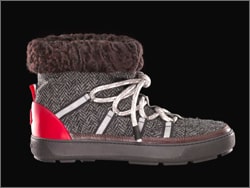 Moncler Grenoble wool boots (pictured here) have a technical microporous membrane, fur trim and rubber sole in grey £635 (about 861€).
Dubarry Kilternan boots are a high performance, apres-ski boot for women. The waterproof winter boots have a sheerling fleece cuff and inner Gore-Tex simulated lambswool to make it four times warmer than a normal snow boot. £325 (about 441€).
The Hold Luggage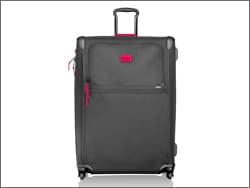 Tumi Accents Extended Trip Expandable 4 Wheeled Packing Case is lighter and stronger than most other cases, whilst offering easier manoeuvrability.
Four 360° wheels are recessed into the body of the case to provide more interior space, there's a super-tough and virtually damage-proof handle system, a closure system that minimises any damage to the zip, and two stages of expansion for additional packing space. The size is 78.5 cm x 56 cm x 33 cm, and it costs £1,130 (about 1,532€).
The Alpha 2 Luggage Set Collection costs $5.500 (about £3,678) and features five bags, all made from Tumi's patented ultra-durable ballistic nylon and comes with embossed leather luggage tag, handle wrap, and zipper pull ties.
Honourable mention: There can't be anything much cooler than travelling with the Aston Martin six-piece luggage set in black Nubuck leather, £2,445 (about 3,315€).
The Cabin Baggage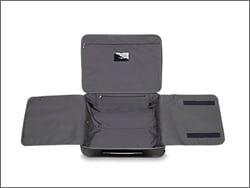 Louis Vuitton Pegase 55 is light, cabin-friendly and moves smoothly. Yet you can easily fit a week's wardrobe inside it, thanks to the multiple compartments and pockets. It's shown here in Epi Electric leather, £2,870 (about 3,892€).
Sports Watch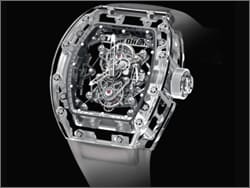 If you are the proud owner of an expensive watch, you may well have cheap Swatch – or similar – substitute for the slopes. But if 'cheap' is not in your vocabulary you can alway substitute Richard MILLE RM-56-02 Tourbillion Sapphire is $2m (about £1,356,000). Available from Hacket Watches.
Honourable mention: Swatch Ride In Style from the Gran Turismo collection, £95.90 (about 130€).
Getting You There
Ferrari doesn't fall into everyone's price bracket, but we can dream, can't we? Ferrari FF has a 4×4 system and F-1 traction control specifically designed to tackle any type of terrain or weather condition including ice and snow.
It seats four people and has 450 litres of boot space – more than some family hatchbacks. The rear seats also fold down to increase the boot space to 800 litres. It has a 91-litre fuel tank and averages 18.3mpg. The basic cost is about £227,000 (about 307,846€), stockists include H.R Owen.
Honourable mention: Range Rover 2015 Autobiography LR-V8 Supercharged 5.0 Litre Petrol, £100,350 (about 136,075€).
…And On Top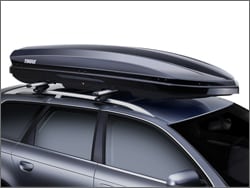 Not necessarily for the Ferrari, but suitable for most other cars is Thule Excellence XT roof box.
It has an interior light which turns on and off when you open or close the lid. Load capacity is 75kg and importantly its 218m length means that you can even carry race skis. £1,260 (about 1,709€) with roof bars.
Apres-Ski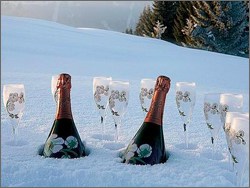 Nothing but the best with Perrier Jouet, known for its distinctive floral-designed bottles.
In 2012 the company set a world record price for Champagne when it offered a limited edition of one hundred 12-bottle cases for $80,000 (about £54,225) – or $6,485 (about £4,396) per bottle. Sales were limited a gold-plated list of high net wealth consumers in Britain, the USA, Japan, China, Russia, Switzerland and France.
Honourable mentions: Perrier Jouet Grand Brut £40 (about 54€) and Belle Epoque £130 (about 176€).
Can You Top My List?
Eye-watering, isn't it? Enough to put the cost of a lift pass in perspective, at least. Speaking of which, according to this article on snowexplore.com, the world's most expensive day pass is in Vail USA costing $159 (£107).
Know of ski wear that's even more high-falutin' than this? I'd seriously love to hear about it – drop me a line in the comments box below and if you've uncovered something worthy of the list above, I'll add it in (with full credit to you, of course).