We have chosen 50 of what we consider to be the most loveable ski chalets around. They're not cheap but they're certainly gorgeous. On the whole, the best are centred around a handful of resorts: Courchevel and Meribel, Val d'Isere, the Arlberg, Verbier and Zermatt – although there is now a growing number of other fabulous properties in more offbeat or unexpected resorts.
At the top end of the luxury ski chalet market are some veritable piste palaces, offering all the opulence of a five-star hotel combined with the intimacy of a stylish private home. A couple of them contain their own nightclubs, two have private ice-skating rinks, and one has an indoor climbing wall.
A little further down the price scale you'll still get a comfortable home-from-home…but without those added extras like swimming-pools, spas, cinemas, helipads and private chauffeurs. All the chalets below are staffed but they're not part of a hotel. All of them take their food and wine very seriously indeed. In fact, once you're there you may never want to leave…
Some of these properties – and many other luxury chalets not listed here – are available to rent through SNO and Ski in Luxury.
FRANCE
Design Treats in the Trois Vallees
Shemshak Lodge, Courchevel 1850
Shemshak Lodge in Courchevel 1850 offers alpine style at its very best, with sumptuous furnishings and fabrics throughout. It is set in a magnificent position up on the piste at chic Courchevel 1850. An entire floor of the chalet is given over to a spa area complete with a large swimming-pool, steam room, sauna, whirlpool and a state-of-the-art gym.
Shemshak takes its name from an exotic ski resort in the Middle East, for it is owned by an Iranian couple who are London residents. They learned to ski in pre-revolution Iran at a resort called Shemshak a couple of hours north of Tehran in the Elborz mountains. Sleeps 12.
Mont Tremblant, Meribel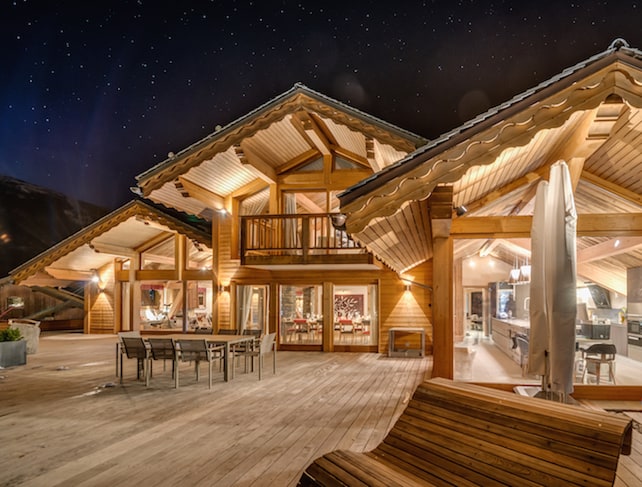 Located in its own grounds not far from the Altiport in the heart of Meribel, Mont Tremblant is incredibly light and spacious. Its double-height living room has a main seating area facing an open fireplace, as well as a cosy 'snug' and separate office. The master suite fills the whole of the first floor and features another open fireplace as well as gorgeous views. The en-suite bathroom has a double bath and walk-in rainshower big enough for two. There's also a heated outdoor infinity pool with jetstream. Sleeps 12.
Chalet Aster, Courchevel Moriond (1650)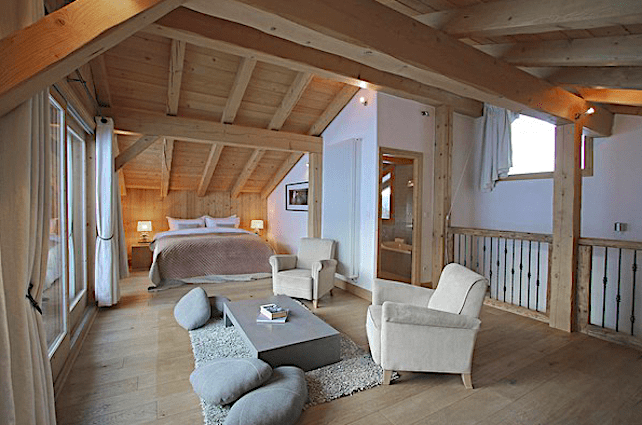 Ski-in ski-out Chalet Aster has been designed with nature and light in mind and is surrounded by trees and exquisite mountain views. There are alpine and cross-country trails on the doorstep, with the Granges drag-lift a short slide away. The property has a whirlpool, a cinema, bar with dance floor, a games room and a chauffeur service. The food is charged at cost price at the end of your stay. Sleeps 10 + 2 children.
Chalet Cerf Rouge, Meribel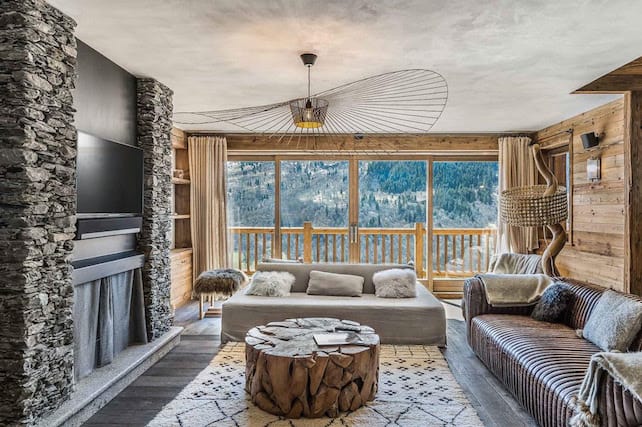 Chalet Cerf Rouge is in Meribel Village and has lovely views across the valley, as well as being a 350m walk to the Lapin piste and Golf chair-lift. The large open-plan living and dining space is both functional and beautifully decorated, and the five bedrooms all have super-king-sized 'hypnos' beds for the ultimate comfort, flat screen TVs and stylish ensuite bathrooms. There's also a private outdoor hot tub and Hammam. Sleeps 10.
Le Petit Palais, Courchevel 1850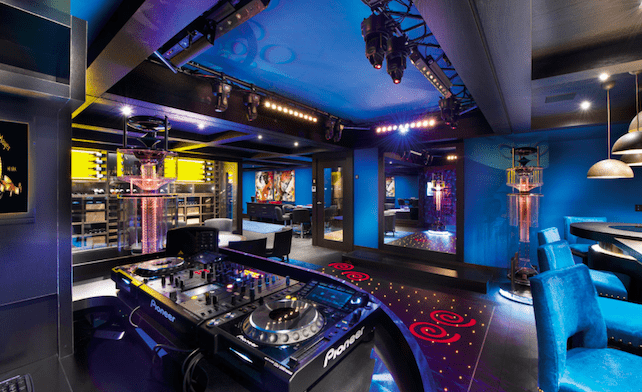 The incredible ski-in ski-out Le Petit Palais is on the Bellecote Piste in Courchevel 1850. It has six floors with the master suite located on its own dedicated floor. There's also a spa that expands across an entire floor, with a state-of-the-art gym, beauty salon/hairdresser and pillared swimming-pool. There's also a bar, private cinema, a ski room that looks more like a very smart ski shop. Oh yes, let's not forget the opulent nightclub, too. Sleeps 12 + 2 children.
Bellacima Lodge, Meribel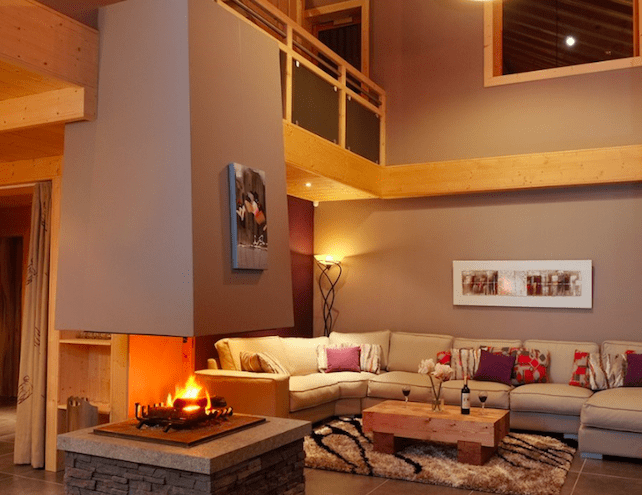 The five-bedroom Bellacima Lodge was built to order – with a sumptuous cinema, billiard room, hot tub on the south-facing terrace, and a small swimming-pool. There's a huge vaulted living room with central fireplace, fabulous views of the pistes, and a lift (useful in case you feel tired at the end of the day). The chalet is located opposite O'Sullivans – formally Dick's Tea Bar – a 10-minute walk from the centre of Meribel. Sleeps 11-12.
Hideaways in Val d'Isere
Marco Polo
The number of uberchalets – six-star fully catered nesting places for discerning and wealthy skiers – continues to increase. But Marco Polo in Val d'Isere is one of the true leaders. The French owners spent five years scouring the Orient for fine features such as wooden temple doors and carved frescoes for it to live up to its name. Highlight is the bathtub in the master bedroom hewn from a giant granite boulder and the gold-leaf pool with a giant cinema screen. There's also an indoor hot tub, steam room, two hours of complimentary massage every day, a games room with pool table, and a gym. The chalet is centrally located in town. Sleeps 10 + 4 children.
Chalet d'Isere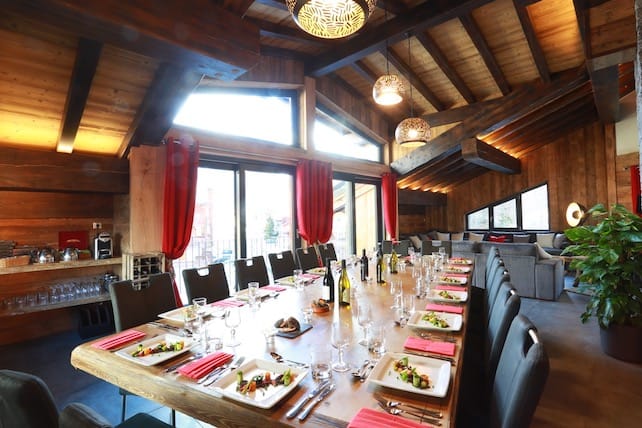 Chalet d'Isere is one of the most luxurious you'll find of this large size, without being OTT. The living area is the biggest we've seen in a private building in Val d'Isere, with a massive dining table. The chalet is set on the bank of the river Isere, just on the edge of the main village, and the views to Solaise are spectacular. After a day's skiing you can relax in the sauna and hot tub, or watch a film in the home cinema. Sleeps 16.
La Bergerie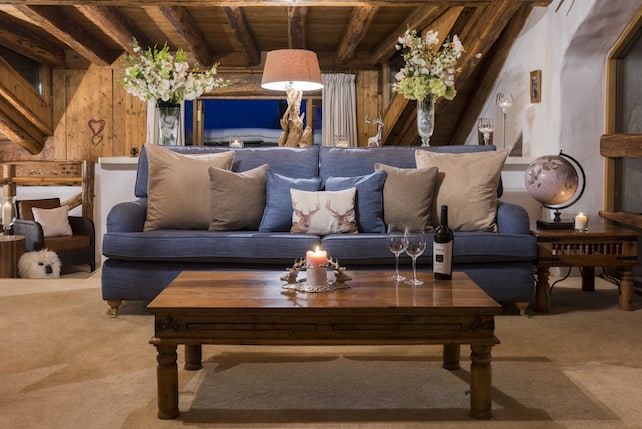 La Bergerie is one of the collection of five Le Chardon Mountain Lodges all set in an enclave in the Le Legettaz area of the resort. This particular property is ski-in ski-out and located on the site of an old bergerie or shepherd's hut, dating back to the 17th century. The chalet has been renovated using many of the original features, blending traditional wood-and-stone with modern facilities such as the two outdoor hot tubs and a large cinema room. There is a prevailing sense of calm throughout. Sleeps 12 + 1.
Chalet Daria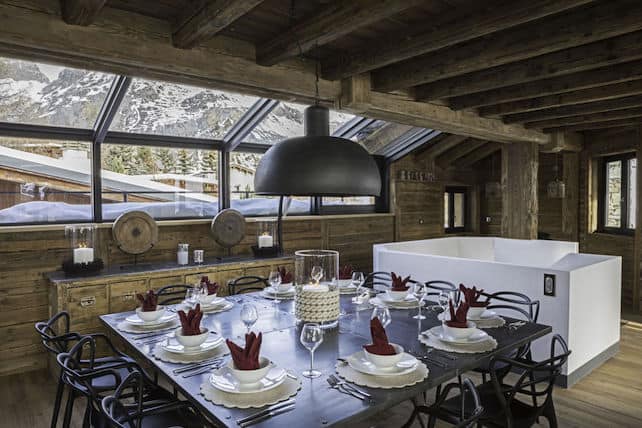 Chalet Daria combines local stone walls, reclaimed wood beams and inspiring interiors completely with quirky sculptures and paintings. The main living area has towering double-height windows and there's also an indoor pool, a hammam and a massage room. As this is the last building before you enter the Manchet valley, you're provided with unobstructed south- and west-facing views across the Vanoise National Park. Sleeps 14.
Chalet Kanjiroba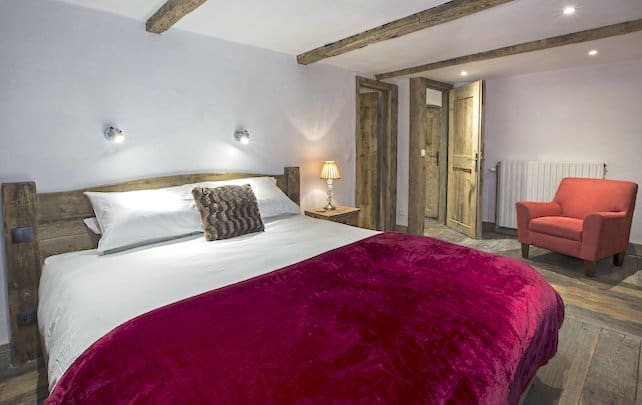 Kanjiroba is on a quiet lane in La Daille, three minutes walk from the lifts. The chalet is named after the 6883-metre-high mountain in western Nepal where the owners spent their honeymoon. It's among the oldest properties in Val, dating back to the 1700s, and it's plush and spacious with lots of reclaimed wood. Sleeps 10.
The Farmhouse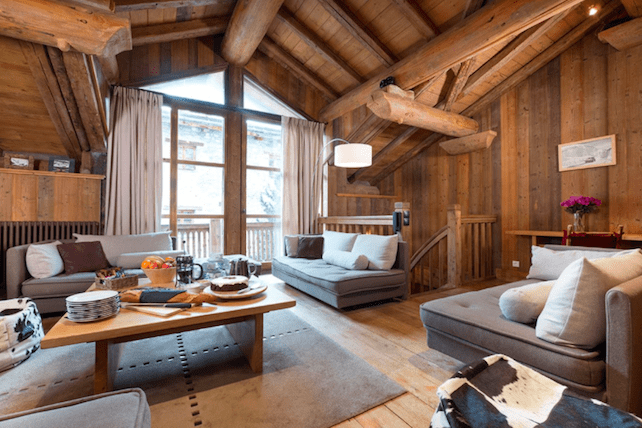 The 200-year-old Farmhouse is set next to the church and 250m from the piste in the centre of Val d'Isere. Absolutely no expense has been spared in retaining the metre-thick walls and the original timber beams formed from complete oak trees. Contemporary features have been added, along with yet more mellow wood. By winter 2017-18 there will also be a swimming-pool. Sleeps 10.
Chalet Husky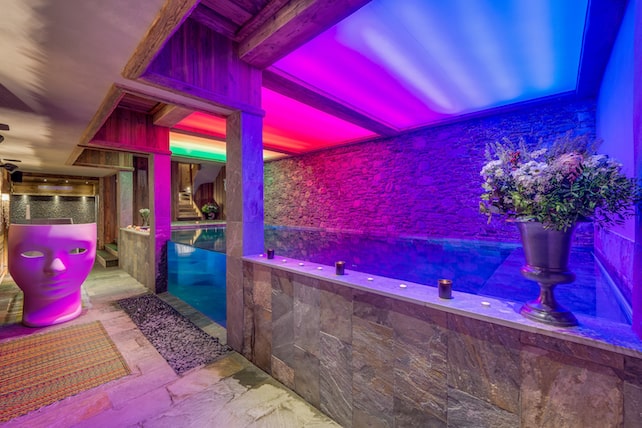 Not only does Chalet Husky have an incredible pool as part of its fab wellness area, but it also has an indoor climbing wall, archery and rifle shooting areas. We've never seen anything like this inside a ski hotel, let alone in a chalet. The vast living area is cutting-edge in terms of design – with eclectic furniture such as sofas covered in denim and Beatles-themed fabrics, and lots of brightly-coloured glass. The chalet is centrally located and families with teenagers will love it. Sleeps 14. central
…and in Tignes
Chalet Cloche, Tignes les Brevieres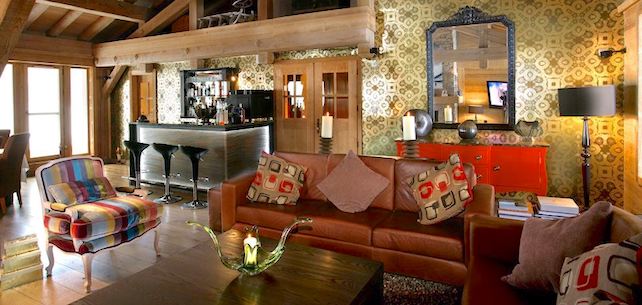 Chalet Cloche is an attractive wood-and-stone building in Tignes with four large bedrooms have pale timbers and an oriental black, cream and lacquer-red colour scheme. The log-cabin-style sitting room is decorated in warm colours together with oak beams, wood-panelled walls, a stripped wooden floor, and an open fireplace. For the ultimate in relaxation there's an in-house spa complete with steam room, hot tub and a small indoor swimming-pool. Sleeps 12.
Chalet Rock n' Love, Tignes les Brevieres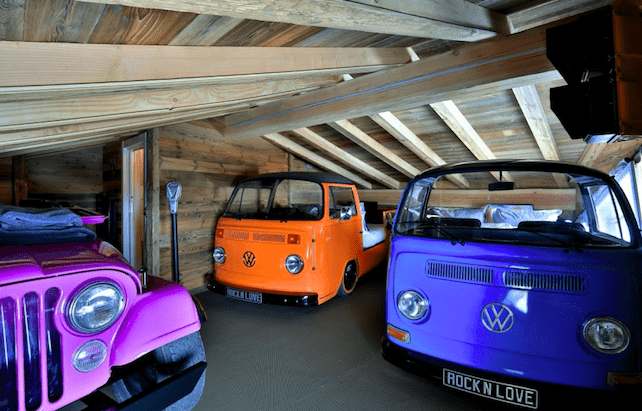 Chalet Rock n' Love breaks all the rules when it comes to design. As soon as you step inside you are transported into a world of retro cars and vintage guitars. There's a collection of Route 66 memorabilia, a Wurlitzer jukebox, an acoustic guitar for you to try, and an original Marshall amp. The chalet has an open-plan living area featuring a mini car pool table, and the four bedroom suites have song lyrics embroidered into the carpets. Kids sleep in the Garage Room that's equipped with real VWs and a Jeep, which designer Guerlain Chicherit has transformed into beds. Sleeps 8 + 6 children.
Romantic Escapes in the Portes du Soleil
The Manoir, Morzine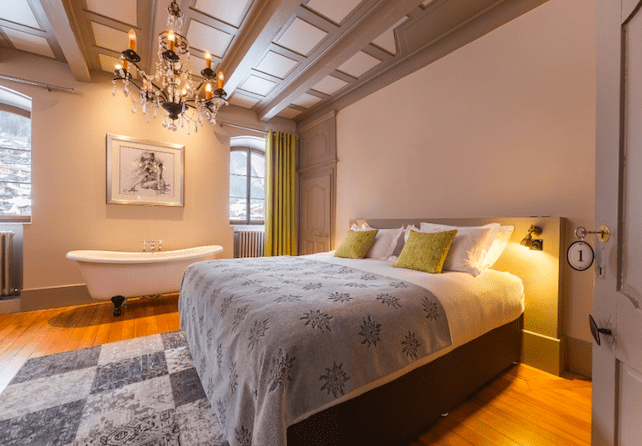 The Manoir was built in 1790 and was home to the local Notary in Morzine for two centuries. The metre-thick walls are made from local stone and horsehair, there are mosaic and flagstone floors, towering ceilings, and huge rooms with timber detailing. Over the last year the chalet has been stripped back and re-clad, retaining all its original elements whilst fusing in some modern essentials such as walk-in showers, roll top baths and flat screen TVs. Sleeps 10-14.
Chalet Marie, Avoriaz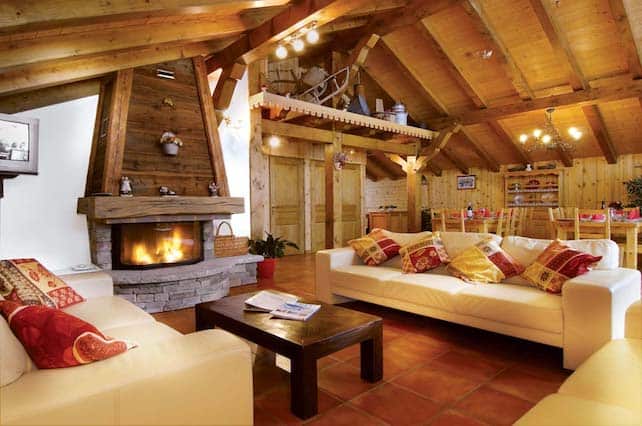 Chalet Marie would be a great place to stay anywhere, but the fact that it's on the slopes in Avoriaz – which is not renowned for having stylish ski chalets – makes it unusual. The property is modern and spacious inside, and charmingly furnished with Savoyard antiques. The heart of the chalet is its large open-plan living/dining area with high, beamed ceilings, a fireplace and picture windows. Sleeps 14.
Ferme de Moudon, Les Gets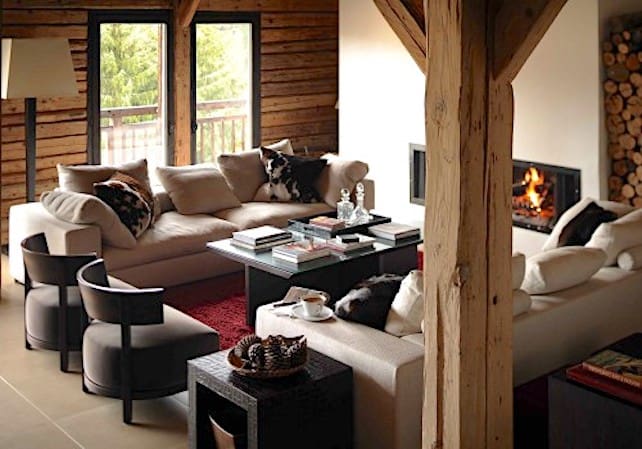 The magical 17th-century Ferme de Moudon is hidden away just past the small local chapel, a three-minute drive from Les Gets village centre. In this former cow barn, ancient timbers and terracotta floors blend with modern interiors. A lovely mixture of textures is provided by cowskin chairs and table-covers, lamb-y floor rugs and bespoke tweed sofas. The master bedroom may not be as big as some, but it has its own small office under the eaves, just outside the door. Sleeps 10.
Maison Blanche et Verte, Chatel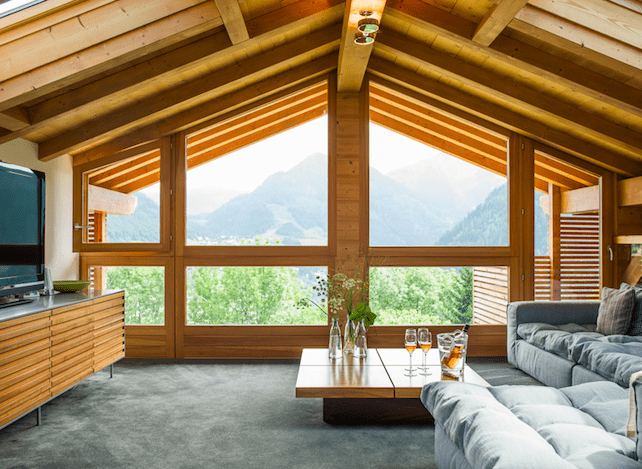 Maison Blanche et Verte is the first five-star chalet in family-friendly Chatel. It sits above the centre of the village, next to the Barbassone lift. As you can see from the picture, it's refreshingly minimalist next to some of the other superchalets – there's a light and bright open-plan living room and a separate playroom. A home cinema comes complete with popcorn holders in the seats, and there's also an indoor pool and gym. Sleeps 12.
Yet More Style in France
Saskia, Vaujany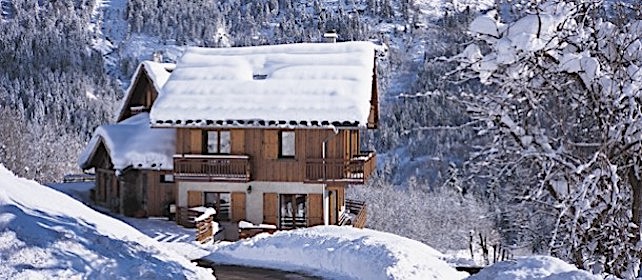 The main reason to choose Chalet Saskia in Vaujany is not for its luxury but for the food – chef Marcus Cull's cooking is heaven. The property divides into two units that are mirror images of each other. These are linked by a glass-fronted kitchen where you can watch the chef at work. Sleeps 10 in each half.
Ma Datcha, Megeve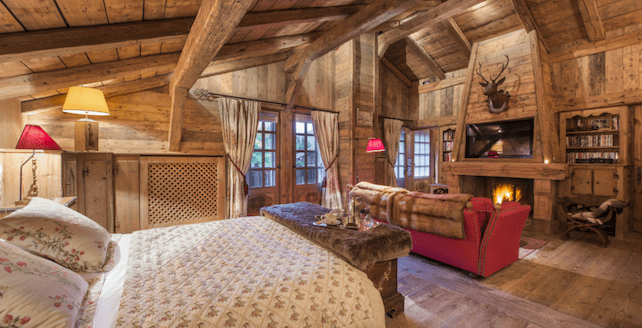 Ma Datcha is spread over three floors, with seven bedrooms. Located a short walk from Megeve town centre and the Rochbrune gondala, this beautiful private home has every luxury you could wish for. There's a cinema room, gym and spa area, and an outdoor heated swimming-pool and hot tub. Sleeps 14.
Chalet Le Moulin, Chamonix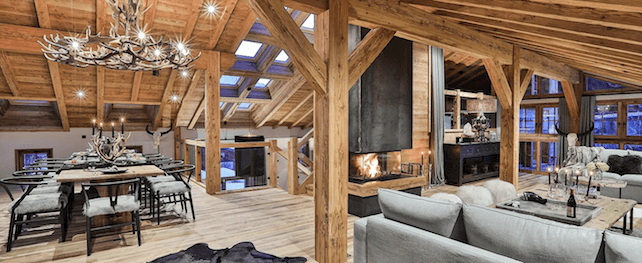 You've probably seen fur rugs and fur chairs by the dozen in the Alps – there are certainly a few on this page – but the former mill, Chalet Le Moulin, in Chamonix just has even more wooden beams, wood-clad walls and ceilings, fur rugs and throws. It also has several sumptuous social areas and a total 22 beds – so this vast and beautifully laid-out chalet is perfect for large groups. It is located in the quaint village of Les Tines, a short distance from the skiing.
Yellowstone Ski Lodge, Sainte Foy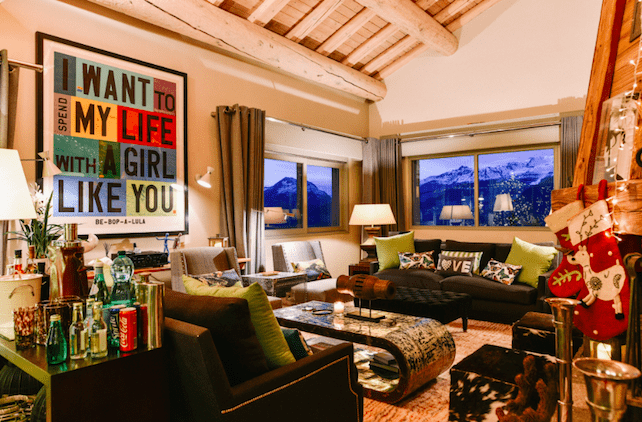 Yellowstone Ski Lodge is a lavish wood and stone building in Saint Foy that calls itself a boutique hotel but, although you can book the rooms separately, we are classing it as a chalet because it only has six bedrooms. The interior is decorated in natural colours with lime and cherry red accents, faux fur throws, and some quirky little knick-knacks. All of this contrasts with old wooden beams and local slate, and there's a massage room and an outdoor hot tub too. The Ranch at Yellowstone is a cozy, comfortable gite attached to the chalet, rentable separately on a B&B basis. Sleeps 12 + 8 in The Ranch.
Chalet Matsuzaka, La Rosiere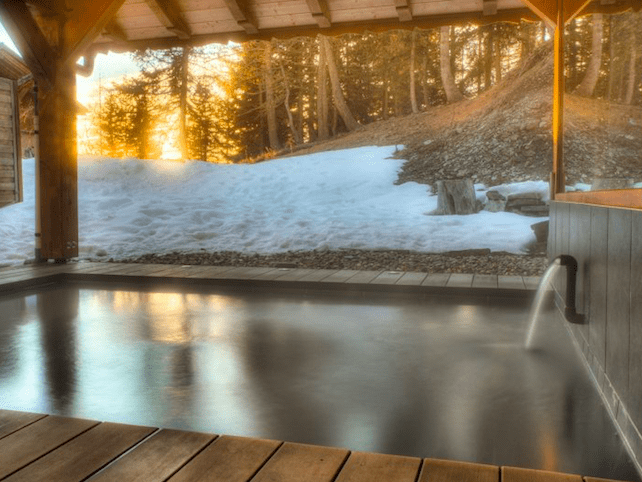 Chalet Matsuzaka (meaning 'pine tree slope') is 200m from the new high-speed chair-lift in the Les Eucherts area of La Rosiere 1850. The property is run as a Japanese inn with a calm and zen atmosphere. There's a Japanese spa with interior and exterior baths (ofuro tubs and a rotemburo outdoor bath), sauna, and a massage room with pebbles and trees as part of the decoration. Two of the bedrooms are decorated in Japanese washitsu style with tatami mats, shoji screens and futon beds. Sleeps 24.
SWITZERLAND
Party Places in Verbier
Chalet Truffe Blanche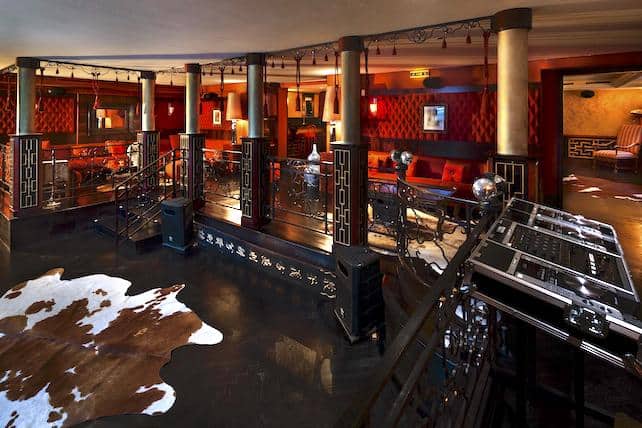 Chalet Truffe Blanche ('white truffle') is just about as opulent as you can get. It spans 3000m², and offers everything you could ever dream of in a chalet. First up is a 15-metre indoor pool, an indulgent Turkish hammam, nine treatment rooms, and a Finnish sauna. Then there's a state-of-the-art private cinema, a sushi-and-vodka bar, a sumptuous private nightclub, a pool table, an impressive wine cellar, and a personal library. Sleeps 18.
Chalet Chouqui
Chalet Chouqui is close to the Savoleyeres lift and is light and spacious. It's decorated in natural colours with wood and stone floors, wood-panelled walls and ceilings. The chalet has oodles of delectable extras including a 15-meter indoor pool, a private cinema, a games room, and two sitting rooms – each with an open fireplace. There's an attractive children's bunk room too, and a lovely outdoor terrace complete with seating and fur rugs. Sleeps 18 + 2.
The Lodge
The Lodge is a lavish log chalet built for Sir Richard Branson, with lots of reclaimed timber, neutral natural fabrics, and oodles of space. Sir Richard's master bedroom has a central fireplace and a magnificent open-plan bathroom, complete with rubber ducks. An enormous basement party room has a daybed big enough for ten. The main lift is a two-minute chauffeured drive away and you can ski back to the door. If you don't fancy skiing then you can skate on the private ice rink, or swim in the pool. Sleeps 18.
No 14 Verbier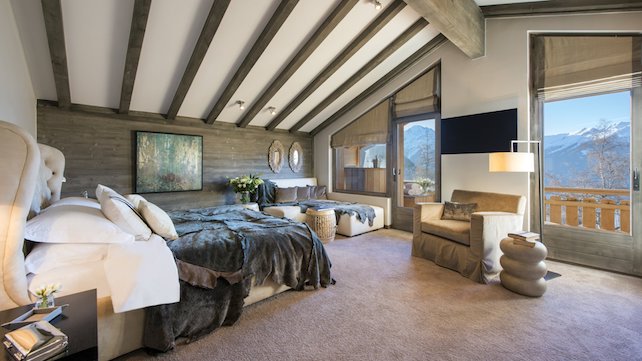 No 14 Verbier is a former hotel that recently underwent an extensive transformation and refurbishment. The result is one of stylish, contemporary alpine chic, with all of its furniture custom-made in London. The property has over 1000m² of living space and 13 en suite bedrooms, there's a 10-metre indoor swimming-pool, a spa, two outdoor hot tubs, a home cinema and a fully stocked complimentary bar. Sleeps 26.
Rooms with Views in Zermatt
Chalet Ulysse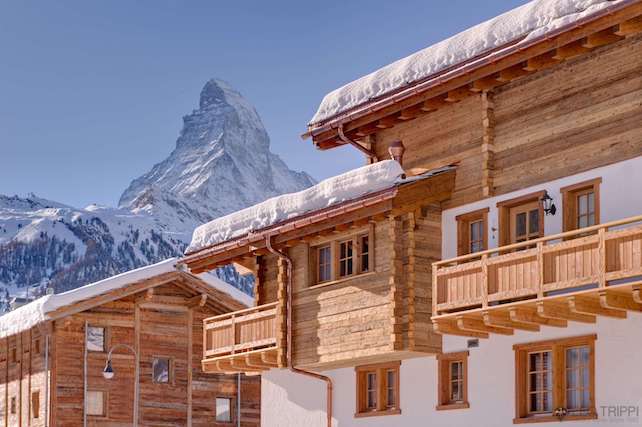 Chalet Ulysse is a stand-alone building that is five minutes' walk from the Matterhorn Express gondola. For much of the season, it is usually possible to ski back to within 200m of the front door. For younger kids, the Winkelmatten play park is immediately opposite, whilst a second sitting room on the ground floor creates a good TV room away from the main living area upstairs. Included in any fully catered holiday here is a qualified mountain guide or ski instructor for five days. Sleeps 12.
The Zermatt Lodge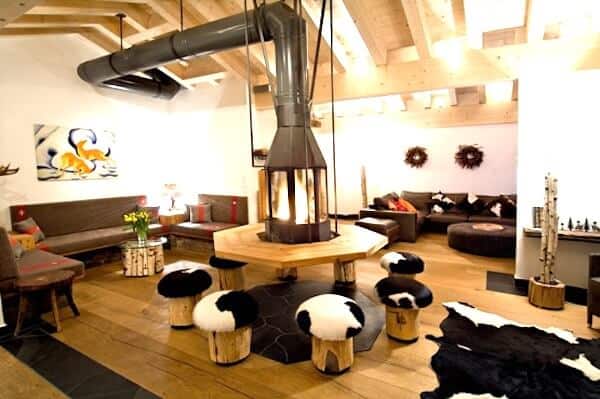 Mountain Exposure's flagship five-star, The Zermatt Lodge is conveniently set close to the main street and the Sunnegga Express lift station. The property takes up the whole top floor, and provides gorgeous views of the Matterhorn over the rooftops.
Every detail has been meticulously thought of, with beamed ceilings, aged wooden floors and stylish yet cosy furniture giving a warm feeling of old-world charm with a crisp modern finish. The focal point of the spacious living room is a suspended wood-burning fireplace and there's an adjoining dining room with a long table seating 12. Sleeps 10.
From Heidi Style to Cutting-Edge in Switzerland
Snow White, St Moritz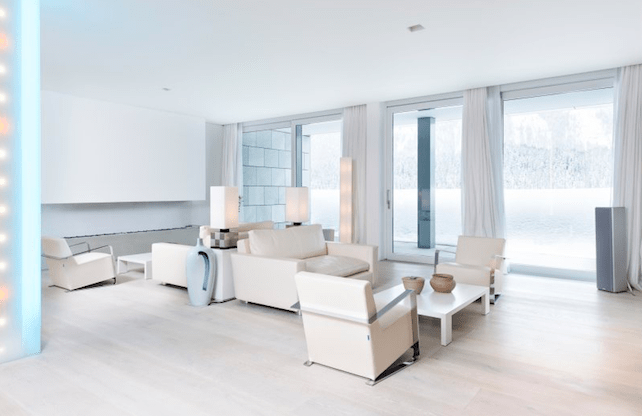 Snow White is just what its name says: site from head to toe. It is situated just 100 metres from the centre of St Moritz, next to the Badrutt's Palace Hotel. The large living room gives unspoilt views over the lake and mountains. There's an adjoining dining room and kitchen. The master bedroom has a hot tub and all rooms are decorated in a clean, monochromatic look using the finest fabrics. The spa area is equipped with a whirlpool, sauna and massage room, and small gym. This is clearly no place to bring children, drink red wine, or enter wearing muddy shoes! Sleeps 6-7.
Chalet Amala, Gstaad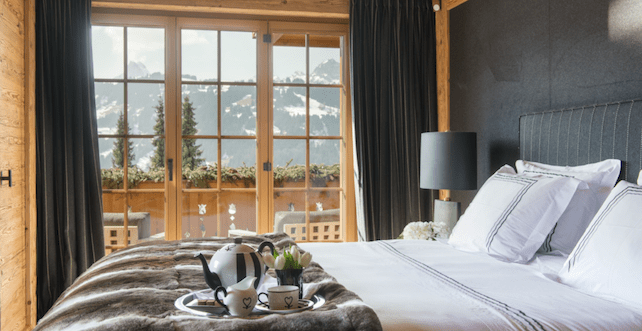 Chalet Amala is an outstanding private home where no attention to detail has been spared. In fact it is a masterpiece of contemporary chic and plush furnishings. The indoor swimming-pool and spa area is wired with the latest sound and lighting system. The property has wonderful views from all the rooms and is set in a peaceful hamlet a short drive from the centre of Gstaad and close to the Wasserngrat ski area. Sleeps 12 + 2.
Chalet Bear, Klosters
Chalet Bear is one of the few remaining log chalets in Klosters, which means that the overwhelming look is ancient wood inside and out. You won't find cutting-edge interiors here but it's everything you've ever dreamt an Alpine chalet should be: overwhelmingly cosy, warm and woody. There's an English-country-house-meets-Alpine-Swiss style when it comes to the furniture, fabrics and paintings…and there's a heart-warming log fire in the sitting room and another in the master bedroom. It's incredibly convenient for the village centre too. Sleeps 8.
Chalet Annapurna, Saas Fee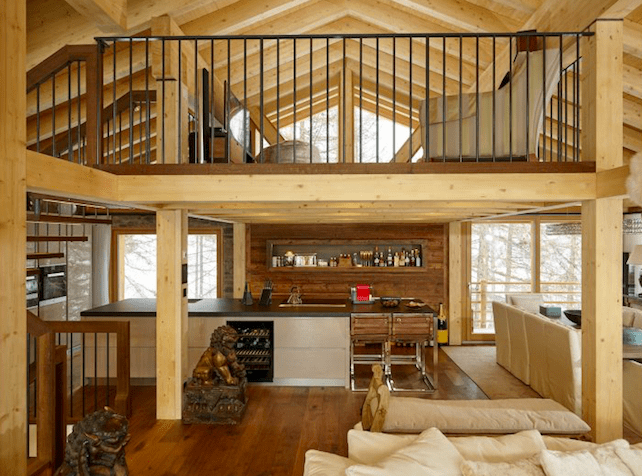 Chalet Annapurna is one of the most beautiful chalets in Saas Fee, set high on the Hohnegg Plateau a 10-minute walk to the Hannig lift and 20 minutes to the village centre. Designed by local architect, Iwan Kiechler, it is spread over five floors and features vast windows and lots of old wood. The chalet has a sauna, and a 10-person outdoor hot tub. Sleeps 10-16.
AUSTRIA
Awesome Chalets in the Arlberg
Artemis, St Anton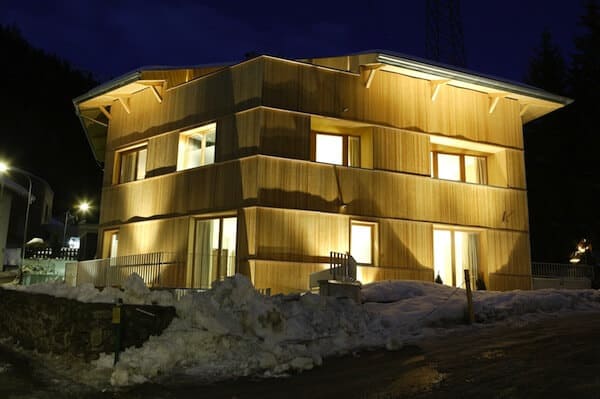 The razor-edge design of Artemis is far removed from The Sound of Music image of what to expect of an alpine chalet. Designed by local St Anton architect Karl Fahner, it is a funky hexagonal box on four floors. On arrival in the entrance hall you are greeted by a seven-foot statue of the Ancient Greek goddess of both hills and virginity. The quirky theme continues with the oddly-shaped and very individual rooms, and there's a wellness area and a home cinema with retro velvet seats. Sleeps 12.
Chalet Eden Rock, St Anton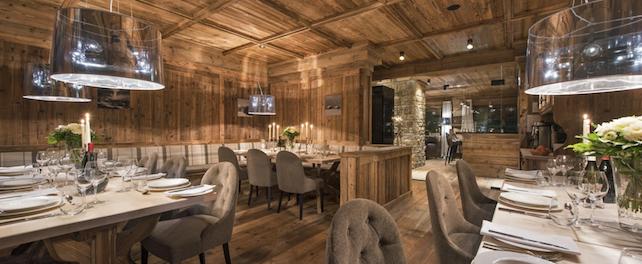 The traditional exterior of Chalet Eden Rock is beautifully combined with a sleek and stylish interior. For flexibility, the chalet can be booked for exclusive sleeping up to 20 or it can be divided into three large, luxurious chalets: Chalet Kanzi (sleeps eight), Chalet Ariane (sleeps six) and Chalet Zari (sleeps six). Throughout the chalet there is plenty of space and there's wellness area complete with indoor swimming-pool. Sleeps: 20.
House Hannes Schneider, Stuben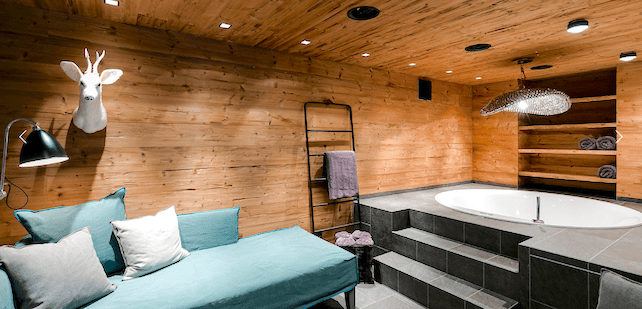 House Hannes Schneider is in Stuben, which is the linking village of the massive St Anton-Lech-Zurs ski area. It was originally plain house no. 14 – but it was the birthplace of skiing legend Hannes Schneider in 1890. Original features fuse with sumptuous fabrics and striking art. The master suites have drawing rooms and there's a swimming-pool inside a former cowshed. Sleeps 12-20.
Chalet N, Lech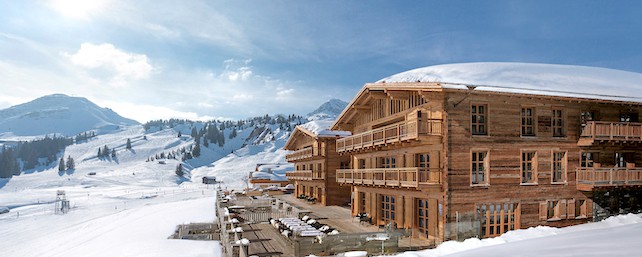 Now for something quite outrageous, both in style and cost. Chalet N is set up at 1660m at Oberlech above Lech. It has 11 suites (one specifically for children), a sitting room with bar, dining room, fondue room, wine tasting cellar, cinema, and a gigantic spa and ice bar.
The suites mix traditional materials with state-of-the-art technology and the wine cellar contains an impressive 350 wine labels and 900 different varieties of cigar. The spa takes up an entire floor of the building and is one of the largest in any private chalet; its swimming-pool has an underwater sound system and fluctuating colour scheme and a Swarovski shower has crystals forming the curtain. The chalet has a staff of 35. No, that's not a misprint. Sleeps 20 + 4 children.
Racey Chalets in Kitzbuhel
Chalet Weiss Spa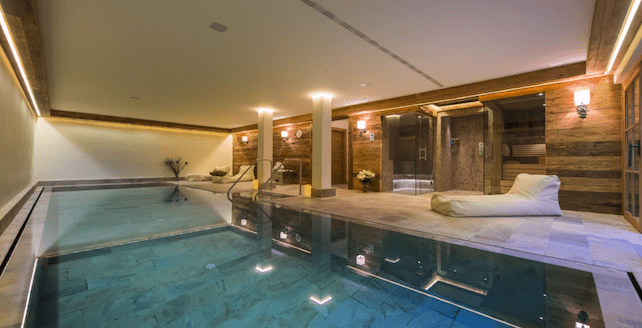 This lovely residence is a short walk from the beautiful town centre of Kitzbuhel, with its cobblestone streets and some great bars, shops and restaurants. The Hahnenkamm lift station is a 500 metre walk from the chalet. Spanning five floors, Chalet Weiss Spa has seven bedrooms, and the bottom two floors are dedicated to spa and wellness, with one of the highlights being the 15-metre indoor swimming-pool. Sleeps 14.
Hahnenkamm Lodge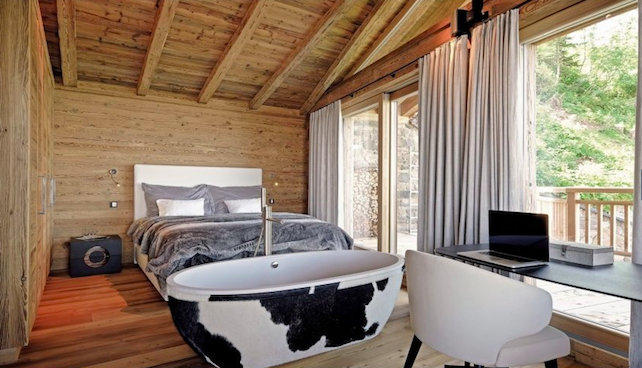 Just 50 metres from the start of the race course, the ski-in ski-out Hahnenkamm Lodge combines alpine lifestyle with individual first-class service. It has five suites (one with its own spa), a lift, a health and fitness area, and a living/dining area with a bar, fireplace and lots of fur throws. Sleeps 10.
Designer Luxury Chalets Elsewhere in Austria
The Chalet, at 11 Degrees East, Obergurgl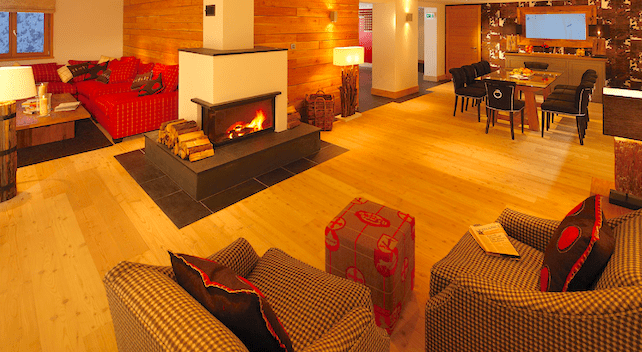 The Chalet at 11 Degrees East is unique in Obergurgl, the little Austrian resort to which many Brits return again and again. The beautifully-designed chalet has bags of airy space. It's in a peaceful spot a short walk from the lifts (you can ski back to the door) and right next to the kids' ski school area. None of your chocolate box here: clean lines, much use of slate, solid pine, and cowhide wall-coverings. The bedrooms, reached by a spiral staircase, are spacious. Sleeps 10.
ITALY
Dolce Vita in the Dolomites
Chalet LV01, Cortina d'Ampezzo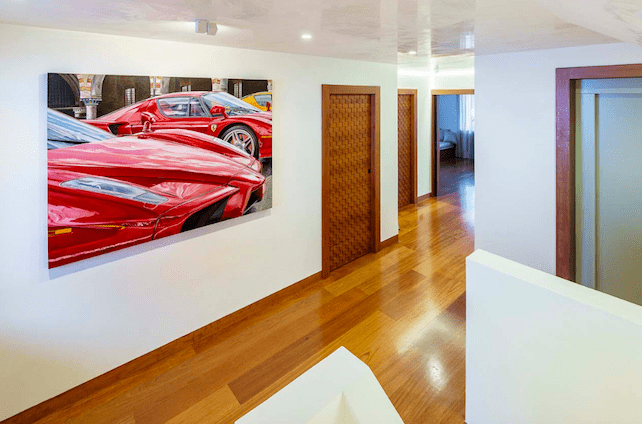 Chalet LV01 has an elegant living area of over 900m², spread over four floors. Fusing classical architecture with state-of-the-art technology, the property is sophisticated with high-end design, decoration and furnishings. The basement is home to a modern spa with a sauna, 20-metre pool, and a whirlpool with a waterfall. The soundproofed cinema room has plush seating, there's a lift, and the wine cellar houses the finest labels. Sleeps 8-9.
San Lorenzo Lodge, Brunico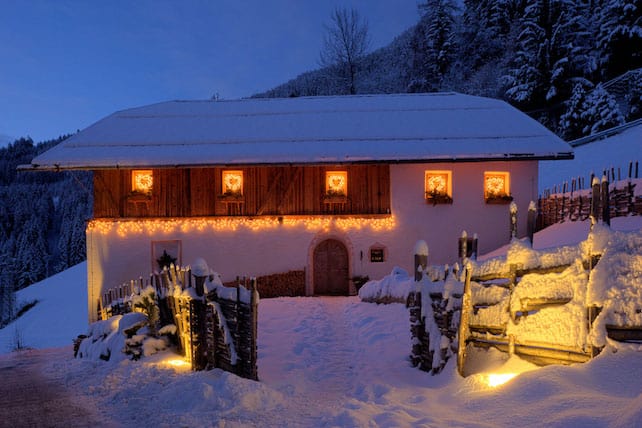 The 16th-century San Lorenzo Mountain Lodge was once a hunting lodge. Today it's owned by the former CEO of Escada who has lovingly transformed it with lots of attention to detail. The vaulted entrance hall contrasts with the cosy ambience of the rest of the property. There is a heated outdoor pool, a spa area, a wine cellar and a helipad. The nearest skiing is at Kronplatz 15 minutes' drive away, whilst San Cassiano, La Villa and Corvara are all around 25 minutes' drive. Sleeps 10.
Chalet La Perla, Cortina d'Ampezzo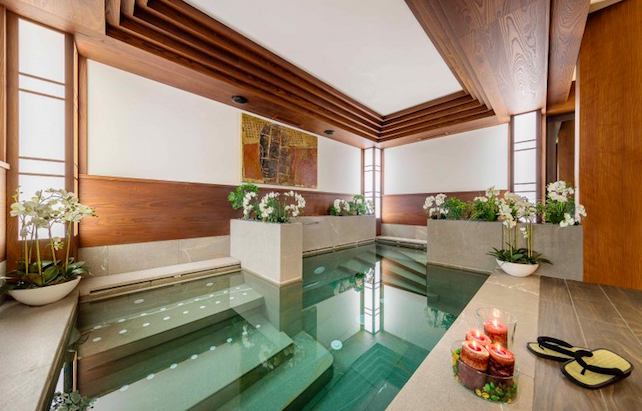 Chalet La Perla is arranged over four floors and includes a spa area with sauna, heated swimming-pool, bathrooms and changing rooms. A large screen, soundproofed private cinema adds to the many entertainment choices in the chalet. The spacious living area has a games room, wet bar, a separate TV room, a study/office, comfortable sofas and a fireplace. It is connected to a dining area and an ultra-modern kitchen. Sleeps 15.
THE REST OF THE WORLD
Villa Gella, Pamporovo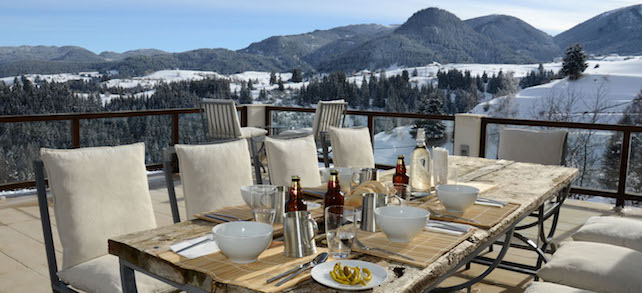 Those accustomed to thinking that Bulgaria will forever remain in skiing's bargain basement may have to think again. It is possible to ski Pamporovo (12km away) and stay in comfort at nearby Villa Gella. The villa has six stylish double bedrooms – each one individually decorated, with fireplaces and en suite bathrooms. Add to this a library, an indoor swimming-pool, and an ice-skating rink. Private transport is provided to and from the lifts. Sleeps 12.
Chalet Bighorn, Revelstoke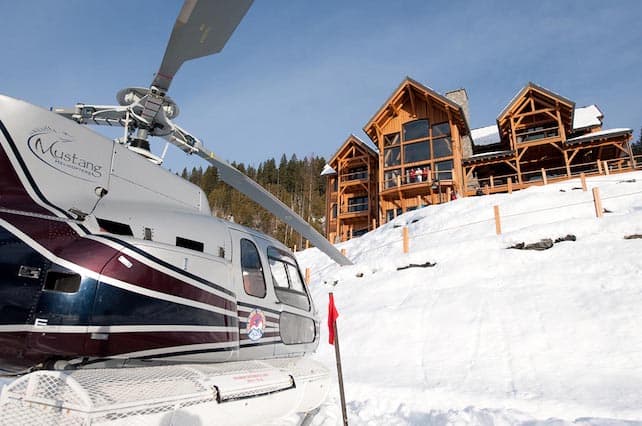 Chalet Bighorn is in the little-known resort of Revelstoke in BC, Canada. The property has eight huge bedrooms, and the chef and lodge manager have worked in some of the most high-end chalets in the Alps (they now live in Revelstoke all year round). The chalet is the ultimate in skiing luxury and even has its own private helipad – useful for sampling the area's fabulous heli-skiing. Sleeps 16.
Ski Dream Home, Deer Valley
Ski Dream Home is in the gated Deer Crest area of Deer Valley, five minutes' drive from America's biggest ski area, Park City. It is ski-in ski-out and is one of the most impressive private homes in Utah. It has six bedrooms, ten bathrooms and two sitting rooms. There's a heated deck featuring an over-sized hot tub, a private cinema, FullSwing golf simulator, a bar with a pool table, indoor swimming-pool, steam room and sauna. A chef is available on request. Sleeps 14 + 2.
The Glasshouse, Niseko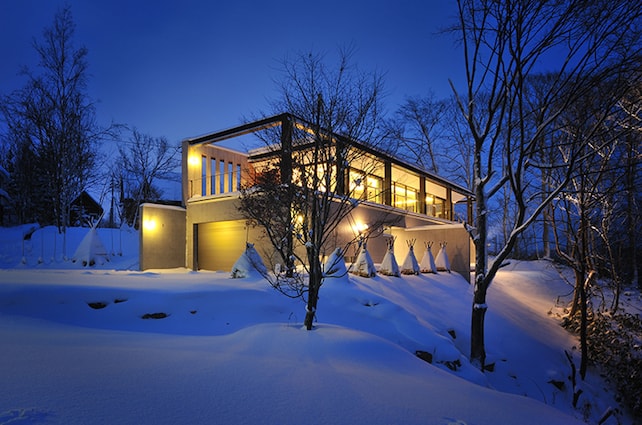 The Glasshouse is in Niseko-Hirafu village on Hokkaido, Japan's northernmost island with arguably the best skiing in the country. The property is modern and minimalist with uninterrupted views of Mount Yotei. There's an open-plan wood and steel kitchen, an outdoor hot tub, and the sitting room features a life-sized iron pig. Sleeps 10-12.
…and there's more…
For other choices of accommodation, see our features on What Kind of Ski Accommodation is Right for Us?, The Best Luxury Ski Hotels in the Alps, Luxury Ski Apartments, Family Chalets, Ten Green Ski Hotels.