In a Nutshell
By some measures, America's new behemoth is actually bigger than Whistler. But what really counts is the buzzing nightlife, the short transfers from Salt Lake City airport, and its mouthwatering variety of skiing terrain. Yes, proper, big-mountain experts will find its off-piste runs rather short. But almost everyone else will have a ball here.
The Stats
Altitude: 6,900ft/2,103m
Lifts: 38
Top lift: 10,026ft/3,056m
Ski area: 7,300 acres
Adult lift pass: $318-624 for six days


Official Site |

Ski Map |

Webcam
Resort Overview
At last, they did it. Park City Mountain Resort (PCMR) and Canyons have been made into one.
It took a three-year legal battle and the intervention of the biggest ski resort company in North America – Vail Resorts – to get the job done. But once Vail had bought PCMR for $182.5million in September 2014, all that was needed to fuse the ski areas was a single lift, and a couple of trails. In November 2015 the new improved Park City was born.
It sits just east of Salt Lake City in Utah, and is now the biggest ski area in the USA.
How big? Well, does 7,300 acres sound a lot? Or 300 trails? They should. In North America, only Whistler in Canada can match it for size, and even though the Canadian resort has more off-piste terrain, Park City can more than match it when it comes to the extent of its trails/pistes.
German ski consultant Christoph Schrahe has measured every significant ski resort in Europe and North America, and according to him the total length of Park City's trails is 265km: 11km more than Whistler's. In fact, according to Schrahe's methods, only a handful of ski areas in the Alps can beat it.
So yes, it's big. But it's not just its size that counts. There are several more reasons why this new American behemoth deserves our attention.
1. Variety of terrain
There's a lot going on amidst Park City's densely-packed ridgelines and valleys: hell-for-leather steeps, a world-class snowpark, and some of the most ego-boosting intermediate trails in either the Rockies or the Alps. Beginners, intermediates, freestylers and advanced (but not expert) skiers are going to love it. Check out our guide to the skiing, below, for more on that.
2. Snowfall
Utah is famous for its snow – and while Park City can't match the likes of Alta and Snowbird, nearby, for their mighty storms, it racks up a healthy average – 9.11m/359 inches a year in Jupiter Bowl, and 7.29m/287 inches across the other higher trails – according to bestsnow.net. However, it's worth bearing in mind that the lowish elevation of the home runs means spring conditions can bite at the end of the season. Plan a mid-winter trip in January or February for the best chance of cold and grippy top-to-bottom snow.
3. Nightlife
At one end of the ski area sits the town of Park City. It's a former silver-mining settlement, and like many in the mountains has preserved some of its Wild West architecture and freewheeling character. It doesn't quite match the best party towns of the Alps for its apres-ski scene: but there are some great bars here, and plenty of buzz.
Park City is also the setting, each January for the Sundance Film Festival. For culture vultures who also ski that makes it almost irresistible, of course. But you'll need to book a year in advance to be sure of getting a room in town: and be prepared to pay top dollar, too.
4. Convenience
From Salt Lake City airport, the transfer to the slopeside hotels and condos in the Canyons sector takes just 35 minutes. To the town of Park City is only 10 or 15 minutes more. Few ski areas – aside from Innsbruck, Austria – can match that. With direct flights from most big American cities, as well as London, Paris and Amsterdam, this is an easy ski resort to reach.
5. Deer Valley, Snowbird and Alta
Need more skiing? There are 101 more trails next door, in Deer Valley. In fact, the resort is so close, the only thing separating it from the eastern edge of Park City is a rope. Not that you're allowed to duck under it, mind. To ski Deer Valley, you'll have to drive round (or catch a shuttle) to the base area and buy a separate lift pass.
It's also worth bearing in mind that Deer Valley's terrain is very similar to Park City's: and with 7,300 acres of terrain to ski already, you probably won't need it. A more interesting option is to drive over to Little Cottonwood Canyon, which is the home of the super-snowy resorts of Snowbird and Alta. After fresh snow, advanced skiers and boarders would be nuts not to check them both out.
6. The Olympic Park
Salt Lake City's Olympic bobsleigh track is virtually next door to Canyons Resort, and it's open to the public. For speed freaks, it's an essential stop.
7. The Interconnect Tour
Advanced skiers who are in town for several days should also check out Ski Utah's $395 Interconnect Tour which links together six resorts around Park City in a single-day adventure. It's not a ski-touring trip: remarkably little bootpacking, and side-stepping is required, given how much terrain you cover. But you do need to be fit and able to ski ever-changing off-piste/backcountry snow. This video will give you a good idea of what's required.
Add all those pluses up and you get a resort that works really well for mixed groups – especially those who fancy spending the odd night out on Main Street. Given how easy the transfer is, you can't help feeling Park City has a bright future as a destination for 20 and 30-something skiers from New York City and Chicago.
Are there any downsides? Yes, a couple. The first is the underwhelming scenery. With the exception of Jupiter Peak and Jupiter Bowl, at the southern edge of the ski area, the peaks look more like hills than mountains, and many of the home runs overlook the suburbs of the town. In the old Canyons sector, a policy of selling slopeside land for development means you ski amongst the second homes of the super-rich.
Of course, stunning scenery – or lack of it – is not a big deal if you're loving the way you ski: and for many the quality of the terrain will more than make up for the lack of mountain splendour. But if soaring peaks – or a sense of wilderness – are your thing, Park City is not for you.
The second downside is a shortage of wide-open freeride terrain above the treeline. Jupiter's Bowl, McConkey's Bowl, Pinecone Ridge and and Ninety-Nine 90 all offer tantalisingly sweet turns, on properly steep slopes. But by the standards of, say, Vail's Back Bowls, or Chamonix in France they're over all too quickly, and then you're down amongst the trees. That doesn't mean you need to stop skiing of course: but if you're looking for wide open spaces in which to make your powder turns then Snowbird and Alta will serve you better.
---
---
A Short Guide to the Skiing in Park City
Park City is not one of those ski areas that gives up its secrets easily. As concertina-ed as a a crumpled piece of cardboard, its dense array of ridges, peaks and valleys hides all kinds of treats – and you'll see almost none of 'em when you stand at the bottom of the lifts, first thing in the morning. At times even the locals can seem flummoxed by its intricacy – especially on the Canyons side. Even on a Saturday, whole sectors of it are more or less deserted.
That's undoubtedly a good thing. After all, everyone likes an empty trail. But it's worth noting at the outset that this is an area that rewards careful study of the trail map. Pay attention and it will serve up some top-notch terrain for a wide range of skiing abilities.
Here's what's on offer…

Lots of variety for advanced skiers
Feeling salty? Then Park City will be right up your street. It's home to steep, fall line trails…
LOTS of tree skiing…
LOTS of bump runs…
And open powder fields along the higher ridges and peaks (provided there's fresh snow of course).
Okay, so by the standards of the Alps, the individual runs are fairly short: but ski for a couple of hours in almost any section of the resort, and you'll be dazzled by the variety of advanced terrain on offer. All things considered, it's the resort's strongest suit. Keen, athletic skiers, who want to stretch themselves in lots of different directions, will have a ball.
A highly-rated scene for freestylers
Park City has long been a freestyle hub – and no wonder given there's a city of over a million people just down the road. The commitment to the providing world-class parks has continued now that Vail Resorts is in charge: and there are seven terrain parks dotted round the resort. There's also a gargantuan 22ft superpipe – built to Olympic standards. Make sure you're on top of your game if you plan to hang out there. The standards set by the locals are very high.
Oh yes, and there are several natural half-pipes, which can be a lot of fun, too…
13 of the best intermediate pistes in Christendom
There are intermediate-level pistes/trails scattered about all over the place in Park City, and the resort reckons it grooms around 120 every night. But the resort doesn't feel like a must-ski intermediate destination until you get to the sector called King Con. Here, 13 sublime groomers peel off from a trail called King Con Ridge – and offer one of the most ego-boosting skiing experiences in either the Rockies or the Alps.
Spend a morning diving down them, one by one, and by lunchtime, you'll think you're Ted Ligety. Of course, you won't look like the America's most exciting ski racer (who grew up in Park City). But that's not the point. It's the feeling inside that counts. Your blood will be fizzing.
Once you've ticked those off, you'll feel like you're ready for anything. Don't go throwing yourself down a single black-diamond run just yet. But you might like to try the "more difficult" double-blue trails on the map. Comstock in McConkey's bowl on the south-eastern edge of the ski area, and Sidewinder under the Tombstone Express chair in the Canyons sector are both gorgeous. And then…well it's time to book yourself a little tuition and start thinking about life beyond the groomers.
A top-to-bottom run for beginners
There's a great nursery slope half way up the mountain in the Canyons sector at the top of the Ride Pine gondola: broad, gentle and easy to get to, it's usually blessed with good snow. If you're a first-timer, staying for only a few days, then this area will serve you really well. It's worth booking your accommodation in the Canyons sector as a result.
The problem comes when you want to progress further. There's a distinct lack of long easy trails on this side of the ski area. So if you're staying for more than three days, make the Park City Base Area your home. On this side of the ski area there are nursery slopes at the bottom of the lifts, and then an impressive top-to-bottom beginner trail, Homerun. It gets busy at the weekends: as a lot of other trails feed into: but on quieter days it'll give beginners a huge confidence boost the first time they ski it.
Little Cottonwood Canyon is the place for true experts, but…
…they need to pray for snow. Utah has a reputation for superb powder snow: and the best place for an expert skier (or advanced and expert snowboarders) is in Little Cottonwood Canyon. Here, two resorts, Snowbird and Alta have the highest snowfall averages in the state (12.70m and 14.22m respectively) as well as gorgeous and varied off-piste terrain. What's more, as is the case throughout the US, all the slopes within the resort boundary are protected against avalanches. So, once the avalanche-safety teams have done their blasting you can go where you like. For European skiers and snowboarders especially, riding here after a storm is a delirious go-anywhere, try-everything experience, complete with odd face-full of snow (aka the legendary Utah faceshot).
But – and this is a big but – these kind of powder-junky pilgrimages do come with a risk attached. It doesn't snow every day – and if you're skiing Snowbird and Alta in the middle of a dry spell, you'll wonder what the fuss is about. Both resorts are very quiet at night, and the on-piste skiing is fairly limited. To hedge your bets, you might want to stay in Park City instead, so you'll have lots of trails to ski if there's no fresh powder: and get ready to jump in a 4WD hire car to Little Cottonwood Canyon if it does snow. (Or join one of the Interconnect Tours.)
---
---
Park City Ski School
As with all North American ski resorts, the lift company also owns the ski school – in this case the Park City Ski and Snowboard School. And in common with most American ski schools, prices are high, compared with the Alps.
One day's private tuition is priced at $899. For a full day with an instructor at a top-notch independent school in the Alps you'll pay €450.
On the plus side, standards are excellent. In America, it's rare indeed to find the kind of crusty old instructor who still pops up now and again in Alpine ski schools: the kind who skis like a god but isn't really interested in teaching, and whips through the drills without noticing if his pupils are improving, or not. Here, instructors are trained to be flexible in their approach and to understand that not everyone learns in the same way, and they'll adapt their style according to their pupils' temperaments. What's more, most of them are relentlessly upbeat and encouraging: which is exactly what you need from a ski (or snowboard) instructor.
It's also worth bearing in mind that class sizes for group lessons are small. For 4-6 year olds, the maximum class size is four, and for 7-14 year olds it's five.
---
---
Where to Stay in Park City
Let's not forget that Park City has been formed from two ski resorts. So it's no surprise it has two entirely separate accommodation areas.
Actually, make that three. The first, as you drive up from Salt Lake City, is the bed base of the former Canyons resort, called Canyons Village. It's a tight little gathering of ski-in, ski-out hotels and condo complexes, which is now acquiring a ring of satellite hotels a short drive from the slopes. It looks and feels like many purpose-built Rocky-Mountain ski resorts, albeit a little smaller than usual.
There are a couple of good restaurants here: but the nightlife is subdued. This is where you stay if you want quick access to the generally more challenging terrain in the western half of the ski area, or if ski-in, ski-out convenience is more important than nightlife. It's the best base for families with young children too, who'll be much more interested in an early bed than a buzzing bar.
Then, on the edge of Park City's town centre, lies Park City Base Area: there are a several hotels and apartment complexes here, which are ski-in, ski-out (or near as damnit) – but as a base area it's less developed than Canyons Village, and has even less atmosphere at night.
That said, you're only a 15 minute walk from the bars and restaurants of Main Street, and both the best terrain park and the best beginners and intermediate trails are nearby too. So it's a good compromise for those who plan to go out on several evenings, but still want to be first up the mountain in the morning.
Finally, there's the heart of Park City Town, where you'll find B&Bs, serviced condo complexes, and private house and apartment rentals, as well as a few hotels. They tend to cluster around the town lift, which starts from the bottom of Main Street, and is served by the Creole and Quit N Time intermediate trails, which peel off from the main ski area. The lift is slow (and surely due for an update): but this is where night owls should base themselves. Book a year in advance if you want to stay here during the Sundance Film Festival.
Canyons Village Accommodation
Grand Summit Hotel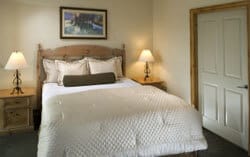 Go to sleep with one foot in the snow.
The Grand Summit isn't perfect. The décor is a bit old-fashioned, and the breakfast room needs some more windows. But by way of compensation you get one of the best ski-in, ski-out locations in North America – right next to the Orange Bubble Express and the bottom of the home run, Doc's Run. Almost everything is on the doorstep (including two good restaurants), and if ever you need a change of scene a shuttle bus will whisk you from the front door up to Main Street, Park City for an evening out. Just as welcome is the sense of space: the rooms are HUGE.
The Sundial Lodge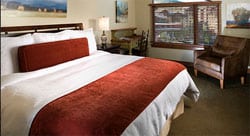 Good location, refurbished rooms
The location doesn't quite match the Grand Summit, but it's not far off. Sundial Lodge sits just across the main plaza in the resort village – so it's handy for buying your lift ticket, sorting out ski hire, and popping out for one of Murdock's mighty breakfast bagels. It's almost ski in, ski out, too – although the Red Pine gondola is closer than the Orange Bubble Express (the latter is the base area's key lift).
Inside, the rooms aren't quite as vast as the Summit Lodge, and the only the suites have full kitchens, but the décor was spruced up in a 2012 refurb, and most groups will be more than comfortable here.
Waldorf Astoria Park City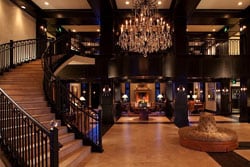 When luxury matters more than convenience
Baccarat chandeliers in the lobby and a Veuve Cliquot ice bar on the sundeck set the tone at this oh-so-upmarket property. The Waldorf Astoria even has its own ski lift – the Waldorf Gondola, to whisk you from its ever-so-slightly-out-of-it location up to the key Orange Bubble Express lift.
All of which is very lush and pampering. What's more, the ritzy, art-deco décor in the bedrooms is refreshing change from the log-cabin aesthetic of many ski hotels. But on a brief visit for lunch here recently Welove2ski thought the service a bit hesitant and unpolished for such a high-falutin' resort. This may have been fixed already: but even if it has, we'd rather stay in the Grand Summit Hotel. If skiing's your priority, it can't be beaten.
Hyatt Centric Park City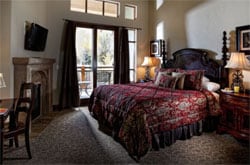 Slick resort which is almost ski-in, ski-out
The Hyatt Centric Park City is set to one side of the village centre: so it's not quite as central as the Sundial or Grand Summit, above. But it sits next to the Sunrise chair and the bottom of the Retreat trail so it's ski-in, ski-out. The service gets rave reviews, too.
Park City Accommodation
Hotel Park City
A short drive from the slopes. But worth it
You need to drive, or ride the free shuttle bus to get to the slopes, but that's never dented Hotel Park City's popularity. Part of Marriott's upmarket Autograph collection, it wins over its guests with big rooms (all of which are suites), private cottages, lush bed linen and the highly-rated Ruth's Chris steakhouse. (If you fancy some red meat after a big day on the hill, it's a must.) Charming service and an in-house spa add to the deep sense of comfort.
Marriott's Mountainside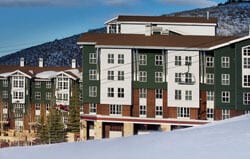 Ski-in, ski-out property within walking distance of Main Street
Marriott has a big presence in Park City, and the Mountainside is its ski-in, ski-out property. It's also only half a mile from the High West Distillery in the middle of town. So you're never far from a shot of American Prairie Bourbon if you've got something to celebrate. Some Tripadvisor commentators have complained about the small double rooms, but at 27sq metres, they're a lot bigger than you'll get in most hotels in the Alps at this price.
Silver King Hotel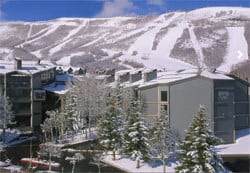 Loads of space in these condos, which are close to the slopes
The Silver King may look a little dated: but it's only a five-minute hobble in your ski boots from the nearest lift, and guests love the sense of space. The starting size for a studio suite is 53m2 – and with that you get an open fireplace, kitchen, washing machine and drier. The apartments and suites are all individually-owned and furnished, with varying standards of décor: book one of the deluxe-category suites if that worries you. The property also has its own indoor/outdoor pool.
Main & SKY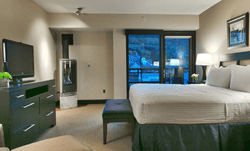 Spacious and upmarket apartments near the town lift
Two blocks from the town lift, Main & SKY is where you stay if you like your rooms big and chic, and you want the bars and restaurants of Main Street on your doorstep. This is essentially a complex of apartments, rather than a five-star hotel, which bothers some guests, but it does have a good spa, and a decent gastro-pub (aka "artisan tavern") attached for informal dinners. The suites and residences get rave reviews. All have gas fireplaces, and some even have their own pool tables.
---
---
Where to Eat in Park City
Europeans take note. The restaurants in Park City are much better than they are in your average North American ski resort.
That's not to say it can compete yet with the likes of the Dolomites in Italy, or Zermatt in Switzerland when it comes to mountain restaurants. But the gap is much narrower when it comes to eating out at night.
Mountain Restaurants in the Park City ski area
Before the merger of the two resorts, Canyons was the better ski area for on-mountain dining, and the distinction lives on – thanks to the Lookout Cabin and Cloud Dine.
Lookout Cabin sits next to the mid-station of the Orange Bubble Express lift's mid-station so it's not hard to find. It's where you go for a proper, sit-down lunch that lasts until the lifts close – think pork loin, short ribs, and salmon. Meanwhile Cloud Dine does pizzas and calzone, cooked to order in its own pizza oven. They'd be delicious anywhere: but at 9,270 feet, with a dusting of fresh Utah snow on the ground, and the next run through the Aspens calling, they seem miraculous.
Meanwhile, over on the Park City side of the ski area, the best lunch comes courtesy of the family-run Silver Star Café. It's at the bottom of the most neglected sector of the ski area, under the Silver Star Lift, and serves home-made pizzas, burgers and inventive salads to an appreciative audience. There's a sundeck too, and live music in the evenings at weekends.
On this side of the mountain, you also have to stop at least once in the Mid-Mountain Lodge for an essential Utah rite of passage: its meatball sub. It's an impossible-to-eat, heavyweight slam-dunk of a sandwich that's so filling it will leave you immobile for a good 30 minutes once you're done.
Restaurants for Dinner
There's no doubt where the quality is in the two base areas. The Farm – opposite the Red Pine Gondola in Canyons Village – was named "Best New Restaurant" in Utah in Salt Lake Magazine a couple of years back, and thoroughly deserves its reputation (they do a superb slow-cooked pork loin). However, you can also eat well (although at a less exalted level) at the Redtail Grill next door. Here, the big salads are the standout items on the menu.
But even if you're going to stay in Canyons Village, you'll want to eat out at least once in Park City itself. This is the beating gastronomic heart of the area, and has a cheerful, upscale-but-not-stuffy atmosphere. Try Handle for small plates and creative cooking, El Chubasco for good, affordable Mexican, and Riverhorse on Main for a budget-busting celebration.
An essential stop is the High West distillery, just off Main Street: but be sure to book before you go. The main dining area, which was once a livery stable, is a big, buzzing room, and the food's good: but real reason for coming here is to sample the whiskeys they distill on-site. So after the first hour or so you're not going to care much what's on your plate…
---
---
Apres-Ski in Park City
In Canyons village, the bar at the Red Tail Grill – at the bottom of the Orange Bubble Express – is a fun and friendly place to be on a football night. Meanwhile at the Park City Base Area, the Legends Bar and Grill is the place to toast a good day on the mountain.
However, both base areas are subdued by ski-resort standards, and most people save their apres-ski for Main Street. It's easy to get to (many outlying hotels run shuttles into town after dark) and the place buzzes on a Friday and Saturday night, when Salt Lake City comes out to play. Among the highlights are O'Shucks (for its spit-and-sawdust atmosphere) and the loftier, more civilised No Name Saloon next door. But there's no need to be picky. Just walk up and down Main Street for a few minutes, and it'll soon become clear which bar is flavour of the month.