In a Nutshell
Yes, it's small. But it's high and north-facing too – and the lift company keeps the pistes in superb condition. Nobody comes here, except school parties and locals, and the accommodation is cheap. In other words, this is a great place for a bargain-basement three-day break.
The Stats
Altitude: 1800m
Lifts: 12 in area
Top lift: 3000m
Ski area: 70km of piste
Adult lift pass: 199€ for six days


Official Site |

Ski Map |

Webcam
Essential Advice for the Perfect Trip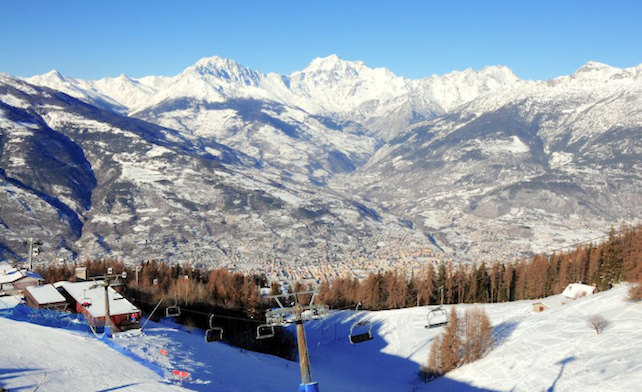 If you'd asked us our opinion of Pila we'd just shrug out shoulders. "Bit small, bit lifeless at night," was all you'd have got. But if you are lucky enough to come here after a fresh dump of snow, you will change your mind. It really wakes you up to the qualities of the place: the immaculate pistes, the wide open bowls, and the fact that midweek, hardly anyone is there, apart from swarms of school kids – who never get much further than the nursery slopes. You then realise what a great short-break destination it is. Pila is just a 90-minute transfer from Turin. Time your arrival correctly – to coincide with another storm like ours – and you could have an epic two or three day trip.
In fact, even if you time your arrival badly, you'll still have a fine old time skiing on-piste. Pila is high, cold and north-facing, and has good snow-making facilities too. It holds its snow really well, and when there's no powder it's a great place for cruising about at speed.
Great pistes, low prices, and ideal for a short break
Oh yes – and did we mention how cheap it is? Just don't expect any nightlife – the village at the base of the lifts is purpose-built, and feels unfocused and half-done. It has none of the charm of its neighbours in the Aosta Valley, Champoluc and Courmayeur, and mid-week is very quiet. It's only at the weekend that you'll see any action – so bring your own entertainment, in the form of a group of friends.
There is an alternative view however, and that is not to stay in Pila at all, but in the city of Aosta. On the plus side, Aosta is one of the most attractive places you can stay while skiing: it has been the regional capital since Roman times, so has more history and attractive buildings than most other European ski resorts combined. It also has plenty of bars and restaurants and, if you are planning to visit other resorts with a car, is right next to the autostrada which runs up the whole valley.
On the minus side, you will need to take a long telecabine ride up every morning, which adds 20 minutes-plus, once you have taken into account getting from your hotel to the base station. But people who have stayed in Aosta once tend to keep staying there, but only you can say if a promenade up the beautiful pedestrianised centre to a nice restaurant is worth the long cable-car ride the next morning.
---
Guide to the Mountain
Pila has beautifully-groomed pistes which, mid-week especially, are all but deserted. However, given there are only 70km of them on offer, we wouldn't counsel coming here for a full week. A short break will do the trick, UNLESS you're confident and competent enough to have a crack at the unpisted bowls higher up. Not many people ski them, and if they're open you'll find powder here days after a dump.
The only problem with the nursery slopes is the amount of traffic
There's lots of easy beginner's terrain here, but the problem is, it's often full of beginners, as British tour operator Interski runs a very successful business here, bringing in school parties from the UK. We'd suggest going somewhere else to learn (unless, that is, you're on one of those school parties).
Intermediate skiing is what it's all about – the lure of wide-open pistes. Midweek they're all but empty and we rate them amongst the best in the Alps. On a short, sharp, three-day break here, you'll have a blast.
Our favourites are the two reds, on the skier's right of the resort – Red 2 and Red 3, accessed from the Chamolé chair. There are big queues here mid-morning and after lunch, so ski these runs hard first thing and then again while everyone's at lunch. Then, mid-morning and after lunch, move higher up the resort.
Another thing to love about Pila is the price of private, one-on-one ski lessons. Here, they cost roughly half the price of the cheapest equivalents in an A-list French resort. Private tuition can make a considerable difference to your skiing – at this price, you can't afford NOT to try them.
A lack of frequent snowfalls
If you do luck into a storm, you'll love this place – and love the fact that no-one else seems interested in skiing the powder. But beware: all those inviting bowls at the top of the resort are very avalanche-prone – you might want to hire a guide to help you explore them, which in Pila is cheaper than most resorts we know, through Pila's ski school.
This isn't really an expert skier's destination. But if, say, you were passing, or you were staying in nearby Champoluc-Gressoney, and all the powder was skied out – then you could nip over to Pila and have a lot of fun up high. Bear in mind, also, that the hugely-underrated, and underpriced, heli-skiing in Valgrisenche is near here.
Unusually for an Italian resort, there's a terrain park here – home to a substantial half-pipe, and two lines of kickers, plus a separate line of rails and boxes.
---
Where to Learn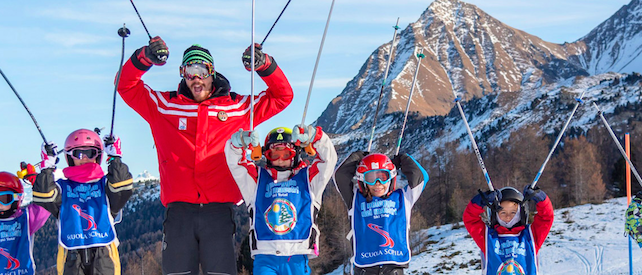 As is often the case in Italian resorts, group lessons are priced very close to the European average. Private classes in Pila are, by contrast, dirt cheap. You can get a one-hour private lesson for half of what you'd pay in the A-list French resorts. Having this kind of close personal attention (provided your instructor can speak good English), is going to make a huge difference to your skiing and your experience of the holiday – and you'd be mad not to try it out at least once. Bear in mind this is also a great resort to try out your own ski instructor credentials – if you've been on one of those gap-year learn-to-be-an-instructor courses.
Interski runs a snowsports school for seven to 15 year olds, and nine-week BASI gap year courses. Children from birth up to 12 years are looked after and entertained at the Mini Club, which is located near the Pila Ski School chalet. It also offers ski tuition for older children. Younger ones from the age of four will enjoy the Play and Learn Ground, a snow playground with colourful games and a magic carpet lift. The Kids Adventure course has jumps, dips and moguls to help them get to know the area, and there's even an interactive map.
---
Where to Stay
Lion Noir Hotel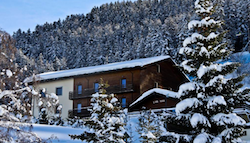 Lion Noir Hotel is a cheap and unpretentious piste-side hotel. 
For a budget break in Pila, you couldn't find a better base – a three-star hotel which is virtually ski-in, ski-out. From here, it's only a 20-second ski down to Chamolé lift – which means you can get in a couple of laps on the best pistes (Red 2 and Red 3) before anyone else arrives. The style isn't exactly cutting-edge, but the staff are great, and there's an indoor pool too.
Hotel La Chance
Another hotel in Pila is La Chance, a converted barn containing modern bedrooms, a restaurant which has a gastronomic menu, bar, a spa and a children's playroom. The contemporary design is mixed with local materials such as wood, iron, and stone. Rooms feature elegant parquet floors an some have views of Mont Blanc.
Hotel Europe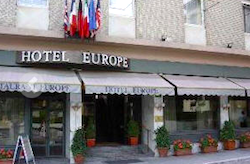 Hotel Europe is
 down in the town of Aosta, and the main attraction is the central location, just 100m from the main square and about a 10-minute walk from the cable-car (or two minutes' drive to the free car park). The hotel has all the right facilities, but it is a bit faded and the food is not exceptional – you can do better in local restaurants. Most visitors reckon it is really a comfy three-star hotel.
Duca d'Aosta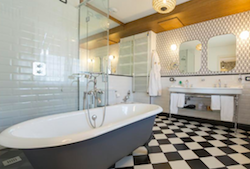 In Aosta, try the Duca d'Aosta. Set in the historic centre of Aosta, it is just a kilometre from the Pila cable-car. The hotel has a historic brick facade, and the retro-style rooms come with oak floors, and either designer bath tubs or stone showers.

We've also had bargain breaks at the four-star Express Aosta Holiday Inn (zero romance, but big rooms, decent beds and a fairly central location).
---
---
Where to Eat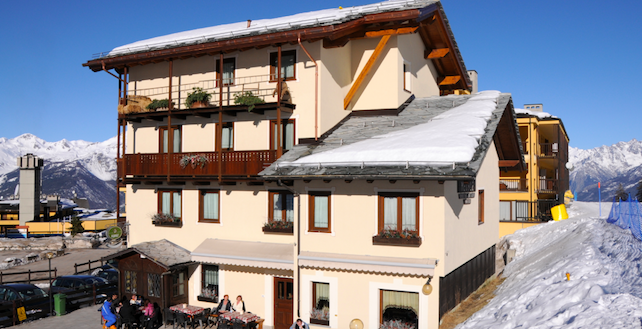 After the ugly base village, Pila's mountain restaurants come as a welcome surprise. We like the cosy, cabin-like Baraka at the top of the Chamolé chair-lift, and La Chatelaine (+39 0165 521592) on blue 5, the La Nuova piste.
Also opposite the La Nova chair is the Hermitage (+39 0165 521002), which looks like a rather unpleasant fast-food joint. In fact the food inside is astonishingly good and it has become the favourite pit-stop for local racers and instructors. Try the local Suppa Valdostana – a vegetarian meal in its own right.
The resort itself has ten restaurants, which are mainly pizzerias. Pizzeria Taboni (+39 0165 521167) is for plain home cooking, and Brasserie du Grimod (+39 328 2919275) also serves pizzas. Les Fleurs is a rare exception and serves traditional Valdostana cuisine, which is originally presented. Lion Noir Hotel has a restaurant in an atmospheric room with rough stone walls.
Where to Party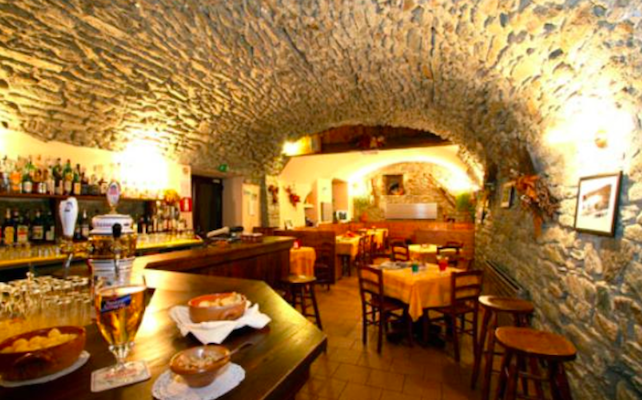 What nightlife? That's the question most people would ask, coming back from Pila. However, if you go out on a Friday night, you should find weekending Italians liven the place up. The resort of Pila has a very Italian flavour, with a range of shops, bars and restaurants to visit. Gallagher's Irish Pub is probably your safety net. Though the idea of drinking in an Irish pub in the Italian Alps is a bit depressing. La Niche (+39 348 383 8051) is the club of choice. Non-skiing activities include skating on the natural ice rink.
Adding Aosta into the equation gives you a lot more choice, as it is a proper town rather than a ski resort. Here you will find shops, bars, clubs, a cinema, theatre and lots of cultural events. You can also visit the well preserved Roman remains and a Roman theatre. The Old Distillery Pub is British-run and a popular place to go in Aosta. Bands and DJs produce a mix of music, which often results in dancing on the tables and jumping off barrels.