In a Nutshell
The 270km area puts Skicircus Saalbach Hinterglemm Leogang Fieberbrunn in ninth position on the world charts and the Fieberbrunn sector gives the otherwise mainly intermediate area a lot more off-piste opportunities.
The Stats
Altitude: Fieberbrunn 790m, Leogang 788m, Saalbach/Hinterglemm 1003m
Lifts: 70
Top Lift: 2100m
Ski area: 270km of piste
Adult lift pass: 263€ for six days


Official Site |

Ski Map |

Webcam
Essential Advice for the Perfect Trip
Set in a long, forested valley called the Glemmtal, Saalbach and Hinterglemm are girdled by a circuit of steepish, intermediate-friendly pistes, and are linked to the Tirolean resort of Fieberbrunn to create a total 270km of piste. Fieberbrunn is more of a family resort in comparison, with some excellent freeriding that adds to the overall terrain in a very beneficial way. The resort is one of the venues for the Freeride World Tour in March.
When the snow's good, the valley makes a great destination for an energetic group of skiers who want to ski pistes all day. The skiing is not easy, exactly – many people find the reds and blues here steeper than in other resorts. But you don't have to be able to tackle powder or moguls to get the best of it.
The only real problem can be the altitude. Almost all the skiing is below 2000m. While that makes for a softer, prettier landscape than the high-Alpine resorts, it can make the snow-cover less reliable.
The PillerseeTal area, of which Fieberbrunn is the major player, also includes the separate resorts of Hochfilzen, St Jakob in Haus, St Ulrich am Pillersee and Waidring.
---
---
Guide to the Mountain
Favourite pistes in the immediate Saalbach area are those around Hochalm peak, which is perfect for carving. The best spot for catching the sunset is in the Kohlmais area. If you want to challenge yourself, we recommend the black pistes on the Zwölferkogel peak's north face or the Schattberg peak's north descent.
Overall, the skiing is ideal for adventurous intermediates who want to feel that they are travelling somewhere each day rather than skiing the same stretch of mountainside over and over again. Beginners are also well catered for, with nursery slopes in all four resorts.
The main circuit is made up of blue and red-rated pistes that are a little steeper than average, and there are a few proper blacks too – notably from the top of the 2020 Schattberg Ost back into Saalbach. Called the Nordabfahrt, it drops through 1000 vertical metres and faces north (so holds its snow well). It's wide and usually groomed too, and when it's not icy it's the perfect place to build your confidence on something steeper than normal. By the end of a week's holiday here, most intermediates should be skiing it comfortably.
What's more, few areas in Austria can match the modern lift system, which is being continuously upgraded. This includes the Tirol-S 10-seater gondola to Fieberbrunn in Tirol, which creates a giant 270km ski circus from the four medium-sized resorts – ideal for intermediates looking to put big mileage beneath their feet each day. A piste of 3.5km with a vertical of 780m was consequently created, with top-to-bottom snowmaking. Two gondolas access the ski area from the Fieberbrunn valley.
It is also linked from Zell am See to the valley beneath from where you can take a five-minute bus ride across to Saalbach's ski area.
Those who like skiing fast on steepish pistes will love it
Sounds perfect, doesn't it? Well, if you luck into a good, cold, snowy winter, and you're not looking for oodles of off-piste, you'll have a ball. But if it's warm and sunny, you'll find that the slopes on the northern side of this long valley (which face south), degrade rapidly.
So if you're looking for really good-quality on-piste skiing, then make sure you come in the middle of winter, or book your holiday at the last minute, when you know the snow will be good. Oh yes, and don't forget to make the detour down to the village of Leogang, in the next valley north of Saalbach: the runs are north-facing, so they hold their snow well, and they're much quieter than the main circuit.
As with everything, the early bird catches the worm. It's really one of the most impressive things to be the first skier on the slopes, so I would recommend taking the first lift at 8.30am – or 8.00am in the spring. If temperatures are getting warmer, start on south-facing slopes in the morning and change after midday to the north- or west-facing areas to benefit from the best slope conditions possible.
Some pretty good descents
When the snow is good, there are nice powder runs above the tree-line right along the valley – and some very pretty descents into the valley (you'll need a guide to show you where they are). Favourite descents include the area around the Wildseeloder peak or the Hochhörndlerspitze peak. There are also cool spots on the Schattberg, especially at the north and west face.
But until recent years, this wasn't a hard-core off-piste destination. However Fieberbrunn improves the skiing dramatically, adding some impressive terrain to the area around the Wildseeloder. Due to the lift connection there is a fabulous area for freeriding on the north faces of Hochalm and the Reiterkogel peak.
But Fieberbrunn itself is no newcomer to the freeride scene (along with the likes of Chamonix and Verbier): each year 4,000 people come to watch the Freeride World Tour here.
Freestylers have a choice of a terrain park immediately above Hinterglemm and a second, better park above Leogang. There's also a skicross course above the village of Vorderglemm. These provide interest when the powder has gone. So more competent freestylers will enjoy themselves, whatever the weather.
The 12er Express gondola in Hinterglemm connects the Zwoelferkogelbahn with the area beneath the base station of the Westgipfelbahn. The Oberschwarzachlift also upgrades to a double button-lift.
Steinplatte Waidring – Winklmoosalm ski area is separate from Fieberbrunn, and is a family-friendly ski area located on the borders of Tirol with both Salzburg and Bavaria. It has 42km of piste, which are mainly easy to moderately difficult. The Triassic Funline in Snowpark Steinplatte, at 1.5km is one of the longest in Austria.
---
---
Where to Learn
Fieberbrunn runs S4 snowsport Fieberbrunn has regular ski school classes and freeride courses for adults and juniors. Skischool Fieberbrunn was one of the Tirol's first ski schools – founded in 1933. The village has two nursery slopes in the valley and one up on the mountain at Streubödenalm. Skischool Fieberbrunn has Bobo Park, which provides a safe environment for kids to learn. There is organised childcare in Sporthotel Fontana.
Saalbach has half a dozen competing schools, while Hinterglemm has two and the hamlet of Vorderglemm just one. The continued survival of all of them gives an indication of the popularity of the Glemmtal during the main holiday period. A reporter recommends Snow Academy: "My children had a fantastic time and learned to ski with the Snow Academy who were really good, and had them up the mountain on the second day. They had three days of ski school and were then good enough to ski with us the rest of the week". Others include easySki, Board (snowboarding only), and Ski School Saalbach: "Highly recommended for instruction and guides," said one reporter.
In Hinterglemm, there's Activ, and Snow and Fun which has an enduring reputation. Off-piste guiding is available through Sepp Mitterer (+43 664 2420236). In Vorderglemm you can take lessons with Skischule Heugenhauser. Hinterglemm is slightly better suited to beginners than Saalbach, with a bigger novice area set safely away from the main slopes. Saalbach's nursery slopes are located right by the main street.
As Saalbach is one of the partying capitals of the Alps, it's not really a place to bring small children. Nevertheless, in Hinterglemm you will find creches at both Hotel Lengauerhof and Hotel Glemmtalerhof.
Other activities for families in the area include snowshoe hiking (with special tracks in Leogang), paragliding, a designated toboggan run, horse-drawn sleigh rides, and 80km of cross-country loipe. The bobsleigh track is reached via the Asitz cable-car and is open on Tuesdays and Fridays.
The Buchensteinwand in St Jakob in Haus – or the Buach as it is known by locals – offers the most manageable skiing, with 20km of piste and eight lifts. The Pletzi-Bär-Kinderpark in the valley features a magic carpet. A little bigger and just a few kilometres away is the Steinplatte Waidring – Winklmoosalm ski area with wide slopes that make it an ideal family destination.
---
---
Where to Stay
One thing before we start. Saalbach town centre is compact, but the outskirts of both Saalbach and Hinterglemm run along the main valley road, as does Leogang which is a long, rather straggly village – with the advantage of being in the heart of the ski area. They're well served by the skibus but, all the same, all that shuttling about to get to and from the lifts during the day – and in and out of town at night is going to be a pain. If you do stay out of the centre, make sure that fact is reflected in the price.
Here are some that are convenient for the lifts:
Art-Hotel Kristiana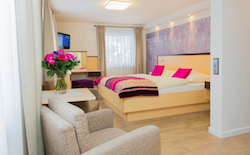 Art-Hotel Kristiana is 200m from the centre and lifts. The family-run hotel has typically Tirolean public rooms, a modern spa, and its rooms are lifted by an interesting modern art collection. "The most hospitable and friendly family hosts/owners you could wish for, comfortable and clean rooms, plenty of hot water and truly excellent food," said a reporter. During March, early December and also in the summer you can join watercolour classes held in the hotel's art studio.
eva,village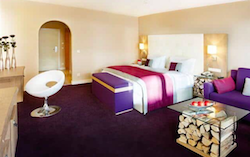 eva,village is in the pedestrian zone and less than 100m from the lifts. It has a refreshingly modern lobby, as well as a fabulous spa and wellness area. "It was terrific, if a little pricey," said a friend of ours who was in town recently. "The food and ambience were first class, as was the wellness centre." Another reporter said: "Great mix of contemporary and traditional design. Great staff and excellent service. Will be coming back."
Alpinresort Sport & Spa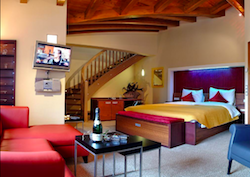 Alpinresort Sport & Spa has a super-relaxed atmosphere. "The hotel was superb, food, cleanliness, spa area and rooms couldn't have been better," said a reporter. Make sure you stay in one of the modern, revamped rooms. Another says: "We stayed in a fantastic room with Jacuzzi bath, walk-in shower, good wine rack, plasma TV, iPod docking station, hot tubs outside, and great food. I'd definitely stay there again". The hotel is located on a quiet, private road a short walk from the Schattberg X-press lift.
Theresia Gartenhotel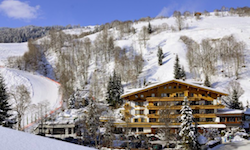 Theresia Gartenhotel is situated next to the ski-lifts, slopes and the ski school meeting place. It boasts sleek public rooms on the ground floor, and a bewildering variety of rooms upstairs – the full range of recent styles of interior design in Alps is on offer here. The latest have a sharp, contemporary feel. The hotel has won awards for its use of organic produce, and is family run to a high standard.
Art & Ski-In Hotel Hinterhag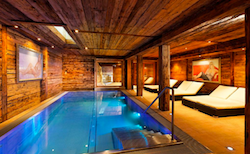 Ski-in ski-out is Art & Ski-In Hotel Hinterhag is an attractive hotel above Saalbach that's built from glass and reclaimed wood. The exterior style continues inside the hotel, along with paintings and sculptures by owner Evi Fersterer and other international artists. Fersterer's Mirror Tree is focal point of the lobby. The hotel also has two good restaurants, and a lovely swimming-pool and wellness area. The hotel's own mountain restaurant, the Hinterhag Alm, is a few metres away from the hotel.
Hotel Lengauerhof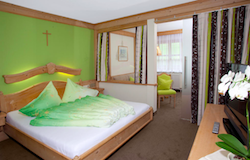 Hotel Lengauerhof is in Hinterglemm and is known for its kids' club. Bedrooms are spacious with balconies, and there are family rooms with cots and other baby equipment provided. The spa area features a sauna, steam bath, and fitness room. Massages, Ayurvedic treatments and yoga are also offered.
Hotel Glemmtalerhof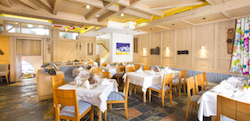 Hotel Glemmtalerhof has a modern design and comfortable accommodation. It is situated right in the centre of Hinterglemm, less than 100 metres' walk from the Reiterkogelbahn cable-car. Rooms have balconies with mountain views, there's a spa area with an indoor pool, an in-house creche, and the hotel restaurant serves local specialities.
Good value choices
Chalet-Hotel Christina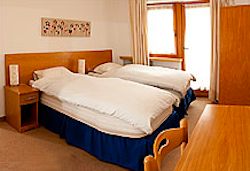 For those looking for somewhere good value to stay, try Ski Miquel's Chalet-Hotel Christina. It's British-run and the rooms are comfortable (all are en suite) if not super-luxurious, with good food served at large dining tables. It would make a great place to stay for groups or for sociable couples.
Steinachhof Youth Guest House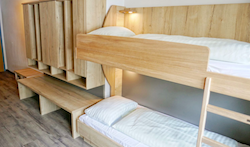 For those on the tightest of budgets, you could stay at the Steinachhof Youth Guest House right in the middle of town and is equipped for school groups and self-caterers, with practical, no-frills rooms that are popular with younger skiers. You can also stay here on a half-board or full-board basis.
Further away, but worth it
If you'd rather not be right in middle of the lively town (especially during high season), there are a few good choices.
Alpin Juwel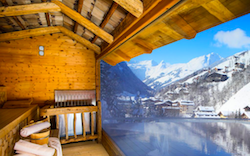 Slightly further afield, the Alpin Juwel hotel has an Ayurvedic spa, an outdoor heated infinity pool and hot-tub, plus a large roof terrace. The hotel's two-storey adventure world offer lots of games, a children's cinema, a big playroom and professional child care. The hotel also has a lift taking you to the centre of Hinterglemm.
Holzhotel Forsthofalm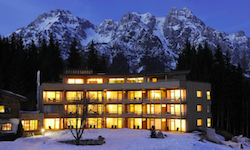 Leogang is a completely separate village, sharing the ski area. The surprising eco-hotel Holzhotel Forsthofalm started life here as a restaurant with rooms, but it has been transformed into a most unusual hotel. Created entirely from wood – without any glue or metal, it blends perfectly into its setting. There are large, modern bedrooms and suites, a rooftop spa with outdoor pool, and two restaurants.
Hotel Riederalm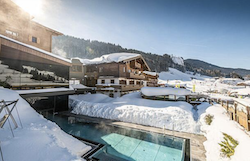 Family-run Hotel Riederalm in Leogang is very convenient for the skiing. It's right at the edge of the piste and close to the main gondola. The modern hotel has a good indoor-outdoor thermal pool and a gourmet restaurant with an extensive wine cellar. The bedrooms are light and airy, with lots of wood and glass.
The Fieberbrunn choices
The peaceful village of Fieberbrunn is the better bet for a family holiday. It's the largest municipality in the PillerseeTal area, yet it's far removed from the party atmosphere of Saalbach and Hinterglemm. Four of its hotels have children's playrooms.
Hotel Alte Post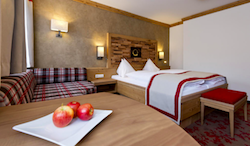 In Fieberbrunn there are several four-star hotels. Hotel Alte Post is in the village centre with the ski bus stop nearby. The family-run four-star hotel has a traditional Tirolean restaurant and a Western-style saloon. There's also an attractive wellness area with a gym, heated outdoor-pool and three types of sauna.
Hotel Chalets Grosslehen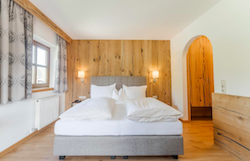 Hotel Chalets Grosslehen houses six chalets with fully-equipped kitchens, as well as hotel rooms. The restaurant serves traditional cuisine with organic produce from the hotel's own farm. Homemade pastries are served on the sun terrace. The spa area includes saunas, steam bath, and a fitness room. The property is close to the cross-country track and the Direttissima toboggan run.
Sporthotel Fontana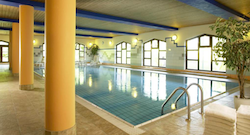 The slopeside Sporthotel Fontana has an impressive indoor swimming-pool, a playroom with childcare, morning exercise classes and massage. The hotel half-board includes a breakfast buffet with a corner featuring organic products, and dinner. The dishes are mostly prepared using local produce.
Vaya Fieberbrunn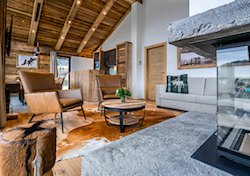 Vaya Fieberbrunn is modern and comfortable with a restaurant serving everything from classic cuisine to Mediterranean and vegetarian dishes. There's a 800sq-m spa and fitness room. Family rooms are available, and there's also a bar and a terrace.
Hotel Schloss Rosenegg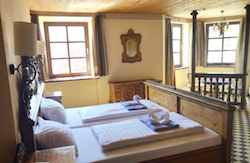 Hotel Schloss Rosenegg is a converted Medieval castle that once hosted Napoleon. The building with its turrets and thick walls was converted into a hotel in 1938 and today has rustic-style bedrooms and apartments that are full of ancient character, as well as a spa and mini club.
---
---
Where to Eat
The food is good, especially up the mountain. The ski area has around 70 mountain eateries, varying from proper restaurants and atmospheric mountain huts to the simplest of snack bars.
"Great, affordable mountain eating everywhere," was how one reporter summed it up. Pfefferalm, an ancient farmhouse above Hinterglemm, is a favourite. Rosswaldhutte, situated beside the Rosswald lift, has good food and staff in traditional Austrian costume. Sportalm (+43 6541 7972), Thurner Alm, Gerstreit Alm, and Maisalm are all recommended. Goaßstall (meaning 'goat shed') serves hearty local dishes. It receives rave reviews on Tripadvisor: "Wiener Schnitzel the size of your face and very tasty Tiroler Grostl. They also do a great Gluhwein and have a huge covered area outside with disco lights and music," was one report. The Hinterhag Alm is located on the Kohlmais valley descent, a few metres away from the hotel of the same name.
Bergstadl in the Hinterglemm area is run by Trixi and Sepp who serve all the usual traditional Austrian fare – such as Apfel Strudel and Kaiserschmarrn – with a big smile.
For something a little different from the traditional mountain hut try Hendl Fischerei in the Leogang part of the ski area. The mainly glass building has a very funky wood and glass interior. The food is mainly barbecued meat and smoked fish served on wooden plates, or the house speciality of Flammkuchen – which looks a bit like a pizza base topped either with bacon and leeks, beef strips, horseradish and dried tomatoes, a vegetarian version with goats cheese, nuts, honey and rocket, or the sweet version with berries or apple and cinnamon. You can stay here, too, if you like the idea of being up the mountain and straight onto the slopes each day.
Fieberbrunn has 10 mountain restaurants in its immediate area, including the popular Wildalpgatterl, which uses mainly regional produce and traditional regional recipes. The other mountain eateries include the traditional Larchfilzhochalm and Streubodenalm. Hochhorndlhutte specialises in homemade cakes.
Some fabulous places to dine
Most of the restaurants are in the hotels, and there are some good ones here. There are 18 restaurants in Fieberbrunn village; especially recommended are the ones in Hotel Obermaier and Hotel Alte Post (both offer Tirolean cuisine), and Hotel Chalets Grosslehen and Gasthof Hotel Eiserne Hand, both of which serve food made with ingredients from their own farm.
In Saalbach, La Trattoria Italiana (pizzas from a beechwood oven) and Vitrine (a vegan eatery) are both in the the Alpenhotel, and make a change from traditional Austrian mountain fare. Del Rossi is a popular place for pizzas and steaks.
Seppi's restaurant, up in the piste-side Art & Ski-In Hotel Hinterhag, serves delicious cuisine in warm woody surroundings. The menu includes dishes such as salmon marinated in fresh herbs, pasta with artichokes, sundried tomatoes and olives. Also try the crown of lamb, which is served with polenta, dried grapes and a light mint sauce.
In Hinterglemm we recommend the Fuhrmannstube in Hotel zur Dorfschmiede. Restaurant Kendler, in the hotel of the same name, has a rustic atmosphere; signature dishes include roast venison and sole. The Heurigenstube restaurant in Hotel Salzburg serves 'balanced, aromatic and light' five-course dinners and has a weekly themed buffet such as a Pinzgau Farm Buffet, Italian or Mexican.
Sinnreich at the Forsthofalm hotel in Leogang serves gourmet food in modern minimalist surroundings. The fabulous regional pudding, Salzburger Nockerl (a sweet soufflé) is a speciality.
---
---
Where to Party
At least half the point of coming to Saalbach is to get stuck into the nightlife. "It definitely parties hard, people were still staggering around in ski boots late into the evening," said a recent reporter.
You don't have to look hard to find where the action is. Late afternoon comes to alcoholic life in Art & Ski-In Hotel Hinterhag – on the south-facing slopes immediately above Saalbach. Then it's all down to Bauer's Schialm by the church at the bottom of the pistes, and Veltins ("basically a small tumbledown shack").
It's equally noisy at the rustic Goass Stall ("Lively atmosphere and service is quick. Loved the guy in the goat costume coming round with flyers") and Hexenhäusl in Hinterglemm. The snow bar outside Hotel zur Dorfschmiede is always busy as the lift closes.
Later on, attention in Saalbach focuses on The Alibi Bar (+43 664 1279060) and the Kuhstall Bar in the Alpenhotel. Bobby's Pub is lively and Zum Turm (+43 6541 8668) is a converted jail. In Hinterglemm the Glemmerkeller, Road King and Tanzhimmel (+43 6541 6497) attract the late-night crowd. Serious party people will also be interested in the annual Rave on Snow event which is held in mid-December, with DJs and live acts.
The Nightliner bus service operates along the valley road between the two villages until late evening and until 2.30am on Saturday nights.
Family-friendly Fieberbrunn is not a party resort and has just one nightclub, D&D Tenne, and seven bars. For apres-ski with music at the foot of the slopes, try the Fontana bar. Riverhouse (+43 5354 52313) attracts a young crowd, S4 Alm has a nice woody interior, and Biwak (+43 5354 52088) is a cool bar with music. Others include the Taverna in Hotel Schloss Rosenegg.
The resort has an adventure pool complex, a natural ice-skating rink, floodlit half-pipe and floodlit tobogganing, and offers sleigh rides, snowshoeing, cross-country skiing, a coaster ride, and hiking. winter llama trekking through the snow (children from 10 years old can join) makes for a memorable experience.
The biathlon stadium in Hochfilzen is the national team's training centre – and is also open to amateur visitors. Beginners can choose from a variety of taster packages and those who want to hone their technique can take part in one of the cross-country skiing and biathlon camps.
Pillersee hosts the largest sledge dog camp in the Alps, Alaska Feeling, with 250 mushers from across Europe bringing 1,000 huskies, malamutes and similar breeds to compete in an annual race in January. Between times you can join a Musher in Three Days course.There are ice-skating rinks in St Ulrich am Pillersee and Waidring, and Waidring also offers horse-drawn carriage rides as well as winter archery at the 3D archery course.
Also listen to the podcast episode all about the Saalbach area.