In a Nutshell
If you love to ski or snowboard off-piste, you'll love Verbier. We can't think of another ski resort that offers the same quantity and quality of easily-accessed steep and deep terrain. The nightlife is pretty good, too.
The Stats
Altitude: 1500m
Lifts: 84
Top Lift: 3330m
Ski area: 410km of piste
Adult lift pass: CHF355 for six days


Official Site |

Ski Map |

Webcam
Essential Advice for the Perfect Trip
If you live for freeriding and luck into some decent conditions, then you're going to love Verbier. So what if the network of pistes is disconnected? You'll be too busy creaming down gorgeous, 1000m back-country descents to notice. In fact, along with Jackson Hole in Wyoming, we think this is world's best resort to push your skiing or snowboarding to a new level.
And if you don't have the technique to ski that kind of terrain but yearn to learn how, then you'll have a blast here too. A number of independent ski schools are in the resort – notably the Warren Smith Ski Academy. Most of them pioneer innovative techniques, designed to lift skiers off the intermediate plateau. They work, too.
Year on year there's always something new going on in Verbier, and in recent years the valley town of Le Chable has become a second viable base for skiing the area.
A kick-ass range of bars and clubs
It's not only the skiing, but also Verbier's bars and clubs that attract so many celebrities to the resort. This really is the full package: there's no monkish sense of having to sacrifice your creature comforts for the sake of the terrain, as there is in places like La Grave.
Although Verbier is not a shopper's paradise (non-skiers don't tend to come here), you can still manage to buy a Swiss watch, kit out a luxury chalet, or buy an original Andy Warhol here.
It's not a place for the faint-hearted
However, we're well aware that not everyone will as enamoured of Verbier as we are. Those new to skiing or snowboarding will find it an elitist resort where experts and plutocrats seem to have all the fun, on slopes that beginners never even see, let alone ski. Cautious intermediates will find the piste layout seemingly incomprehensible, while freestylers will bemoan the lack of a world-class terrain park.
No – to get the best from this place, you've got to be ready to ski hard, party hard, and push your limits. If you're not, then aim for somewhere a little smoother.
---
---
Guide to the Mountain
It's important to remember three things: while Verbier is only one part of the vast Four Valleys area, it's the part that really matters. Even so, you'll still have to buy the full Four Valleys pass to get all of it – read more about the lift pass here. It's the sequence of mighty peaks that rise up immediately to the east of town – Attelas (2727m), Mont-Gele (3023m) and Mont-Fort (3330m) – that have made this place famous. And once you get up amongst them, you'll see why.
The best skiing is in the Verbier sector
This is proper, high-Alpine stuff – a place of thin air, vertiginous drops and gorgeous, 360-degree views. It's a part of the world normally reserved for gods and ravens, and to be delivered so effortlessly into its heart, thanks to Verbier's lift system, is a rare privilege.
From these heady heights, there are lines to be skied in almost every direction – over glaciers, down tight couloirs, into hidden valleys, and even – just occasionally – through wide open, easy-going powder fields. There may be resorts with single descents that are more rewarding, but none which can match Verbier for the sheer number and variety of routes, and the fact that so many of them can be easily reached from the lifts without long hikes.
The only things it lacks are tree-skiing (although there is some at Bruson) and a world-class terrain park. There is a park on La Chaux, with kickers and rails but no half-pipe.
It's worth noting that the ski school meeting place has now moved from its original spot outside the busy forecourt of the Medran lift station to Les Esserts nursery slope, which makes a welcome change.
On-piste cruising is not what Verbier is about
Beginners get their own nursery slopes, Les Moulins and Les Esserts, away from the rest of the pistes but right in the middle of town. That means the snow can get slushy in warm spells, and the learning experience has a rather weird, suburban feel to it.
Drag-lifts, long traverses, and flat pistes create the vast interlinked Four Valleys ski area, so the resort has had to work against the terrain rather than with it, and crossing it is a real schlep. Don't believe the statistics either. The Four Valleys may claim 410km of piste, but it offers nothing like the never-ending, cruise-tastic, on-piste experience that you'll find in Courchevel and Meribel or Tignes and Val d'Isere.
The constituent parts of the network – Verbier, Nendaz, Veysonnaz, Thyon and Siviez – are too fractured and widely-scattered for that. What's more, many of the best pistes above Verbier itself can be crowded. They seem to be hit hard by the sun, too. A good way to escape the crowds is to start the day in the Savolyeres ski area before working your way back across to the main ski area towards the end of the day.
Breaking away from the piste
This is a place for the sort of intermediate who yearns to break free of the shackles of on-piste skiing. All they need to do is sign up with one of the inspirational ski schools here, such as the Warren Smith Ski Academy, and pretty soon they'll be charging around in conditions that would previously have produced palpitations followed by instant head-plants.
Best place in the world for advanced skiers
Once up into high alpine terrain, the most notorious run here is the steep and mean Tortin. You need sharp ski edges and full concentration here: any fall is inadvisable and liable to result in a 150m slide over giant bumps.
Steep couloirs and huge moguls can be found around every corner, attracting a high level of skier and snowboarder. Within hours of a fresh snowfall you will find tracks on even the most unattainable-looking slopes, and runs such as Stairway to Heaven and Hidden Valley are so well skied that they can appear to have been groomed.
The north face of Mont-Fort, with its B52 and Poubelle variants, is regularly skied despite its alarming entry. It's almost always home to top-quality snow, even if it has been sculpted into monstrous moguls – as is usually the case. Ski it repeatedly during the course of a trip and you'll get a good idea of how your technique is progressing day by day.
The nearby hamlet of Bruson – reached by gondola down from Medran and until recent years a local secret – is linked by gondola via Le Chable to Verbier. On a powder day this is one of the best sectors of the mountain in which to find yourself. The pistes are uncrowded and you will also find some good-value restaurants here. It also has the best tree-skiing in the area.
Quite a lot of the Verbier runs are categorized as half-way between piste and off-piste descents. Designated as itineraires, they're marked as orange lines on the piste map and waymarked on the ground. But they are neither groomed, nor controlled for avalanches. The ski patrollers close them if they're considered unsafe – but that doesn't stop people setting off slides.
The Col des Mines and the Vallon d'Arby see much less traffic than Tortin, because the access is more complicated. Vallon d'Arby is also one of the few places where you can find good tree skiing in Verbier, and many guides end up in there with their clients on low-visibility days.
Names to conjure with here include Backside (off the back of Mont-Fort), the Banana Couloir, the Creblet Couloirs, Rock Garden and Bec des Rosses.
What's it like for snowboarding?
Essentially, this is a resort for advanced and expert riders – and anyone who wants to learn how – and one of the best things about it is how many of the off-piste lines aren't blighted by super-flat, super-annoying runouts at the bottom, along which snowboarders would have to walk.
One notable exception to this rule, however, is the Vallon d'Arby. Snowboarders should steer well clear of it, as there's a long hike at the end. But of course how much you really enjoy the place depends on the snow. Verbier gets a little over six metres each winter, which isn't bad for the Alps.
There is a terrain park at La Chaux featuring rails, kickers and an airbag, but no half-pipe.
High-profile freeride event
It won't come as a surprise to hear that Xtreme Verbier – the finals of the Freeride World Tour – take place on the steep and jagged 500-metre rock face of the Bec des Rosses at the end of March each year.
---
---
Where to Learn
There are some fantastic ski schools and mountain guides in Verbier – particularly if you're an intermediate or above, who wants to work on his/her off-piste skiing. This is one of the world's best resorts in which to push your skiing or snowboarding to a higher level.
Why are Verbier's ski schools so good?
The resort is a ski-instructor magnet – thanks to its world-class terrain, its cool, cosmopolitan ski community, and the fact that many of its visitors are loaded and can afford to pay for lots of lessons (and fat tips at the end of them, too). You'd be mad not to take advantage of the services this elite force can offer: and if your budget's tight, then we beg you – don't save on the cost of ski school, save on getting to the resort, and your accommodation, instead.
In fact, the only real problem with tuition in Verbier is trying to choose what's right for you – but in brief, if it was our money, this is what we'd do:
If we were plucky intermediates who weren't quite ready for skiing off-piste, we'd either book classes with the Verbier branch of the British ski school, New Generation.
Brushing up your technique – on and off piste
If we felt we still had one more breakthrough to make before we could get the most out of Verbier, we'd book a course with the Warren Smith Ski Academy. If we were already reasonably comfortable in powder, and wanted to go a little bit lighter on the tuition, we'd book a clinic with Powder Extreme. If we were beginners or nervous intermediates, we'd go somewhere else altogether.
The other choices include Element Concept (which runs, among other courses, women's ski performance camps), Swiss Ski School which is the biggest, Adrenaline, La Fantastique, Altitude, Guides de Verbier. The main ski school meeting place is on Les Esserts nursery slope near Le Rouge bar.
A good resort for older children – and cool for teens
If we had children who needed ski lessons, we'd try to book them a private lesson with European Snowsports. If we had kids who could already ski well and energetically, and were leaving us for dust on the mountain, we'd book them a two-day clinic with Powder Extreme.
For younger skiers there's Creche les Moulins, offering daycare for little ones aged three months to seven years. For something a little different, Les Elfes are activity camps for children aged eight to 18 years, with skiing or snowboarding, language classes and an apres-ski programme.
Alternative activities
If you're looking for an alternative to skiing on one of the days of your holiday, try the Mont 4 Zipline which is the world's highest as well as being the longest in the Alps. It's open to adults and to children from eight years old, and is certainly an adrenaline-fuelled experience. Take off above the Tortin glacier, and you will travel at 130 km/h.
---
---
Where to Stay
Lifts are located on both side of Verbier, but don't imagine that means all parts of the town are equally convenient as a holiday base. For anyone who wants quick access to the resort's main pistes and off-piste entry, the key lift is Medran, at the south-eastern corner of the resort.
There is a regular bus service that circles the town during daylight hours and luxury properties tend to run their own shuttle services. But it's not quite the same as nipping down from your apartment next door to the Medran ticket office, is it? Parking is, at best, tricky.
Pick of the properties near Medran
If you want to be near the Medran lift yet not too far from the action in the town centre, these are some of the places to stay:
W Verbier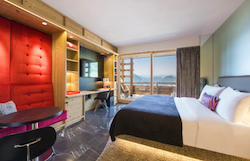 There's a complex at the bottom of the Medran gondola, complete with shops, restaurants and the W Verbier, which is a chic five-star complex that's definitely the most convenient place to stay in town – as you can ski right back to the door at the end of the day. It houses stylish suites and bedrooms, a slopeside bar and a nightclub, and a recently refurbished spa. If cool and contemporary is the vibe you're craving, this is your place.
The Lodge
The Lodge – you can ski to it too and again it certainly isn't a budget option. It's one of the resort's top rental properties and is owned by Sir Richard Branson. It sleeps 18 in generously-sized rooms, and has its own spa, swimming-pool, a party room…and even an ice-skating rink. It's set in a quiet position above the resort.
Agate Residence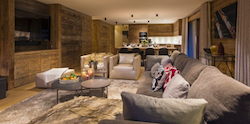 Brand new in the 2017/18 season, the Agate Residence has a contemporary interior, combined with a ski-in location. You enter from the slopes straight into the private ski room. The building combines two beautiful apartments which have a total of nine bedrooms. It is the only residence of this size in such a central location and provides a great base for a large family or group.
Le Chalet de Flore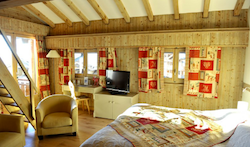 The luxury B&B, Le Chalet de Flore has warm and woody rooms of five different types – including split-level ones for families, the garden suite on the ground floor which is large and comfortable with a living room opening onto a small, private garden, and the large Medran room that overlooks the village. It also has a good restaurant, a bar, and a tea house serving fresh pastries. There is a regular shuttle to Le Chalet d'Adrien for spa goers.
Les Chamois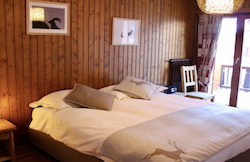 Les Chamois is in a quiet yet central location close to the bus station and the many shops. It has been refurbished and the beds are reported to have particularly good mattresses.
Hotel Mirabeau
Hotel Mirabeau is owned by the indomitable Chris Stuckelberger, a feisty Norwegian woman who runs the attractive B&B with her daughter. This is a well-kept and convenient spot, less than a five-minute stroll from Medran. Book one of the woody little rooms that look south rather than north to cut out the noise from rue de Ransou. It's nothing extravagant, but the staff are particularly friendly and all in all it's a cosy spot to to base yourself.
Mid-town accommodation
These properties are close to the main town square with its shops and restaurants, but a little further from the Medran lift. It's the spot to pick if you want to enjoy the resort's vibrant apres-ski.
Le Chalet d'Adrien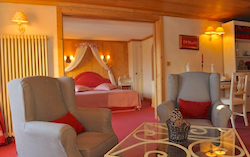 Le Chalet d'Adrien is a five-star hotel set at the foot of the lift up to Savoleyres. It has attractive bedrooms, suites and apartments, three restaurants including gourmet La Table d'Adrien, Le Grenier (more rustic with alpine cooking) and Le Terrace, ideal for an outdoor lunch. There's a spa with an indoor/outdoor swimming-pool. Rooms are on the old-fashioned side, but extremely comfortable.
Experimental Chalet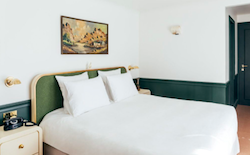 Experimental Chalet, previously Hotel Nevai, has 39 rooms, a cocktail bar, restaurant, spa and is decorated in 'transalpine' style. In 2007, the Experimental Group had a micro-bar specialising in cocktails in Paris, and Experimental Beach in Ibiza. If you're staying at the Verbier branch you can literally stumble just a few steps home from the Farm Club – however, it's a bus ride or a hearty walk from here to Medran.
Chalet Hickory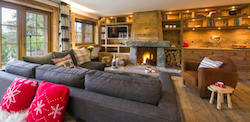 Chalet Hickory is a rare find in that it's a chalet with just two bedrooms. It is located just off the Place Centrale, has a shared 8m indoor swimming-pool and sauna. The master bedroom has a king-sized bed and a Jacuzzi bath, and the second bedroom is also has en suite with a king-sized bed as well as a clever cupboard that opens to provide a third bed, making it ideal for three children.
No.14 Verbier
No.14 Verbier is run like a chalet-hotel (it sleeps 26) and can be taken as a whole or rented by the bedroom, per week, weekend, or midweek. Its decoration is stylish, with a sitting room in an unusual silver and purple colour scheme, and a white and silver master bathroom with an enormous freestanding bathtub. Drivers working 24/7 will ferry guests to and from the lifts and night spots.
Hotel Vanessa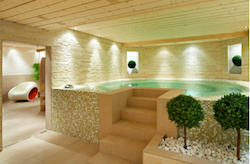 Hotel Vanessa is 50 meters from the central town square and 350 meters from the lifts at Medran. The property dates back to the 1970s, and has been refurbished in recent years. The kitchen at in-house Brasserie le V is presided over by chef, Alessio de Pietro, who cooks at Hotel Yaca of St Tropez during the summer months.
Chalet Spa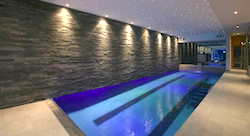 Chalet Spa is actually two gorgeous timber-framed chalets a short walk from the Savoyeres lift. They are more like small boutique hotels than anything else, but they come with personal chefs, butlers and maids, though food is at extra cost. Chalet Spa Verbier is the bigger of the two, with five bedrooms, and Chalet Spa Blanche with four bedrooms and a private cinema. As their name suggests, both come with spa facilities.
Hotel Farinet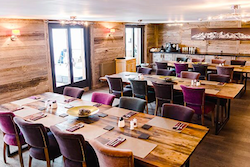 Hotel Farinet's bedrooms are decked out mainly in cowhide and silver – in keeping with the lounge bar beneath it. This couldn't be more central but it's definitely not for people who want to turn in early as the nightlife is, quite literally, on your doorstep. Rooms are small, but it's a fairly intimate experience since there are very few bedrooms.
Hotel La Rotonde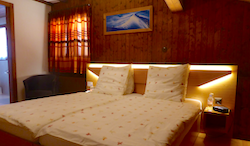 Three-star Hotel La Rotonde is a five-minute walk from the main Medran lifts, with 29 bright and cheerful wood-panelled rooms each with a balcony offering mountain views. Size varies from singles to triple family rooms. It houses Gunpowder, a popular Indian eatery, which also serves a selection of gins from around the world and gin-based cocktails.
Hotel de Verbier
Verbier's oldest family hotel, Hotel de Verbier on the Place Centrale, has had a chic makeover by a Swedish-Swiss couple. The new owners have totally rebuilt the rooms and outdoor spaces and added contactless digital facilities. Its in-house restaurant is called La Nonna, which offers traditional Italian cuisine.
Island of tranquility
If you're looking for something slightly further away from the centre and consequently quieter, these are some of the properties to consider:
Hotel Cordée des Alpes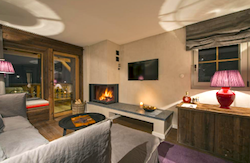 We love Hotel Cordée des Alpes, which is discreetly tucked away off the high street, and just as discreetly decorated using local materials, such as ancient wood, stone roofing and timber balconies to produce a modern twist on traditional alpine architecture. There's a lovely spa with a 15-metre swimming-pool with adjacent wood-burning fireplace, and a high-tech gym.
Hotel Chamois
Hotel Chamois is an old-fashioned family-run three-star. The decor isn't exactly cutting-edge or stylish, but the place is in a little island of tranquility between the two main roads, the rues de Medran and de Ransou, away from the traffic and bars.
Luxury on high
If your accommodation provides a day-and-night shuttle service then location is obviously of less importance. Perched high above the resort you'll find some of the resort's best chalets.
Entre Ciel et Terre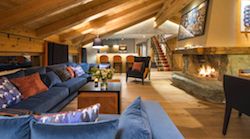 Ski Verbier Exclusive offer a 24-hour in-resort chauffeur service and have 17 chalets here. These include Entre Ciel et Terre, which is located between the Savoleyres lift station and the Les Moulins nursery slope, and feels more like a free-standing chalet than a chalet-apartment. It features two double rooms and two twins.
Chalet Bella Coola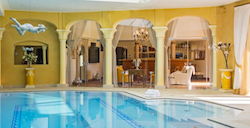 Bella Coola is one of the top chalets in the resort, with nine bedrooms and bathrooms, an outdoor hot-tub and a lovely indoor swimming-pool. It's set back from the road on Chemin de Clambin in the heart of Verbier.
Chalet Norte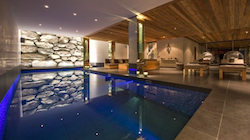 Chalet Norte is located on the mountainside in the Sonalon area. The property sits in a lofty position, overlooking the village, with the Medran lift station a seven-minute drive by chauffeur-driven car. Set over five floors, there's plenty of old wood in keeping with the local architecture. The interior has been designed by a leading designer and the chalet is fitted with the latest in sound and vision systems and has its own cinema room, as well as a spa with large pool.
Staying down the valley
Le Chable is currently building and updating its accommodation – which will make it an increasingly popular place to stay. It is directly linked by gondola to Medran in Verbier, and the separate – and uncrowded – Bruson ski area is easily reached from here as well.
Hotel A Lârze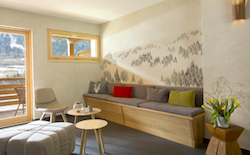 You can pay considerably less and stay somewhere like the attractive Hotel A Lârze, which is set slightly above the valley town – it's a five-minute walk down to the cable-car and village centre. A ski rental shop in the lift station building means that you can leave skis and boots overnight instead of hauling them up the hill.
Hotel de la Poste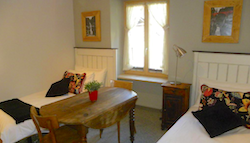 Hotel de la Poste is two minutes' walk from the lift and contains some pleasant rooms and apartments, a restaurant, and a nightclub called Manhattan Retro Bar.
Chalet Bruson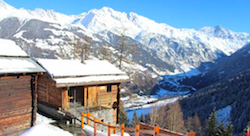 With Bruson connected into the Four Valleys' ski area by a gondola running from Le Chable to Les Mayens de Bruson, it creates an additional new bed base. You can stay at Chalet Bruson, which is converted 18th-century mazots each with three bedrooms.
Hotel Una Lodge
The Una Lodge is a good value option. It's five years old and is the closest hotel to the lifts to take you up both Verbier and Bruson. The accommodation is in four double bedrooms and a family room with kitchenette, and each room has its own balcony or patio. Guests also benefit from a sauna and outdoor hot tub.
---
---
Where to Eat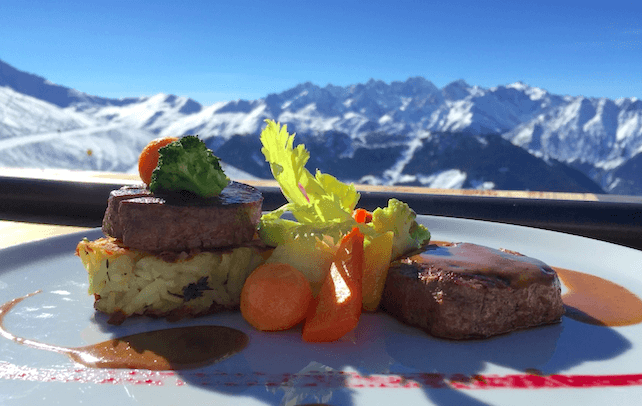 Verbier is becoming a bigger lunching destination these days – provided you can fit in a decent break when there's so much skiing to be done. A popular mountain eatery is La Vache, a converted lift station serving homemade soup, pizzas and burgers in comfortable and cosy cow-themed surroundings. Prices are lower than a comparable establishment in a mainstream French resort, let alone elsewhere in Switzerland.
In the high-altitude area above Verbier, Cabane Mont-Fort is the hut of choice – in part because of its splendid location – though you need get there early to be sure of a table. Chez Dany is the resort's original – and still best-known – mountain eatery, with a good sun terrace. Le Mouton Noir at Ruinettes has great views from its terrace, and the food is recommended too. It contains a gourmet restaurant, a creperie and self-service. Le Dahu at La Chaux has been praised for its varied menu, friendly service, and more reasonable prices.
Another good sector for lunch is Savoleyres
The Savoleyres is much quieter than the main mountain reached from Medran and overcrowding is less of an issue in the restaurants. La Marmotte (+41 27 771 6834), at the bottom of the Savoleyres Sud drag-lift, is a good place to head for. Chez Clovis (+41 75 413 78 88) is on the Sud trail, with a south-facing terrace and serving local dishes cooked with fresh produce.
Next door is Cafe Restaurant Le Namasté, an atmospheric old cabin owned by Maurice Chappaz and Corinna Bille who have their animal sculptures permanently on display. La Marlenaz is old alpine with wood and stone interiors and is also great for al fresco lunches. It is owned by the same person at the Mouton Noir and is reached by its own small snowcat. To get there by night there's a free bus followed by a bracing 25-minute walk along a mountain path.
La Croix de Coeur (+41 27 775 2536), located between Verbier and Tzoumaz, has a large sun terrace and specialises in classical Valais cuisine. It also has a private members' club. La Grange (+41 78 821 01 53) is a renovated old barn on the slopes at Bruson that contains a small restaurant. It has a friendly atmosphere and serves Valais dishes.
With few exceptions, the best restaurants are in the hotels
Le Table d'Adrien in the five-star Chalet d'Adrien hotel is one of the hottest restaurants in town: its chef Marco Bassi, has a Michelin star. Le Grenier, in the same hotel, specialises in regional food with a menu prepared by Sebastiano Lombardi. This includes soupes paysannes, Brasérades, legs of Grenouille, raclette and fondues, as well as tartes.
Restaurant Eat-Hola in the W Verbier is outstanding, and features Catalan chef Sergi Arola's modern menu. The restaurant in Hotel Montpelier offers outstanding cuisine. Hotel Vanessa's restaurant, Brasserie Le V, has been refurbished and is recommended by reporters. Hotel Cordée des Alpes has a pleasant restaurant. Le Chalet de Flore has a menu designed by Mirto Marchesi, the Michelin star award-winning chef of the Chalet d'Adrien. He creates delicious dishes, and some of his tasting platters – such as the Alpine pasture platter, the farm platter, and the River platter – can also be enjoyed at the bar.
Au Vieux Verbier (+41 27 771 16 68) serves slightly offbeat Swiss cuisine in a large and somewhat kitsch interior, featuring wooden beams and polished brass. Le Rouge is set inside an Art Deco style building and serves international dishes; downstairs is another eatery that's typically Bordeaux in style.
Caveau has raclette and fondues. Chez Martin and Al Capone serve Italian dishes and pizzas. A reporter recommends Le Shed: "Awesome for burgers, but get there early".
Down in Le Chable the choice of eateries includes Gietroz ('delicious local or traditional cuisine in a friendly atmosphere'), l'Authentique (seasonable ingredients and simple dishes in homely surroundings with a wooden floor and tables to match), l'Escale (try the Poké Bowl followed by Raron perch fillets with a red pepper foam, lemon pearls, dried fruit nougatine, vitelotte fries and seasonal vegetables), and Cafe de la Place (cafe/pizzeria).
---
---
Where to Party
For its size, Verbier isn't overburdened with bars and clubs, but the scene here is near-perfect – ranging from full on, hang-from-the-rafters riot shops to the kind of low-slung, groovy cocktail bar where you can have a conversation without shouting yourself hoarse. The only comparable resorts in the Alps, when it comes to the quality and range of nightlife on offer, are St Anton and Ischgl.
A welcome absence of British pubs
Best of all, there are hardly any self-consciously British pubs. Not that we've got anything against British pubs, of course – when they're in Britain. It's just that when you put one in the Alps, and fill it with Brits, all they seem to do is stand around watching footie on flat-screen TVs. Seems like a big waste of ski-holiday buzz to us. One more plus about the Verbier scene: it's very compact.
L'Ice cube bar at Les Ruinettes and Bar 1936 are on the home run. But a lot of the action can be found on a single, 400-metre strip of road, the rue de Medran, which runs from the place Central to the Medran lifts. Le Mouton Noir at Ruinettes has has a DJ. At the foot of the piste at Medran, the W Verbier's outdoor bar is a popular place to end the skiing day. Fer a Cheval is another apres-ski venue, as well as being a pizzeria. Le Rouge is a restaurant and club at the foot of the Rouge piste. Its terrace bar has sheepskin rugs and attracts a lively crowd straight after skiing.
Everyone rates Pub Montfort: saisonnaires, ski instructors, Eurotrashy types from Geneva, even the likes of you and me. So don't give it another moment's thought – just go there. The only reason not to go there, in fact, is if you're going to Le Farinet instead.
In recent years the Farinet changed hands, but it appears to be as popular as ever. It is actually two bars: the apres-ski venue at the front and the lounge bar at the back. The apres-ski bar comes into its own when one of two things happen – if the sun comes out and they open the big windows of the glass-sided bar onto the terrace, or if a good live band are playing a set in there. It's hard to believe, but the lounge bar next door is completely different…and much more grown up.
67 Pall Mall Verbier is a club with an upstairs area reserved for members and a downstairs area open to the public.
Best for after-dinner drinks
The place to go is the Lounge Bar at the Farinet (see above), with its sofas and armchairs, and cool cocktails. Downstairs is a nightclub where you can carry on partying until the small hours. Crock No Name (+41 27 771 6934) is a fun place, with hard-working staff, some good DJs and bands, and a quirky style with fake animal skin throws. However hard they try, however, it'll always be a little bit out of the loop – a step too far from the place Central – and you're never going to stay here for more than a couple of drinks. However, just behind a door inside the restaurant is a secret speakeasy-restaurant called Le 22 and seating 22.
TBar, in Hotel Central, feels more urban than most Verbier bars ("a tiny cramped space full of ski bums and ski instructors"), and has live music. It has the chef who used to be at the Nomad Sushi Lounge ("The same great Asian food for cheaper prices – what's not to like!"). Le Rouge is very lively with a club, two restaurants, and an apres-ski terrace.
Big Ben (known locally as the Grizzly Bar) which has pool tables, and The Loft bar is the popular seasonnaire bar. Twin Peaks (+41 27 771 83 61) has a retro 1970s theme.
Verbier rocks
Later on there's Carve in the W hotel, and The Farm Club. The latter is a Verbier institution and the single most famous nightclub in the Alps for over 40 years – famous, that is, for stratospherically high prices, unforgiving doormen, and the wealth of its clientele.

For more information on the resort, also see our feature on the 9 reasons to visit Verbier. For how to stay more cheaply in the same area, see our post on Le Chable.