In a Nutshell
Careful now: Courchevel may be one of best ski resorts in the world for beginners and intermediates. But you'll pay a premium for its beautifully-groomed, confidence-boosting pistes.
The Stats
Altitude: 1100m-2740m
Lifts: 49
Top lift: Les Suisses
Ski area: 150km | 600km of piste in the 3 Valleys
Adult lift pass: 375€ for six days across 3 Valleys


Official Site |

Ski Map |

Webcam
Essential Advice for the Perfect Trip
No doubt about it, God made Courchevel for skiing. At the top, He created three great mountain bowls, and pointed them north, so the snow was almost always soft and squeaky. In the middle, He smoothed a bunch of long, perfectly pitched slopes so that beginners and intermediates would have fun too. And at the bottom He planted lots of trees so that everyone had somewhere to go when the clouds came down.
When He'd finished, He'd created one of the most preternaturally well-endowed ski resorts in the world.
Problem is, everybody knows it. Word-of-mouth recommendations, enthusiastic guide-book reports, websites like this one: together, they've created a huge demand for Courchevel's slopes, and these days it's groaning under the weight of its own popularity.
It's not in the lift queues where you'll see it at its worst: those are extraordinarily short, given how many people come here. It's on the pistes themselves, especially the sensational Combe Saulire red and the Verdons green beneath it. Together, they form the spine of the resort's on-piste skiing, and all day they're covered by a moving carpet of humanity. Unless people-slalom skiing is your thing, you'll hate them when they're like that.
Consider staying lower down
The other symptom of Courchevel's popularity is the pricing. For years, back in the days when France's economy boomed, this was where the Parisian elite went to ski. Then rich Russians took over in the best hotels and chalets – 7% of the clientele counted for 50% of the resort's income – and prices went through the roof. Now the figure has halved but resort prices still haven't dropped. There are chalets here that cost over £100,000 a week to rent, not including travel.
The most stratospheric prices have always been up at the highest village in the resort, formerly known as Courchevel 1850, but now rechristened simply (and confusingly) as Courchevel. Lower down the mountain, in the less fashionable villages, the prices are less indigestible.
Courchevel Village (1550) is the best budget alternative – thanks to some magnificently bargain-basement apartments – but you'll also find more affordable digs in Courchevel Moriond (1650), Le Praz (1300) and La Tania. That said, accommodation here is still more expensive than comparable stuff elsewhere outside the 3 Valleys.
A Short Guide to the Skiing in Courchevel
On their own, Courchevel's slopes would rank amongst the best in the Alps, especially for beginners and intermediates. But add in rest of the 3 Valleys lift system, which includes the resorts of Meribel, St Martin de Belleville, Les Menuires, Val Thorens and La Tania, and you can see why the appeal is irresistible for so many.
Check out our guides to the best skiing in the Three Valleys and the best skiing in Courchevel for locals' recommendations.
Admittedly, this is a resort that should be skied mid-winter, from Christmas through to the end of February, rather than the beginning or the end of the season – because all the local pistes lie between 1100m and 2738m. But aside from the moderate altitude, the only real drawback is how busy it gets.
A no-brainer for beginners
Two of Courchevel's villages are brilliant for beginners – 1850 and Moriond. Not only are their home runs gentle, they also come well-equipped with excellent British ski schools. (See our "Where to Learn" section below for details.) However, they have very different personalities. 1850 is ritzy and can be eye-wateringly expensive, and in peak weeks its pistes can be hectic. Moriond is more low-key and always quieter. On a busy week like New Year or February half-term, beginners are going to be happier in Moriond.
Superb skiing for every kind of intermediate
Courchevel's popularity with the super-rich is no accident. They love the flattering effect of its wide and super-smooth pistes: and you will too, if you're any sort of intermediate skier.
The central section of slopes is where the resort's reputation has been forged – home to an array of soothing blues and greens that'll give even the most cautious of second-week skiers the confidence to experiment, and push themselves. Both above and below that mark the terrain is steeper, and this is where you find the reds and blacks. Combe Saulire in particular, is a classic – among the most enjoyable pistes in France, and, indeed the Alps.
Knit the whole lot together into one mighty top-to-bottom run, and you'll have skied through a muscle-melting 1600 vertical metres.
Generally speaking, in the mid-winter months of late December, January and February, the skiing is so good here that many piste skiers rarely venture over into the next sector of the 3 Valleys – Meribel. That's especially true if their first experience of Courchevel's neighbour is the long, sunny descent from the Saulire down to Mottaret. It's often icy on top and slushy down below, and freaks out scores of intermediates on a daily basis. If you are going "over the back", you may find skiing down to Meribel centre from the Col de la Loze less traumatic.
It's not hard to avoid the crowds
Overcrowded pistes are a problem in the peak weeks of New Year and mid-February. The worst offenders are on the central spine of skiing from the Saulire down to Courchevel 1850, and at times you can barely see the snow for skiers and boarders.
But avoiding the crush is easy if you take two simple precautions. First of all, you need to ski the most popular runs at the beginning, middle and end of the day – just after the lifts open, just before they shut, or when everyone else is sitting down to lunch.
Second of all, you need to explore the outer reaches of the piste map. The tree runs above La Tania are a good target on busy days. So too are the pistes above Courchevel Moriond (formerly 1650) at the eastern end of the resort.
Moriond is linked to 1850 in both directions but to most skiers the key lifts and pistes are far from obvious. As a result, even in peak weeks, it can be blissfully quiet. In fact, for the wobblier kind of intermediate, and families with small children, it's possible to spend most of the week on the Moriond pistes without ever needing to explore further afield.
The slopes above Courchevel Le Praz (formerly 1300) are worth targeting too – especially if you like your slopes a little steeper. This is where Courchevel's career as ski resort began, back in 1947, but it's never quite shaken off its farming past. Cows still winter in Le Praz barns, and sometimes you smell the effect on the final piste down into the village.
Plenty of challenges for more advanced skiers
Neither Courchevel, nor the 3 Valleys as a whole, can match the sustained steeps of Verbier, Val d'Isere or St Anton. But there are still plenty of challenges for more advanced skiers.
The most famous is Le Grand Couloir, the most benign of the infamous trio of chutes accessed by the Saulire cable-car (currently closed but to reopen for the 2024-25 season). It's actually marked as a run on the piste map, and as a result ranks as one of the steepest blacks in Europe. Like all such iconic runs, the degree of difficulty is largely dependent on the snow. In icy conditions the access route can be demanding. Take a look at the video below…
You'll find a chute of similar pitch on the other side of the ridge, above Meribel – called the Couloir Tournier.
The high, treeless terrain at the top of the ski area offers lots of entry-level off-piste to be nibbled at – especially above the Creux red, and under the Chanrossa and Roc Merlet chairs. But the best policy – as always – is to hire a guide to help you unlock the area's potential. Guides Courchevel offers over 100 backcountry itineraries. Among the best is the hike to the top of Aiguille du Fruit, the highest point of the resort, to ski a steep, narrow, 300m couloir.
Meanwhile, on a bad-weather day, hit the tree-lined pistes over Le Praz. Replacing Jockeys slope, L'Eclipse was created for the World Champs in 2023 and is otherwise a good, long black, intimidating for the intermediate, and therefore a great place to find powder while it's still snowing. The tree-lined pistes above La Tania also provide some of the best skiing when the light is flat.
Not a resort for serious freestylers
Want to work on your jumps and tricks? Then stay in Meribel, next door. The high price of accommodation and Courchevel's glitzy, intermediate image has stunted the growth of a freestyle scene, and its main offering these days is the Family Park next to the Verdons green. That said, it's the perfect place for children – and their parents – to make their first jumps.
Where to learn in Courchevel
It's great to see that the revolution wrought by English-speaking ski schools in Courchevel is showing no sign of letting up. It all started with Supreme Ski and these days schools such as BASS Courchevel and New Generation are also flying the flag. In fact, thanks to the presence of New Generation's ace instructors, as well as its laid-back atmosphere, and gentle slopes, we think Courchevel Moriond is one of the best places in the Alps to learn to ski.
Why do we rate learning with an English-speaking ski school so highly? It's not just the fact that the instructors share the same language, which makes the whole business of skiing seem less strange and unsettling. They instinctively understand the way most Brits want to learn, too: and the fact that they have had to jump through so many hoops to qualify to teach in France, means that they're almost always highly-motivated.
SKiBro, either online or as an app, is an intuitive, user-friendly platform that helps you find the most suitable instructor for your needs – for everyone from families with small children and teenagers to improving intermediates and off-piste aficionados.
Meanwhile the Ecole du Ski Francais (ESF) is the main French school. Each Courchevel has a separate – and rival – branch of the ESF, but they are expected now to slowly come together and work as one. The school is anxious to update its France-first image, and is now trying to present a more international face to its guests. However, the eradication of the British practice of ski-hosting set this campaign back several years.
On the whole, this is a good resort for children
Courchevel has the French government's P'tits Montagnards award for childcare. However, the ESF runs non-ski and ski kindergartens that come in for strong criticism during peak holiday times when they are stretched to capacity.
Courchevel was the first place in the world to solve the problem of how to keep small children safe on chair-lifts. Children in ESF classes are issued with a special waistcoat with an electro-magnet on the back. This locks on to a similar magnet on the chair for the upward ride, making it impossible for the child to slide beneath the safety bar. On arrival at the top station it releases automatically. Several years ago all chair-lifts in the resort were fitted with them.
Bear in mind that Esprit, a British tour operator specialising in child care and family holidays, runs a programme in Courchevel, and has its own chalet-hotel near the top of Courchevel, the Crystal 2000. As well as an in-house creche and kids clubs, it offers exclusive ski school lessons for children in collaboration with the ESF, which works hard to present a Brit-friendly front, and keep its clients happy. Not surprisingly, the Crystal 2000 sells out months in advance for the school holidays. If you're new to skiing, it's worth checking it out before trying to put together a family holiday on your own.
Lessons and childcare in the separate Courchevel villages
In 1850, Le Village des Enfants provides all-day care and an introduction to skiing from three years. Magic in Motion runs English-only classes for four- to six-year-olds. Supreme has classes for children aged six to 12 years during school holidays.
In Moriond (1650), Les Pitchounets is a dedicated play area for small children. The Garderie cares for children under 18 months. In Village (1550), Le Club Piou-Piou takes children from three to five years for a mix of lessons and snow fun.
Where to Stay
Courchevel is made up of four separate villages with significant differences in character and price. To make things confusing, the resort recently renamed them all, doing away with the simple and effective system of labelling them by altitude (Courchevel 1850, Courchevel 1550 etc). Courchevel 1850 is now simply Courchevel, 1650 is Courchevel Moriond, 1550 is Courchevel Village and 1300 is Courchevel Le Praz. We're trying to work with the new names, but we're using 1850 to describe what's now officially "Courchevel" because it would otherwise be impossible to distinguish between it and the resort as a whole.
Courchevel 1850 is the epicentre of the luxury ski industry
Courchevel 1850 is home to its own altiport, suitable for private jets and helicopters. It takes around half an hour to fly here from an international airport like Geneva – and it sets the scene for what has become the ritziest ski resort in the Alps.
The smartest hotels and the most hedonistic chalets are hidden away amongst the trees, up from the village centre.
Shemshack Lodge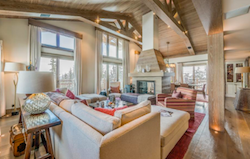 Shemshak Lodge epitomises the kind of sleek top-end chalet that gives 1850 its international reputation for luxury. It sleeps up to 10 adults and three children, and has an indoor swimming-pool, gym, sauna and steam room. Its location is pretty prime, perched right on the edge of the piste, making first lifts or ski school runs nice and easy.
Six Senses 7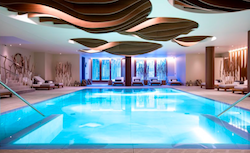 Apartment Six Senses 7 is a modern luxury self-catered apartment located in the Six Senses Spa and Residence, five minutes' walk from the centre of Courchevel 1850. The apartment has a large open-plan living and dining area and a modern kitchen. Sleeping up to six who will all benefit from the wonderful spa facilities that the Six Senses has to offer. The spa consists a large indoor swimming-pool, saunas, hammams, hot tubs, and massage treatments are available.
Chalet Founets Amont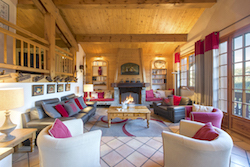 Chalet Founets Amont was built and is still owned by the Parisian architect who was behind most of the properties in the exclusive Bellecote area of Courchevel. The chalet is full of antiques, exposed beams and traditional Savoyard character but is also light and spacious. The fabulous galleried living area has a sensational fireplace, huge windows and a terrace that provides a spectacular view of Le Signal and the surrounding peaks. The living room looks a bit like a gentleman's club.
Chalet Les Sorbiers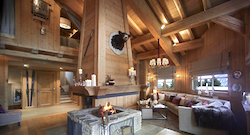 Les Sorbiers is an opulent ten-person chalet located 50m from the foot of the Pralong piste and offers everything you'd need for a truly indulgent ski holiday. Open stonework on the fireplace and throughout the building lend it a rustic ambience, and the main living space has a spectacular double-height ceiling. The chalet is run by five dedicated members of staff including a manager, professional chef, two hostesses and an on-call chauffeur.
Chalet Montana
Another comfortable property is Chalet Montana, which sits right beside the Bellecote piste and has lovely rough-hewn wooden interiors. There's a hot tub and a steam room for easing tired bodies after a hard day up the mountain. The open fireplaces and gorgeous decor will ensure a hugely comfortable and luxurious holiday.
Chalet-Hotel le Coq de Bruyere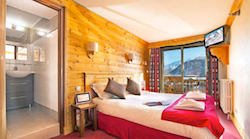 Chalet-Hotel le Coq de Bruyere has a great location, close to the main La Croisette lift station, and prices are low by Courchevel 1850 standards. It's pretty down-to-earth (perhaps slightly more than photos let on), but the food is delicious and the position is fabulous. Provided your expectations aren't too high, this will be a great base for a hard-skiing, out-every-night kind of trip.
Hotel Courcheneige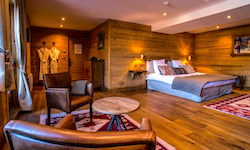 A homely hotel is the Courcheneige, set in the middle of the piste. It's very handy for coming back to at lunchtime, which makes it a popular family retreat. The atmosphere is lovely, and the rich woody decor combined with the friendly staff gives it a warm feel. "The attention to detail was excellent with lovely touches such as in the boot room staff helping you to put your boots on! The breakfast and evening meal was delicious with once again excellent and personalised customer service," was one report.
From sublime to over-the-top hotels
1850 is home to three five-star "palace" hotels and 14 "ordinary" five-stars. Over the last few years, they've done a fantastic job of attracting the world's financial elite – wealthy Brazilians, Swiss, Eastern Europeans, and – most famously – Russians, and for the most part rode out the recent economic crisis in style. Whether or not the souring of relations between Putin's Russia and the West will affect them significantly remains to be seen. But, for now, the prices remain stratsopheric.
Incidentally, the most expensive pair of skis ever made came as part of the Limited Edition Lacroix Courchevel Exclusive Skiing Kit in 2008. The cost was 50,000€, only ten sets were ever made, and they were as exclusive as the resort they're named after.
Le Strato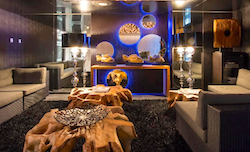 Appropriately, the list of hotels is headed by extremely smart but overpriced Le Strato. The five-star hotel is modern with cool architecture – it has a large indoor pool, a gym and a sauna. It isn't cosy, but it's trendy and high quality if you're looking for luxury treatment. It's at the foot of the slopes, which is handy too.
Le Cheval Blanc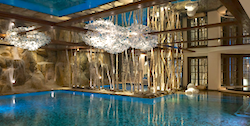 If you love haute couture and relish the idea of holidaying on it, in it and around it, Le Cheval Blanc is the place for you. Even the website is elaborately designed with an extremely high end feel to it. The infinity pool and spa area is a highlight, and you'll enjoy soaking here in the evenings. This place just oozes luxury and comfort, and you'll be looked after incredibly well.
Hotel les Airelles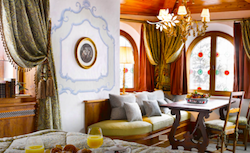 More discreet but just as pleasant is Hotel les Airelles, also located in the exclusive Jardin Alpin district. It houses a good spa, and its La Table du Jardin Alpin restaurant has a fine sun-trap terrace discretely tucked away in the trees. Inside and out are Tirolean-style frescoed walls.
Le Melezin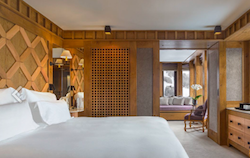 They don't come any sleeker than Le Melezin It's part of the Aman group – famous for building zen-like resorts in tropical destinations – and there's something almost religious about the pursuit of luxury here. At the expansive Aman Spa, shiatsu, Thai massage and yoga soothe and re-energise, while culinary nourishment is provided by the in-house Japanese restaurant, Nama.
L'Apogee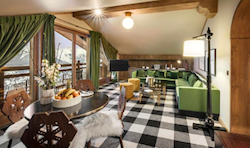 New in 1850 a few years ago was L'Apogée – its sister hotel is Hotel du Cap-Eden-Roc in the South of France. Apart from the lovely rooms and suites there's also a spectacular penthouse with a private whirlpool and terrace. The hotel is ski-in ski-out and houses a large kids club. The location is unbeatable, and the breakfasts are notoriously yummy.
Hotel Kilimandjaro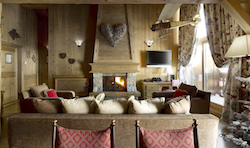 Hotel Kilimandjaro is another offering in the Jardin de Neige enclave – this is almost a mountain hamlet in its own right. Some 11 chalets are grouped around a central building with a Michelin-starred restaurant – La Table du Kilimandjaro – and an Art of Beauty centre inside. Its sister hotel, Le K2 Altitude is also built around a cluster of five chalets.
Hotel le Saint Joseph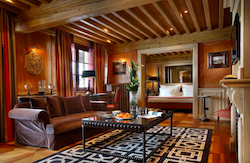 In the heart of 1850 is Hotel le Saint Joseph, offering understated luxury in the heart of Courchevel. It first opened in the 1950s, when it was called Hotel Tournier, and Eric Tournier transformed it ten years ago. The hotel has 14 rooms and suites, and two apartments – all of which are decorated in fine fabrics, with four-posters and ornate bathrooms.
Le Chabichou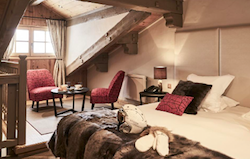 Le Chabichou is a large chalet-style building close to the Chenus lift, which became a hotel some 50 years ago. It houses the famous Michelin-stared restaurant of the same name and there's also a good in-house spa with a Dead Sea bath and salt cave among its watery offerings.
Less pricey options
Looking for Courchevel accommodation that won't break the bank? Then focus on self-catering apartments. Have a look at what Erna Low and Ski Collection have to offer.
Les Chalets du Forum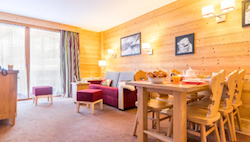 The Les Chalets du Forum is twice the price of similar accommodation in the likes of Chamonix – but all the same, by Courchevel 1850's standards, these apartments are good value. Rooms are generally spacious, and most have been recently refurbished. They're also very close to the lifts. 
Chalet Bouquetins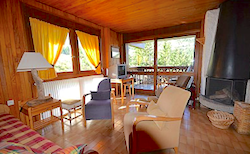 Meanwhile, Ski Amis has several apartments around Courchevel 1850 in its listings, including the ski-in ski-out Bouquetins 14, which sleeps up to six people and has two bedrooms. The living area has the doors leading out onto the balcony together with a double sofa bed, and a dining area and kitchen. There are two bedrooms – one with a double bed and on the other with bunk beds.
Residence Les Ecrins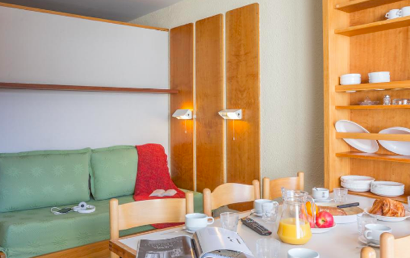 The cheapest option is the Residence Les Ecrins – probably the ugliest building in the resort, but virtually ski-in, ski-out as well as being near the centre of town. So who cares about aesthetics? There is a shopping delivery service available at additional cost, and facilities inside the residence include table tennis, video games and a billiards room.
Moriond (1650) is noticeably cheaper than 1850
Stuck out on a limb it may be, away from the main ski area, but this means quieter pistes – especially during high season. It's the best place for beginners, provided they're not looking for a vibrant nightlife.
Le Portetta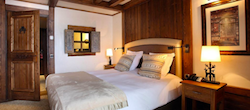 Neighbouring British-owned Le Portetta has a warm and stylish oak interior and an impressive spa. The property also six luxury apartments – the Portetta Lofts– and has four separate ski-in ski-out chalets – sleeping between two and 12 people in each. They are all very woody with lovely fabrics. And if it's self-catering you're after than you won't find anywhere better.
Fahrenheit 7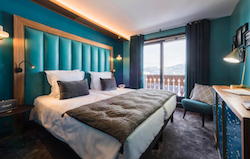 New for the 2017/18 season was Fahrenheit 7. Just like its sister hotel in Val Thorens, it's right on the piste, is urban-alpine in style, houses Le Zinc restaurant and a Rotisserie, a ski shop and spa. The en suite 'units' in the hotel have flat-screen TVs and all room have a desk. "Much needed trendy hotel in the 3 Valleys. Rooms are perfectly comfortable (but with obligatory French pillows) and fab bath for after day out on the slopes," said a reporter.
Les Marmottes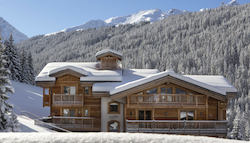 And there are decent chalets and apartments here too. Le Ski has a complex of five smart chalets inside Scattolas Lodge offering exceptional value – you couldn't possible find accommodation of this quality at anywhere near this price in 1850. There's even a chalet for two people here, called Les Marmottes.
Les Chalets de la Mouria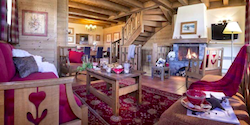 Also good are Les Chalets de la Mouria, just over the road from a chair-lift but a five-minute walk from the centre of the village. This is one of the most sympathetic and unassuming developments in the resort.
Courchevel Village (1550) is for ski convenience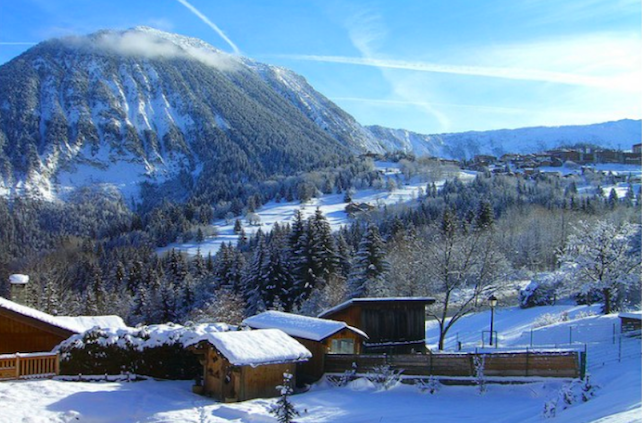 This is a ribbon of cheap(er) developments situated directly beneath 1850 with easy access to Courchevel's main skiing. Newly-named Courchevel Village has always been the bargain basement of 1850 but is currently being entirely redeveloped and is poised to get more of an identity in its own right. Catch the low prices here while you can – they won't last.
Chalet Benjamin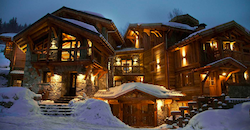 The lovely new Chalet Benjamin is set on the edge of the Proveres piste and at the foot of the toboggan run, so you can ski back to the chalet at the end of the day. In the morning it's a short, gentle downhill walk to the Grangettes Telecabine. On the first floor is an open-plan living area, there's a sauna and an outdoor hot tub on the terrace. All five bedrooms are furnished with handmade wooden furniture and warm, woollen fabrics.
Chalet Barragiste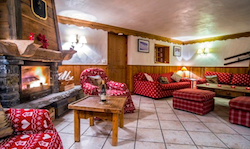 Ski-in ski-out Chalet Barragiste sleeps 12-14 people. It is a totally cosy spot, located at the top of the village on the edge of the Luge track, adjoining the gentle Proveres piste. Its six bedrooms are spread over three levels, with a spacious living area and separate dining room, both of which open onto large balconies with access to the hot tub.
Les Brigues apartments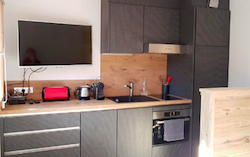 Les Brigues apartments are the last word in cheap Courchevel crash pads. These are tiny apartments with limited storage space, set well away from any decent bars. Sounds nasty? Well, if you were planning to spend all week indoors, then yes – but you're not, are you? The heating works, the showers are powerful and there's just enough space for everyone at dinner – provided you don't all get up from the table at the same time.
Ecrin Blanc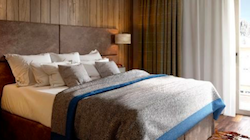 A new four-star, Ecrin Blanc, serves food all day. It has 127 spacious rooms and suites, decorated in alpine style. There is ski-to-door access and the property is part of a resort which includes a 15000 m² wellness and water sports centre with nine swimming-pools, a flume water slide, a wild river, a large paddling pool, indoor surfing and a baby pool. Oh, and a climbing wall, fitness centre, massages, osteopathy, cryotherapy, reflexology and balneotherapy.
Choose Le Praz (1300) for its atmosphere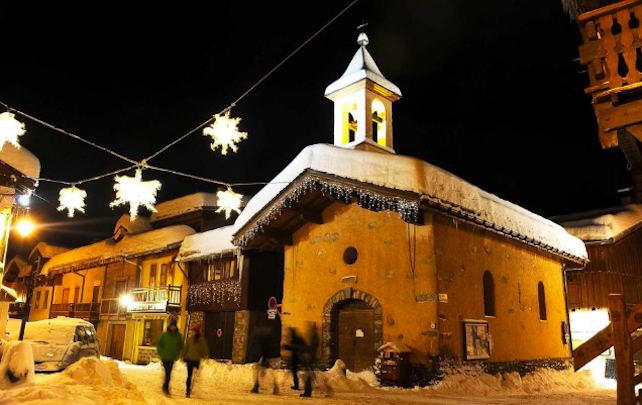 Le Praz is at the bottom of the lift system and the bottom of the Courchevel pricing structure. Its modest altitude means limited snow-cover for part of the season and it's a long gondola ride up to the heart of the ski area. Lots of tour operators have chalets here and sometimes neglect to state how far away they are from the main action in 1850 or even 1650. Don't stay down here unless you're paying significantly lower prices.
Les Peupliers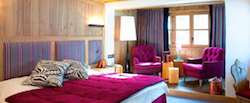 That said, it's a quaint old farming village with cobbled lanes, oodles of atmosphere and one notable hotel: Les Peupliers. It has an excellent restaurant and is still owned by one of the families that originally developed Courchevel. The hotel is four star, with a great breakfast buffet and gorgeous interior that will make you feel right at home and a little spoilt on your holiday. It embodies that idyllic Alpine village charm that many of us crave, whilst satisfying more luxurious pallets at the same time.
Chalet Igloo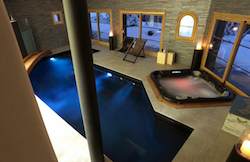 Chalet Igloo has an enormous vaulted living area with a white-themed decor and huge windows. The spa area opens onto a large terrace and includes the only chalet squash court in Courchevel, a large swimming-pool, a sauna/hammam and an inviting indoor hot tub. The chalet sleeps eight.
Where to Eat
Courchevel has a glittering spangle of restaurants both on and off the mountain, where you can eat superbly – provided the prices don't spoil your appetite. However, if you know where to go there's a whole culture of good food at (almost) reasonable prices. The trick is to discover where the locals lunch and dine. We don't know of any other destination in the Alps where it is more important to have insider knowledge.
Lunch or dine in 1850
Hotel Pomme de Pin stands head and shoulders above its many rivals. Four-star Hotel Le Chabichou has a similar double-Michelin-starred accolade. Prices for both are of course high. But they're not ridiculous when compared with some of their glitzier high-profile rivals and until recently used to cater primarily for the Russian oligarch market.
Hotel Le Chabichou is accessible from the slopes for lunch, and the food is exquisite. The hotel has recently changed ownership but is still under the direction of Stephane Buron, with three new menus offering five, seven or nine dishes. Later on, the restaurant Chabotté becomes the Katz bar with a cool atmosphere – great for fun night out.
La Saulire, also known as Jacques' Bar after its charismatic owner, is one of our favourites in 1850. It has an impressive menu and wine list, intimate surroundings and impeccable, friendly service.
The higher you go, the higher the price
The lunch scene in and above 1850 is largely aimed at the super-rich and lacks the off-the-cuff simplicity of the best Italian mountain restaurants – where the quality of the raw ingredients (rather than the snootiness of the staff) matched to a non-iniquitous pricing structure sets the tone. Many of the big names don't get a mention here because we consider that their standard of cuisine is out of all proportion to what they charge.
Two notable exceptions here are Le Panoramic (+33 479 08 00 88) on the top of La Saulire and La Soucoupe on the Col de la Lauze. Lunch at either can be a second mortgage affair, but the combination of setting, cuisine, and service make the price just about justifiable. A third, Le Bouc Blanc (+33 479 08 80 26), at the top of La Tania gondola, is one of the best value eateries in the whole of the 3V, with plenty of tables and cheerful service.
Pilatus (+33 479 08 20 49), near the altiport, has a good ambiance and is next door to the exorbitant Cap Horn (+33 479 08 33 10), but that's where the similarity ends. Also piste-side is the Courcheneige, which has a good sun terrace and is part of the hotel of the same name.
A recent addition on the mountain is La Cave des Creux, owned and managed by two brothers who are also ski instructors in the resort. The brasserie is at 2112m, and has an extensive wine list including local wines and grand crus.
Eat well for less in and above Courchevel Moriond
In 1650 we recommend Hotel Le Portetta at the foot of the slopes, a couple of minutes' walk from the gondola station – expensive but high quality food in relaxed surroundings, and a great sun terrace at lunchtime. We also recommended Le Manali, which has Himalayan influences. L'Alambic (+33 479 082 545) is a cosy little place opposite The Seven King serving good pizzas and tartiflette. Le Petit Savoyard (+33 479 08 27 44) is particularly welcoming and has great pizzas.
On the mountain, Le Bel Air (+33 479 08 00 93) at the top of the gondola has the most relaxing atmosphere. It has a lovely south-facing terrace and large picture windows to take in the view. It's far from cheap, but is value for money by Courchevel standards.
…and in the lower villages
For the moment there's not a lot of choice in Courchevel Village. L'Oeil de Boeuf (+33 479 08 22 10) is in an old mountain barn serving meat grilled on an open fire.
In Le Praz, Azimuth is an intimate and unpretentious little place tucked away at the end of cobbled lane a three-minute walk from the piste. You are unlikely to stumble upon it by accident. When he was awarded his Michelin star chef Francois Moureaux vowed not to raise his prices. You can eat extremely well and economically here both at lunchtime and in the evening.
We particularly like La Table de Mon Grand-Pere in Hotel Les Peupliers, still owned by the Mounier family who helped found the resort in 1947, and offers traditional cooking using fresh ingredients.
Where to Party
Frankly, for a resort of this calibre Courchevel is a flop. If you were hoping for the excesses of Verbier or the effervescence of St Anton you will be in for a huge disappointment. Admittedly this is partly due to the disparate layout of the resort overall and the fairly appalling bus system that doesn't encourage night-time migration from one village to the other.
1850 should, by rights, be buzzing with its well-heeled visitors happily being parted from their money. But the wealthiest seem to hide away in their hotels or party behind closed doors in private chalets.
They only appear in public after dark for the occasional late-night foray to Les Caves or Le KuDeTa (+33 975 17 08 36), a couple of outrageously over-priced nightclubs much loved by Parisian haute monde. If you are the kind of person who needs to know the price of a bottle of Louis Roederer Cristal or Grey Goose before ordering, it's not for you.
There's no natural focus to a night out
Most of the young-ish bars are in the big multi-layered mall behind the Croisette. These include: La Luge – a hip snowboarding shop-cum-bar, which has a fiercely loyal following. It tends to be busy after dinner, rather than before.
Then there's Le Milk (+33 494 97 21 23) which is a Mexican bar with live music after skiing and a DJ later on. It has lowish prices and attracts a young crowd.
Bars for those who don't want to shout to make themselves heard are scattered about the centre. These include Le Mangeoire – probably the slickest bar in town, complete with doormen. Dress up and look as rich as you can to have a chance of getting in.
In Moriond (1650) Le Bubble (+33 479 01 14 21) is the best bar, with live music and is the rallying point for the many Brits (and seasonaires) who stay here.
In Courchevel Village (1550) the choice is pretty thin. The Chanrossa bar is the pick of the spots, with live music twice a week until midnight. The bar is downstairs at the chalet-hotel of the same name and open to the public. The Caterail Vodka Bar hosts live bands and DJs.
Families can focus on the new Aquamotion water park in Moriond, offering myriad watersports – including aqua biking, surfing, indoor and outdoor pools – as well as a spa, climbing wall and gym.