In a Nutshell
Megeve used to be the smartest ski resort in France – and it still has more than its fair share of great hotels and restaurants. It has a some excellent intermediate skiing too, and a helpful micro-climate influenced by Mont Blanc. We just wish it was a little higher.
Altitude: 1113m
Lifts: 53
Top Lift: 2350m
Ski area: 400km
Adult lift pass: 240.50€ for six days Evasion Mont Blanc lift pass


Official Site |

Ski Map |

Webcam
Essential Advice for the Perfect Trip
Megeve was founded in 1914 by Baroness de Rothschild who, during the years following the First World War, turned it into her own winter salon for European aristocracy. The rich and famous built houses here and, at one point, the resort liked to boast that it was the winter home to more kings and queens – both crowned and uncrowned – than any other resort in Europe. Its heyday was in the 1950s and 1960s when artist and author Jean Cocteau, along with celebrities such as Charles Aznavour, Sacha Distel, Johnny Hallyday and Brigitte Bardot, made it the focus of Parisian café society.
Patronage has continued from influential families such as Citroen, Tattinger, and Benetton. However, the only royals left these days are the House of Saudi, who have a lavish chalet just above the town.
The chic resort has great hotels, shops and restaurants
"A bit pretentious, very upmarket and glamorous, but good skiing, a beautiful setting, very French and, outside of peak holidays, not too busy," said a reporter.
These days, Megeve no longer competes with Courchevel 1850 for the title of France's poshest resort, and has been eclipsed in the international firmament by the likes of Verbier, Zermatt and Lech Zurs. But there's still a lot to recommend it. The ski area is huge and its pistes flattering; its proximity to Mont Blanc has a benign influence on its climate, shocking more than its fair share of snow out of passing storms; and its position, just an hour's drive from Geneva airport, makes a good choice for weekenders and families wanting to avoid long transfers. Oh yes, and it's still home to some lovely hotels and restaurants.
"The village is pretty, with a central square by the church where the horses are kept for the horse-drawn cart rides and a host of expensive designer clothes shops, but worth a wander after coming off the mountain," said a reporter.
The one great drawback is the altitude
Nearly all the skiing takes place between 1100m and 2400m, which is low by modern standards. In warm seasons slushy pistes are a problem. A particular concern is the warm Foehn wind that blows up from the south, and can quickly thin the snow. But there are compensations for being so low: "The underlying terrain is generally grassy, as opposed to rocky," says Will Roberts of the British ski school BASS Megeve. "This means that it takes very little snow coverage to open up all areas, both on and off piste, and keep them open."
All this could be improved with a lift link to the higher ski area of Les Contamines (up to 2487m with much of it over 2000m) – still on the drawing board. Even before there's a link, the Evasion Mont Blanc lift pass also allows you to ski the resort's 120km of pistes – but you'll have to drive, or take the bus, via St-Gervais.
A beautiful town centre
The focal point of Megeve is a central square surrounded by mellow 18th-century buildings, a fine medieval church and the Aallard department store where the world's first ski trousers were tailored. Brightly painted sleighs driven by local farmers ply for hire to reach the lift stations and hotels. They are more fun but more expensive than the free ski buses and regular services to Chamonix and other resorts in the region covered by the extensive regional lift passes.
"High spots were the people, the food and the jazz club – actually it's not just a jazz club but a good live music venue," said a reporter, "but beware that it is expensive."
Guide to the Mountain
The enormous ski area extends from the spa town of St-Gervais and the village of St-Nicolas-de-Veroce through Megeve and on to the little resort of La Giettaz where wooded slopes lead down to Praz-sur-Arly in the Val d'Arly. The 'Evasion Mont Blanc' lift pass also allows you to ski the 120km of pistes in neighbouring resort of Les Contamines. At the moment there's still no lift linking the two (you'll have to drive, or take the bus, via St-Gervais), but plans are on the drawing board for a linking chair-lift from the top of the Mont-Joly chair, taking you over to Les Contamines. Even without the link, this brings the total extent of pistes on offer to an impressive 445km – not quite a match for the 3 Valleys (600km) but a lot more than Val d'Isere-Tignes (300km).
A big, accessible ski area
"The skiing was good for us – it was cold and out of holiday time so the locals stayed in the warm, but we often had the pistes almost to ourselves….Excellent free bus services run every 15-20 minutes from the village to the main areas of Mt d'Arbois, Rochebrune and Le Jaillet, so the whole area really is very accessible," said a reporter.
The next step will be for Megeve to join the 73-lift Espace Diamant circuit that includes Flumet, Notre-Dame-de-Bellecombe, Les Saisies and Crest-Voland. For the present, Megeve's skiing is divided into three sectors, with two of them, Mont d'Arbois and Rochebrune, joined by cableways.
The quieter Rochebrunne area starts from the edge of town
A gondola from the town centre or a cable-car from the outskirts take you up to Rochebrune. The area offers the most attractive runs in the resort and is usually less crowded than Mont d'Arbois. From the top of the gondola, a sequence of further lifts and pistes lead up to Côte 2000, which has some of the most challenging runs in the region, as well as some of the best snow, because much of it is north-facing and don't get much sun.
Mont d'Arbois is the main beginner area
The main beginner and intermediate area of Mont d'Arbois is reached by cable-car and gondola from Rochebune or by a choice of two gondolas from the other side of town. A network of green and blue pistes provide easy skiing back towards Megeve, or you can venture almost endlessly further afield. "The main ski area is Mt d'Arbois from which stacks of runs radiate, and you can get the good lifts to Mont Joux and Mont Joly" said a reader.
From 1958m at Mont Joux you cruise wood-fringed pastures to Le Bettex and St-Gervais (great fun for families), or you can tackle higher and more demanding exposed terrain at 2350m on Mont Joly. It can be steep here – some slopes have 35 to 50 degree pitches – and it's in this sector that BASS Megeve tends to take its groups learning how to handle variable snow, bumps, and off piste.
Incidentally, a big redesign of tdhe Rochebrune ski area is underway, taking out the two drag-lifts (which can be a bottle neck and snowboarders hate) and two chairs, and putting in two fast long chairs. It is due to be ready for December 2020 and it will completely transform Rochebrune.
Attractive scenery in Le Jaillet area
Le Jaillet, Megeve's third and least-known area ("lots of good runs and pretty scenery – Jouty, Jaillet and Pertuis lifts give good access to some nice pistes"), is reached by gondola from the edge of town. The front face, leading back to the resort, has a good variety of mainly red runs and usually remains uncrowded even in high season. A six-seater chair takes you up to the 1853m summit of Christomet where you can ski down to La Giettaz. Some outstanding off-piste can be found on the wooded slopes beneath the Tete de Bonjournal, as well as runs from La Torraz into the Val d'Arly.
It's an expensive resort
Megeve doesn't attract a huge number of snowboarders, due to the high prices which are off-putting for younger skiers and riders. The drag-lifts are also a powerful disincentive. The terrain is best suited to beginners to intermediates, although the more experienced can head for the steeper pitches at Côte 2000 and Mont Joly.
The freestyle facilities aren't bad. The best snow park is at Mont Joux, where there's a half-pipe and music, and there is also a skicross course at Rochebrune. Megeve is a popular destination for cross-country skiers, with four circuits totalling 70km, including a long, scenic track from the Mont d'Arbois cable-car to Le Bettex and St-Nicolas-de-Veroce.
The Evasion Mont Blanc lift pass covers 400km of slopes in Megeve, Saint Gervais, Saint Nicolas de Veroce, Combloux, La Giettaz, and Les Contamines.
Where to Learn
The main nursery slopes in Megeve are in the Mont d'Arbois area, which is easy to reach by bus or cable-car. From here you can progress to green and blue runs or head over to the Rochebrune area – closer to the centre of town – for more of the same.
There are enough ski schools in Megeve to last a lifetime. The ESF and Oxygene are both recommended. Ecole de Freeride, Summits (private ski and snowboard tuition), Agence de Ski a Megeve and Evolution 2 are some of the alternatives. Revolution Glisse calls itself an 'online ski school'.
The resort has three British ski schools: BASS Megeve is the resort's original British-run ski school. Their classes include ski performance courses for confident skiers who want to develop their skills in more challenging terrain – for example steeper terrain, fresh snow, bumps, slush, or icy conditions. The second British school is Ski Technique which offers alpine skiing and snowboarding classes, and also specialist courses in bumps, freestyle, off-piste, carving and racing technique. Ski Pros Megeve is for private lessons, small classes and day ski-tours. Guiding can be arranged through the long-established Bureau des Guides de Megeve.
The resort has a justified reputation for providing good childcare. The ski schools all offer children's classes. The non-ski kindergarten, Meg' Accueil (+33 450 58 77 84), situated next to Le Palais, cares for children from 12 months old. Club Piou-Piou (+33 450 58 97 65) accepts skiers from three to five years. La Princesse (+33 450 93 00 86) looks after skiers from two and a half years. All the ski schools offer children's classes. Ecole de Freeride limits the class size to six.
Where to Stay
"Accommodation isn't cheap," said a reporter, "but there's a range of hotels and also a few affordable catered chalets, as well as some very top-end stuff where you can spot the Russian car registrations and accents." This is not a place for those on a budget – but if you're after somewhere stylish to stay, look no further for Megeve has some of the loveliest accommodation in the Alps.
The brightest stars
Chalet du Month d'Arbois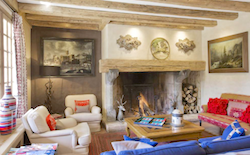 Chalet du Mont d'Arbois used to be the Rothschild family home and is close to the Mont d'Arbois cable-car. It has a heated outdoor swimming-pool and a separate chalet, Le Refuge du Planay, with four double rooms. The rooms are gorgeously decorated with absolute charm and warmth.
Les Fermes de Marie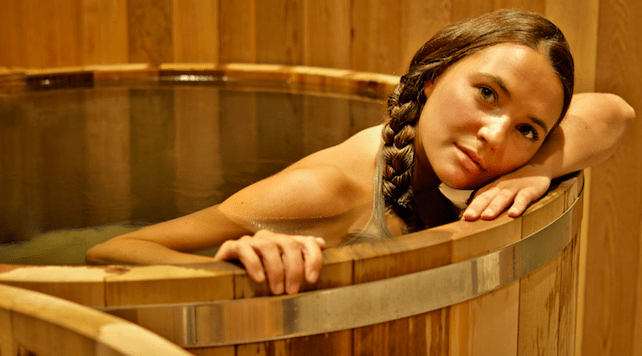 Les Fermes de Marie is 10 minutes' walk from the centre and is run by artist and designer Jocelyn Sibuet. It's an exquisite place to stay, based around an ancient cowshed and other farm buildings. A pool is set into rocks and the spa is one of the finest in Europe. Rooms have a winter grotto feel to them, adorned with furs and natural materials. Oh, and the breakfasts are infamously delicious.
Lodge Park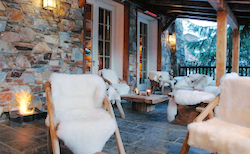 Lodge Park looks like a private club decorated in a mountain trapper style, with hunting trophies on the walls and chairs made from deer antlers. Antlers certainly seem to be a theme of the hotel, which creates a rather magical atmosphere. They manage to capture a sense of mountain serenity here – complete with a colourful spa area to relax post-slopes.
Hotel Mont Blanc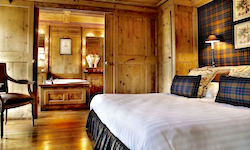 Hotel Mont Blanc is perfectly placed right in the centre of the pedestrian district and is one of the best small hotels in the Alps. It houses the famous Enfants Terribles restaurant. We find it slightly more regal than the quirky Lodge Park, with grand, beautiful bedrooms complete with wooden paneling. However, it prides itself on its artistic design and unique ambience. It is certainly luxurious, and you're guaranteed a comfortable stay here.
M de Megeve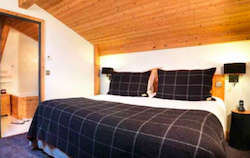 M de Megeve is a five-star hotel that is a member of Small Luxury Hotels of The World. The property is chalet-style with 30 rooms, all of them individually decorated. It's contemporary and cool, with an impressive Balneotherapy centre and 300 m² spa. The hotel is under 100 meters from the Chamois ski-lift and the pedestrian area.
Le Chalet Zanier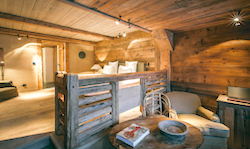 Le Chalet Zannier has just 12 rooms and suites, a gourmet restaurant, spa and indoor pool. It's a five-minute walk from the buzzing heart of the resort. It's intimate yet spacious, and there is careful attention to detail (including the food), which creates a stunning property.
Chalet-style luxury
Chalet Cashmere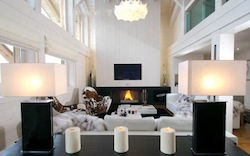 Chalet Cashmere is a spacious chalet with cutting-edge style and facilities. It's sleek and modern, contrasting sharply with the typical Savoyard Alpine chalet. It has eight bedrooms and the extras include a home cinema and a 4×4 vehicle to take you to and from the lifts and around the resort.
Le Chalet Saint Philippe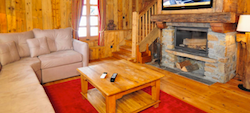 Le Chalet Saint Philippe et Son Hameau are four luxury chalets with saunas, Jacuzzis and full hotel service – the chalets vary in size and are not flashy at all – instead they have a wholesome, authentic feel to them and offer a cosy and homely atmosphere.
(Slightly) more modest establishments
Hotel Coin du Feu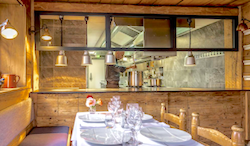 Hotel Coin du Feu is a delightful small hotel, also Sibuet-owned. The style is based on a hunting theme with lots of antlers. Staff are friendly and the location is convenient and, considering the slightly more modest price, the décor and general vibe is still extremely comfortable.
 


La Grange d'Arly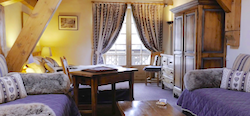 La Grange d'Arly has 22 comfortable rooms, many of them well suited to families. The restaurant serves Savoyarde and traditional French dishes. It's three star but the quality of the place is higher than you'd expect.
Au Vieux Moulin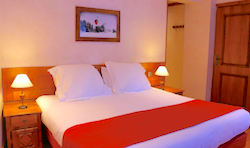 Au Vieux Moulin is tastefully decorated, and it's possible to book two or even three interconnecting rooms. The restaurant has excellent cuisine and the hotel houses its own beauty institute. It's just a few minutes walk from the town centre, so in terms of convenience you really can't beat it. Expect a simple but practical place that's also thoroughly pleasant.
Chalet d'Antoine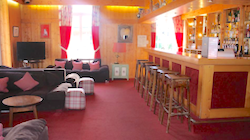 Chalet d'Antoine is a comfortable and cosy chalet-hotel run by an English company. It's what you'd expect for a three-star property, yet guests seem to adore it due to the welcoming staff who are eager to help in every scenario – and the great location. 
Le Gai Soleil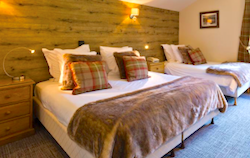 Le Gai Soleil is a charming, family-run inn, which dates back to the 1920s. According to reporters, it offers 'wonderful half-board food'. Bedrooms are attractively furnished, despite being a little on the small side.
Chalets and apartments that won't break the bank
Chalet-Hotel Sylvana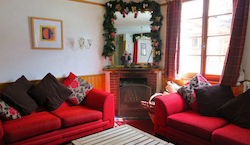 Chalet-Hotel Sylvana is in a quiet location 150m to the Rochebrune cable-car. The 15 bedrooms are comfortable, simple and homely, decorated in the traditional Savoyard style. Downstairs you can relax in front of the log fire in the attractive and spacious living area.
Residence les Loges Blanches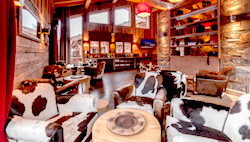 Residence les Loges Blanches Resort is a collection of Savoyard-style chalets housing three different types of accommodation. Les Loges Blanches 1 and Les Loges Blanches 2 each comprise seven different chalets, and Loges Blanches Hameau des Neiges contains 11 apartments. They are all located in a quiet area 1.5km from the resort centre, near Le Jaillet and La Princesse ski areas. All the chalets and apartments are furnished to a high standard.
La Chauminé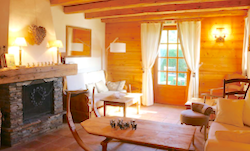 La Chauminé is a small chalet-style hotel with just 11 rooms. A hearty breakfast is served every morning to get you nice and fuelled up for a day on the mountain. You'll feel welcome here from the moment you arrive, and views are absolutely breathtaking.
Les Clochettes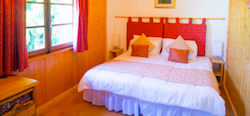 Les Clochettes sleeps 10-14 people and is known for its excellent food. Rooms are light and airy, clean and spacious. The British-run chalet is in a quiet location with stunning views, just 150m from the cable-car.
Where to Eat
There are more than 35 mountain restaurants in Megeve – including some of the best in the Alps. You can eat better on the mountain than in any other resort in France, but you will pay for the privilege.
"Mountain restaurants are very good and plentiful (including some small stop-offs for hot chocolate), with lots of deck space to eat your good food outside and enjoy the views of Mont Blanc," said a reader. A branch of the Folie Douce (as in Val d'Isere, Meribel, Alpe d'Huez and Val Thorens) comes complete with its own apres-ski.
Flocons du Sel is one of the essential ports of call for foodies. It's moved up from the village to Rochebrune, and has taken its Michelin star with it. It has a few bedrooms and even organises after-skiing cookery lessons.
Super Megeve (+33 450 21 22 05) is at the top of the Rochebrune cable-car, with a terrace looking towards Mont Blanc. Its barbecues are particularly recommended.
Best value can be found in the Jaillet area
One of the best areas for both quality and value is the Jaillet sector. Elizabeth Cahir of Megeve specialists Stanford Skiing, reports, "Jaillet actually has plenty of good value restaurants as it tends to be less skied. One of our favourites here is the rustic Bonjournal (+33 450 55 80 41), which has super views, reasonably priced food, and is on the way from Christomet to La Giettaz."
In the main Mont d'Arbois ski area, award-winning Les Mandarines (+33 450 21 31 27) is the oldest high-altitude restaurant in France, and has a ski valet and an open fire. Meanwhile, Rothschild-owned L'Ideal 1850 is one of the places to be seen on the mountain. "It used to be very expensive and pretentious – but is less so now and the food is excellent," says Cahir. She prefers Le Gouet (+33 450 93 20 97) in this sector. "It's a long-standing favourite," she says, "and has been run by the same family forever. You have to make an effort to get there but it's charming, has wood-burning stoves and is reasonably priced. To be honest we don't want too many people to find it!" Sorry, too late….
Slightly off the beaten track
Chez Ernestine (+33 450 93 13 08), on the route from Mont d'Arbois to St Gervais via Mont Joly, is well worth seeking out, too. Prices are reasonable. "I had an amazing steak here, with superb views of Mont Blanc," says a reporter. They also recommend skiing down below Evasion on Mont Joux to Communailles to enjoy Restaurant L'Alpage for "a great lunch". Another rates "the tiny but amazing La Raviere (+33 664 23 90 42) in the woods off the hard-to-find Raviere run…you must book, but it's worth the effort for a unique experience and great food – skiing back out is best done sober!"
The village eateries
The Flocons Village has taken the place of the Michelin-starred Flocons de Sel, which has moved up the mountain. It's less high-falutin' than its older sibling, and many would say it's all the better for it. "It's probably the best value in town," says Elizabeth Cahir. La Ferme de Mon Pere is a delightful place with excellent cuisine.
Other restaurants to target include Le Cintra, an upmarket fixture in Megeve since 1937, and famed for its seafood; L'Alpage, in the Fer a Cheval, which has a nice ambience and serves Savoyard specialities; Le Sapin Chaud (+33 450 91 08 88) set in an old wooden chalet; and Le Grenier de Megeve (+33 450 21 47 81), which is small, traditional and cosy and has a set menu for 19 euros. Opinion is divided about Le Prieuré – some rate it highly, others reckon standards are slipping. A reporter recommends The Carousel for its "excellent a la carte and menu du jour. It's at the far end of the village, beyond the church.
Oh yes, and let us never forget that Megeve is home to a McDonald's. It's usually stuffed to the gunwales with British season workers, a lot of them en-route to other resorts, and desperate for something cheap to eat which isn't a fondue.
Where to Party
Megeve has sophisticated rather than lively apres-ski, in keeping with its well-heeled clientele. It was originally created in the 1920s as the French alternative to St Moritz. The most famous nightspot here is the Club de Jazz Les Cinq Rues (+33 450 91 90 69), off the Medieval square, which is both an aperitif and late-night focal point. Its cosy surroundings – complete with log fire – attract some of the biggest names in jazz from both sides of the Atlantic. It also features other genres of live music.
The apres-ski is taken just as seriously as the skiing
After skiing people head for Bar des Alpes (+33 450 93 08 15) which is an internet cafe with a sun terrace, and 540 Cafe (+33 450 58 92 78) with a large terrace at the bottom of the Jaillet cable-car. The new Folie Douce opened here in 2015. It's in the St Gervais area of the slopes and follows the same formula as the branches in Val d'Isere, Meribel, Alpe d'Huez and Val Thorens. There's La Fruitiere for lunchtime eating and the adjacent Folie Douce for drinking and partying on the piste – accompanied by DJs and other entertainment.
If you can't afford Megeve prices you can always window-shop for jewellery, antiques, and designer clothing as a major part of the early evening entertainment. Otherwise, Cocoon (+33 450 21 09 91) is a popular bar with music that attracts resort workers. Bar Tabac St-Paul (+33 450 91 93 03) is where the locals go. Wake Up (+33 450 58 25 79) is a cool wine bar. Le S (+33 450 53 94 47) is a cocktail bar popular for its mojitos.
Megeve has a handful of nightclubs and bars that stay open until 4am. These include the Cosmopolitan Bar (+33 450 21 09 91) which is open to 5am, and Pallas (+33 450 91 82 70), which is a disco with a (smart) dress code. The Casino, originally a 1930s bus station, has a restaurant, two bars and the popular Palo Alto nightclub. Cargo (+33 450 58 78 70) is the resort's original nightspot.
From polo and golf on snow to ice-dancing
As many of the people who come to Megeve don't ski, the resort is well equipped for other activities both during the day and in the evening. Le Palais has an outdoor Olympic-size skating-rink and an indoor swimming-pool. You can watch international ice hockey and curling tournaments, watch the annual ice-dancing championships, try the climbing wall, play indoor tennis, or ride the electric-powered ice bumper-cars on the skating-rink. Hot-air ballooning, dog-sledding, polo and golf on snow are just a few of the other sports that take place in the resort.