It's not easy knowing what to take up the mountain in your backpack. But we have lots of suggestions. After all, we're normally in the Alps almost every week during the winter, and are always ready to plunge off-piste.

You never know when the opportunity to ski untracked snow is going to open up. So it would make sense to have at least some of the following with you: airbag, skins, helmet, transceiver, shovel, probe, GoPro, First Aid kit, 2L Camelbak, Swiss Army Knife. If the conditions allow, you can change plans quickly and make full use of the equipment. Yes it's a lot of kit. But over the years keen skiers and snowboarders get used to carrying a backpack as a matter of course: and the rewards for the extra effort are huge!
So here is a list of 22 items you might need on the mountain. Many of them are quite specialist, such as protection needed in the park or equipment for overnighting in a hut: and we're not suggesting you carry them all at once! But whatever area of the mountain you plan to visit, make sure you've got a decent backpack to hold everything. Serious skiers need a pack of at least 30 litres for ski mountaineering, with side straps in case you want to carry skis or a snowboard.
What to Wear or Carry in Your Backpack
Ski Helmet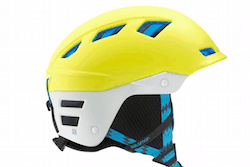 A helmet is absolutely essential for everyone of all ages, see Welove2ski's separate feature on ski helmets for how to buy one. You'd not only be un-cool, but also a fool to ski or snowboard without one. The one pictured here is the Mtn Lab from Salomon, but there are umpteen brands producing helmets in a rainbow of colours, as well as different specifications.
Sunscreen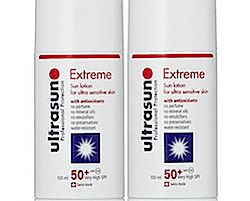 Don't forget to bring a pocket-sized suncream or sun-protection stick up the mountain with you – whatever the weather. You'll need to reapply it during the day as it's not enough just once in the morning. For most people, a sunscreen with SPF30 is sufficient for high altitudes, although children and people with very fair skins will need something as high as SPF50. See Welove2ski's separate feature on sunscreens for skiing.
Water Bottle or Flask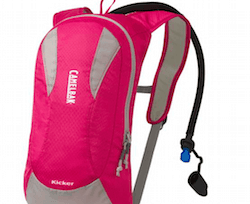 …or, better still, a Camelbak, which is shown here – it's a backpack that is also a water reservoir and is available in a variety of colours and sizes – including small ones, like this one, for children.
If you're wearing an ABS (see below) or general touring rucksack you'll need Camelbak's Stoaway 100, which turns any rucksack into a hydration system.
A bar of chocolate or an energy bar is another useful addition.
Walkie-Talkie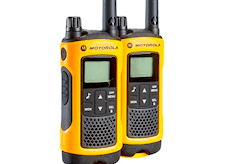 For most skiers, mobile phones have largely taken the place of walkie-talkies. Gone are the days when one of the group takes a wrong turn and you lose him or her until lunchtime or the remainder of the day. Most resorts now have extensive wifi coverage. But off the beaten track you may well find that you have no phone or data coverage. This is where walkie-talkies come into their own. When choosing one, it's their size, weight and range in the mountains that's important – for example Motorola covers from 5km to 10km.
First Aid Kit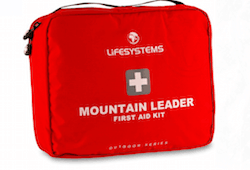 You'll need this to deal with simple things like cuts, blisters or headaches. The Lifesystems Mountain Leader First Aid Kit from Ellis Brigham is the specialist version, containing 64 items, ranging from painkillers and wound closure strips to duct tape and scissors with a 6cm blade. However, you can leave the scissors at home if you take one of the tool kits mentioned below.
Tool Kit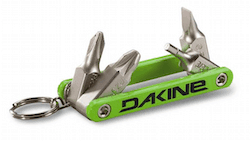 A coin probably won't do to adjust or fix your bindings but Mountaineer from Swiss Army Knife, or The Leatherman Juice are two good options. Ideally you need a weapon that includes pliers, a knife, both types of screwdriver and scissors. If you want to go the full hog, then screwdrivers like the Dakine Multitool pictured here are highly thought of.
Space Blanket/Thermal Blanket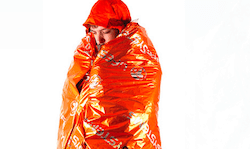 These metallic blankets look a bit like loft insulation and are used to prevent heat loss from the body. They are so compact that it's worth keeping one in your rucksack or pocket in case of emergencies. An injured person lying on the snow would benefit from this heat-reflective cover – it will help prevent them from getting hypothermia as is also windproof and waterproof. The one pictured here is the Lifesystems Mountain Thermal Blanket from Ellis Brigham.
Compass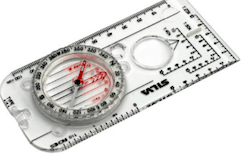 Nowadays the iPhone 6 features an efficient compass, but a separate pocket one is handier to use on the mountain. BASI recommends the Silva Type 4/54 in 360 degrees, which is pictured here, or something similar.
Protection In The Park
Special body armour is needed here, for children and teenagers especially who might attempt tricks they are not necessarily capable of. It's all too easily to hit your head, but the spine, knees and elbows are vulnerable, too. The following items wouldn't go amiss either for anyone doing big mountain and extreme skiing.
Back Protector
This needs to be light and flexible so that it moulds comfortably to the shape of your body. They are normally made from shock-absorbing materials such as EVA foam, Poron XRD, and d30, so look out for them on the label. Poc has developed a material called VPD (Visco-Elastic Polymer Dough), which stiffens on impact and is at its most flexible when warm.
The Spine VPD 2.0 Back from Poc – pictured above – is a well-ventilated back protector offering freedom of movement and a high level of protection.
Knee and Elbow Pads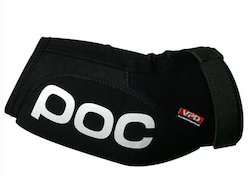 For park protection and anyone attempting big mountain. The Joint VPD Knee (www.pocsports.com/en/product/1253/joint-vpd-knee) is a comfortable knee protection with a pre-bent shape. Made of stretchy fabric and VPD. Joint VPD Elbow from Poc.
Black Diamond's Telekneesis Kneepads are different in that they are high-impact plastic shells offering protection against tree stumps and rocks.
…Or a Full Suit of Armour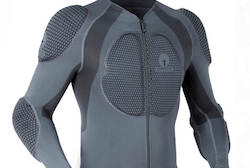 Look a bit like an American footballer in the Forcefield Pro Shirt from Ellis Brigham, which has flexible armour at the elbows, shoulders and chest, and a complete built-in back protector. The armour is removable so that you can wash the shirt.
Wrist Guards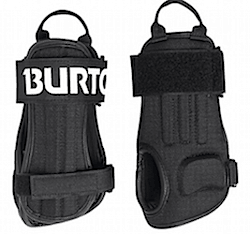 These make a lot of sense for snowboarders, whose wrists will be particularly vulnerable. They should be essential items of equipment for children and young teens who are learning to board.
The Burton Impact Wrist Guard uses a streamlined design so that it fits easily under snowboard gloves and mitts. They have soft padding and easily adjustable Velcro® straps to keep them comfortably fixed in position.
Impact Shorts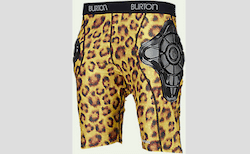 These are mainly sold for snowboarders but are good for anyone in a terrain park – in case you land, hard, on your bottom after taking a lot of air. But did you think they had to be black and boring? The men's version comes in khaki whilst the women's could almost double a slightly unusual apres-ski garment. Burton women's Total Impact Short has soft flexible padding, which stiffens on impact, absorbing any falls. They are quick-drying, breathable and comfortable.
Off-Piste and Avalanche Safety
Certain equipment – such as an avalanche transceiver, shovel and probe – are essential when going off piste and now a growing number of people are also investing in avalanche air bags and other gear that can help keep you safe in the back country. Avalanche Canada provides a good list.
Transceiver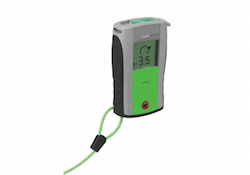 This gives you the best chance of survival if you are unlucky enough to be buried in an avalanche. When venturing off piste all the party need to wear one – and all of you need to learn and practice how to use it. In the real event, when someone is buried you must able to instinctively put a grid search into operation. His or her life depends on your skills – in such a stressful situation it's no good trying to remember what you think it might have said in the manual. After 15 minutes beneath the surface of the snow, the chance of survival plunges.
First trick is to remember to turn it on and check your companions' transceivers are also working. Make sure you change the batteries at the beginning of each winter. There are a number of manufacturers with a range of models and they all share the same frequency. Pictured here is the Element Barryvox from Mammut. Tip: unless you're a mountain guide you don't need to go for the most complicated and expensive model.
ABS/Avalanche Air Bag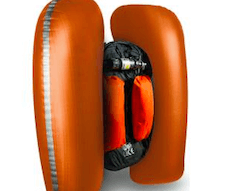 If you can afford one – they cost around £400-800 (564-1,127€) – then make this your regular backpack. If you are caught in an avalanche, you trigger the inflation of a balloon that gives you a greatly increased chance of remaining on or near the surface of the slide.
Airlines have varying policies regarding travelling with avalanche air bags powered by compressed gas cylinders, so check before you fly. Some will require you to complete lengthy paperwork. The one shown here is the Vario Base Unit from Snowsafe. Alternatively, a new generation of bag uses a battery-powered high-speed fan instead of the gas cylinder, such as the Black Diamond Pilot 11 Jetforce Airbag from Ellis Brigham.
Shovel
Here's another vital piece of equipment to be stored in your backpack, to be used for digging out anyone buried in an avalanche. The debris from a slide is like wet concrete – it is almost impossible to dig someone out using gloved hands. Go for one that is light and collapsible, longer-handled shovels are easier to work with than short ones. Pictured here is the Mammut Alugator Ride shovel. Backcountry Access (BCA) make a shovel that can store a probe in its handle.
Probe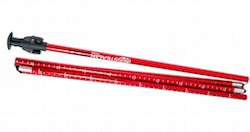 This is a long, collapsible pole (or ski poles that turn into probes) that can be used in an avalanche to find someone buried under the snow. It is then used to mark the exact location of a body. The length is an important feature – generally a probe should be 200-320cm to be sufficient. They need to be made from a strong and unbreakable material like aluminium or carbon. Assembly is with a flick of the wrist. In a live situation when seconds count toward survival, make sure you know how to do this. Pictured is BCA Stealth 300.
Ski Mountaineering or Touring
If you're doing this type of skiing then you should be accompanied by an experienced mountain guide, who will also be kitted out with all of this equipment, as well as ropes, an inclinometer for measuring snow angles and even a snow saw for making snow profiles.
BASI's Level 3 Mountain Safety Course provides a list of what is needed for ski mountaineering. This includes touring boots and bindings, and skins. The skins should be either 'tip fix' or 'tip and tail fix', which should be almost as wide as the narrowest part of the ski. Skins can either be parallel sided or shaped to the ski.
Crampons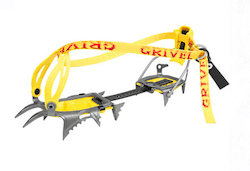 Otherwise known as Harscheissen. Make sure these fit your ski touring boots before setting off.
Ellis Brigham sells the Grivel Air Tech New Matic Crampon pictured here.
Harness and Caribiner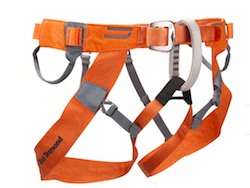 Again, your guide will be providing these, but here's an example. The Couloir Harness from Black Diamond is an ultra-light, minimal harness for technical skiing and mountaineering.
It packs down into a stuff sack small enough to fit into a jacket pocket.
Touring Axe/Ice Axe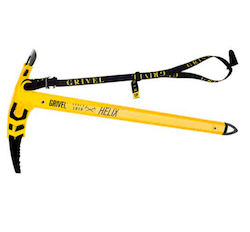 There is a plethora of choice here, so take advice from a mountain guide or the retailer you're buying from. The Grivel Helix Ice Axe, shown here, is a good choice for less extreme alpine touring, and also to be used in an emergency. The reduced weight makes it easier to carry than some models and the plastic cover prevents injury or damage to clothing.
Overnighting in a Mountain Hut
Sleeping Bag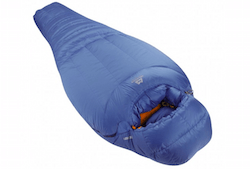 A model that can cope with Arctic conditions is best, but these can cost over £600 (845€). This one, Mountain Equipment Everest Sleeping Bag, has pure goose down filling and is suitable up to -40C.
For tighter budgets, go for a four seasons bag and add a liner. The Everest Down Sleeping Bag has 900g 80/20 Grey Duck Down filling, suitable for mildly chilly to very cold winter temperatures with an extreme temperature rating of -28C, and costs less than half of the five seasons varieties.
Headlamp or Torch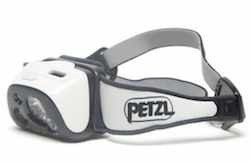 A head torch could come in useful if you are stuck up the mountain when it's getting dark, tobogganing, night-skiing, walking home late after apres-ski, or if you want to join a torchlight descent. But it's an essential piece of kit if staying in a mountain hut. Petzl have revolutionised head lighting with the Tikka RXP Headlamp, pictured here, which features Reactive Lighting technology – so it automatically alters the light output and beam pattern to suit the environment. It offers from 7 to 215 lumens of brightness.
What Are Your Favourites?
Is there something you think we should add to this list? Do you have any favourite items you would like to recommend? If so, leave a comment in the box below.