Yesterday saw the biggest breakthrough in ski equipment since shaped skis replaced skinny ones: folding skis. Once we are all skiing again buying a pair of them will be top of my list, although for now they don't come cheap.
There's nothing new in the concept, which in many ways is the Holy Grail of snow business – unless, of course, you happen to own a rental or ski bag manufacturing company. Elan has launched the Elan Voyager all-mountain skis, which simply and quickly fold and then pack into a custom-made bag along with foldable poles and a pair of ski boots. Once you reach the slopes, your simply unfold them – they're cunningly hinged in the middle – and simply click the plate and binding into place.
Despite being so space-efficient, the Voyager can tackle anything a demanding skier needs, all without compromising performance. But until now, we've only been able to dream of popping our planks in a conventional-sized suitcase before heading for the airport, catching a train, or loading up the car. Storage at home is simple, too. You can even take them into a mountain restaurant at lunchtime rather than leaving them on a rack outside where they might risk theft.
Folding skis have been around for at least 35 years – the only problem was that when the going got tough they didn't work. The Japanese even came up with idea of skis that you rolled up and put in your suitcase. When you got to your destination you ironed them until they were stiff and then off you went. The only problem was that they didn't stay stiff and had a nasty tendency to revert to travel mode when you least expect it – like half-way down a mogul field.
We can't wait to test the Voyager ourselves – it appears that Elan has finally come up with faultless technology. Do catch the final segment of this video when a 100kg pro skier does his best to break them, or at least change their shape. He fails.
The technical stuff
The secret of the Voyager is the Connect Technology, which uses a four-axis mechanism that bonds and seals the ski together at the folding joint. This feature, combined with a carbon-reinforced fusion plate, serves as a load-bearing platform. The two components work together to provide torsional rigidity for superior performance, but also allow the ski to fold into a compact package.
The package doesn't come cheap but it includes Voyager skis, bindings, poles and custom bag at £1.349,95 (€1.499,95).The Voyager one-pair ski bag measures 100cm x 26cm x 16cm, made specifically to transport Elan's Voyager skis.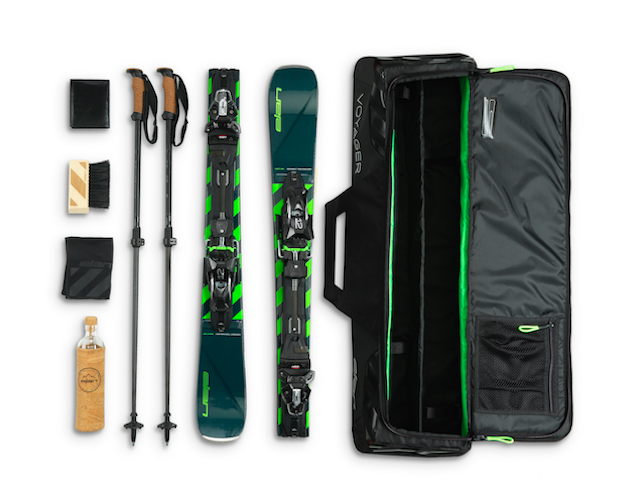 Specs & Dimensions
160cm (packed to 87cm)
127/78/110 width / 12.6 radius
166cm (packed to 89cm)
127/78/110 width / 13.7 radius
172cm (packed to 93cm)
127/78/110 width / 14.9 radius
At the moment you can only buy them direct from Elan, but from the autumn they'll be in ski shops everywhere. For more information, visit the Elan website.