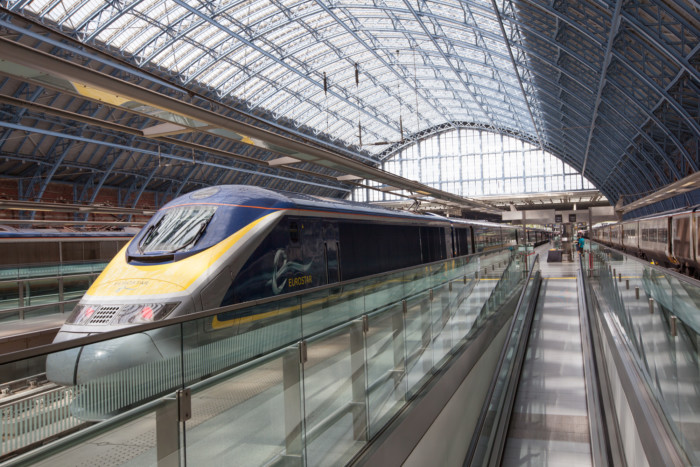 This week we interviewed Guillaume de Marcillac, CEO of Travelski, who is bringing back the ski train to six resorts in the Alps. Here is a shortened version of what he told us, but you can also listen to the full interview here
'Travelski is a European tour operator, which grew up in France over 15 years ago and offered a wide array of packages originally to the French community to help them enjoy our beautiful mountains,' said Guillaume. 'Travelski then grew and progressively became more international. We started with Belgium, which is a natural extension to the French market, and a year ago we acquired a Dutch tour operator to extend our reach, because Dutch clients are actually also big consumers of skiing and enjoy going to the Alps.
During the COVID crisis, we saw that there was a lot of sadness in the UK British community about the fact that the Eurostar direct train between St Pancras and Bourg St Maurice had disappeared. And obviously there was no point in actually setting anything up last year because COVID prevented us from travelling throughout Europe and enjoying the mountains. When preparing for the exit of the COVID crisis, we started to think about the possibility of reintroducing this train and offering this product and service to British skiers.
We heard during the spring that Eurostar was not willing to reintroduce it for the next season. So we entered into discussions with them to see, in the case that we would actually fund and finance those operations, whether they could possibly think about running the train for the next winter. This was quite a bold move, and I think to their surprise and our surprise, after initial calls we basically started to have real discussions, and on both sides we realised that it would make a lot of sense.
So we are not reinventing everything, but at the same time we are really inventing something radically new because it is the very first time that Eurostar is going to charter a train for a full season…I think it could be the beginning of potentially a long history of further deals between tour operators and rail companies…We are basically chartering a train, and we are packaging it with accommodation, transfers and ski passes.
Fundamentally, the customer journey will start with a welcome in St Pancras on the Friday night when customers check in. They will spend the night on the train and arrive early morning in Moutiers or Bourg St Maurice. From those two stations there will be transport waiting for them for a seamless connection to two resorts starting from Moutiers – which will be Le Menuires and Meribel. Then four resorts starting from Bourg St Maurice – Tignes and Val d'Isere, Les Arcs and La Plagne. The reason we are dealing with those six resorts is that they are Compagnie des Alpes resorts but, more importantly, they are well known and well respected and correspond to habits of the English community.
When it comes to the exact number of resorts that we connect to the train, we have to deal with two things which are very important in terms of experience for the clients. The first one is distance: we don't want to add a too-long trip between the arrival in Bourg St Maurice and the arrival in the resorts. And secondly, it is quite a challenge, operationally-speaking, to make sure that it is not just an arrival, like you would arrive in an airport and then have to find your own taxi or your own transfer operations.
We want this to be really a seamless experience. So running those from two railway stations to six different destinations is already a challenge. You know that even Tignes and La Plagne, we call them one resort but they represent different areas – Tignes Val Claret is not the same as being in Tignes Les Boisses.
So clients will arrive on the Saturday morning in the resort and will have the possibility to enjoy a first day of skiing. This is why we are packaging a seven-day ski pass so that they can enjoy the first Saturday, and they can ski until the end of the following Friday. We leave the resort and their accommodation on Saturday morning to catch a train around 9:30am in Bourg St Maurice to be back in St Pancras mid-afternoon around 4:30pm.
There will be food on the journey, so people travelling in standard coach will be able to enjoy the bar. Clients buying premiere tickets will be served dinner on the way to the Alps and breakfast before arrival; on the way back they will be served lunch and high tea before arriving in St Pancras.
A full Eurostar train is composed of 900 seats, but we are going to make sure that we have plenty of room and that has historically been an issue with Eurostar, so we discussed that at length with them. We want to make sure that there would be plenty of room for the luggage and for skis and snowboards. So we are going to set aside about 150 seats and there will be up to 750 seats for sale in each train.
We are offering about 100 different accommodation options, which can be combined with the train and lift passes. If I take the example of Les Menuires, we have Belambra which is a club product that makes a lot of sense for our UK clientele because there will be English speakers and activities for kids in those clubs. In Les Hameaux des Airelles we have a lead-in price for a family of four of £569 per person. We have really looked at what the UK skiers enjoy in terms of product – not only the train, but also in terms of accommodation and we have built quite attractive packages, both in terms of pricing but also in terms of product, because we want this to be high quality.'
For find out more about skiing by train and to book a package that includes the train journeys, resort transfers, accommodation and liftpass, visit Travelski.