Winter's back. After a week characterised by brilliant sunshine and spring-like conditions, many resorts in the northern Alps have seen steady snowfall today.
There's more snow to come, too – and in sharp contrast with the big storms of January, it will be accompanied by consistently low temperatures, generally lighter winds and a much wider distribution.
Here's today's snow forecast, showing how the almost the whole region will have seen light to moderate falls by midnight. The Dolomites in Italy and the East Tirol in Austria are both going to do well, alongside the north-western Alps.
And this is tomorrow's snow map – as the snow slips further east.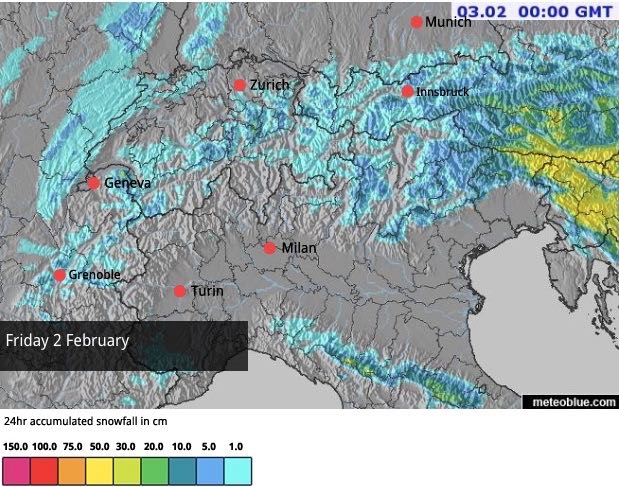 Today in the French Alps the freezing point is down to 600m, and in Austria 700m. According to the latest prognosis from the European Centre for Mid-Range Forecasts, we're not likely to see a really significant thaw for at least a week.



Here's the ECMWF chart for next Thursday, February 8, on Meteociel. It looks as though the run-up to the February half-term will be a wintry one.
I'm in Val Thorens again this week, and there was continuous snowfall for much of the day, but little in the way of wind. The snow was light and fluffy, as you'd expect on a cold day like this. It was quite a change from the blue skies and warmth of yesterday. Sunshine is expected tomorrow, and the pistes here are going to be in superb condition when the new snow is groomed in.
Here's how it looked in Serre Chevalier, further south, today.
And this is how it looked in the Austrian Tirol's Skiwelt this afternoon, as the snow came in.
As everyone knows by now, snow depths are extraordinary for the time of year across most the northern Alps – and they'll be improving in the south-eastern Alps in the wake of these new snowfalls, too. But beneath the fresh powder, the old snowpack is pretty hard and crusty. Off-piste, skis are likely to cut through the firm stuff below for the next day or two: although that should change as more of the white stuff accumulates.



Do please keep an eye on the avalanche risk too. Although the old snow is generally pretty stable, the new snow is not, and conditions vary from slope to slope. Please read the warnings carefully – and hire a guide.