Other mountain sports

69%
In a Nutshell
Part of the vast Portes du Soleil region, Morzine is the (unofficial) mountain bike capital of the Alps with access to 600km of trails. But you don't need two wheels to experience the best of summer in Morzine – from hiking to horse riding there is plenty to get stuck into.
The Stats
Altitude: 1000m
Lifts open in summer: 19
Walking trails: 140km in Morzine-Avoriaz
Cycle paths: 600km mountain bike trails in PduS, 16 road bike itineraries from Morzine, total of 1262km
Lift pass: €27.50 per day for full PdS biking pass; pedestrian passes included in the €2 daily Multi Pass


Official Website
Essential Advice for the Perfect Holiday
There is a saying among many Morzine locals: people come here because the winters and end up staying because of the summers. Yes – summers in Morzine are pretty epic.
There is something Jekyll and Hyde-esque about Morzine in the summertime. On the one hand, the resort is activity central: not only is it the epicentre of the Alpine mountain biking scene, but the summer festivals calendar is more chocker than the Pleney gondola on opening day, with the Mont Blanc Rally, Harley Days and Crankworx among the highlights.
Yet on the other hand, Morzine's small town charm and tranquility is most palpable in summer: window boxes overflow with geraniums, parapentes float silently up in the cobalt sky and the mountains are awash with green pastures, wild flowers and the tinkling of cow bells; and thanks to the network of accessible walking trails, it is easy for visitors to get among them, too.
There is also plenty for families to get stuck into, from horse riding and tennis at the Parc des Dérèches to kayaking and swimming up at Lac Montriond.
---
---
Mountain Biking and Road Cycling
For mountain bikers the Portes du Soleil is Europe's Whistler. With 600km of trails across 12 linked resorts and two countries, it is the largest mountain biking area in the world. But it is not just the size that riders from all across the globe come for – it's the variety too. From wide and mellow routes across meadows with only cows for company, to technical World Championship courses, there is something for all ages, abilities and interests.
The trail maintenance is excellent, and despite its popularity, the PdS is certainly not resting on its laurels – the resorts are constantly updating and improving their lift system and trails. Nowhere is this more prevalent than Chatel, where Vinnie T and Nico Vink – the world's leading riders and bike park designers – add new trails and crazy lines every year.
It's not all about sculpted berms and loamy forest trails – Morzine is also a road cyclist's haven with 16 mapped itineraries starting from town covering well over 1000km, and 25 mountain passes within 50km. One of the most challenging – and rewarding – is the Col de Joux Plane, which links Morzine with Samoens. It has featured several times in the Tour de France, and while Chris Froome had no excuse to pause mid-climb you do – there are great views of Mont Blanc at a number of hairpins. There is a website dedicated to road and mountain cycling with route guides and useful info – check it out here.
From leg-power to battery-power – Morzine is fully embracing the e-bike movement. Several shops in town have e-bikes for hire, and there are battery-charging stations around the town and mountain. There is also an e-bike map, and the first Bosch 'Uphill Flow' trail in France (second in the world) on Super Morzine – it's a trail designed to replicate the fun of downhill, but going uphill on an e-bike – think tight turns and roots aplenty.
Accompanied by qualified instructors, the Bureau des Guides Morzine-Avoriaz offers cycling sessions for all levels, and also courses where children can learn the basics.

Competitions and Festivals
For visitors looking for a challenge, the Pass'Portes du Soleil is a three-day festival that sets the start of the summer season every June. It sees thousands of riders set off on a classic 80km circuit that includes 7000m of downhill and 1000m of uphill and takes a whole day to complete. There are refreshment points en route for regional produce such as cheese, cured meat and chocolate.
If you'd rather watch the pros in action, the world famous mountain bike competition Crankworx is held in neighbouring Les Gets every June. With easy-access viewing spots, you can gawp at the world's top freestyle mountain bikers as they flip and spin and who-knows-what-that-was. You can also watch the downhill pros as they hurtle down trails at warp speeds. The same goes for the French National Downhill championships, which take place in Morzine in July.
---
Where to Walk
Compared to its more extreme and rugged neighbour Chamonix (70km south), Morzine's mountains are rounder, greener and home to some of the most easily-accessible hiking terrain in the Alps. There are 7000km of marked trails within the Portes du Soleil – many of which are linked by the extensive summer lift system – ranging from family-friendly trails to steep, bring-your-A-game climbs.
There are plenty of mellow walks in and around Morzine itself, such as the Parc des Dérèches circuit, ideal for those with children in tow, taking you past the stables and over the wooden bridges that criss-cross the River Dranse. There is also a flat 3km loop around Lac Montriond, 10 minutes' drive from Morzine (it's worth extending this walk with an ascent to the impressive Ardent waterfall).
One of the most serene and scenic areas in the Morzine valley, even the whole of the PdS, is only a five-to-ten-minute drive up the Vallée de la Manche. Follow the trail which hugs the river and at the end of the valley you'll find yourself at the foot of the imposing Tête de Bostan mountain, with its interesting rock formations; circumventing to the left takes you to Switzerland, and to the right feeds into the classic GR5 hike, which leads to Chamonix.
For those keen to get some altitude without the use of ski-lifts, the medium-rated hike from Lac des Mines d'Or to the Col de Cou mountain pass is a firm favourite with locals and visitors alike. The 10km trail winds it way through alpine pastures, past the Chalets de Freterolle (perfect for a pit-stop) to the summit at 1921m. Here you are rewarded with fantastic views of the Dents du Midi and Dents Blanche.

If you want to get a head start with lifts there are plenty of options. Straight from town, you can hop on the Super Morzine bubble followed by the Zore chair-lift. There is a 5km loop which ducks in and out of the forest and takes you to a beautiful lookout point over Lac Montriond.
Keen to get the heart-rate up? The classic Roc d'Enfer climb is a three-hour round-trip. The name means 'Rock of Hell' and as you scramble up the narrow ridge to the top, with vertical drops of 500m on either side, you'll see why. Thankfully the summit views – you can see as far as Mont Blanc on a clear day – should help settle the nerves.

Fancy a challenge?
The Three Peaks challenge is exactly what it says on the tin: three peaks, climbed back to back, in one day. The peaks in question are the ones you see dominating the skyline: Ressachaux (2172m), Nyon (2019m) and Nantaux (2170m). With 3500m vertical gain, over 25km, it's the ultimate test of endurance.
---
---
Other Summer Activities: from Parapenting to Rafting
If you've never done it before then Morzine is a great place to paraglide. There are a number of schools in town, such as Evolution 2 where first-timers can fly in tandem with a qualified pilot. If the launch-off doesn't get your pulse rate up, the views surely will – floating 600m above ground offers the best views of the Portes du Soleil peaks and beyond.
If you'd rather keep two feet on the ground, or even better on a green, there are a couple of golfing options to choose from. While there are none in Morzine itself, golfers can tee off at the 9-hole course located at the Procolou piste just below Avoriaz town. Or there is an 18-hole course in Les Gets.
There is plenty of action to be had on the River Dranse, too. Rafting, canyoning, hydrospeeding, airboating and canorafting can all be booked via the excellent Frogs Rafting team.
For visitors wanting to improve their French, the Alpine French School offers a range of options for all ages and abilities, including intensive courses and activity courses, where you can practice your verbs while getting stuck into a sport, such as mountain biking or hiking.

Family Time
It would be easy to spend an entire week at the Parc des Dérèches and not get bored. There are indoor and outdoor swimming-pools (one Olympic sized), volleyball courts, tennis courts, a bouncy castle, horse riding, skate park and a treetop adventure park. There is also indoor ice skating at the Palais du Sport just next door.
For older kids with a head for heights, the Fantasticable – located at the top of the Chaux Fleurie chair-lift in Lindarets – is a must-do. Wearing a special harness and lying down in a Superman position, this zip wire carries you at speeds of up to 100km/h from one side of the valley to the other, 240m above the ground.
For something a little more serene, Lac Montriond makes for a great family day out. There are canoes, kayaks and paddle boards for hire, as well as a great all-wood play park. Pack a picnic or grab a bite at one of the lakeside restaurants.
There is plenty to keep the little'ns amused in central Morzine, too. There is the luge, where two toboggan runs of different lengths and intensity, accessed by chair-lift, snake their way down the Pleney home run. It's fun, fast and children as young as three can have a go (with an adult). The main square in Morzine also hosts a Children's Kingdom for two weeks in July and August, with bouncy castles, games and shows, all of it free. Or you can hop on the land train, which loops through town.
The Multi Pass – a must for families
The summer Multi Pass is a brilliant way for families to save time and money during their trip. Available to holidaymakers staying in Multi Pass accommodation (hotels and apartments have to opt into the program) it costs just €2pp per day. For that you get unlimited access to more than 50 activities in the 12 resorts of the Portes du Soleil: walkers' ski lifts, swimming-pools, including the aqua park in Morzine, tennis courts, ice rinks, mini trains, crazy golf, and inter-resort buses.
---
---
Where to Stay
The Farmhouse/Le Mas de la Coutettaz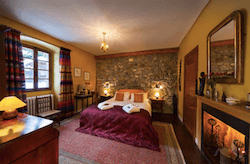 Le Mas de la Coutettaz is the oldest building in Morzine and has 11 rooms. Some are in the main house, others in wooden chalets in the pretty garden. All feature exposed wood beams and beautiful fabrics. The 18th-century house was built for a wealthy slate-mine owner, and has been carefully restored. It overlooks the river Dranse which runs through the valley and into Lac Leman (Lake Geneva).
Hotel les Bruyeres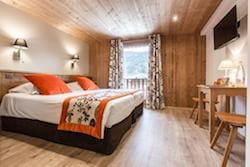 Hotel les Bruyeres is central, comfy and good value. It offers mountain views, a covered outdoor swimming-pool and chalet-style rooms with balconies. You can choose whether you want half-board or bed and breakfast.
Igloo Hotel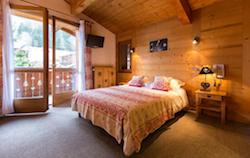 Igloo Hotel is a beer mat's lob from the Bec Jaune Brewery. It is a good choice for families, with several interconnecting bedrooms. Guests can use the hotel's kitchen to prepare their own meals, there's a bike storage area, sauna, steam room, massage and a fitness room.
L'Aubergade Hotel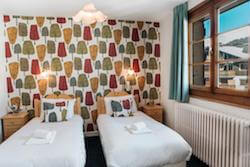 Hotel l'Aubergade is smack bang in the centre of town, at the bottom of the Pleney chair-lift, with a garden and terrace for catching some late-evening sun, and four categories of room. The hotel also has table tennis.
Hotel les Airelles
Hotel les Airelles is a four-star with comfortable bedrooms and an outdoor swimming-pool. It's very central on the tourist office square, so anyone who wants eight hours of sleep should book a room at the back of the hotel, away from the main street. Local, regional and fish specialties are served in Les Airelles' two restaurants, and daily breakfast is served by the pool and includes homemade charcuterie and pastries, cheeses, fruit juice and fruit salad.
Hotel le Dahu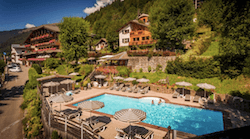 Hotel le Dahu is an old favourite with tastefully decorated rooms and duplex family suites, along with delicious food. The hotel has a hot tub, indoor and outdoor swimming-pools, and two restaurants including the poolside Les Jardins d'Ulysse.
The Manoir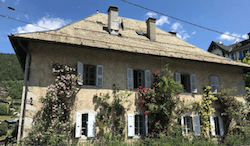 The Manoir is the perfect place to enjoy a summer holiday. Built in 1790 and once the home of the local Notary, the house has been stripped back and re-clad with modern-day essentials. There are five spacious en suite bedrooms, three with extra beds for kids, and a hot tub with a view. Bookings can be made on a room-by-room basis – minimum stay three nights.
Hotel le Tremplin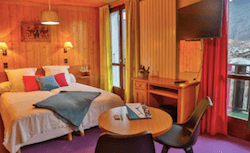 Hotel le Tremplin, built in 1936 near the Super Morzine cable-car, was one of the first hotels to open in the resort. It was rated: "A pleasure to stay in. Breakfast is fab with amazing coffee and croissants, meats and cheese" and was praised for its "big balcony overlooking the town. Friendly, helpful service. Lively bar with music till early evening".
Hotel Neige et Roc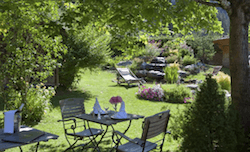 Hotel Neige Roc is the only four-star and it's up at the satellite village of Les Prodains 4km from Morzine centre (there's a free shuttle-bus). It's convenient for the cable-car to Avoriaz and has a lovely garden. It is a convenient departure point for lots of walks and mountain biking trails. 

Keen to self-cater? Jack and Jill and AliKats have apartments. Alpine Elements and VIP Chalets both have self-catered chalets in Morzine during the summer.
---
---
Where to Eat
From gourmet dining to low-key bites, you'll find a bit of everything in town. For a splash-out supper Le Clin d'Oeil takes some beating, serving up cuisine from the South-West of France – expect lots of duck in its various tasty forms. Meanwhile, you could easily miss La Grange, what with it being hidden down a little back road – the food (Savoyard classics with a twist) is excellent.
Le Mas de la Coutettaz, known as the Farmhouse, is worth a visit just to admire the building – it's the oldest in Morzine. The dining room (open to non-guests) has one large banquet-style table where everybody eats a three-course set dinner together.
For a fondue feast, head for Le Ferme de la Fruitière – the cheese, made in the shop next door, is made from milk straight from cows grazing up the valley.
There's no doubt you'll find cheese in all its varieties on many menus in town – but the refreshing thing about Morzine is that, alongside the classic/old-school French eateries, innovative and entrepreneurial young businesses are vying for space, offering up über-trendy fare. One such place is the Bec Jaune Brewery. This pub/brewery/restaurant serves up a choice of beer – from hoppy IPAs to velvety stouts – all brewed on-site. The food is excellent, with no shortage of veggie options, and everything (right down to the ketchup and pickles) is homemade.
Hot on the Bec's heels is the Hideout Hostel, which has a pan Asian-inspired menu, with brilliantly-named dishes such as Bad-Ass Brassica and Bang Bang Broccoli.
For artisan coffee, Satellite is the place to go. It also does bacon and egg baps – ideal for a pre-hike bite – plus freshly-made sandwiches, quiches, soups and salads for lunch. Satellite prides itself on using organic produce and offering up plenty of vegan and gluten/lactose-free options.
Another popular lunch spot is the Coup de Coeur – get there before midday to nab a table on the terrace overlooking the square. It serves generous salads and home-cooked pizzas.
Up on the mountain, Chalets de Freterolle – en route to the Col de Cou – offers ambiance in droves. It's a working farm and most of what you find on the menu is made on-site, from the cheese in the fondue to the tarte aux myrtilles.
Other mountain restaurants worth a visit include Le Vaffieu, a short walk from the top of the Pleney gondola – it often has BBQs and live music on the terrace; La Pointe de Nyon, at the top of the Nyon cable-car, which offers everything from salads to burgers; and L'Atray des Neiges at the base of the Atray lift on Pleney, accessible by bike or walking – it's a beautiful little chalet serving crepes and local specialities.
Also see our winter resort report for more information on Morzine.
---
---