Are you suffering from mountain withdrawal? There's no need to feel miserable about it. Instead – or maybe as well as – a beach holiday why not consider summer in the Alps? You'll discover that many of the best things on offer on a ski holiday are available in the "off-season" too.
Exercise, the healthy mountain air and delicious lunches sitting in the sun are all available – just as they are in winter. Thoughts of work will be far from your mind – just the same as on a ski holiday.
There won't be any lift queues or expensive lift passes to buy, restaurants won't be full to the brim, and there's none of that tedious walking in ski boots whilst carrying skis to contend with.
But the real advantage of a summer holiday in the Alps is that chalet, apartments and hotels come with the same swimming-pools, terraces and balconies as in winter – but all at a fraction of the price. For the last two years I have been mountain biking and hiking in the Austrian Tirol in summer, and the temperatures – last year in particular – can be sweltering. Don't forget to sample the local dishes, beers and wines wherever you go.
Hiking
The most popular summer activity in the mountains is walking, which can be anything from a gentle stroll carrying your picnic in a backpack or a hearty session of Nordic walking, to a serious hike along tricky mountain trails. If you're a dog owner and are driving out, you may want to bring your pet for some fun walks like this one.
The best-known hikes include the Tour du Mont Blanc in France. And if you're after an adrenaline boost, there's the Via Ferrata in the Dolomites with its fixed cables, ladders and gorge-spanning bridges. These vary from relatively easy climbs to seriously challenging ones requiring a good fitness level. St Anton and Alpbach have some great hikes, too.
Biking
Mountain biking is popular in the Alps, especially in the Portes du Soleil area, where more than 300 miles of marked trails are accessible from Morzine and Les Gets. Other good biking bases include Mayrhofen, Saas-Fee, and Zermatt. For more gentle road biking, Kitzbuhel, Westendorf, and the Inn Valley have some lovely valley paths to wend your way along. The Saalbach area has a huge selection of single trail, downhill and wider MTB roads, and with most accommodation you'll get a free lift pass that you can use as many times as you like during the day.
…and Summer Skiing
If you're staying near a glacier, then you've got to go summer skiing, haven't you? The slopes open first thing in the morning, and close around lunchtime when it becomes too warm and slushy.
Summer ski destinations in the Alps include Solden, the Stubai and Hintertux glaciers in Austria; Zermatt, Saas-Fee and Les Diablerets in Switzerland; the Stelvio Glacier and Cervinia in Italy; Les Deux Alpes and Val d'Isere/Tignes in France. In the Rockies there's Whistler in Canada and Mount Hood in Oregon.
Here is our pick of Alpine destinations that are just as enjoyable in summer as they are in winter:
Chamonix
Set at the foot of Mont Blanc, Chamonix is a traditional and cosmopolitan town in the Savoie Mont Blanc region with striking scenery and what is arguably the biggest range of summer activities you'll find anywhere in the Alps.
What to do: Over 350km of hiking in the valley and many lifts operating over the summer, rock climbing, hang-gliding, canyoning, white-water rafting and swimming, parapente, golf, tennis, MTB. The attractive old town has an excellent Alpine museum and a good range of shops and restaurants. If you travel further along the valley you'll be able to explore the antique shops and flea markets. If the weather is good, take the Hellbronner cable-car to Courmayeur in Italy. Stay: The Heliopic Sweet & Spa.
Kaprun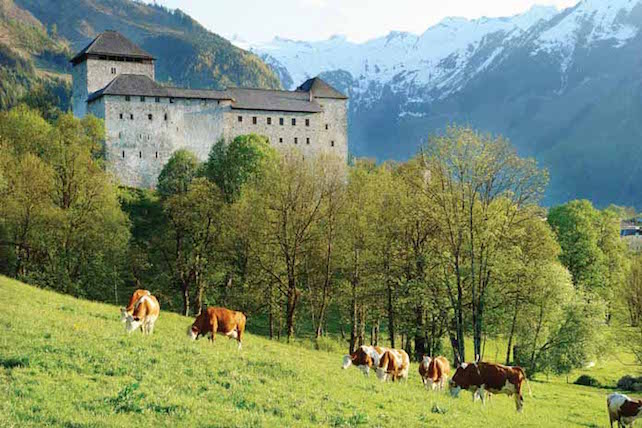 Austria's Alpine villages aren't just for tourists – locals live in them all year round. Hotels are family-run and there's a real community feeling wherever you go. Kaprun is at the foot of the Kitzsteinhorn Glacier, with its summer skiing. The 12th-century Burg castle overlooks the village and there's a decent range of shops and cafés.
What to do: is one of the few places in the Alps where you can ski in the morning and windsurf the same afternoon. Other activities include hiking, white-water rafting, canyoning, horse-riding, paragliding and golf, as well as myriad watersports on the lake in the beautiful neighbouring town of Zell am See. The Tauern Spa is worth a visit, too. Stay: Alpen-Wellness Hotel Barbarahof.
Kitzbuhel
The gorgeous medieval town dates back to the 16th century, with its pastel frescoed buildings and cobbled streets. In the summer you can sit outside at one of the many pavement cafes, discover the designer boutiques, as well as enjoy the local festivals, concerts and open-air events.
What to do: Kitzbuhel is known for its three golf courses, there's also walking on over 1000km of marked trails, MTB, and easy cycle routes due to the beautifully flat valley paths. Lake Schwarzsee offers swimming and rowing in a natural woodland setting, and Kitzbuhel's central position between Innsbruck and Salzburg makes it an excellent base for excursions. Stay: Tennerhof Gourmet & Spa de Charme Hotel.
La Plagne
La Plagne is an attractive destination because of its beautiful mountain setting rather than its architecture, but there are a few exceptions – such as Belle Plagne which is built in traditional Savoyard style.
What to do: La Plagne has oodles of activities on offer in summer, ranging from tennis and horse-riding to MTB. As well as having over 145km of marked paths, cyclists also have their own trails and parks to choose from. Watersports include rafting, kayaking, canyoning and white-water swimming – the latter using a float whilst wearing a wetsuit and flippers. Stay: Les Balcons de Belle Plagne.
Montgenevre
As a result of its location, Montgenevre (in the Milky Way ski area in winter and just across the border from Italy) lies at the heart of an impressive heritage of military architecture. As you walk down the rue de l'Eglise, you are actually on the Via Domitia, which was built in 120BC on the orders of the Roman General Domitius Ahenobarbus.
What to do: Climbing, Via Ferrata, MTB, canyoning, kayaking, canoeing, hiking, golf. Three lifts open in the summer: Telemix Chalmettes, the Gondrans chair-lift, and the Chalvet gondola with its mountain restaurant and access to the summer Monty Express luge. Stay: Anova Hotel.
Morzine
The bustling market town of Morzine has a year-round life with weekly markets, lots of cafés and bars, and a wide variety of shops and restaurants.
What to do: cycling, MTB, hiking, climbing. The ski lifts give access to hundreds of kilometres of high mountain footpaths and mountain bike trails (the lift pass gets you around the whole of the Morzine area and into Switzerland). There's an Olympic outdoor swimming-pool, 10 outdoor tennis courts, a skating rink, two golf courses, summer luge, white-water rafting, horse-riding (full- and half-day treks available), parapenting. Indiana Adventure Park is for young children, whilst older children will like the higher tree adventure parks in Nyon and Les Gets. Open-water swimming in Lac de Montriond is highly recommended by a reader. Stay: Hotel le Dahu.
Selva Gardena and Arabba
This is one of the resorts to stay in if you want to try the Via Ferrata. But even if you don't, the scenery around Selva and the Dolomites is fabulous – as is the food. There are lots of restaurants to try and two evenings a week the town centre is closed to traffic whilst the shops and bars stay open late.
What to do: tennis, horse-riding, MTB, a mountain climbing school, Via Ferrata, 18-hole golf course at nearby Corvara, and wood carving workshops. The cable-cars run from mid-June to the end of September to take you up to a choice of walks. Day trips to Venice and Lake Garda. Stay: Boutique Hotel Nives.
Saint-Lary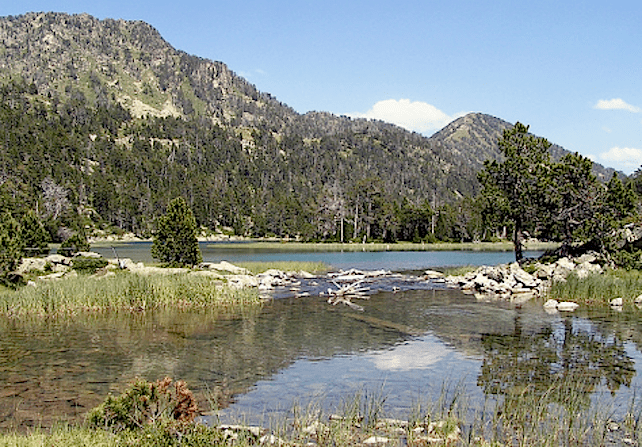 The traditional Pyrenean village of Saint-Lary is located in the Aure valley in the Hautes-Pyrenees. It is part of the pilgrimage route of St Jacques de Compostela, and is on the only road crossing the Hautes-Pyrenees from France to Spain via the Bielsa tunnel-Aragnouet. It is a lively village with plenty of activities for families and there's a good selection of restaurants and bars here.
What to do: hiking, MTB, paragliding, climbing, canyoning. Children will love the treetop trails, and the Sensoria Spa is popular for the whole family. Stay: Les Rives de l'Aure.
Zermatt

There's arguably nowhere more beautiful than Zermatt in the winter, and in the summer it is just as gorgeous. The town is lively all year round – although with a less sporty clientele in summer.
What to do: One of the big advantages here is the fact that you can ski on the glacier. Apart from that there's a forest adventure park, hiking, tennis, golf, paragliding and fishing. Stay: Chalet Ulysse.
So strap on your backpack and head off into the mountains for fresh air, fabulous scenery and a lot less cash than in the winter…