Ian Hope is MD of Ski Famille, which offers in-house childcare for little ones aged four months to 12 years, six days a week in all 16 of their chalets. For 4-12 year olds, ski school is sold separately from supervised lunches and afternoon kids' clubs – so you can pick and choose the elements you want, and for three year olds there's a taster programme of one-hour taster sessions on skis.
If you are looking for fabulous snow and glorious sunshine, but are worried about the cold, then Easter spring skiing could be for you. Yes, the pistes are hard early in the morning, but they soon soften up. This season, Easter Sunday is April 12.
Here are just a few reasons why I think it's the best time to take the family:
The days are warmer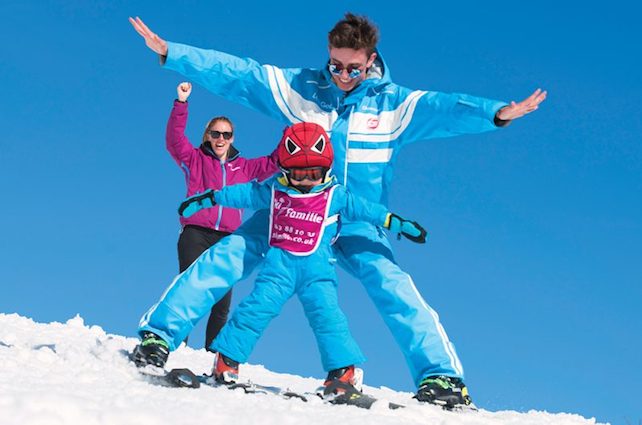 To many people's surprise, choosing a family ski trip at this time of year allows you and your kids to have a warmer skiing experience in the mountains. You won't need as many laters of clothing and can often get away with wearing a T-shirt under your ski jacket. Make sure you wear plenty of high-factor sun cream.
You can enjoy long lunches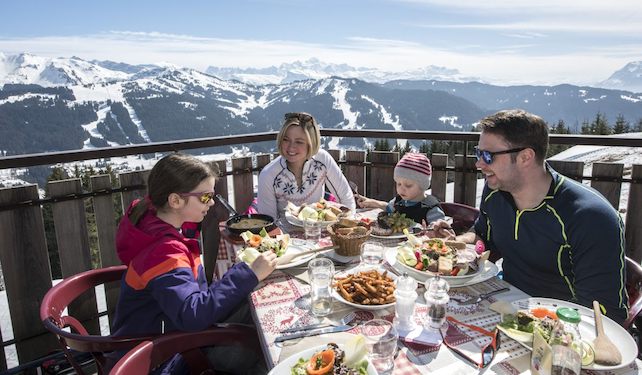 A long lunch on a sunny terrace with a glass of vino or a chocolate crepe, followed by a siesta in a deckchair is right up my street. Don't forget to bring sunglasses and a hat to wear at lunchtime.
The evenings are lighter
With the clocks going forward at the end of March, the days are longer too, meaning the kids can still build snowmen and toboggan late in the day, under the watchful eye of their carers. 
It's less crowded than at half term
Easter skiing is not as popular as February skiing, when other skiing nations all have their school holidays. Prices are are lower at this time of year, too.
You might find spring snow
Plus, for the off-piste enthusiasts, there is always the chance of late spring snow – some of my best-ever days of skiing are at this time of year, with my kids trying not to face-plant in the fresh snow. If it does happen though, you can always retire to the hot-tub on the terrace and watch the sunset. The only challenge can be pulling yourself away in time for dinner. 

…and here are my top destinations for this Easter:
Reberty 2000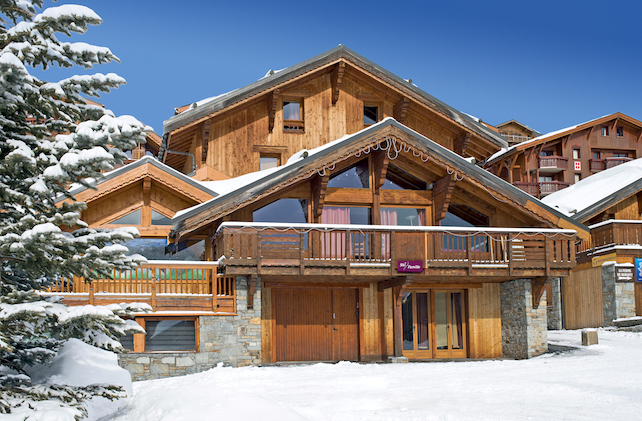 Reberty 2000 is a resort that even the most seasoned skier may give you a puzzled look when you mention it. It's only when you start describing where it is that it jolts their memory. It sits at 2000 metres, just above Les Menuires and one quick lift below France's highest resort, Val Thorens. Ski in the opposite direction and you quickly access Meribel and Courchevel. It's the more attractive satellite of Les Menuires, completely ski-in ski-out, and with a character of its own. Reberty, Bruyeres and Les Menuires are all in walking distance of one another, although there is a bus that stops at all three.
Where to stay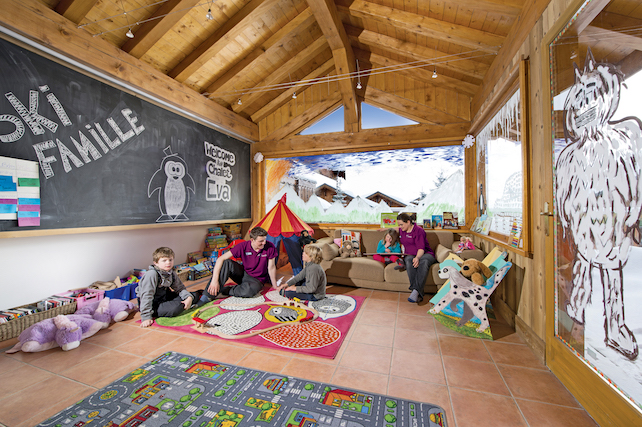 Chalet Eva has spacious accommodation and an airy playroom that is a big hit with children of all ages. Access to the Les 3 Vallées ski area is few steps from the chalet door, as is our ski school meeting point. There's an offer here on April 4.
La Plagne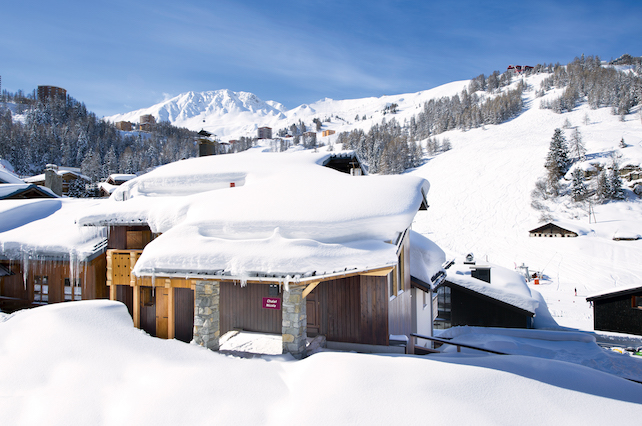 In my opinion, La Plagne 1800 is one of the best ski resorts for families in the Alps. It has a combination of fantastic skiing and a family ambience. You can cover the whole La Plagne area on blue runs, so it's great for a family ski session, whatever everyone's level. The resort hosts to a good array of shops, bars and restaurants as well as activities to keep children and parents entertained when not on the slopes. There are adrenaline-pumping activities like the Olympic Bobsleigh run, skidoo-ing and paragliding, or you can visit the magical Igloo Village and exploring the Ice Caves.
Where to stay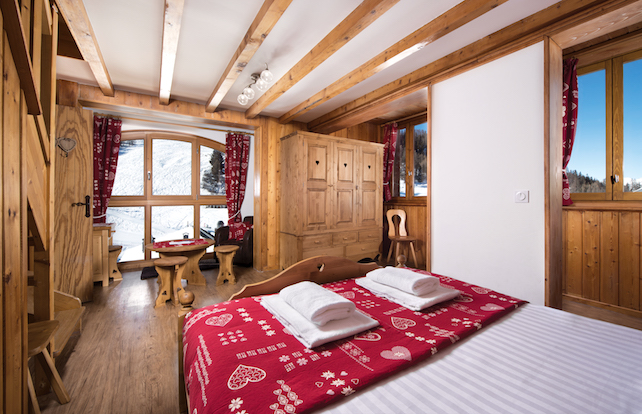 Chalet Nicole is three minutes from the slopes, has six family suites and two twin rooms, plus a large and bright living room. There's a well-equipped playroom, a hot tub, spa area with sauna and steam room. Monty's Pyjama Patrol is a free evening baby sitting service (7.30-10pm) exclusive to the chalet. Chalet Nicole has offers on March 28 and April 4.
Les Bruyeres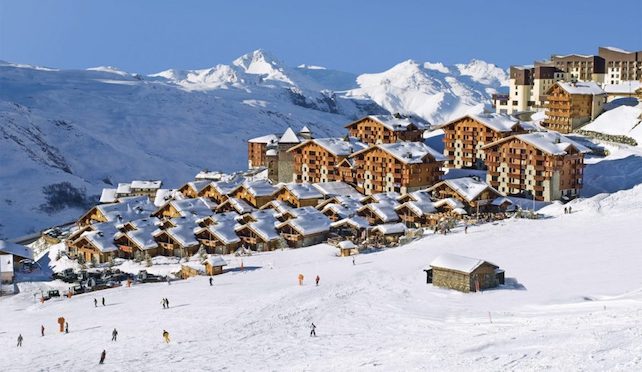 Les Bruyeres is slightly larger than neighbouring Reberty, yet still close to Les Menuires centre, so you can enjoy the traditional Savoyard atmosphere with all the amenities of Les Menuires close by. Les Bruyeres is at altitude at 1850 metres and makes a good base for mixed ability groups.
Situated just below our Reberty properties, the Bruyeres chalets enjoy a convenient location and spectacular views. Both Reberty and Bruyeres provide easy access to Les Menuires' facilities. This is where our ski school is based, there's also a covered shopping precinct, a weekly market, restaurants, family-friendly bars, an indoor sports centre, and an indoor swimming-pool and spa complex.
Where to stay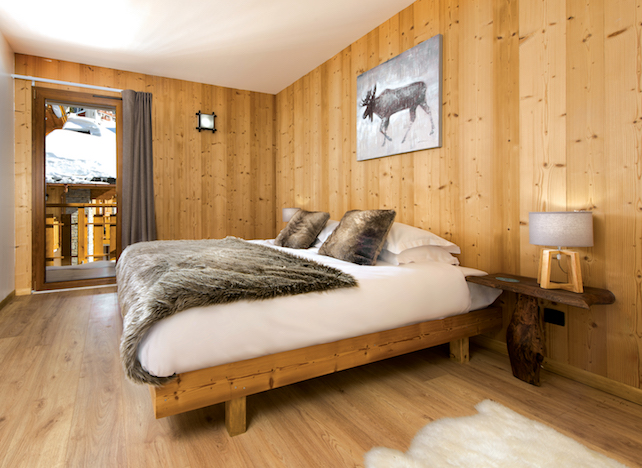 Chalet Faucon is a new ski-in-ski-out chalet with family suites (parents and children have their own rooms behind one door), a cinema room, playroom, hot tub and two lounge areas. The chalet has an offer on April 4.
Les Gets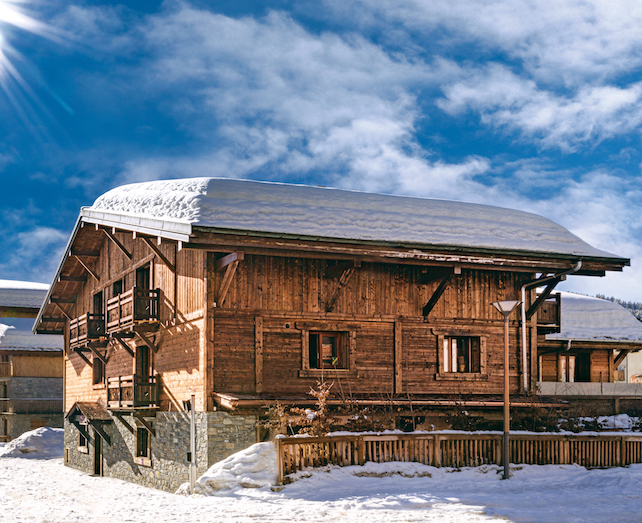 Les Gets offers access to 650km of pistes served by nearly 200 lifts. You'll also enjoy great ski school options, gorgeous mountain restaurants and complete family focus. Admittedly, it isn't the highest ski resort in the Alps. Set at 1200m, the local lifts rise to 1800m, and to 2300m in Avoriaz, the highest point of the Portes du Soleil ski area. This season there's a good base mid-mountain.
Where to stay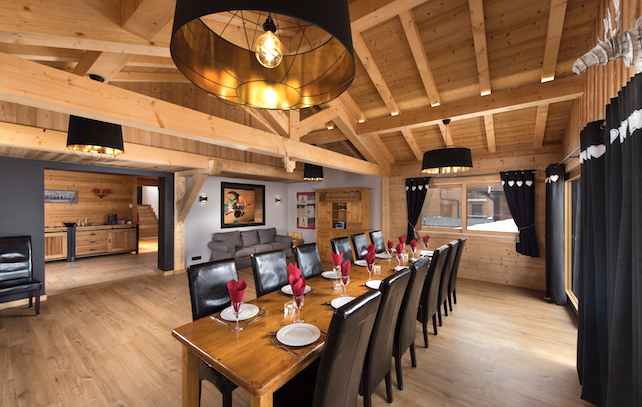 Chalet Le Marjorie has recently been revamped, with an extended playroom and a dining area leading out onto a large terrace complete with hot tub. The property is close to the village centre, ski lifts, and offers families rooms. It has offers for March 28 and April 4.