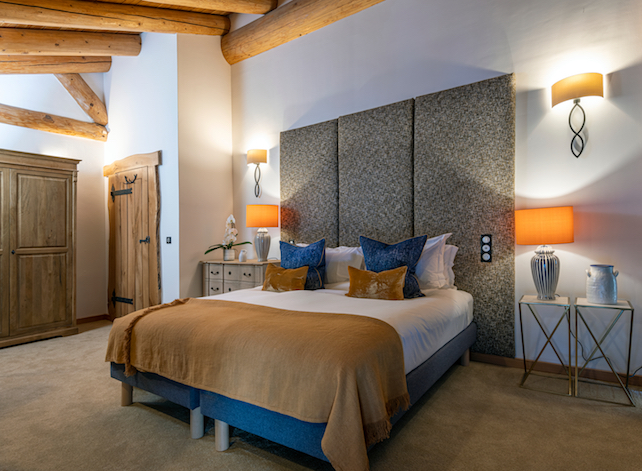 Imagine staying somewhere that's in one of the world's top resorts, but your accommodation is so comfortable and you feel so cossetted that you're reluctant to step outside the door? That's what I felt when staying at Le Chardon Mountain Lodges in Val d'Isere this January. The overall impression was probably helped because I was injured early in the week and was more-or-less chalet-bound. But, given this unfortunate situation, I can't think of anywhere else I'd rather have been.
The ten bedrooms are well kitted-out, with good storage space and large comfy beds. All rooms have floor-to-ceiling windows, and balconies with lovely views of the scenic and undeveloped Manchet valley. Mine overlooked two bubbling hot tubs with the mountains just beyond. Inside, the room was warm, spacious, and incredibly relaxing. Cawdor wasn't the largest – that was Oykel on the top floor with one entire wall of glass. However, mine also had a bath-tub which is always my choice for soaking post-skiing muscles – rather than standing under a shower. The bathroom products are REN, one of my favourite brands. So even if you don't have a massage in one of the two in-house treatment rooms, you'll still feel pampered.
The sitting room, just upstairs from my bedroom, had three oversized sofas – perfect for our full chalet complement of 20 guests – and extra-wide windows to take in the views. We were a mixed bunch of couples, as Chardon Mountain Lodges accepts individual bookings on some winter weeks, but everyone knew this was what to expect. Some of them had even made a conscious effort to book a week like this precisely so they could meet new like-minded people. However, for most winter weeks the chalets are rented in their entirety.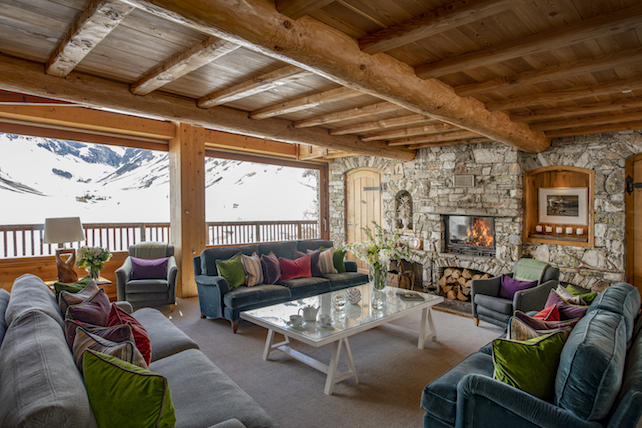 Logs are everywhere: log bannisters, log door frames, log picture frames and log fires – giving the place a log cabin feeling, together with the wood-panelled walls and stone floors. It couldn't be further removed from the minimalist modern chalet at one end of the luxury scale or the over-the-top interior-designed chalet at the other. This one lies bang in the middle of both – in a warm and cosy style.
The concept and design of the chalets are down to owner, Edinburgh businessman Les Rennie, together with his architect friend, Anthony DeTaranto. Interiors are by L'Atelier des Freres and furniture and fittings from Maison du Monde. You can't help but feel that you're staying in a private home rather than a rental chalet…which in many ways you are. The Rennie family built the first of these chalets back in 1992. They toyed with luxury tour operators before deciding they could run them much more efficiently themselves. While Les divides his time these days between Edinburgh, Mauritius, Biarritz and Val d'Isere, eldest son Jamie lives in the resort with his French wife and runs the chalets with a tight-knit team that for the most part is Scottish. There's no doubt that having the owner on site is a huge advantage for any chalet operation.
 
Le Chardon itself is the key component of a private enclave of the five Chardon Mountain Lodges in a secluded end-of-road position in the exclusive Le Legettaz quartier of Val d'Isere (through the tunnel, past the Rond Point and up past Club Med). If you're an experienced skier and if snow conditions permit, it's just about – with a bit of garden-hopping – ski-in, ski-out. The final section of the Solaise piste is a short walk away, but it's much more convenient to summon the 8am to 2am private chauffeur service to whisk you down to the main access lifts. The same applies when you're ready to go home again. During my three skiing days, I used the spacious ski room that comes complete with ski snacks, water, mini packs of tissues and sunscreen. The excellent service meant I never had to carry my skis myself, in or out of the 4WD vehicle.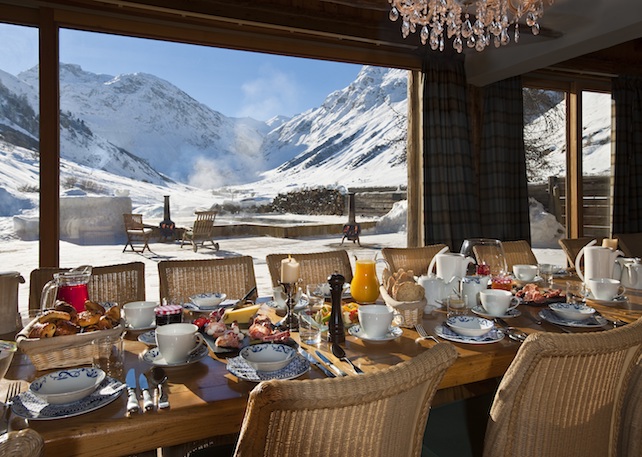 Dinner is taken at a long refectory-style dining table, in an equally long room. There are gourmet dinners on five nights, and breakfast is served every day. After-ski tea is so generous – with wholesome savoury and sweet snacks – that you could easily skip lunch and just have that, if you wanted. Added to this is an open bar. The chalet hosts will also bring you a cup of tea, or even something to eat, in your room. It feels generous, and nothing is too much trouble.
You are have the attention of seven staff, which is a good ratio for 20 guests. Head chef, Cornishman Tom Hendy, previous worked in the Michelin-starred Abbey restaurant in Penzance and spent 10 years at the Mullion Cove Hotel on the Lizard peninsula. His signature dishes include honey-roasted duck breast, duck fritters, butternut puree, with kale and redcurrants. Puddings include a rosemary crème brûlée, with praline and shortbread.
A week in Le Chardon will certainly help recharge your batteries, and it makes a wonderfully cocooning home-from-home for keen skiers. And thanks to the efficient driver service, it's equally suited to non-skiers…as I discovered.
 
Fact Box
Chalet Le Chardon is the company's flagship and biggest chalet with 10 en-suite bedrooms (it sleeps 20), a private spa and wellness area, two outdoor hot tubs and a 5.4-metre (18ft) swim-spa. Chalets Chardon, Mistral and Lafitenia all have a private spa and wellness area with treatments on offer. You can also book spa treatments in Kilimanjaro and Bergerie but they will take place in your bedroom or TV rooms, which can be set up as massage room. Prices are from €1,895pp for one week chalet board, not including travel. Further information from Le Chardon Mountain Lodges.