In a Nutshell
An unsophisticated purpose-built village with good nursery slopes and mainly intermediate skiing. It was developed in the late 1970s in architectural protest at the horrors built elsewhere in the region a decade earlier.
The Stats
Altitude: 1300m
Lifts: 50
Top lift: 2550m
Ski area: 165km of piste
Adult lift pass: 195-216€ for six days


Official Site |

Ski Map |

Webcam
Johanna Boeuf was born and grew up in the valley below Valmorel. She started skiing at the age of two and has been ski racing since she was six. She is now a member of the French ski team in FIS Alpine European Cup, whilst at the same time studying biology at the University of Grenoble.
"I manage to ski five to six days a season in Valmorel between my intense training sessions. I regularly invite friends and team mates to discover this wide open ski area that offers such varied terrain," she says. "Above all, I like to relax in the family-friendly atmosphere of this resort that I know intimately. I really feel at home in Valmorel".

Essential Advice for the Perfect Trip
The small village of Valmorel is all too often bypassed en route to the giant 3 Valleys, Val d'Isere, Tignes, and Paradiski further along the valley. But it may be worth a look.
It's especially good for families who are after undemanding skiing in peaceful surroundings, and there is some great childcare on offer in the resort's Club Med.
For this was one of the first purpose-built resorts in France not to have been built as a concrete eyesore, which is probably why it uses the slogan 'Valmorel la Belle'. Perhaps in protest to earlier errors, the resort's developers designed a village of pleasant wood-and-stone buildings with slate roofs.
Groups of residences cluster around a car-free high street that looks like it's been there for a century. Wherever you're staying, you'll never be far from a lift, and the ambience is very family-orientated so you'd be unlikely to bump into any drunken youths falling out of bars in this resort.
Buses connect the smaller settlements of Les Avanchers, Celliers, La Léchère-les-Bains and Nâves. The Grand Domaine ski area also includes the linked resort of Saint François Longchamp and Doucy Combelouviere.
---
---
Guide to the Mountain
The Grand Domaine area features lots of wide and flattering slopes for beginners and less confident intermediates, with around 43% of the pistes graded blue. The easy- to medium-level skiing takes place mainly around the Cheval Noir, and Valmorel's ski area is lift-linked to Celliers, Doucy Combelouvière and – beyond the Col de la Madeleine, of Tour de France fame – to Saint Francois Longchamp.
One of my favourite descents starts at the top of La Lauzière chair, heads down on La Colombe red to Col de la Madeleine, then merges with La Madeleine blue run down towards Vallée de Cellier.
At first glance Valmorel's mainly undemanding terrain might put off advanced skiers but the Celliers Valley, linked into the ski area by a gondola, offers access to the area's best freeriding. My favourite off-piste descent starts at the top of La Lauzière chair-lift (at 2550m), heading down towards Vallée de Celliers with some beautiful views. 
There's also some difficult terrain at the Col du Mottet. In fact, another of favourite runs is the red Combe du Mottet starting at the top of Mottets chair-lift at 2403m. The top section has some itineraries and the snow condition are always very good.  From here there's a long vertical down to the Valley des Bellevilles – you'll need to take a taxi back afterwards.
Col du Gollet also has some more demanding skiing, and the Combe du Riondet slope is normally left unpisted for more experienced skiers and snowboarders. The area is also known for its ski-touring.
There are eight – yes eight – parks in the resort. Two snowparks, one for beginners and the other which contains a 120m half-pipe and funboxes. Two more are skicross courses, and there are three freeride zones, Cross-country skiers have 20km of marked loipe, which begin at Les Avanchers (2km from Valmorel) and continue towards Empyrée and Pierre Laron. Access to the trails is by free shuttle bus.
---
---
Where to Learn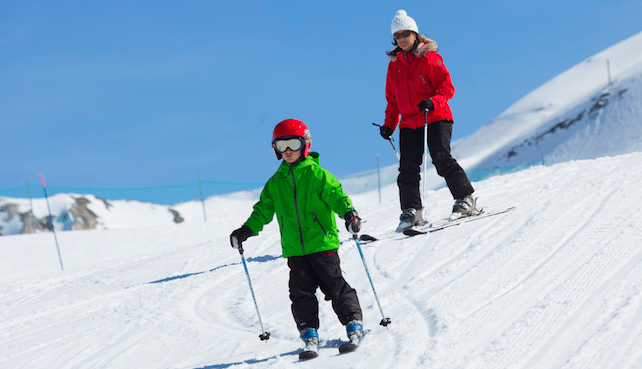 The ESF has branches in Valmorel and neighbouring Doucy-Combelouviere. It offers classes in alpine skiing, snowboarding, adaptive skiing and telemark, along with other activities such as paragliding, snowshoeing, and speed-riding. The ESI in Valmorel offers group and private lessons in skiing and snowboarding.
Valmorel has received the Famille Plus label for its childcare facilities. The main childcare is at Club Piou-Piou, in the village centre, which looks after children from 18 months to three years from Sunday to Friday. Lunch and lunchtime supervision are included, so that parents can ski all day. The children's snowpark – the Pirates Adventure Zone stretches into the forest to give access to lots of fun activities including a bouncy castle, a beginners' terrain park and skicross.
Club Med has in-house childcare and offers age-related activities for children aged four months right up to 17 years.
The ski area contains three nursery slopes and one free drag-lift. The beginner areas include a 3km green run through the trees to the village of Doucy, which is great for first-timers to gain confidence and really feel they are going somewhere.
---
---
Where to Stay
La Grange aux Fées is a comfortable residence set beside the Lanchettes chair in the Hameau des Lanchettes upper area of the village. It has an attractive wood-and-stone interior, a spa and indoor swimming-pool. Valmorel's only hotel is the pastel pink Hotel du Bourg, which has been here since the resort was first founded but has now been modernised. It has a minimalist interior designed in retro 1970s style, in keeping with the era in which it was built.
Meanwhile, families will hear the siren call of Club Med, which is set above the main village. It's ski-in, ski-out, linked to the other residential zones by an all-day shuttle bus service – and offers a bustling and self-contained cocoon which you'll only ever leave when you click into your skis.
Once you've paid for your holiday, everything is included, except spa treatments and ski hire: full-board accommodation, lift pass, ski school, childcare from four months to 17 years, most drinks – and a relentless programme of evening music and shows. What's more, standards are universally high. Staff are bright, upbeat and well-trained, the bedrooms big, clean and well-equipped, and the food exceptionally good.
Yes, the clientele comes from all over the world (you may find your kids in a ski school class with few others of their own nationality), but there almost all staff are bilingual at least, and there's a sense of space, comfort and quality. The only real drawback is the 6.45pm start of dinner: rather late for exhausted kids who've been on the slopes all day.
Other accommodation includes the three-star residences Les Chalets de Valmorel, Planchamp et Mottet, and Villages Clubs du Soleil.
Saint Francois Longchamp, which shares the ski area, has a dozen restaurants and six hotels including the ski-in ski-out three-star Hotel Lac Blue and Hotel La Perelle.
---
---
Where to Eat
On the high street, Le Ski Roc (+33 479 09 83 17) restaurant and wine bar is one of the places to eat typical Savoyard fare in a chalet setting. South American-themed Jimbo Lolo is for tapas and Tex-Mex, and it also serves bison steaks and burgers.
Le Savoyard (+33 479 07 19 25), Le Petit Prince features Savoyard dishes such as pierced, salads and pasta. For pizzas the choice lies between Le Cafe Alpin and Le Perce-Neige (+33 479 09 90 06).
Club Med contains three restaurants: the buffet-style Le Celeste and Les Cerfs with dishes from around the world, and gourmet La Laiterie which is a la carte.
There are four mountain restaurants in the immediate Valmorel ski area, including Les Voiles du Nant, at the top of the Altispace chair-lift, which serves good burgers. Also on piste is L'Altipiano (+33 479 09 86 31), which offers Asian wok dishes.
Another favourite place to eat is O Pôt Agé (+33 613 83 92 71), in Les Avanchers, where everything is cooked using seasonal local produce. You can take a bus or ski here from Valmorel.
---
---
Where to Party
First stop after skiing is a choice between La Cordée (+33 479 09 83 10) at the bottom of the piste, and Le Café Alpin (+33 479 06 90 22). Then there is a handful of bars along the pedestrianized high street, including Le Perce-Neige (+33 479 09 90 06), which has outside seating and heaters. I recommend stopping at the Hotel du Bourg for a drink in the cosy pub atmosphere beside the fireplace.
South American-themed Jimbo Lolo has a bar with wooden swings for seating, and palm trees. Le Sound Pub and Club (+33 699 91 35 94) is divided into two separate sectors: the first is a pub with billards, table football, karaoke and quiz evenings, whilst the other is a club that's open until 4am and often holds themed evenings. Club Med has an in-house bar and puts on live shows every evening – non-residents having dinner here can join in too.
A host of other activities in Valmorel
Other activities area on offer in the resort range from air-boarding (like body-boarding on snow, where you plunge down the piste head-first on an inflated board), paragliding, snow-karting, mountain-biking on snow, dog-sledding (with Escapades Nordiques +33 687 33 93 49), snake-gliss (a train made from linked toboggans), and snow buggies (book through Choucas Sport).
There's also the Spa des Cimes in the village centre, and a biathlon club (+33 479 24 40 13) in neighbouring Nâves, where you can learn and practice the sport. During February you can snowshoe to an igloo village for a 'trapper's dinner' – you can even spend the night there.