In a Nutshell
Vaujany is a rare and special thing: a small, relaxing village, which is linked into a big, modern lift system (which it shares with neighbouring Alpe d'Huez). It's also blessed with modern family-friendly facilities. If you like your skiing action-packed, but your evenings low-key, it'll fit the bill perfectly.
The Stats
Altitude: 1250m
Lifts: 84
Top Lift: 3330m
Ski area: 248km of piste
Adult lift pass: 175€ for six days


Official Site |

Ski Map |

Webcam


Nigel Purkhardt fell in love with Vaujany way back in 1988 when it was a secluded little alpine retreat. He set up niche tour operator, Ski Peak, in the resort and doesn't go anywhere else. It has since become his family's second home – all five of his children have learnt to ski, speak French and drink Genepi with the locals here. Nigel's eldest son, Jamie, has joined the business and shares the same passion for this small resort with its huge ski area linked to Alpe d'Huez.
Essential Advice for the Perfect Trip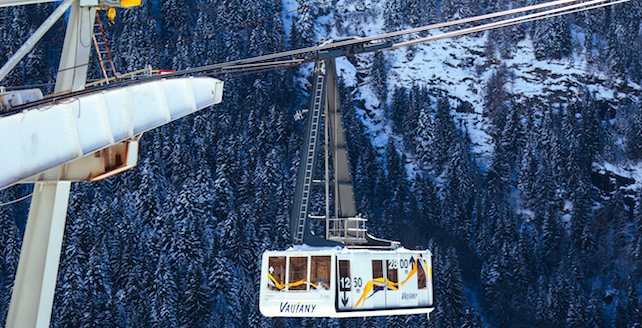 In the late 1980s, the little village of Vaujany, east of Grenoble, became unexpectedly wealthy when it sold land to France's largest hydro-electric scheme. The villagers used the money wisely, and ploughed it into skiing – swapping tractors for piste-bashers, and converting their cowsheds into chalets. They added a big, family-friendly swimming pool and – most importantly of all – a giant cable-car, which links in to the Alpe d'Huez ski area.
The result? Their tranquil village suddenly became one of the best back-door resorts in the Alps: the kind of place where you get all the skiing and none of the noise of a big resort. Not everyone will like that of course – notably party animals and shopaholics. But anyone who wants to put their feet up after a hard day on the slopes, and suck up the spirit of the mountains – without having to listen to drunken revellers falling into snowdrifts – will love it.
You'll find some good mountain restaurants in the Vaujany and linked Alpe d'Huez ski area although, being such a small village, Vaujany itself doesn't offer a lot of choice in the evenings. Many visitors stay in catered chalets, but the self-caterers will have to make do with a few shops, bars and a small supermarket.
So far during its 30-year-plus history as a ski resort, Vaujany has kept its rural charm intact despite a considerable amount of new building. Unfortunately, any new building has so far not included a pharmacy – the nearest are in Alpe d'Huez and down in the valley at Allemont.
Guide to the Mountain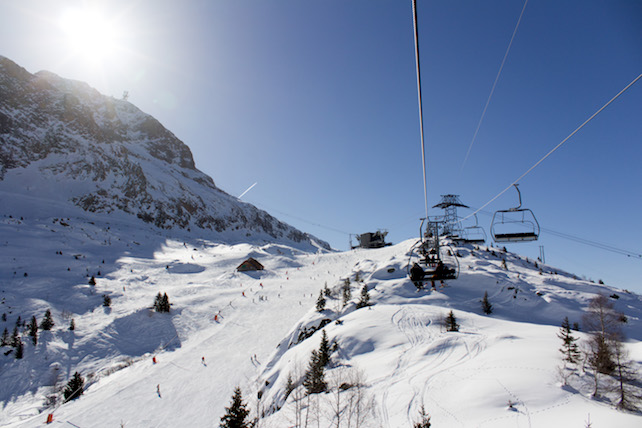 Each morning, the 160-person Vaujany cable-car whisks eager skiers over to the main attraction – the slopes above Alpe d'Huez. There are 248km of pistes on offer here, and lots of superb off-piste too – provided of course the snow is in good condition.
Meanwhile, at Montfrais immediately above Vaujany you'll find a handful of good pistes, a quiet nursery slope (served by a covered magic-carpet lift), which is great for children, and some delightful powder runs.
Adult beginners who are looking to party as well as ski should probably target Alpe d'Huez itself: its big bowl of nursery slopes is one of the best beginner areas in the Alps. Freestylers may want to stay there too – to be closer to the terrain park. But for everyone else, Vaujany is great launchpad for a day's adventure, on-piste, or off.
Lots of variety, and some big descents, both on-piste and off
Less adventurous intermediates used to find one or two of the pistes a bit daunting, but a lot of that has now been resolved by re-landscaping and creating alternative routes down. Les Rousses, for example, which used to be a bottleneck, has been re-landscaped to make it gentler. Elsewhere, a new easy piste, the Bartavelle, drops down to Alpette from the Dome des Rousses, branching off from the Belvedere.
However, for more experienced skiers and boarders, the best of the area is on the fringes of the resort – in the famous 16km Sarenne black and the Champagne run.
Then there's the great freeriding terrain, both above Vaujany itself and over in Alpe d'Huez. The Massif des Grandes Rousses towers above the village to the north-east, so in a good snow week, advanced and expert skiers will have a ball here.
Here are some of my favourite descents:
La Combe du Loup (Valley of the Wolf)
This is beautiful and wild terrain with excellent views across to La Grave and the spectacular La Meije mountain. The first pitch is a steep, wide bowl that often has excellent powder. Great natural half-pipes and undulating terrain take you through many kilometres of powder-bowls and it's quite likely you'll have the place to yourself. We once saw a wolf here whilst we were eating our picnic on a rocky outcrop. Later the locals told us that wolves are gradually returning to this part of the Alps.
Pyramide from Pic Blanc at 3300m
Cut left and pass the warning signs by the fence, which remind you that you're off-piste and responsible for your own safety. Over the cornice and then there's a dramatic traverse across the Grand Sablat glacier, after which you'll stop and fasten your skis onto your backpacks for the 25-minute walk up to Pic de la Pyramide. The top is a magical place to stop and gaze down at Vaujany more than 2000m below. There are lots of different routes down from here.
The Pyramide cornice has frightened quite a few skiers, but once you're onto the slope the snow is often so good that confidence quickly returns. It's steep but exhilarating, then gradually the going gets easier as the huge Glacier des Rousses comes into view.
The Piefroid
Traverse over and take a short walk up to the ridge and this lovely couloir appears. It's not too steep and, bearing right into another untracked bowl, there are some great views down to Clavans. One option is to continue down to this charming village and have lunch in the refuge there.
The P10 Couloir
This is only one of several interesting routes back to Vaujany. It has a narrow start, widening out with a nice steep lower pitch followed by an amazing natural half-pipe to finish, before finally emerging above the Montfrais powderfields and pistes with an easy run home.
Roche Melon
This scenic itinerary is still listed as a piste but in fact it is now a lovely open off-piste route through trees, meadows and gulleys, often with excellent powder.
Where to Learn
The ski schools in Vaujany are well-adapted to the English-speaking market. The ESF is the main ski and snowboard school. Active Ecole Ski School has a variety of courses including a Girls Ski Camp which, as the name implies, is run for women with an introduction to off-piste skiing, a relaxing body treat and a snowshoe excursion. Christelle Morgillo (+33 683 14 05 74) also provide lessons and VO Coaching runs group ski, snowboard and telemark classes.
For the big off-piste descents you'll need a guide and there are some local mountain guides I'd recommend, including Denis Ailloud, Anthony Franklin and Stephane Garezynski (+33 6808 98425).
A highly-rated resort for families
Vaujany spent some of its hydro-electric cash on childcare facilities, and has won plaudits as a result (it has the French quality label "Famille Plus"). The main attraction is the creche. This is the third home to the Vaujany garderie, for children aged six months to 11 years – the older ones can mix skiing with other activities down at the kindergarten.
The nursery is in two purpose-built edifices in the lower section of the resort, adjacent to the S'tou restaurant and the ice-hockey stadium. There's a swimming-pool here complete with waterslides and a shallow paddling pool, and a brand new bowling alley. The complex is accessed by road or by a funicular from the cable-car station.
Meanwhile, the local branch of the The ESF runs exclusively English-speaking classes during the school holidays, to cater for the many British families who stay in the resort. There is a drop-off and pick-up facility for parents, with lessons offered for all levels.
The ski school is based up at Montfrais, which is an area that's ideal for learning and is usually uncrowded. The Jardin de Neige and nursery slopes are here, as well as a restaurant for the children's ski school lunch. All of this is easily reached on the newly-extended gondola from the main lift station in Vaujany, followed by a moving carpet inside a glass tunnel for the little ones.
Where to Stay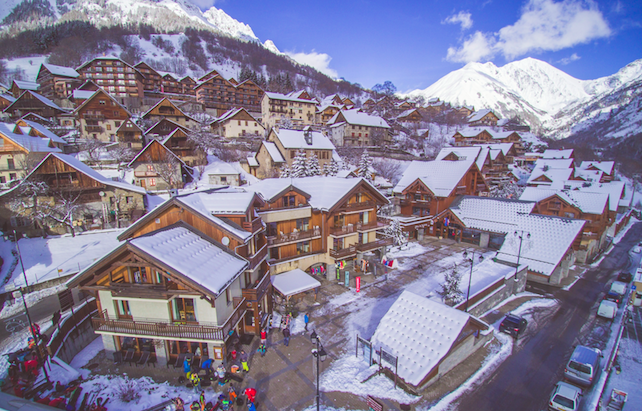 Accommodation is mainly in apartments and chalets in Vaujany – and in the neighbouring hamlet of La Villette, just over a kilometre away.
Chalet Saskia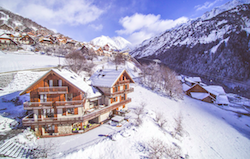 Chalet Saskia is a stand-alone chalet at the lower end of the village. The overriding reason to choose this chalet is not just for its comfort, but also for the fabulous food courtesy of Kiwi chef, Marcus Cull who's been concocting his amazing dishes here for more than 20 years. The chalet divides into two units sleeping 10 that are mirror images of each other. These are linked by a glass-fronted kitchen, where you can watch the chef at work. Both halves have large, unfussy sitting/dining rooms.
Chalets Rostaing, Lucette and Dibona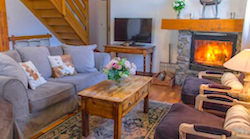 There is also a handful of pleasant chalets in La Villette: Rostaing, Lucette and Dibona. They are next door to each other, have en suite bedrooms, and all three chalets will be self-catered for the 2019-20 season. A private minibus service runs between the chalets and the lift station. Pictured here: Lucette.
La Perle de l'Oisans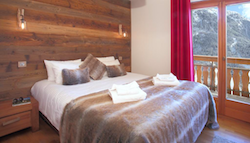 On the upper level of the village is Residence La Perle de l'Oisans, a development with the most spacious and convenient apartments. Facilities include a games room, ski storage, laundry, a solarium and steam room.
La Cascade de Vaujany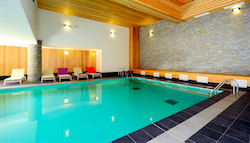 La Cascade de Vaujany apartments aren't as good as those in La Perle de l'Oisans, but they are closer to the cable-car (about as close as you can get, in fact), and still a cut above the French average. Guests have access to an indoor swimming-pool, sauna and steam room. "Excellent location for skiing, right opposite the lifts. Friendly and helpful staff," said a reporter.
Residence Le Dome des Rousses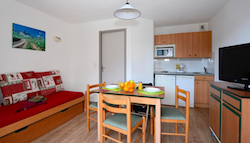 Residence Maeva Le Dome des Rousses is a development of bog-standard, but super-cheap apartments in the middle of the village. "The room is bright with huge windows. There is a big balcony where you can sit on sunny days," said a reporter.
La Maitreya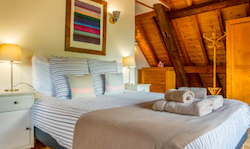 La Maitreya is a chalet in Pourchery on the road below Vaujany that can be catered or self-catered. There's a sauna, outdoor hot tub, and rooms have wood-clad walls and wooden furniture.
V de Vaujany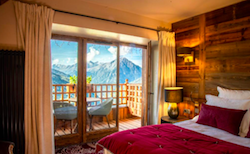 The former Hotel Rissiou has been completely revamped into an awesome new property called V de Vaujany, with swimming pool and spa. It is modern yet homely, with comfort and gastronomy mingled together. The in-house IDA restaurant features the creative cuisine of chef Arnault Baldereschi who matching colours, flavours and unexpected aromas. IDA's bar has a central open fire and you can enjoy some pasta, soup or other dishes here.
Where to Eat
There's plenty of choice in the Vaujany area when it comes to mountain restaurants, especially if you factor in the huts around Alpe d'Huez.
Above Vaujany, Les Airelles – at the top of the Montfrais nursery slope, is a regular fixture for many, with its pleasant sun terrace and a good choice of cheesy mountain dishes, while the Auberge de L'Alpette (+33 476 80 70 00), at the first cable-car station, has the best omelettes and salads on the mountain. Both restaurants have the advantage of being next to easy pistes, so parents can sit on the terrace watching their children ski – while they have another drink in the sun. Others in the area include La Grange (+33 476 11 03 66) and Chez Passoud (+33 476 80 78 96).
Meanwhile, beneath the Marmottes gondola and above Alpe d'Huez, La Cabanne du Poutat (+33 476 80 42 88) has a serious gourmet menu. Book ahead to be sure of getting a table. The Chalet du Lac Besson (+33 476 80 65 37), on the resort's cross-country circuit and beside the Boulevard des Lacs piste, is another favourite. L'Altibar (+33 476 80 41 15), beside Alpe d'Huez altiport runway, is a local favourite. Another mountain restaurant worthy of note is La Combe Haute (+33 476 80 61 38), towards the end of the Sarenne. La Forêt de Maronne near Auris serves imaginative local cuisine that is excellent value.
New in recent years is La Fruitiere of Val d'Isere (and Meribel, Val Thorens and Megeve) fame. The menu at the one above Alpe d'Huez includes a beautifully-presented spag bol, which costs a fraction of the same dish in the Val branch.
There's less choice in the resort itself. Two popular spots are Table de La Fare (+33 476 80 82 40), on the corner of the lower square above the cable-car station, and also the Hotel Cimes restaurant.
At the top of the village one of my favourites is La Remise with its mountain cuisine and fondues. Owner Pascal's pizzas cooked in a wood-fired oven are legendary, and the atmosphere is cosy, with wood-panelled walls. L'Aigle Royal is a basic little creperie but the Nutella crepes are irresistible! Stief's Bar and Resto serves a selection of gourmet burgers, along with steaks and pasta options. Le S'Tou (+33 476 11 11 93) is new and offers fine dining.
Where to Party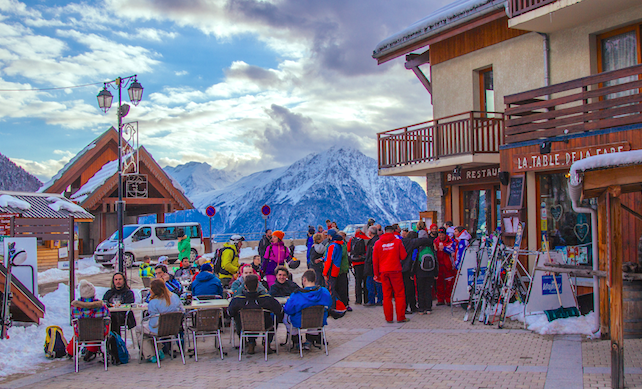 Before coming off the slopes above Alps d'Huez, pop in for a drink and live entertainment at the famous Folie Douce. You won't miss it as you ski by!
Back in Vaujany, Arsen's Internet Cafe (+33 675 02 70 10) is a friendly place for a few apres-ski drinks, and shows live sport all day long. Table de La Fare and Le Scratch have great terraces for catching the last rays of the sun. Both Arsen's and Table de La Fare are perfect locations for apres-ski as they are only a stone's throw from the lift station. Stief's Bar and Resto is a good spot for drinking some delicious Belgian beers – try the Triple Karmeliet.
La Grotte de Yetti is Vaujany's only late-night club, open until 4am on some nights, with bar games and live music. But wherever you are staying, the shops, restaurants and bars can be reached via the covered escalator which runs through the village.
Down at the very bottom of the village, the impressive leisure centre features a giant swimming-pool and aqua-bike hire for all ages. Aqua-biking, in case you didn't know, involves pedalling a bicycle immersed in water, combining the benefits of cardiovascular exercise with keeping fit, whilst being gentle on the joints.
There's also an indoor ice hockey stadium here, as well as a gym and sports hall. The latter is used for basketball, football, badminton, tennis and indoor climbing. It also holds events such as comedy nights and music gigs during the season. The village also plays host to SnowBite (a Belgium student festival) and Tommorrowland (an international Belgium festival).
Also see our post on 7 Reasons to Visit Vaujany.