In a Nutshell
Meribel sits in the middle of the famous 3 Valleys ski area, and is billed as one of the world's best ski resorts for intermediates. But you need to be organised and informed to enjoy your skiing here: otherwise it could drive you nuts.
The Stats
Altitude: 1450m-1700m
Lifts: 200
Top lift: 3230m
Ski area: 600km of piste in 3 Valleys
Adult lift pass: 277€ for six days


Official Site |

Ski Map |

Webcam
Essential Advice for the Perfect Trip
We've got mixed feelings about Meribel. Yes, we know it's the 'heart' of the 3 Valleys, the largest and most popular ski area in the world, and an intermediate heaven. Yes, we know there's easy access to the world-class pistes of Courchevel, and the high, snowsure slopes of Les Menuires and Val Thorens in the neighbouring valleys. And yes, we know that plenty of people wouldn't dream of skiing anywhere else.
But it's never quite fired our imaginations in the way some of its rivals have. Truth is, Meribel's valley was quite a challenging place to build a ski resort – and here's why.
Firstly, it's too steep and narrow to hold a proper resort town. As a result, Meribel is broken into several villages, two of which (Meribel and Meribel-Mottaret) clamber up the mountainsides for several hundred metres in a series of switchback turns. For skiers, they're all well-connected by the lift and piste system, but once they shut at the end of the day, getting about can be a pain. You'll either spend a lot of time in buses/taxis, or grow legs like mountain goat.
Secondly, several key pistes suffer from long exposure to the sun. In particular, we're thinking about the south-west-facing slopes that lie drop down to Mottaret (the higher of Meribel's two main villages) from the ridge above Courchevel. As far as orientation goes, south-west is about as bad as they come and, very early on in the season, ice at the top and slush at the bottom make this key sector a gruelling experience for nervous intermediates.
Thirdly, being 'the heart' of the region has its drawbacks – chiefly the fact that at the beginning and the end of the day the key pistes are crowded with commuters from other resorts – schlepping between Courchevel and Val Thorens – and back again.
We think this is one of the most tedious itineraries in the skiing world, but everyone loves to tick it off, and so on most days there are rivers of humanity pouring down the key pistes connecting all three resorts. Avoiding them is one of the key challenges you'll face here.
But you can still have a ball here
So, a complete write-off, then? No. Nowhere in a ski area as big, as varied and as well-connected as the 3 Valleys is going to be a write-off. And despite the caveats, there's some amazing skiing to be up and down Meribel's own valley too, provided you're prepared to do a little research and read the piste map properly. The quality of the tuition from Meribel's independent ski schools is top-notch, too.
And let's not forget what lies on either side of the resort. Here, it feels like every corner of the 3 Valleys is within easy reach – and there's no better launchpad for those with the stamina and skills to wring full value from their lift pass. The sense of possibility you'll get on your first couple of days is going to make you giddy.
So who's going to enjoy Meribel the most?
Energetic and experienced piste skiers who can use Meribel as a launchpad to get into Courchevel and the Belleville valley (home of Val Thorens, Les Menuires and St Martin) will get the most from it. Especially if they're also looking for the kind of late-afternoon après-ski action that Le Rond-Point or La Folie Douce can provide.
Beginners and less confident intermediates will be happier in neighbouring Courchevel or Val Thorens. Meanwhile, anyone in the market for really steep skiing, on-piste or off, will find some cracking runs in the area – but ultimately will be better served in Val d'Isere, Verbier or St Anton.
---
---
Guide to the Mountain
Meribel sits in the middle of the vast 3 Valleys area, the largest properly-interlinked ski area in the world – and one of the best. A recent report has disputed the official total of 600km of pistes on its slopes, and claims 495km instead. But whichever way you look at it, it's enormous.
What's more, there's oodles of off-piste terrain in between the groomed runs. Very little of it is protected against avalanches by blasting, so a guide is essential, unless you're properly trained and equipped with avalanche safety gear. But with a staggering 40,000 hectares (98,800 acres) of mountain to play on, the possibilities are almost limitless.
To give you an idea of scale, Whistler, North America's biggest ski area, is home to 8,171 acress of terrain.
What's more, every corner of this vast area can be easily accessed from Meribel. So you won't be subject to the same time pressure which builds on skiers from, say, Courchevel 1650, who have schlepped over to Val Thorens for the day, and need to get back before the key lifts close.
It's not just the quantity of skiing that's impressive. Some of the descents – both on-piste, and off – are world-class too. Over in Courchevel, Combe Saulire might just be the best red-rated piste in the Alps, and there's a whole mountainside of exceptional pistes above Les Menuires, too. Meanwhile, the lift-accessed couloirs off the top of the Saulire, between Meribel and Courchevel, are both spectacular and steep.
The main drawback is the popularity of the place, which tends to express itself in crowded pistes rather than gargantuan lift queues. To avoid them, ski early, late and at lunchtime, and make sure you explore the full extent of the piste map. There are several cul-de-sacs and corners which are significantly less hectic than main arteries, in and out of Mottaret.
For beginners, the Altiport is the place to go
Meribel has several "zones débutants" for beginners (and second-week skiers): and the one above the Meribel itself, under the Altiport chair-lift, is by far the best. Here, the Blanchot piste (which runs over the golf course) is for the most part tree-lined, and doesn't get much sun, so the snow is usually good. There isn't much through-traffic, either – so you won't feel harassed by speed freaks blasting past you without warning.
This is where most of the ski schools come, but there two drawbacks. First, it's a pain to get to unless you're staying in Meribel Centre. Second, there's a distinct lack of wide, easy, and uncrowded pistes to progress to afterwards. We'd suggest sticking to this area for the first four days until you've learnt how to link your turns and relaxed into the whole idea of snow-sliding. Only then should you try runs elsewhere.
Intermediates need to stay ahead of the crowds
Don't just jump on the first lift you see each morning: that's what everyone else is doing. To get the most from the 3 Valleys you need to be more focused – and above all you need to be ready to ski over into the two valleys on either side of Meribel. During busy weeks one of the simplest tricks is to hot-foot it over to La Pointe de la Masse on the far side of Les Menuires – a beautiful peak, but a bit of a cul-de-sac. Most 3 Valleys skiers never get there.
Locally, one of the best areas to target is the Blaireau piste, off the top of the Tougnette chair, above Meribel Centre. There's good snow here in the mornings, and it's often quiet, too: a good place to warm up your legs, especially if you're going to muck about in the Moon Park terrain park afterwards.
For more tips on where to find good skiing and uncrowded slopes in Meribel, check out these three excellent features: Secrets of the Meribel Piste Map, Three Valleys Skiing: How to Avoid the Half Term Crowds, and How to Find the Best Snow in a Ski Resort.
Plenty of challenges for more advanced skiers
You won't find a groomed piste here to match the famously steep and satisfying Face in Val d'Isere. But there are several good blacks to be tackled. Meribel has a Face of its own – the women's downhill run from the 1992 Olympics, which is under the Olympic chair, on the way over to St Martin de Belleville.
Then there's the usually mogulled Bartavelle, which runs back towards Mottaret from the Roc de Tougne lift. Meanwhile, the similarly-mogulled Les Bosses run under the Plan de l'Homme chair-lift leads up from the Chaudanne hub of pistes and lifts immediately beneath Meribel Centre.
Advanced skiers will also gravitate towards the top of Courchevel next door, to ski blacks such as Suisses and M, and – if they're feeling really salty – the Grand Couloir, one of two chutes off the ridge of the La Croix des Verdons which are marked as pistes and protected against avalanches. (For more on that, read our feature Are you Good Enough to Ski The Classics?)
The other way-marked chute is the equally-steep Couloir Tournier, which heads back towards Meribel and has established itself as a must-ski route for those who like their slopes steep.
There's plenty here for proper off-pisters, too. The far end of the valley, beyond Mottaret, holds some of the most obvious terrain – off the towering peak of Mont Vallon, and in the big bowl under the Cote Brune chair. Our feature Six of the Best Off-Piste Descents in Meribel has more suggestions.
You should also target the Pointe de la Masse beyond Les Menuires, as well as the 'Fourth Valley', beyond Val Thorens, and above Orelle.
But really – there's good stuff almost everywhere you look, provided the snow's decent. You'll find a lot of competition for first tracks though, which makes hiring a guide an even better idea than usual.
Two parks and a gung-ho bunch of locals
There are two terrain parks above Meribel. The first is the now well-established Moon Park, whose great strength lies in the variety of skill levels it caters for. There are beginner and intermediate snowcross courses, three different kicker lines and six rail features. A newer area, le P'tit Moon, is aimed at children. aged five to ten, with an introductory boardercross course.
Meanwhile, the Area 43 park, above Mottaret, is touted as one of Europe's best snowparks and features a half-pipe and Big Air zone of enormous kickers.
---
---
Where to Learn
One of Meribel's greatest strengths is the quality of its English-speaking tuition. It tends to be more expensive than the local Ecole de Ski Francais (ESF), but class sizes are smaller, many of the instructors seem more highly-motivated, and the tuition comes in a more conversational style, rather than the follow-my-leader approach preferred by the French. The feeback we get is overwhelmingly positive.
SKiBro, either online or as an app, is an intuitive, user-friendly platform that helps you find the most suitable instructor for your needs – for everyone from families with small children and teenagers to improving intermediates and off-piste aficionados.
British ski schools offer a wider range of classes and clinics too, including New Generation: Freeski Camps and SkillSessions for intermediate and above skiers or boarders; Parallel Lines: Performance Clinics for Bumps and for Steeps; Snow Systems: Ski Doctor Clinics and Teens Meribel/Mottaret; and finally Marmalade: Marmalade's Youth and the originally-named Marma'Lady Camps. All of these schools guarantee no more than eight pupils per class. The snowboard specialist is Cab9 Snowboarding.
Bringing the Kids? A family-skiing specialist will lighten the load
Tour operators in Meribel which offer their own English-speaking childcare services include Esprit, Mark Warner, Meriski, and VIP. Local resort creches include ESF Les Saturnins, which is the non-ski kindergarten for children aged 18 months to three years. Les P'tits Loups ski kindergarten cares for children aged three to five years at La Chaudanne (+33 479 08 60 31), and at Mottaret (+33 479 00 49 49).
Amongst the family-friendly ski schools are Parallel Lines and Snow Systems, which has small classes of four or five.
---
---
Where to Stay
Meribel is primarily a chalet resort with more of this type of accommodation on offer here than in any other resort in the Alps. Bear in mind that some of the chalets are a bit of a hike from the lifts, shops and apres-ski. So make sure your chosen chalet company offers a shuttle service, at the very least to whisk you to the lifts each morning (and back again).
The resort is divided into four main geographical sectors. Each sector has its strengths and weaknesses, and will suit a different kind of holiday. So, before you start your search, think hard about what you want from your trip, and pick the 'village' which best suits your needs.
Mottaret is for serious skiers and cheap apartments. Lower Meribel Centre is for party animals and beginners, Upper Meribel Centre is for sybarites, beginners and devotees of the Rond-Point, one of the best bars in the Alps, and Meribel Village is where to stay for a village atmosphere and better-value chalets (for the area).
Mottaret is the best place to stay if you want to ski hard
Mottaret is at the top of the valley, and offers quick access to some of the best pistes in the 3 Valleys – both the swooping Combe Saulire piste above Courchevel, and the fine area of red and blue pistes beyond the Roc de Tougne above Les Menuires.
Sadly, however, the village atmosphere can't match the quality of the slopes. There are a few good-ish bars and restaurants here, but much of the accommodation is on the western side of the valley, in system-built apartments, which march on up the slopes into the wide blue yonder. You'll want a car or a healthy pair of lungs if you're staying at the top end. Otherwise you'll be reliant on the Telecabine des Chalets which only runs from 8.45am to 7.30pm each day, or on the bus. The better apartments are on the eastern slopes.
Residence les Crets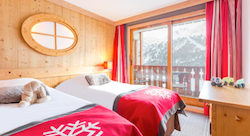 Residence les Crets is next to the blue Aigle piste, and a refurbishment has left its apartments with better beds and nice, wood-panelled walls. The rooms are bigger than the norm, too. The views are awesome and the place is generally spacious and lovely, as well as being in a prime location.
Residence Les Sentiers du Tueda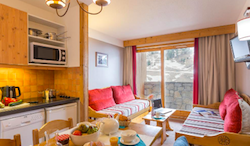 Next door you'll find the smaller, more functional apartments of Residence Les Sentiers du Tueda. They can be a little on the cramped side, but they're ski-in ski-out and are cheaper to stay in than many places in the resort. "A very comfortable room with a fantastic view of the Meribel mountainside. Ski rentals, a supermarket and restaurants were right below the room. More clubs, bars as well as another supermarket are a short walk," said a reporter.
Lac Blanc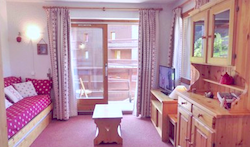 Located in Meribel Mottaret's Le Hameau area, the two-room apartment accommodates up to five people. The residence is situated right next to the shops and slopes- so it's great for easy access. As well as this one, check out Ski Amis' listing of apartments in the resort, too.
Chalet Hotel Tarentaise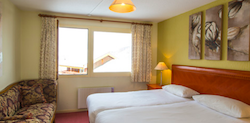 Mark Warner runs Chalet Hotel Tarentaise, which is right on the edge of the piste in Mottaret. Inside is a large living area with a central log fire and bar area. The decor is practical, the spacious bedrooms are all en suite and most of them have balconies; there are also inter-connecting rooms which are ideal for families. For those in need of pampering after skiing, there's an in-house Viva therapist and sauna.
Hotel Mont Vallon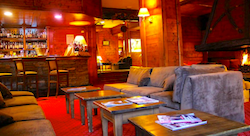 There are plenty of hotels in Mottaret that dropped off the pace back in the 1980s, but Hotel Mont Vallon was not one of them. This the best hotel at this end of the valley, decorated in traditional alpine style with lots of wood and hand-carved furniture. It has two restaurants and an indoor swimming-pool.
Lower Meribel Centre is the place for party animals
The lower-altitude end of central Meribel is home to the best bars and shops in the valley, and another meeting point for pistes and lifts at the Chaudanne. This is Chalet Central, too: there's a big, sprawling suburb of stand-alone properties dominated by British tour operators, which is home to lots of spacious, well-built properties.
Chalet Chaudanne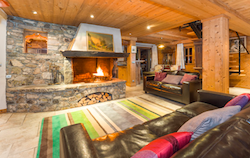 Ski-in ski-out chalets don't come much better than VIP Ski's Chalet Chaudanne, which sits at the foot of the Tougnete 1 cable-car in the Chaudanne bowl. You can step out of the front door and be the first on lift to Inter Tougnete or find your ski legs on the green Perdrix and Truite run back down. It's also conveniently set above Les Castors piste-side restaurant and terrace. The chalet sleeps six to eight people in three smartly decorated en suite bedrooms.
Chalet Marielaine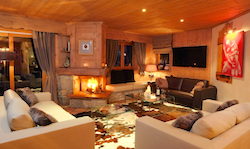 Another for small-ish groups is Chalet Marielaine, sleeping six to seven people. This charming property is decorated in modern local style and has a shuttle service taking you to and from the piste. There's an outdoor hot tub, and we love the spacious living area with its animal skin rug and log fire.
Chalet l'Ancolie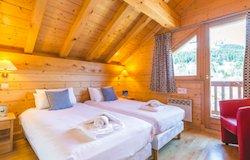 Mid-market operator Ski Total has an impressive selection of properties in the area. Most are spacious and well-equipped, but fairly standard in style and character. Chalet l'Ancolie is, on the face of it, an identikit Chalet Central property. Which isn't a bad thing, really – most resorts would love to have five or six properties like this to raise the tone. But what singles it out is the standard of the furniture, curtains, and rugs. When you add in the extras, such as the minibus transfers to the slopes each morning, it is great value.
Residence Les Ravines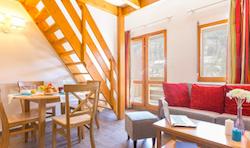 Meanwhile, if you're in the market for a cheapish crash-pad in the middle of town, look no further than the Residence Les Ravines, which offers self-catering apartments on Meribel's main street. This means you'll have to hobble 300m along the pavement in the morning in your ski boots to get to the main hub at La Chaudanne. But it also means you're slap bang in the middle of the best nightlife. There's also a delicious bakery right in front of apartments, which is handy for the morning croissant dash.
Le Kaila
In recent years Meribel opened its first five-star hotel. Le Kaila is bang in the resort centre, housing 42 rooms, a gourmet restaurant, designer shops and a vast spa. The rooms are huge and gorgeous, with lovely wooden furniture and furry bed throws, not to mention giant bathtubs like mini-swimming pools to soak in. "A really beautiful hotel, with friendly and professional staff. The bedrooms are very cosy, with good quality bedsheets and a very powerful shower! Location is of course excellent," said a reporter.
Chalet Chopine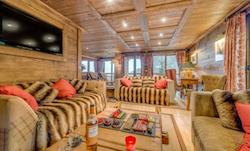 Chopine is located in the private Dou du Pont area, a couple of minutes' drive from the Chaudanne lifts. A short walk takes you to the centre of the resort. The chalet sleeps 10 people in en suite twin or double bedrooms. The charming open-plan living and dining area features plush sofas and an open fire. The spa area has a sauna, hammam and a large Jacuzzi, where you can enjoy your choice of music, controlled by a floating waterproof remote control. There's also a cosy home cinema with a selection of the latest films.
Chalet Mont Tremblant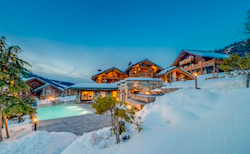 Situated in its own grounds, Mont Tremblant is located in the heart of Meribel, a 10-minute walk from the town centre and 800m from the Morel lift station. It sleeps 12 people in absolute comfort. The double-height living room, has a snug and separate office space, whilst the dining area has its own bar. The master suite occupies the entire first floor and has an open fireplace. A large home cinema has surround-sound and the adjoining area has a pool table and bar. The playroom has a table football, TV and Wii. The wellness area with massage room and shower opens out onto the terrace where you can enjoy the outdoor hot tub and heated infinity pool with jet stream.
Chalet White Moustache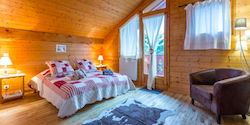 Chalet White Moustache is based in a quiet location overlooking the valley, however it is still near the skiing and the busy town of Meribel. This contemporary yet traditional chalet has white-washed and alpine wood-panelling, a stone fireplace and a hot tub to enjoy.
Upper Meribel Centre
Meribel town winds a long way up side of the valley, and by the time you've got to the top, it feels like a very different settlement – more sedate, more gracious, and rather more French. It's ironic, then, that this is also home to one of the best apres-ski bars in the resort – the Rond-Point.
The Rond-Point – or the Ronnie – has a big pre-dinner party scene. But it goes off the boil early, and the action quickly migrates downhill. That's why we hesitate to recommend this part of town as a base for party animals, because it's a long, long walk back up again if you miss the bus or don't want to pay for a taxi.
Le Coucou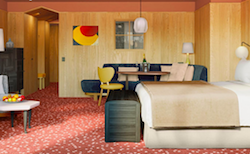 The newest five-star hotel, Le Coucou, is close to the Rond-Point. It has 55 rooms, 39 of which are suites. Connected to the hotel via an indoor passageway are two luxury chalets offering all the five-star services of Le Coucou. Each one has four rooms and four bathrooms, a kitchen, a lounge, games area and TV room, a pool and private spa, and a ski room. The hotel has an Italian restaurant serving Tuscan specialties and excellent pizzas. There's also BeefBar, a restaurant concept created by Riccardo Giraudi in 2005, which serves exceptional meat. The spa facilities include a pool and hair salon. Families can benefit from the in-house kids club and baby club.
Refuge de la Traye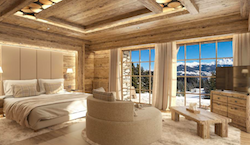 Another new addition is Refuge de la Traye, which has just seven rooms and a private chalet. The rooms and suites are peaceful and spacious, with each one decorated with lots of wood and warm fabrics. The property contains Table de la Traye restaurant, a tea room with a choice of local and organic herbal teas, and a cellar for wine and cheese.
Residence Le Grand Chalet des Pistes

Up here, the Le Grand Chalet des Pistes houses above-average self-catering apartments close to the pistes. What really singles the place out is the quality of the finish and the proximity of the slopes (walk across the road, and you're there). There's a groovy little cafe on the ground floor, too.
Hotel Allodis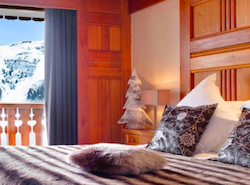 If money's no object, the four-star Allodis is the place to stay. The interior design is conservative – but that's a minor concern when set against the level of service, the size of the rooms, and the ski-in ski-out location. "Convenient location for skiers, amazing restaurant with delicious food, attentive staff," was one of the reports. The lounge and sun-deck are lovely, but the real piece de resistance is the state-of-the-art Clarins spa in the basement.
Chalet Bartavelles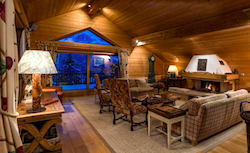 Chalet Bartvelles is located adjacent to the Doron piste between Rond-Point and La Chaudanne. It sleeps 10 to 12 and is wood-panelled throughout, with a cinema, billiards room and an outdoor hot tub. If you love a grand, retro style, this could be the place for you. A highlight is the binoculars provided for star-gazing on a clear night.
Chalet Yukon
Chalet Yukon is a beautiful two-bedroom chalet, a rare find in Meribel. Renovated in 2017, the property provides rather unique accommodation with its own private hot tub. It is a wonderful hideaway for small groups of friends or a family, offering plenty of privacy yet only a short stroll from the resort centre. It is built over two floors, with an open living/dining area complete with log burning stove.
Meribel Village is cute and quiet
Meribel Village is connected to the main ski area by a high-speed chair and a single piste. But at 1400m it's pretty low, so expect slushy pistes from mid-March onwards on the last run at the end of the day. By way of compensation, you get a village atmosphere within a big, bustling ski area – as well as a good bar, Le Lodge du Village (live music every other night), and a superb bakery. If you're looking for a more tranquil atmosphere, this is the place.
Chalet Le Christophe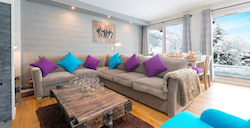 One of the best properties in this area is Chalet Le Christophe, which is just 40m from the chair-lift and the bottom of the pistes. There's an open fire in the living room, and a bright, airy atmosphere throughout. We just love this place, as it oozes style and comfort – it's gorgeously Alpine and tasteful, with an injection of bright colour which livens the whole place up. The food is delicious, too.
Residence les Fermes de Meribel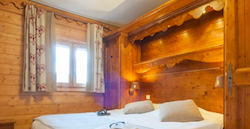 Meanwhile, Residence les Fermes de Meribel is a development of six chalet-style apartment buildings in the middle of Meribel Village, with a pool and spa. Inside, there's lots of wood and a traditional Savoyard ambiance, but it's crisp and modern at the same time.
Chalet Kalliste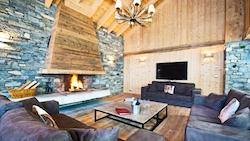 Chalet Kalliste is in the hamlet of La Gittaz, set just below Meribel Village, which is being developed with some lovely new chalets. The chalet has a traditional alpine look with wooden floors, stone and white-painted walls. The open-plan living/dining area is very spacious and has a wood-burning fireplace. The room leads out to a superb terrace where there is a hot tub. There are four suites all with beautiful bathrooms.
Hotel Le Grand Coeur & Spa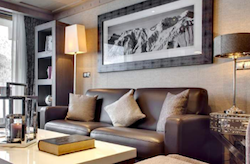 Six minutes' walk from the centre is Hotel Le Grand Coeur & Spa, which is another of the resort's top hotels, offering lovely views. The spa is pretty nice, with a natural feel to it, which we like. Rooms are thoughtfully designed, with many of the suites complete with well-stocked bookcases – which contributes to the authentic, home-from-home (with a twist of luxury) look.
---
---
Where to Eat
The problem is, of course, that so many Brits coming to Meribel stay in catered chalets and only eat out once a week (on the staff's day off), so the market for good food is quite limited. As a result there aren't as many top-notch restaurants in town as you'd expect. However, that's only an issue in the evening. During the day you can ski over to the Belleville or Courchevel valleys, which are bursting with gastronomic haunts.
Not as many good restaurants as you might expect
Of the good 'uns, our current favourite is Le Blanchot, up on its own by the Altiport – which makes for a lovely treat on a snowy night when there's a log fire roaring in the grate. The restaurant at the Allodis has a delightful terrace and an expensive a la carte menu.
But if all you want is well-cooked meat, head to British-favourite Chez Kiki, which specialises in steaks, lamb and duck cooked over an open fire. Le Zinc (+33 479 00 52 32) is inside the Altiport Hotel – it's quite pricey even for Meribel, serves gourmet cuisine and is decorated in contemporary style.
Piste-side La Taverne (+33 479 00 36 18), in Hotel Le Roc, offers pizzas and Savoyarde cuisine. La Croix Jean-Claude down in Les Allues is good value with excellent regional food and wine. Cactus Cafe (+33 479 00 53 67) at Chaudanne has reasonably priced Tex-Mex. Some reporters rate it the best value in the 3 Vallees.
The Table de la Traye, the restaurant of the new Refuge de la Traye, has a panoramic dining room opening on a large terrace with wonderful views of the surrounding snowy summits. The menu includes local dishes like raclette and fondue. You can also taste Savoie and international wines – with local cheeses and charcuteries in the Refuge's cellar, Le Comptoir du Refuge.
O'Sullivans Den (under the same ownership as the Rond-Point) was Meribel's first gastro bar, above the nightclub of the same name. There's live music and a reasonably-priced menu of tapas-style dishes and sharing plates from across the globe.
Le Plantin (+33 479 04 12 11) is set below Meribel Village en route to Brides les Bains and you can reach the restaurant on skis at lunchtime (a minibus whisks you back to the piste afterwards). It's also open in the evening with specials including a starter of saffron-flavoured Dublin Bay prawn souffle and main course Medallions of lamb with roasted aubergines and courgettes in a rosemary juice.
Les Cretes, near the top of the Tougnete lift, is an old log cabin with a warm ambience. A cheaper option is La Grange (+33 479 08 53 19) in L'Eterlou Hotel in the centre of town. "Have visited this restaurant many times. Its location is very good and if the sun is shining it has nice outside seating. Inside on a cold day it has the log cabin feel. The menu is traditional and the food is usually good," said a tripadvisor reporter.
Healthy eaters, veggies and vegans can head for the Arctic Juice & Cafe, which dubs itself 'the World's First Mountain Energy Café' (other branches are in Val d'Isere and Verber). Here you can buy home-made soups and smoothies using organic produce, with dairy-free and gluten-free diets also catered for.
The pick of the restaurants is in the next-door valley
If you want to splash out on a really unforgettable lunch then head for La Bouitte in the hamlet of St-Marcel near St Martin de Belleville. Father-and-son team René and Maxime Meilleur now have three Michelin stars for their exceptional, savoyard-influenced cuisine. You can ski to it off-piste if the snow's good – otherwise give them a call when you get to St Martin and they'll come and pick you up – and take you back again afterwards.
Also in the Belleville valley, Le Corbeleys is a good, traditional Savoyarde spot with a nice terrace on the run down into St Martin.
La Fruitiere is a fun place to go for Savoyard cuisine at lunchtime followed by some early apres-ski on the way back down to the resort.
---
---
Where to Party
In our opinion, Meribel doesn't quite qualify for the St Anton–Verbier Hall of Fame – largely because the bars, like the accommodation, are scattered about all over the place. But it can still provide plenty of great memories.
If you only go to one place – make it The Ronnie
For apres-ski Le Rond-Point, aka The Ronnie, above Meribel Centre at the Rond Point des Pistes is the must-visit venue. It has a 4-5pm happy hour, live bands, and a fantastic, up-for-it atmosphere. By 6pm on a good night, you could be crowd surfing. Alternatives include Le Poste de Secours (+33 479 00 74 31), one of the smartest bars in town and with a good cocktail menu and a Mojito Happy Hour. Jack's Bar, near the Chaudanne lift nexus, is another key venue.
Don't forget to drop in to La Folie Douce for some early apres-ski (3-5pm) with dancing on the terrace at the mid-station of La Saulire.
Up at Meribel Mottaret, check out Le Rastro (+33 479 00 41 51) and Le Zig Zag (+33 479 00 47 40). The Tuesday rock parties at Le Rastro are famous. Then there's Downtown (+33 479 06 08 75), which has been refurbished, and The Annexe (+33 479 04 06 10) which has a good modern feel. Over in Meribel village, Le Lodge du Village is a vibrant place, with live music, crowd surfing and reasonable prices.
Warming up nicely
Later on head to La Taverne (+33 479 00 36 18) in Meribel Centre or the Doron Pub (+33 479 08 60 02) in the Doron hotel opposite, which has a 4-7pm happy hour. For full on freak-out there's only one venue – O'Sullivans – and only one rule: GET THERE EARLY. You don't want to be queuing out in the cold.
If you don't fancy O'Sullivan's, but want to dance, head to Le Loft (+33 479 00 36 58), by the ice rink and bowling alley in Meribel Centre, which is favoured by the French and has a huge dance floor.
For something a little less full-throttle
Try the Piano Bar at the Hotel Mont Vallon in Mottaret, or in the five-star Le Kaila in the middle of Meribel Centre. Meanwhile, Bar au Vin is a tiny, very French, wine bar that offers the chance to taste some delicious and inexpensive wines.