In a Nutshell
Set on a sunny plateau south of Grenoble, Alpe d'Huez is home to the world's longest black run, as well as one of the largest areas of nursery slopes.
The resort itself is a long way from being beautiful – but hotels and apartments are being updated and the resort is on its way upmarket. For the 2018/19 season there's a brand new five-star hotel, the Daria-i-Nor.
The Stats
Altitude: 1120m
Lifts: 84
Top Lift: 3330m
Ski area: 250km of piste
Adult lift pass: 238.50€ for six days


Official Site |

Ski Map |

Webcam
Essential Advice for the Perfect Trip
Alpe d'Huez is one of France's oldest ski resorts: but if you think that means it's also quaint and villagey, you'd be wrong. The town-sized conurbation that sprawls across this sunny plateau, south of Grenoble, embodies many of the worst vices of 1960s design.
Admittedly, the Mairie deserves some credit for trying to soften the visual blow. It has offered subsidies to accommodation owners for prettifying exteriors with wood, notably in the form of balconies. This policy has produced a lot of improvement. The development of five traditional-style chalets by UK tour operator VIP and the classy refurbishment of its neighbouring hotel Hotel Chamois d'Or are symptomatic of the new approach.
There are also huge plans for the future of Alpe d'Huez, with an investment of 350 million Euros in upgrading the ski domain in the coming years, which includes linking with the resort with Les Deux Alpes by 2021.
One of the biggest ski areas in France
Alpe d'Huez is a superb place to ski or snowboard. It's the hub of France's fifth-largest ski area, boasting an impressive 250km of pistes, and in two particular areas it ranks amongst the best in the Alps.
First are the nursery slopes – which are vast. They fan out in a big semi-circle at the eastern end of the resort and provide a huge area on which to practise. It's very rare for beginners to be given so much space and such a prominent playground – and when you factor in the added attraction of two independent ski schools aimed squarely at the British market (Masterclass and Stance), you can see why we rate it as one of the best places to make your first turns.
And if you are anxious about the way your children will be treated, consider this: the Marmottes 1 chair has a magic carpet which can be raised to make it easy for little skiers to get on.
Second in the list of virtues is its terrain for advanced and expert skiers. The ski area is home to skiing's longest black piste – the Sarenne – as well as another classic on-piste descent into the valley beneath the neighbouring resort of Vaujany – known as the Champagne Run. There are also some fine off-piste routes in the area, such as the run from the top of the Pic Blanc down to Clavans le Bas, in a valley east of the main resort.
Finally, they've kept prices fairly low. Alpe d'Huez has seen none of the colonisation by gazillionaires which has so affected the likes of Verbier, Courchevel and Val d'Isere in the last decade or so – and that's kept the scene here young and fresh (albeit dominated by mass-market tour operators).
In fact, judging by the riotous nights in bars such as Smithy's Tavern we've been hearing about, it seems to be getting younger and fresher with each passing month.
So, if you're at the top or bottom of the ability range, give it serious consideration. And try to go when it's cold – the Alpe d'Huez plateau catches a lot of sun, which of course is a godsend in the middle of January, but rather less brilliant during one of those nasty Alpine heatwaves where the snow turns to slush.

---
---
Guide to the Mountain
Few ski areas in the world have such a variety of terrain that stretches out on all sides from the resort. It's not only ideal for beginners and wobbly second-weekers, but seriously challenging for advanced skiers and those who want to explore the outstanding off-piste opportunities.
Weaker intermediates might grumble
This leaves us with intermediates: stronger ones will not be able to stop smiling all week. You get the chance to really clock up some distance each day on beautifully prepared pistes. But we emphasise that to really get the best of this you need to be a competent red run skier.
The majority of visitors tend rarely to stray far from the easy green and blue runs immediately above the village. They don't know what they are missing.
Get your bearings
The front de neige stretches for the best part of 800m along the top of the town from the jumbo DMC gondola at the Rond Point des Pistes at the left-hand end, to the first stage of the Marmottes chair from the Bergers district on the right. Both these lifts take you, in stages, all the way up to the top of the ski area on Pic Blanc at 3300m.
The lower third of this stretch of mountain is largely given over to one of Europe's finest collection of over a dozen green runs served by a variety of chairs, drag-lifts and the first stage of the DMC.
The satellite resorts have great terrain
Auris and its own substantial ski area is reached by a chair from Les Bergers which takes you down into the Sarenne gorge and then up the other side. Oz and Vaujany are accessed from the first and second stages of the DMC – and these sectors house of the best skiing in the entire area with runs down to the hamlet of L'Enversin d'Oz at 1100m.

---
---
Where to Learn
There are now two good independent ski schools in Alpe d'Huez aimed squarely at the British market, Masterclass and Stance Snow. The ESF also has a number of English-speaking instructors and receives glowing comments: "The head of the ski school in the Les Bergers sector was simply the best I have ever encountered anywhere in 30 years of skiing," was one, and "Instruction was first class," was another.
Guiding is available through the Bureau des Guides and you'd be absolutely &*%4£ing insane to go in search of the resort's superb off-piste without hiring one. SAF Isere Heliskiing will pick you up at the end of day ski tours into neighbouring valleys.
Decent local facilities, and some British-run childcare
The ESF accepts children from four years for ski lessons, and guarantees 10 or fewer pupils per class. If your kids are younger, they can join the ESF's Le Chalet des Enfants, which combines both skiing and games for little ones from two and a half years to five. Or you can take them to one of the municipal creches – Les Crapouilloux (+33 476 11 39 23) is a creche for children over four, and Les Intrepides (+33 476 11 21 62) is for non-skiers aged six months to four years.
A number of British tour operators make use of these facilities, but at least three provide their own English-speaking childcare, exclusively for their guests. First there's VIP which has five delightful chalet-apartments set around a courtyard, on the edge of two pistes, with its own ski school and private nanny service.
Then there's family specialist Esprit, which has a creche, kids' clubs, and exclusive ski-school classes. The resort is also home to a Club Med, whose all-inclusive holidays include everything from lift passes to free childcare for 4-17 year olds.
The Palais des Sports (+33 476 11 21 41) has over 30 activities on offer, from massage treatments to a climbing wall and indoor tennis.

---
---
Where to Stay
Alpe d'Huez used to be the place for bog-standard shoebox apartments and tatty hotels – but in recent years, the standard of accommodation has improved sharply, especially when it comes to ski-in, ski-out chalets. A five-star hotel is a sure sign that the resort is starting to go upmarket so, if the trend continues, Alpe d'Huez is going to rival Meribel as a hub of the British chalet scene.
All the same, you shouldn't discount those bargain-basement, kickabout apartments – such as those in the Horizons d'Huez. And if staying somewhere like that means the difference between skiing and not skiing – well, we know which we'd rather do. Go for it.
Well-planned ski-in ski-out places
As Alpe d'Huez is a purpose-built resort the piste runs all alongside the village. Some properties are particularly well placed for the skiing.
Le Village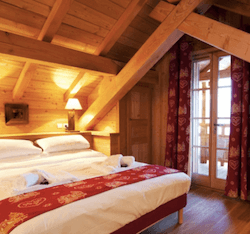 Le Village is a collection of five purpose-built ski in-ski out chalets run by British tour operator VIP, and is the best place to stay in town. It's right at the top of Alpe d'Huez in a little huddle of buildings near the Rond Point des Pistes and the DMC gondola – with five different lifts to choose from when you click into your skis each morning. The style is sleek and modern, and while they're not – by modern gazillionaire standards – properly luxurious, they are very comfortable. One of them, VIP Club Chateau, is a seven-bedroom chalet that is rentable by the room. The property sleeps 15 people, has a hot tub, sauna, open fire and magnificent views from the balconies. Pictured here: Club Chateau.
Chalet La Breche

Chalet Breche has one of the prime locations in the resort – right next to the piste but just a few minutes' walk from the bustling centre. If you're looking for a late-night experience of the Alpe d'Huez bars, this is a good place for you. It's a gorgeous eight-bedroom property with a modern Scandi feel to it. There's plenty of room to relax by the wood-burning stove, the chance to rejuvenate your aching body in the infra-red sauna, as well as a fantastic outdoor hot tub for you to soak in as you breathe in the fresh mountain air and stargaze at night.
Chalet Les Eterlous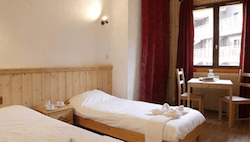 If you're craving a chalet experience but looking for something more affordable, Les Eterlous is a simpler offering. It's comfortable and more than adequately equipped, with a pleasant interior and convenient location close to the centre. With four en-suite bedrooms, a fireplace, a sauna and a steam room, we recommend this spot due to its good value for money.
Langley Hotel Le Petit Prince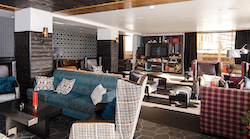 Le Petit Prince has been refurbished in a refreshingly un-woody style, this three-star chalet-hotel is a few steps from the lift station and you can make it to the shops and restaurants in about ten minutes. The hotel has a kids club, and a nanny service. The sun-dappled terrace views of the Oisans valley are pretty magnificent and not to be missed.
A few hotels with character – but at a price
Daria-i-nor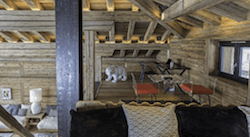 For the 2018/19 season there's a new five-star hotel, Daria-i-Nor with 46 spacious and modern rooms and suites, some with communicating rooms, some duplexes for up to six people. The restaurants are La Table, with chef Damien Ruffier from the Cheval Blanc at Courchevel and Stéphane Tarabla from Corsica. The 800 sq meter spa has two swimming-pools, a salt wall and an ice fountain among its many offerings.
Hotel Chamois d'Or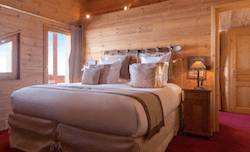 The four-star Hotel Chamois d'Or is the class act in town: it's close to Le Village (see chalets, above) at the Rond Point des Pistes, is the right balance between cosy and luxurious, and offers a beautiful spa with steam room, whirlpool, sauna, swimming-pool and treatment rooms. But be warned that prices are high, given Alpe d'Huez is still climbing to be an A-list resort. Best rooms have south-facing and sunny, balconies.
Don't ignore the stock of ski apartments
If it's your first-ever ski holiday, then self-catering ski apartments can be hard work (see our feature What Kind of Ski Accommodation is Right for Us?" for more advice on what type of digs will suit you). BUT, if you already know how ski resorts work, and your budget's tight, then Alpe d'Huez's large stock of no-nonsense ski apartments will stand you in good stead.
Residence les Bergers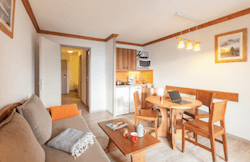 Anyone who is more interested in the skiing than the nightlife should consider the newly-renovated Pierre & Vacances Residence les Bergers, which is set apart from the town centre, a short walk (about 100m) from the pistes and lifts, and there's an outdoor heated pool and two saunas. Although each apartment has a kitchen, there's also a restaurant serving tasty Savoyard dishes if you fancy opting out of full self-catering. It's fairly basic but surprisingly spacious and comfortable.
Residence l'Ours Blanc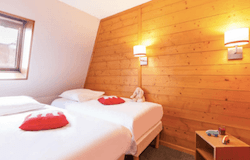 If you want to be closer to the bars and clubs, try the no-frills Residence l'Ours Blanc is certainly the no-frills option. It's connected to the Olympic ice-skating rink via a shopping mall. You'll need to catch a shuttle bus from here to get to the slopes, and there have been some complaints about the noise from revellers late at night. The rooms are small but practical. For anyone who wants to be in the thick of things, without paying a premium, these apartments will do the trick nicely.
Le Cristal de l'Alpe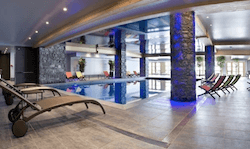 Le Cristal de l'Alpe is a recently-built CGH residence that's in a different league to the resort's other self-catering apartments – for a start it has a pool and spa. With 70 apartments, this four-star property offers a people-mover that carries you to the piste. Pick this for a comfortable option that still gives you the independence of the self-catering experience.
Chalets de l'Altiport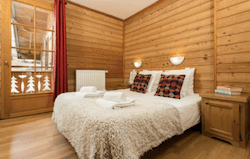 Meanwhile, up by Alpe d'Huez's heliport and landing strip, the Chalets de l'Altiport are low-rise, chalet-style apartments that are more or less ski-in ski-out. They're not luxurious – but definitely a step up from the average. Here you'll have plenty of space and awesome panoramas of the mountains from your balcony. Ask for a wood-burner for an extra toasty, wintery experience.
Budget places
In a resort that's heading up-market there are still some good-value apartments to be found.
Residence Christiania Odalys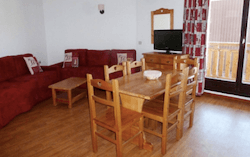 In Les Bergers area is Residence Christiania Odalys is a super cheap apartment option (as far as ski holidays go), with functional and compact studios. They're ideal for early birds hoping to catch first lifts, as they are just minutes from the lift station. They may be lower cost and rather basic, but they still manage to maintain a cosy atmosphere.

If you want to ski the area but from a smaller and quieter base, check out our Vaujany resort report.
---
---
Where to Eat
"All things are relative but at least it's generally cheaper than some of the biggest French resorts", said one recent visitor to Alpe d'Huez.
Out of the Val d'Isere stable are other Folie Douces – in Meribel, Val Thorens, Megeve and Alpe d'Huez. Food prices for La Fruitiere restaurant here are lower than those in the Val d'Isere branch, but the interior of distressed paintwork and ancient dairy paraphernalia is the same. La Folie Douce is the adjoining self-service in the same complex, but this one varies slightly from the others in that it's in a cavernous barn-style room. Outside is a similar terrace to the one in Val d'Isere, with live music, entertainment and dancing.
La Cabane du Poutat (+33 476 80 42 88), beneath the Marmottes gondola, has a serious gourmet menu. Bonsoir Clara (+33 476 80 37 20), in the linked village of Villard-Reculas, is also recommended. Auberge de l'Alpette (+33 476 80 70 00), above the modern satellite of Oz, has the best omelettes and salads on the mountain. It's a great place for families as it's right next to a short drag-lifts that children can go up and down rather than wait for their parents to finish eating.
L'Altiport is a Michelin-rated restaurant beside Alpe d'Huez's small airport. You can get there on skis or on foot. The cuisine is traditional French.
Trickier places to get to but well worth the trip
Chalet du Lac Besson (+33 476 806537), on the cross-country trail and beside the Boulevard des Lacs piste, has an open fireplace and a large sun terrace. It's a particularly cosy and welcoming place in bad weather, but only accessible for intermediate skiers and upwards. La Foret de Maronne is harder to reach, tucked away in Le Chatelard, but worth the effort.
Plenty of choice in town, but none of it is cheap
Alpe d'Huez has a good choice of restaurants, although a recent reporter claimed that: "Eating-out can be pricey". We haven't tried it, yet the first place locals mention when you ask for recommendations is the restaurant in Hotel Chamois d'Or. It sources many ingredients locally – such as bilberries from the mountainside. The langoustine au gratin and souffle glace au Genepi sound good to us. La Petite Taverne (+33 476 80 32 25) serves French cuisine and is known for its great atmosphere and friendly staff. La Cremaillere (+33 476 80 60 38) is a small restaurant offering a Savoyards menu, be sure to book in advance and ask for a table upstairs.
Les Caves (+33 476 80 92 44) has fine food and wine. Lily Muldoon's (+33 476 80 35 39) is an Irish restaurant with a popular following – Guinness pie is a speciality. In Quartier des Bergers, Taverne Lowenbrau (+33 476 80 33 88) is a lively brasserie. Au Grenier (+33 476 80 64 11) has a good-value set menu, while Lounge 21 specialises in fondue and other alpine favourites.
In the old village, Le Passe Montagne is inside an atmospheric old chalet and serves traditional mountain cuisine such as raclette and fondue. Au Blé Noir (+33 457 30 00 73) is in one of the oldest barns in the area, which has been completely restored. It offers traditional dishes and wood fired specialties.
Au P'tit Creux , which comes highly recommended, is traditional and cosy with friendly staff and gourmet food. Le Genepi is at the heart of the old village, offering mountain specialities such as breast of duck with blueberry sauce, as well as fresh fish.
---
---
Where to Party
Alpe d'Huez has a vibrant atmosphere, and the "wicked nightlife" lasts well into the early hours. Many of the bars are in the main part of town – known as the Quartier des Jeux – with a handful located in the old town.
After the lifts close, the places to go to include the Folie Douce. Then there's The Sphere Bar (+33 476 11 29 65) is part of the Dick's Tea Bar group and based in the centre of town, your can watch major sporting events on the plasma screens then drink and dance late into the night.
The other places to try are the Irish pub O'Sharkeys (+33 476 11 36 39), and Lounge 21, which is a cocktail bar that's open until 2am with sofas and armchairs to relax in and weekly DJ nights. At the O Bar (+33 476 11 39 88) you can order tapas or a burger with your drinks.
Later on in the old part of town, The Underground bar under Hotel le Chamois is a key apres spot and is themed on the London underground with the addition of snowboards hanging from the ceiling. Smithy's Tavern has Tex-Mex food and is worth checking out.
For a quieter evening, try The Zoo bar, which is great for a relaxed drink. The resort also has a sports centre, an outdoor ice-skating rink and an outdoor heated swimming-pool. A mainly British and Dutch clientele go to Freeride Cafe (+33 476 89 95 60) which has pool tables, a video screen and a slide down to the loo. More interesting is the fact that drink prices change every minute-and-a-half during the evening. They could go up or – if you're lucky – they could also go down.
For later nights
Le Sporting is a restaurant/nightclub. In the old town you'll find two of the main nightspots, albeit quite pricey: L'Igloo (+33 476 80 94 98) which is a dance club located under Smithy's Tavern, and Les Caves des Alpes which another main club.