Eastern Europe has some great savings, making it a good choice for first-timers, families and skiers on a budget. Lift passes are between a third and half the price of those in major Alpine resorts, with equipment rental and apres-ski prices competitive as well. Instruction is friendly and generally good.
However, the skiing itself is mainly unsophisticated – with exceptions like Jasna and Rosa Khutor, as well as off-piste at Popova Sapka in Macedonia and Gudauri in Georgia where you can go cat-skiing and heli-skiing respectively. The mountains are generally smaller, but it's important not to compare the lower altitudes with those of the Alpine resorts – the skiing is much further east and therefore the resorts benefit from a completely different snow pattern.
Eating out is a mixed experience. It's cheap, and you'll find some game, chicken, lamb, and warming liqueurs such as plum brandy. On the whole, though, it's more like Austrian Alpine food than that of other countries.
Here, in alphabetical order, are the main skiing countries and their resorts:
Bosnia
The country's largest ski resort of Jahorina is 40 minutes' by road south of Sarajevo, and was home to the women's alpine skiing events in the 1984 Winter Olympic Games. It has 25km of marked pistes. During the Siege of Sarajevo in the 1990s the forested area was land-mined with explosive devices – fortunately that danger has long gone.
Stay: Aparthotel Vucko is a few steps from the Ogorjelica ski-lift and houses a wine bar, lounge area with a fireplace, and a spa.
Bulgaria
Bulgaria's top ski resort of Bansko is 150km south of the capital, Sofia, and is made up of three small ski areas. The town dates back to the 10th century and later became a centre of trade in the 18th century; and you can feel its history when you walk down the cobbled streets and eat in the traditional Mehana inns with their vibrant atmosphere (but extremely varied food). The 70km of slopes go up to 2600m but becomes crowded in peak periods. The modern lifts include an eight-seater gondola and six high-speed quads.
Stay: Kempinski Hotel Grand Arena is the best hotel here. It houses a kids club, swimming-pool and spa.
Borovets is located in the foothills of the Rila Mountains 75km from Sofia. It started out as a hunting lodge for the Bulgarian royal family in the 19th century and developed in the 1970s into an international ski resort. There's a 1980s gondola and a range of other lifts – all are in need of an upgrade. The apres-ski is lively, and there is also night-skiing here.
Stay: Hotel Samakov has a state-of-the-art thermal spa, a gym, indoor swimming-pool, a beauty centre and hairdresser.
Pamporovo, 85km from the historic town of Plovdiv and near the Greek border, has eight lifts and more limited skiing (37km) than the other Bulgarian resorts included here. Don't miss a visit to the many caves, which have some fantastic rock formations.
Stay: Hotel Bellevue Ski & Spa has a sports centre with an indoor swimming-pool. Or if you want something luxurious and don't mind being outside the resort, Villa Gella is a good choice – with six en suite bedrooms, a professional chef, an indoor pool and spa.
Czech Republic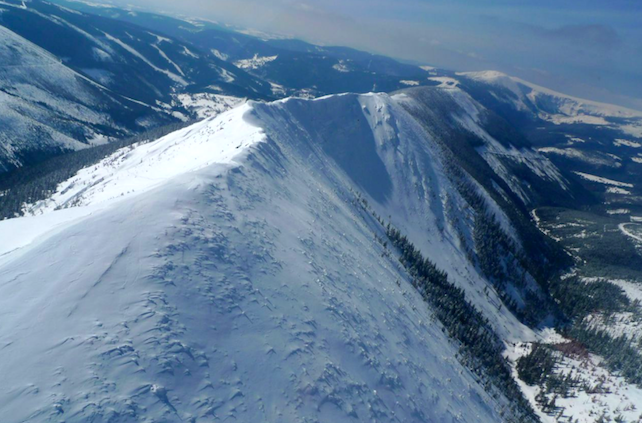 If you want to mix skiing with a Prague city break, it's worth considering Špindlerův Mlýn. It's the country's best-known wintersports resort, with 25km of piste and 16 lifts, as well as 85km of cross-country trails. It's located in the Krkonoše mountains two hours from the capital. Špindlerův is made up of five different ski centres, the best-known of which is Svatý Petr (St Peter) with an FIS World Cup black run and a big snowpark. The others are Medvědín, Hromovka, Labská, and Horní Mísečky, with one ski pass covering them all.
Stay: Hotel Praha has a spa, but is best known for its cuisine. The restaurant offers regional home-style cooking as well as contemporary dishes. Don't miss the sweet dumplings with bilberries!
Georgia
Gudauri is 144km from Tbilisi airport, and at 2196m (with skiing going up to 3279m) the resort is set among some of the highest mountains in Europe. There are 11 lifts and more than 70km of trails. The ski season often runs until May and the resort is best-known for its heli-skiing, which is available all season long.
Stay: Monte Hotel is three minutes' drive from the nearest lift and there's a shuttle. The restaurant serves Georgian and European dishes, as well as Georgian wine.
Macedonia
Popova Sapka is the main ski resort of Macedonia, with 20km of slopes, nine lifts, and some remarkable off-piste skiing. To access this terrain there's a snowcat company called Eskimo Freeride, which will guide you through the trees, down steep couloirs and through the fabulous powder bowls. Skopje Airport is 99km away.
Stay: Mercure Tetovo is at Tetovo, 19km away. It isn't the closest hotel to the slopes, but the others are considerably more basic. "By far the best hotel of this chain I have ever stayed in. Miles better than any of the UK Mercure/Accords," was one report.  
Poland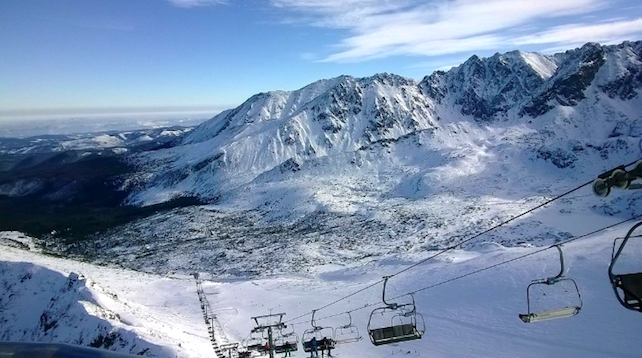 Zakopane is situated at the foot of the Tatra Mountains along the Slovak border and 112km from the historic city of Krakow. Waterfalls, lakes and rivers add to the beautiful landscape, and the ski resort is one of the biggest north of the Alps – made up of 10 small ski areas with 16 pistes served by 20 ski lifts. Zakopane was Poland's original ski resort and the location for the 1939 FIS Alpine and Nordic World Ski Championships, and the 1929 and 1962 Nordic World Ski Championships.
Stay: Hotel Rysy is a rare find for an Eastern European ski resort: a five-star hotel. The contemporary hotel is 3km from the Kuźnice ski area.
Romania
Poiana Brasov is the country's best-known resort and was the location for the Anthony Minghella film Cold Mountain. It is situated in the Carpathian Mountains, a three-hour drive and 157km from Bucharest. The 24km ski area has 11 lifts and offers some of the best beginner and lower intermediate skiing in Eastern Europe. Don't miss out on a day trip to Bran Castle – known as Dracula's Castle. Avoid the barbecued bear that you'll sometimes see on the menu – unless you are brave and not squeamish.
Stay: AnaHotels Sport is located in a pine forest at the base of Postavarul mountain. It has a spa and indoor pool.
Russia
Rosa Khutor is one of the resorts that comes under the Sochi umbrella, which hosted the 2014 Winter Olympic Games. The resort is 50km east of Sochi and has 25 modern lifts. Its steep terrain makes it the most exciting skiing in Eastern Europe – and it's up there with the top Alpine resorts. The attractive village is set on a riverbank and was purpose-built for the Olympics. The downsides are that it is expensive than the rest of Eastern Europe, the snow can be patchy, and the cuisine is by no means gourmet.
Stay: Park Inn by Radisson is at the foot of the slopes in the heart of Rosa Khutor. It houses a restaurant serving Bavarian cuisine, a kids club, and the rooms have contemporary furnishings and large windows with mountain views.
Serbia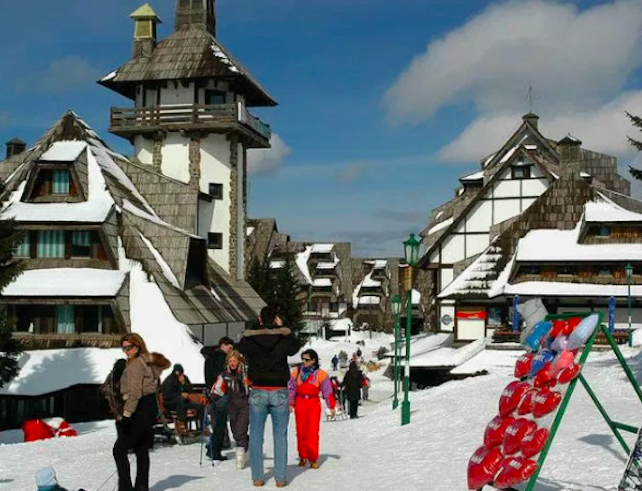 Kopaonik was a popular destination for British skiers before the civil wars in Bosnia and Kosovo devastated the tourist trade. Today the 60km of mainly beginner and low intermediate runs are served by 24 modern lifts. Nis Airport is 118km away. Despite the four-hour car journey, Kopaonik is popular with the youth of Belgrade at weekends and nightlife is noisy.
Stay: Four-star Angella Hotel & Residence has an in-house restaurant, gym and spa.
Slovakia
Jasna is the highlight of Eastern European skiing and is up there with many a (smaller) Alpine resort. skiing takes place on Mount Chopok in the Low Tatras, 65km from Poprad Airport. The slopes go up to 2005m, and the lifts are some of the best in this part of Europe. There's some excellent off-piste skiing that's easy to reach – the fact that Jasna hosted the Freeride World Tour in 2017 says it all. Recently the resort has invested many millions of euros in improving its infrastructure.
Stay: Hotel Villa Bianca or Australia-run Dragon's Lair – both are a drive from the skiing, but there isn't much in the way of accommodation at the foot of the slopes (yet).
Slovenia
Bohinj is not one village, but several, all of which surround the beautiful lake of the same name. The Vogel ski area overlooks the lake, has eight lifts and mainly beginner and intermediate skiing. The resort is 57km from Ljubljana.
Stay: Bohinj Eco Hotel is the region's green hotel. Its spa is connected to an aquapark by heated indoor walkway. The hotel and aquapark are both supplied by water from a 430-metre-deep geothermal well next to the hotel.
Kranjska Gora is situated in a pretty valley between craggy wooded mountains, close to the Italian and Austrian borders. It's ideal for families who are looking for pretty surroundings and not too challenging skiing, with its chalet buildings, Austrian ambience and 30km of skiing. In fact, the nearest airport Klagenfurt in Austria, 66km away.
Stay: Boutique Skipass Hotel is located 3km from Planica Mountain and 20km from Tromeja.
Mariborski Pohorje is Slovenia's largest ski area, located just 15 minutes and 12km from the historic town of Maribor. The 42km of skiing is mainly suited to beginners and lower intermediates.
Stay: Habakuk Wellness Hotel is part of a thermal spa complex, with heated indoor and outdoor mineral water pools.